Your kitchen will smell amazing as this Chai Spiced Apple Bundt Cake is baking. This homemade apple cake is a delicious addition to your fall baking plans. I suggest baking it right away.
*Crunch Pak apples sponsored this post. I am partnering with them as a blog ambassador creating delicious apple recipes. All opinions are 100% my own.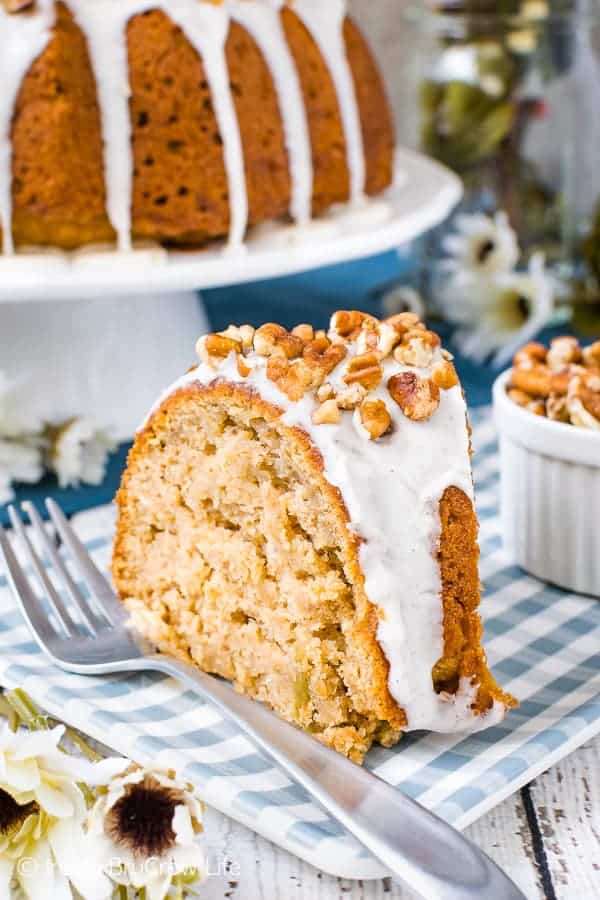 CLICK HERE TO PIN THIS RECIPE FOR LATER!
The one thing that I miss the most about living in the midwest is the changing seasons. Most importantly fall because that's my favorite season of all.
I mean what's not to love about cooler weather, changing leaves, jeans and sweatshirts, bonfires, hayrides, and trips to the apple orchard!
Here in Florida the only change we see is from blazing hot to just a little bit hot. I guess I need to keep a pitcher of this Caramel Apple Cider Iced Tea in the fridge at all times.
Although, it did cool off to 60-70 degrees last January, so there is hope for a chill. Woo hoo for the opportunity to break out some warmer clothing. It's crazy how quickly your body acclimates to living in warmer weather. Now if it drops below 70 degrees, I call that freezing.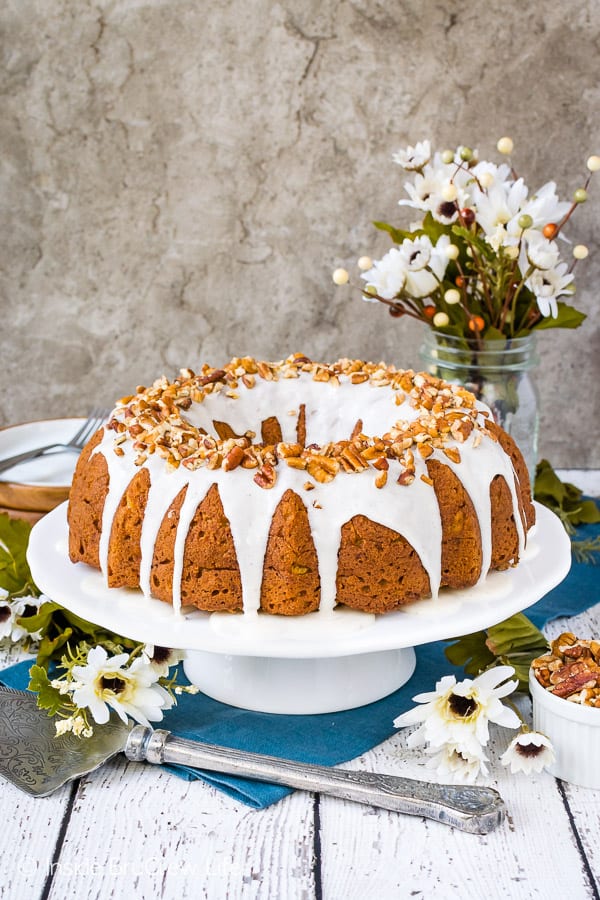 To combat my feelings about missing fall, I have been using apples in all my baking for the past two months.
Usually by this time of year I am all over pumpkin, but something changed in my taste buds this year. I just cannot get enough apple goodness in my life right now!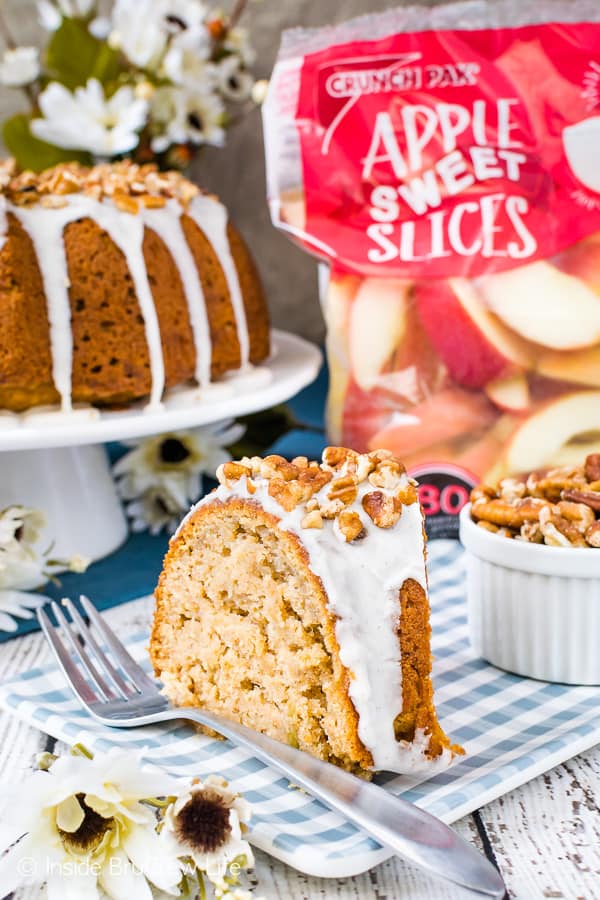 Thank goodness I work with Crunch Pak apples developing fun recipes like these Mini Apple Fritter Waffle Donuts and this Apple Pecan Upside Down Cake. We always have bags of their sliced apples or apple rings in our fridge.
I love how easy it is to incorporate their peeled apples into different baked goods.
Of course, just grabbing a bag of the sliced apples or the apple rings and a jar of peanut butter is a quick and easy snack on busy days.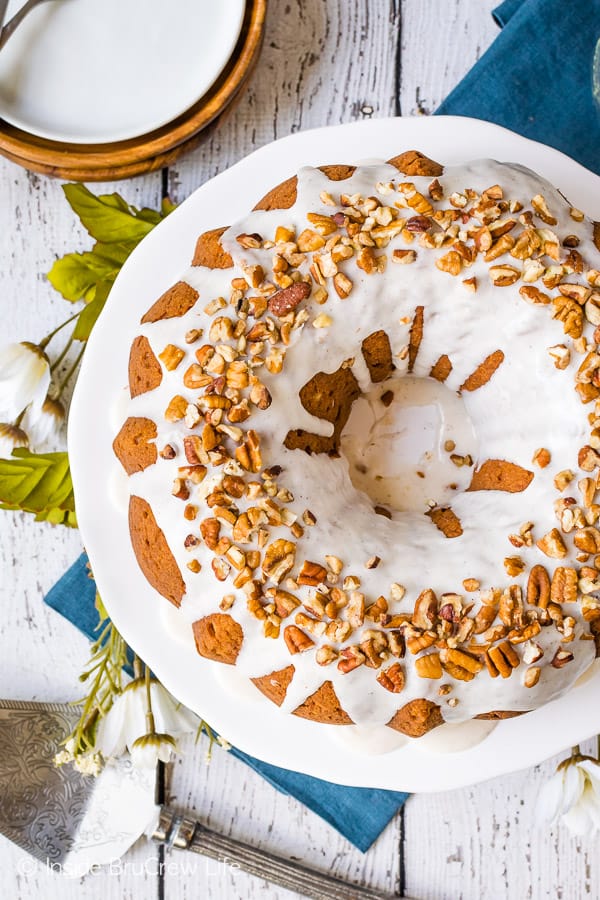 Ever since I made this Chai Whipped Cream, I have been wanting to add the chai flavor to something else.
As I started thinking about my apple recipe for this month, I knew I wanted to make another bundt cake that was similar but different from this Caramel Apple Bundt Cake.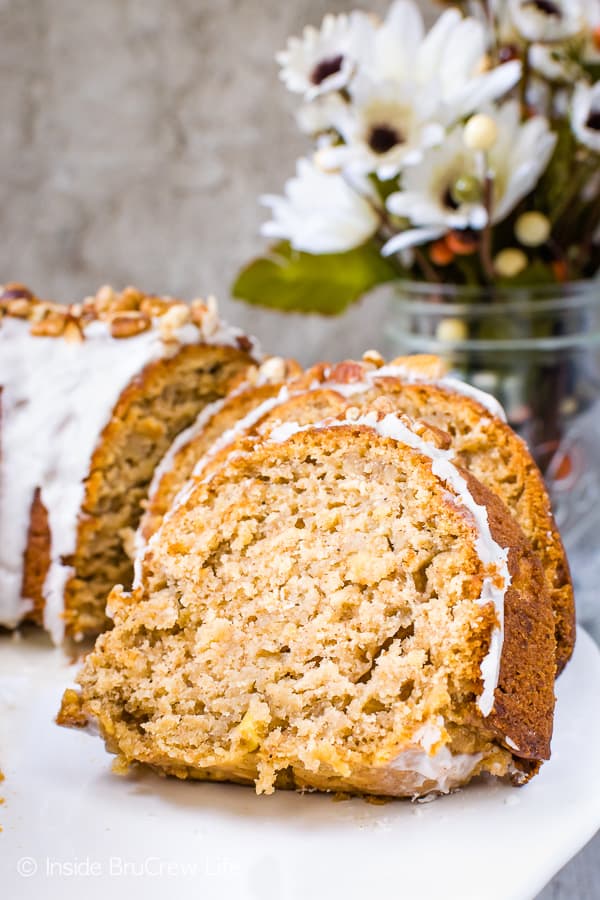 How to make a Chai Spiced Apple Bundt Cake:
Preheat the oven ahead of time, so that it is heated up when the apple bundt cake is ready to go in the oven.
Spray your bundt pan with nonstick spray. I prefer a spray that is a mixture of oil and flour because the cake releases better.
Beat the butter and sugar until creamy before adding the rest of the ingredients.
Use a mixture of spices and extracts that make up the chai flavor. This will give your apple bundt cake a great flavor. Not only will your kitchen smell amazing as it bakes, but it will taste great when you eat it.
Shred your apples using a food processor. Don't worry about the peels. You can leave those on and just shred them too.
Bake the apple cake for about 55 minutes or until a toothpick inserted in the center comes out mostly clean.
Let it cool for 10 minute in the pan before flipping it out onto a plate. Finish cooling it before drizzling the glaze on top.
Sprinkle with chopped pecans before the glaze sets up.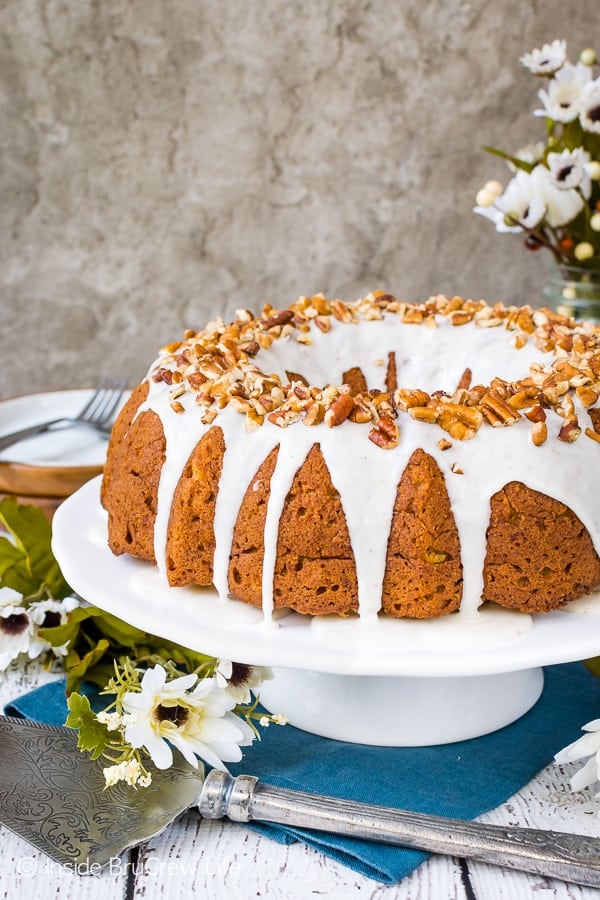 This apple bundt cake is absolutely delicious on its own, but I'm never one to turn down frosting or glaze on baked goods.
Chai Spiced Glaze:
Whisking together some powdered sugar, apple juice, heavy cream, a little orange extract, and vanilla paste creates an amazing glaze that you will want to spoon into your mouth.
Try to resist the urge to hide in the closet with the bowl of glaze because it really does add so much fun and flavor on top of the cake.
Plus, the glaze and chopped pecans makes this Chai Spiced Apple Bundt Cake look absolutely gorgeous. It would be perfect for fall parties or bake sales.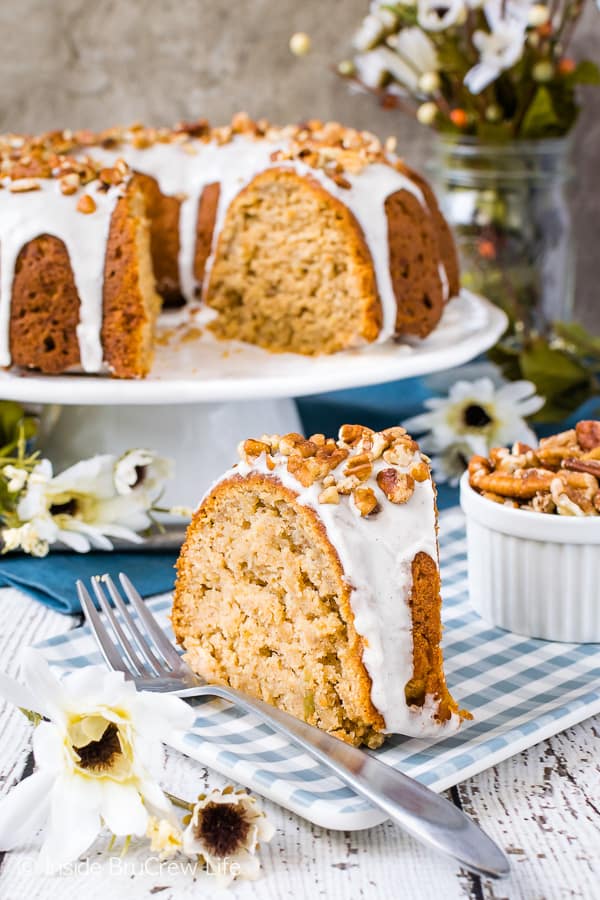 More apple recipes you may enjoy: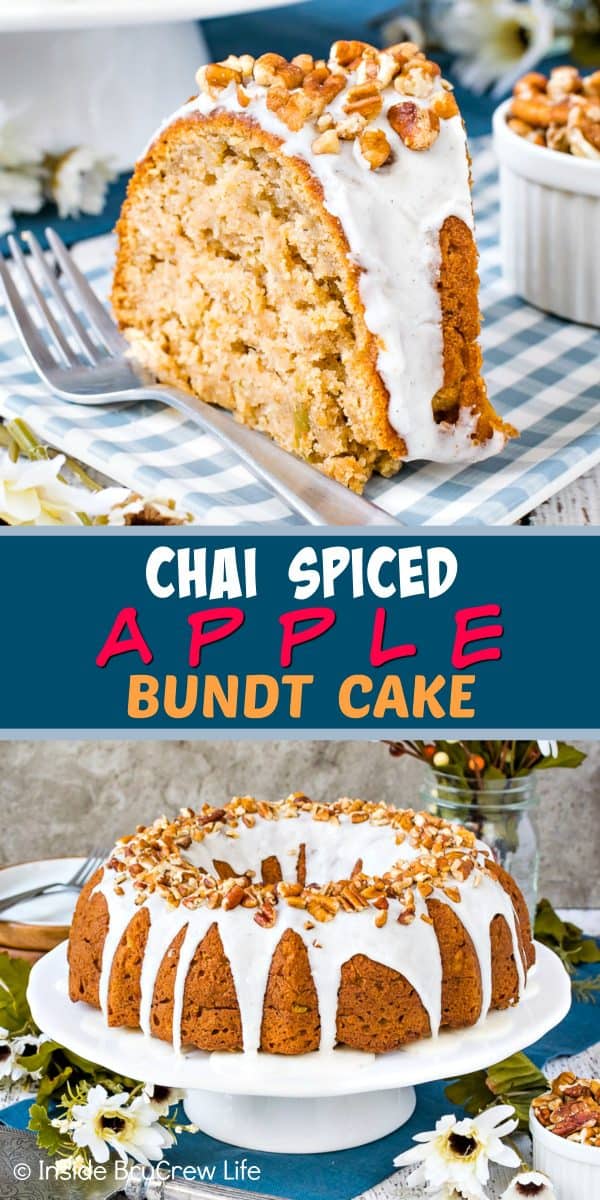 * Crunch Pak apples compensated me for my time as a brand ambassador. All opinions expressed in this post are 100% my own.