Enjoy two desserts in one with this Blackberry Cheesecake Pie. A homemade graham cracker crust is filled with creamy cheesecake and swirls of blackberry pie filling.
Homemade whipped cream and fresh berries make each slice look perfect. This cool and creamy cheesecake pie is the perfect summer time treat.
*I am partnering with Dixie Crystals to bring you this blackberry cheesecake pie recipe.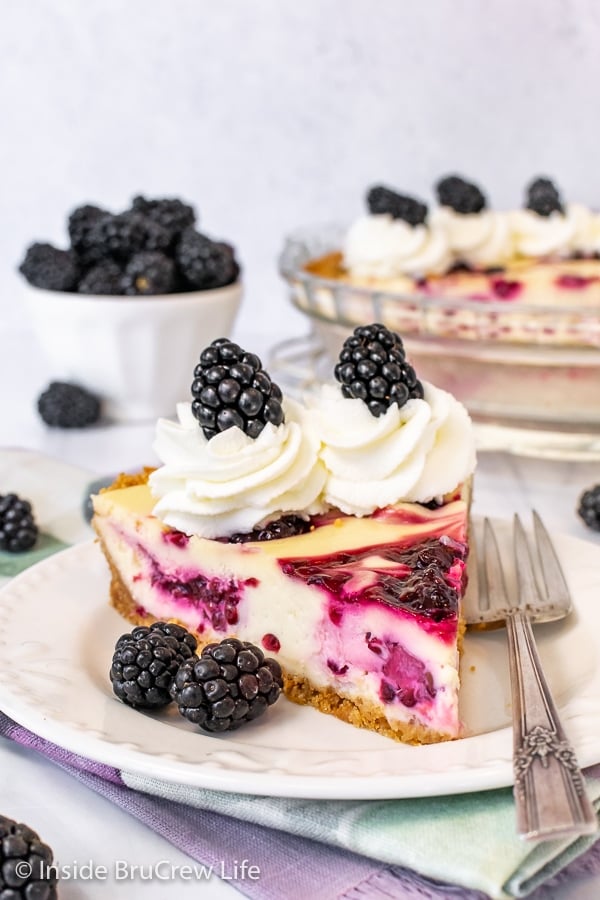 Cheesecake Pie
One of our favorite desserts to make is cheesecake. It is easy to add to just about any dessert recipe you can imagine. The problem with a full cheesecake is the time it takes to make, bake, and chill. If you want to eat cheesecake for dessert, you really have to plan ahead so it can be ready in time.
Making a cheesecake pie is my solution to the time issue. It has the same great taste as a whole cheesecake, but it is ready in half the time. I call that winning at the cheesecake game.
Trust me! Cheesecake and pie were meant to be together. Combining two favorites into one show stopping dessert is sure to catch everyone's attention at the party table.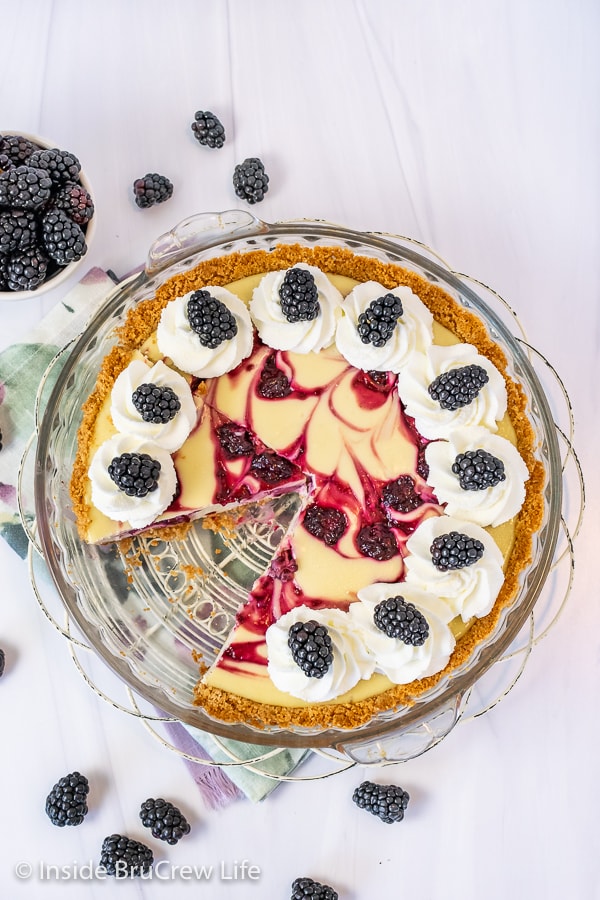 What is Cheesecake Pie?
True cheesecake is a dense, creamy dessert that is baked in a springform pan with some type of crust on the bottom and sides of the pan.
Cheesecake pie is very similar because it has cheesecake batter baked in a graham cracker pie crust. The difference is that it requires less cheesecake filling, so it has a shorter bake time. It is also baked in a pie plate.
What You'll Need
This cheesecake pie recipe can be made in a few simple steps. Be sure to set your ingredients out ahead of time, so they are at room temperature.
Softened cream cheese will help prevent lumps, and you will end up with a much smoother cheesecake filling.
Graham Cracker Pie Crust: Make this very easy pie crust with crushed graham crackers, granulated sugar, and melted butter.
Blackberry Pie Filling: Fresh blackberries, sugar, water, lemon juice, and cornstarch cook down in minutes to make a sweet homemade blackberry pie filling.
Cheesecake Filling: A mixture of cream cheese, sugar, sour cream, flour, vanilla, and eggs is the base for this marble cheesecake.
Toppings: Add swirls of homemade whipped cream and fresh blackberries to add a finished touch to each slice.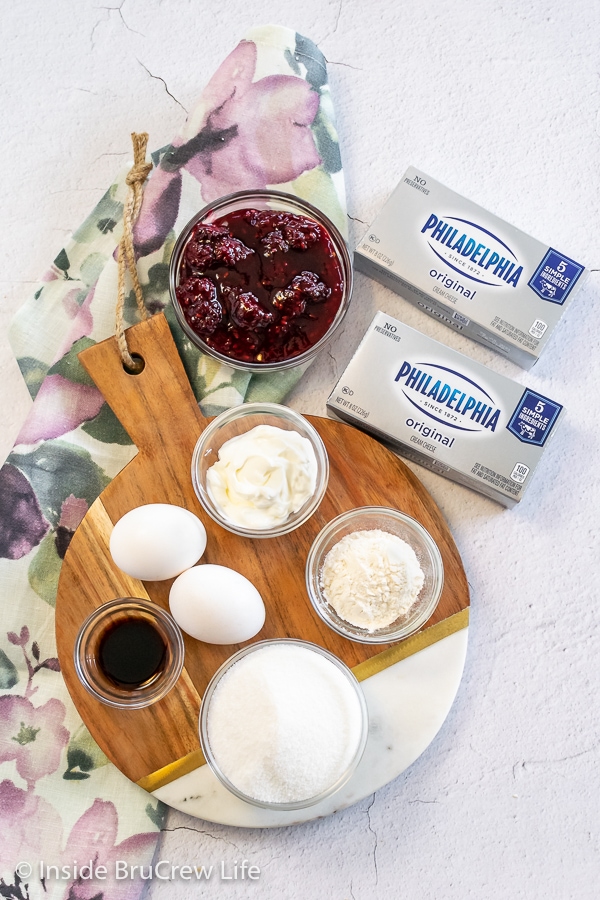 How to make a Swirled Blackberry Cheesecake
This blackberry cheesecake pie does have a few steps, but they are all very simple and easy to do. The blackberry pie filling makes a big impact in this swirl cheesecake.
And the best part about a cheesecake pie is that you do not need to use a water or steam bath.
Step One: Graham Cracker Pie Crust.
Crush graham crackers in a food processor.
Stir in sugar and melted butter.
Press evenly into the bottom and sides of a deep-dish 9 ½ inch pie plate.
Refrigerate the cheesecake pie crust until needed.
Note: You can also use vanilla wafers or gingersnap cookies if you prefer those instead.
Step Two: Blackberry Pie Filling.
Cook blackberries, sugar, and water in a sauce pan until the berries pop and release juices. (see note below)
Whisk together cornstarch and lemon to make a cornstarch slurry.
Stir the slurry into the berries and cook for a few minutes or until thickened.
Remove from heat and let cool on your counter while you make the cheesecake filling.
Note: If you do not like seeds in your blackberry topping, mash the cooked berries and press them through a fine wire mesh sieve before stirring the slurry in and thickening it.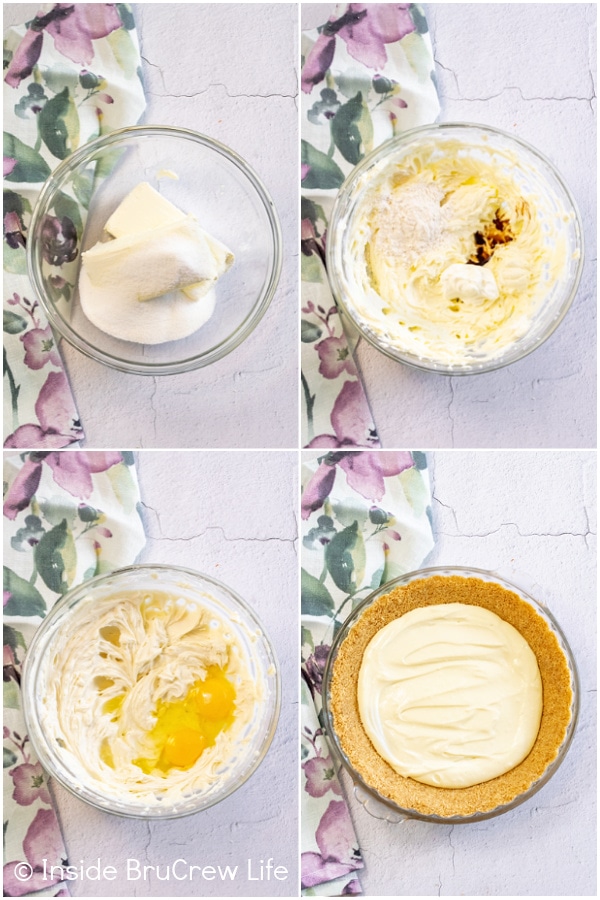 Step Three: Cheesecake Filling.
Beat room temperature cream cheese and sugar until very creamy.
Add flour, sour cream, and vanilla extract and mix until creamy again.
Beat the eggs into the cheesecake mixture just until mixed in.
Notes:
Make sure the cream cheese is softened ahead of time, so it is easier to cream and make a lump free filling.
Change up the flavor of the cheesecake by using lemon extract instead of vanilla.
Step Four: Assemble the Blackberry Cheesecake Pie.
Spoon half the cheesecake batter into the refrigerated graham cracker pie crust.
Drop half the blackberry pie filling over the top of the cheesecake filling.
Gently swirl with a butter knife.
Spoon the remaining cheesecake filling over the top and spread out gently.
Swirl the other half of pie filling into the top.
Note: Make sure to avoid the crust when you are swirling the pie filling into the cheesecake batter.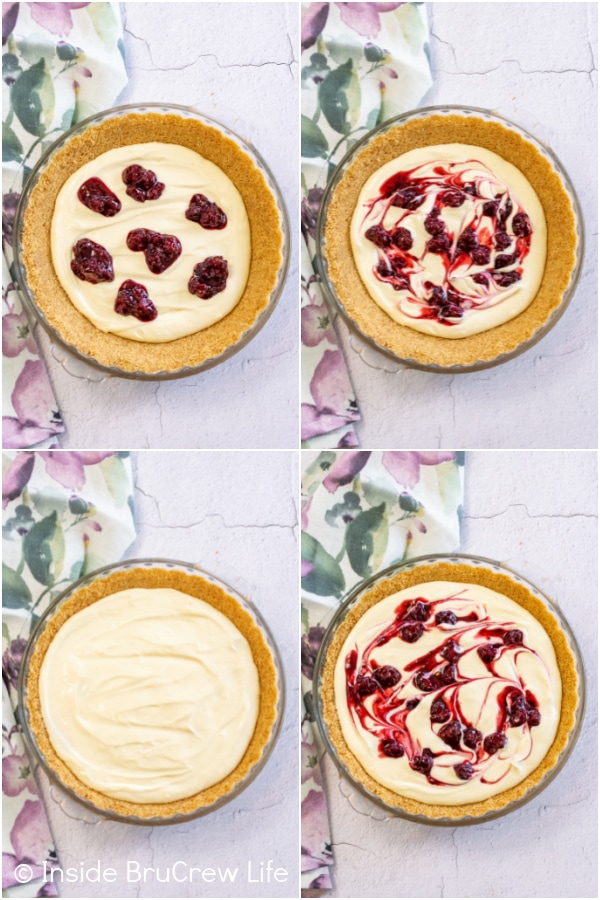 Step Five: Bake.
Bake according to recipe directions.
Remove and cool on counter for 1 hour.
Refrigerate until chilled through. (2-3 hours)
Step Six: Decorate and Serve.
Add swirls of whipped cream around the top of the cooled cheesecake pie.
Top each swirl with fresh blackberries.
Note: Add mint leaves with the blackberries for an even prettier presentation.
HOW TO FIND THE FULL RECIPE:
*I am sharing the ingredients and full directions for this BLACKBERRY CHEESECAKE PIE RECIPE over on Dixie Crystals website.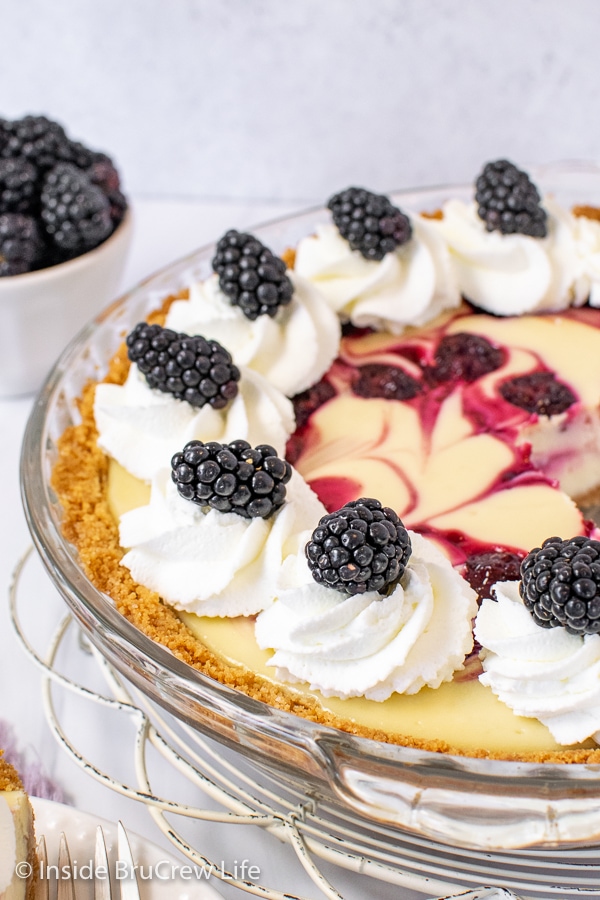 Frequently Asked Questions
Can I use frozen blackberries for the pie filling?
Yes, you sure can. Frozen berries will produce more liquid as they defrost and heat, so do NOT add the extra water.
How do you make swirls in cheesecake?
Add dollops of fruit filling, jam, or fudge on the top of cheesecake batter. Use a toothpick or tip of a butter knife to swirl until you get the marbled look you are going for.
How do you know when cheesecake is done?
Cheesecake is done when you gently shake or tap the pan and only the center of the cheesecake jiggles like Jello.
How do you store cheesecake?
Refrigerator: Uneaten cheesecake can be stored in in the fridge in a covered container for 4-5 days.
Freezer: Place a full chilled cheesecake or slices of cheesecake on a tray and freeze for 30 minutes. Then wrap tightly in plastic wrap and foil and place in a freezer safe container or bag for 1-2 months. To thaw, defrost the cheesecake in the fridge overnight. Add the whipped cream topping and fruit right before serving.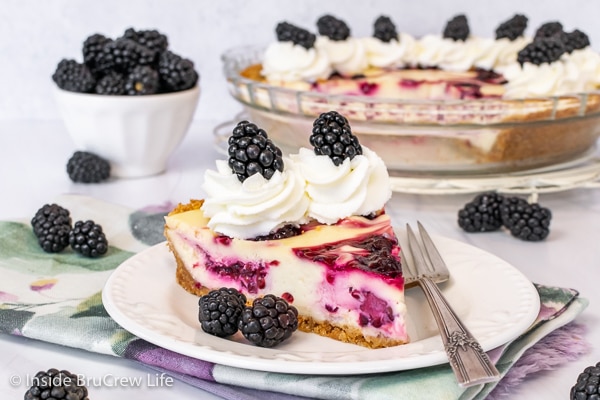 More Cheesecake Pie Recipes
Other Easy Pie Recipes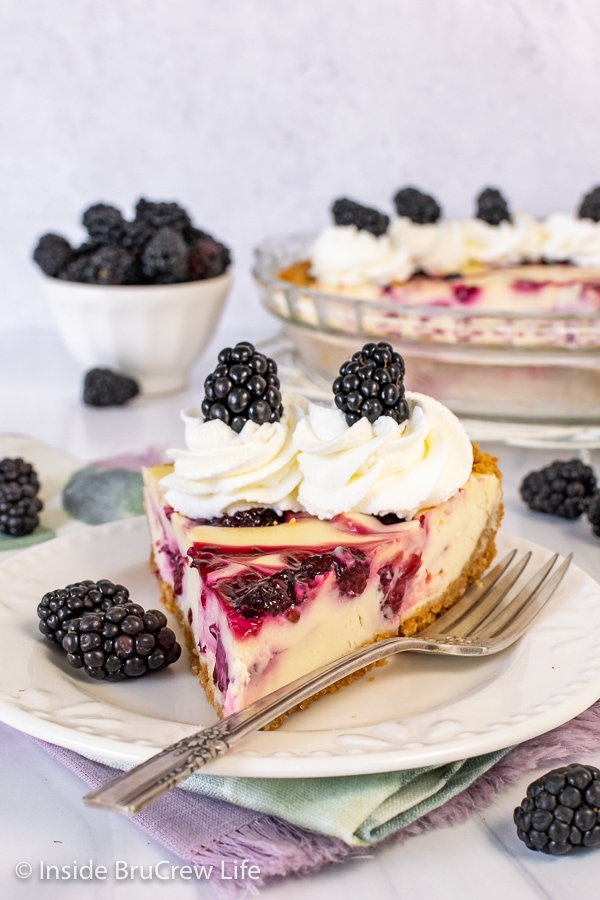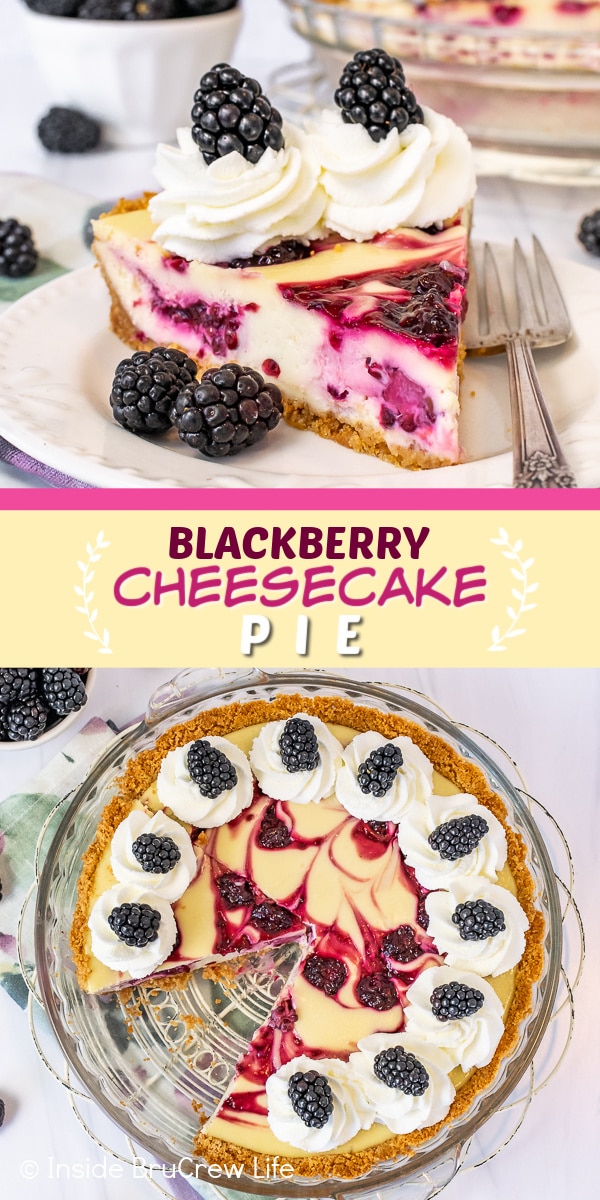 *Dixie Crystals sponsored this recipe and post. All opinions expressed are 100% my own. Thank you for letting me share products and brands that we use and love. See my disclosure policy for more information.*