These Chocolate Peppermint Cupcakes show off an easy homemade chocolate cupcake topped with peppermint frosting and cute little mini York Peppermint Patties. Cupcakes this good are perfect for any party or picnic at any time of year.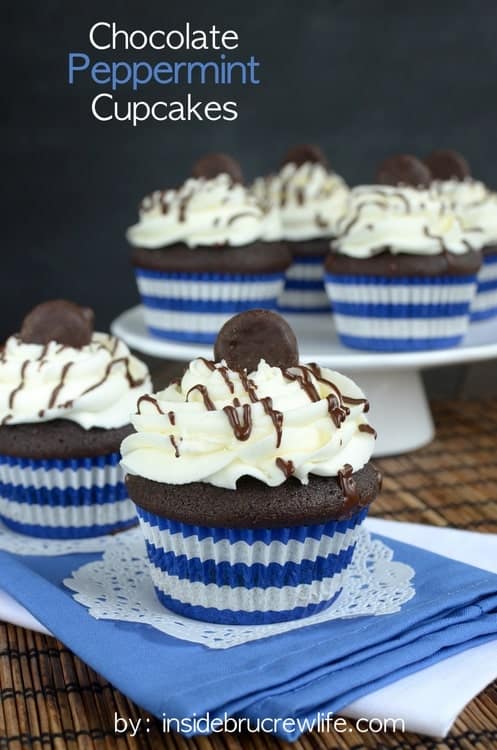 I realize that you must think I am bonkers for posting a peppermint recipe as we head into the summer season.
Let me plead my case before you pass dessert judgment upon me! You see, to me Peppermint Patties get a bad rep of being a winter treat. Peppermint = a holiday flavor in everyone's eyes.
I happen to absolutely love eating Peppermint Patties any time of year. They have that chilly refreshing taste that almost cools you off as you are eating them. Try freezing the peppermint patties and biting into one on a hot summer day. Instant chill factor for sure!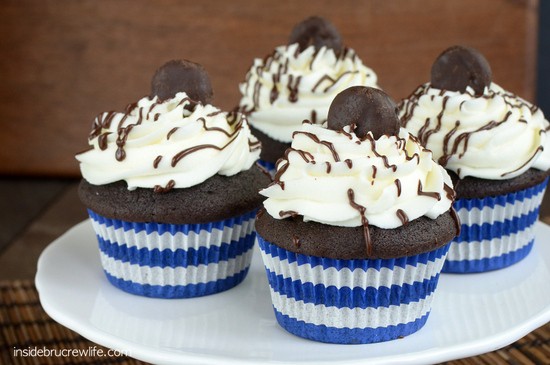 My second reason for making these cupcakes were these itty bitty Peppermint Patties I found.
A few weeks ago I was at Meijer grabbing a few items...ok, fine a cartload of baking stuff...when I saw this bag of unwrapped mini Peppermint Patties staring at me. Before I could even blink, two bags of candy jumped right into my cart. For realsies! I seriously don't even remember reaching out and grabbing them.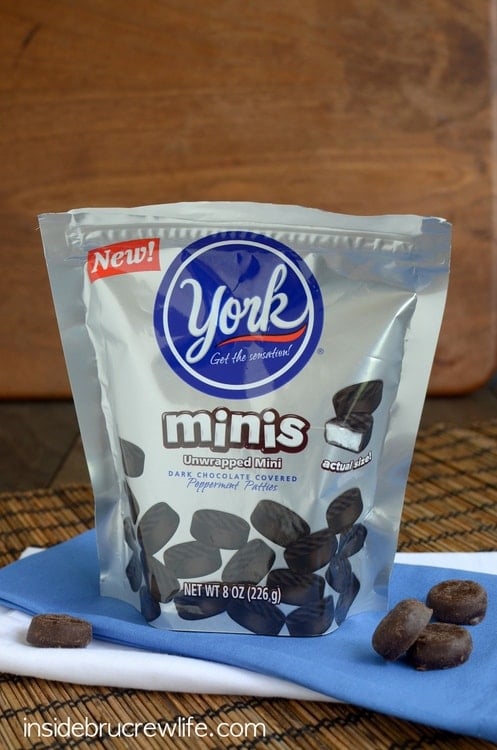 After a minute of just staring at these cute candies, I realized that I didn't need 2 bags. I know just how long they would last in my possession.
The smart thing to do was put one bag back on the shelf and buy one bag to bake something fun with, but for some reason my hands were frozen to the front of the cart. Finally after that inner dialogue between the good dessert angel and the bad dessert devil, I slowly removed one bag from the cart. I'm pretty sure I heard the candy pleading with me to buy it as I walked away.
What? You don't hear candy talking to you? Hhhhmmm...maybe that was just that inner dessert devil talking again. What?? You don't hear one of those either??? Ok, maybe I should keep these things to myself more often. You all are going to start thinking I'm a crazy lady. What's that? You already do??? It's ok, I can live with that 😉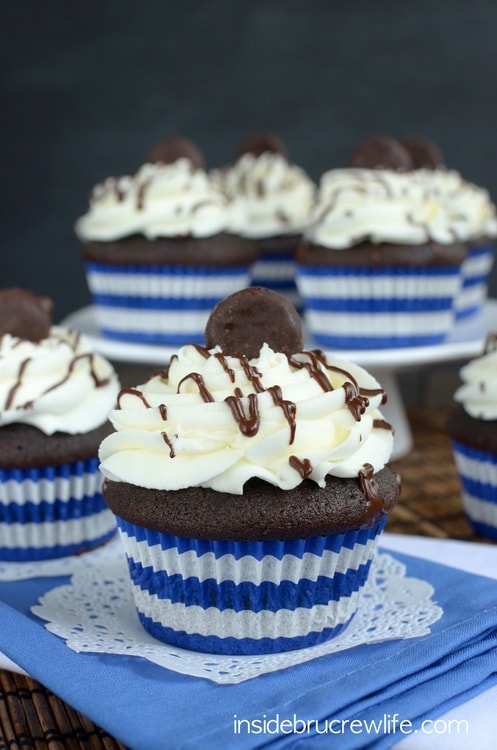 Now for the fun stuff. I came home with that bag of candy anxious to start baking. The first thing that came to mind was this chocolate cupcake. But then all night long I kept debating whether that seemed too holiday-ish! Finally I just gave up debating the issue and made cupcakes.
Now if you want to simplify things a little bit, you can use a chocolate box mix. I usually do too! BUT...I do have a fantastic homemade chocolate cupcake recipe that I like to break out every once in a while. You can mix the batter up in almost the same amount of time as a box. Promise me you will give it a try some time.
Start by sifting all the dry ingredients into one bowl. I like to use the Hershey's dark cocoa powder for that rich, deep chocolate taste and look. You can use regular cocoa if that's all you have in your cupboard.
Then whisk the oil, eggs, and extract in another bowl. Alternately add the dry ingredients and the buttermilk and hot water into the egg mixture. Beat for another minute and you are done. See how easy that is? Divide the batter into 24 cupcake liners and bake.
Beat together all the frosting ingredients while the cupcakes are baking. For this frosting, I used a little bit of peppermint extract. If you like a much stronger peppermint taste, go ahead and add more. Just be very careful to not add too much. Peppermint extract is very strong, and you can over do it quickly if you are not careful.
Then sit down and relax a bit while you wait for them to cool completely. Or go for a run or better yet, do some house work. It's totally up to you how you wait. Just don't let the mini Peppermint Patties talk you into opening the bag early. You will wish you had bought two bags! At least that's what I hear...
Are you convinced yet that chocolate peppermint cupcakes are totally an all year treat?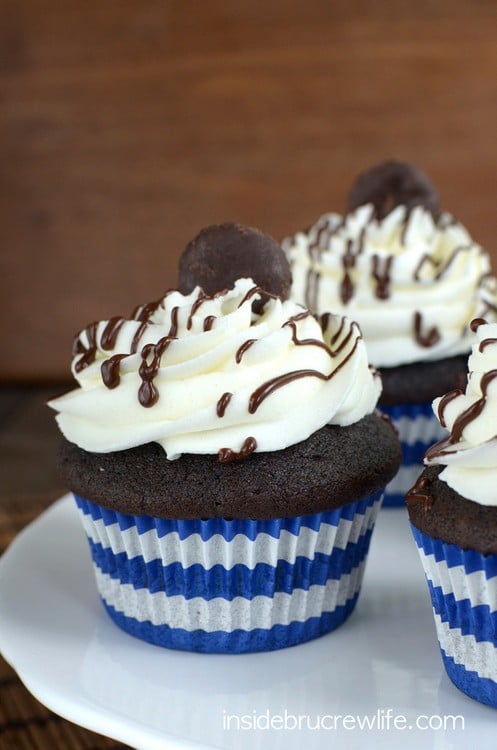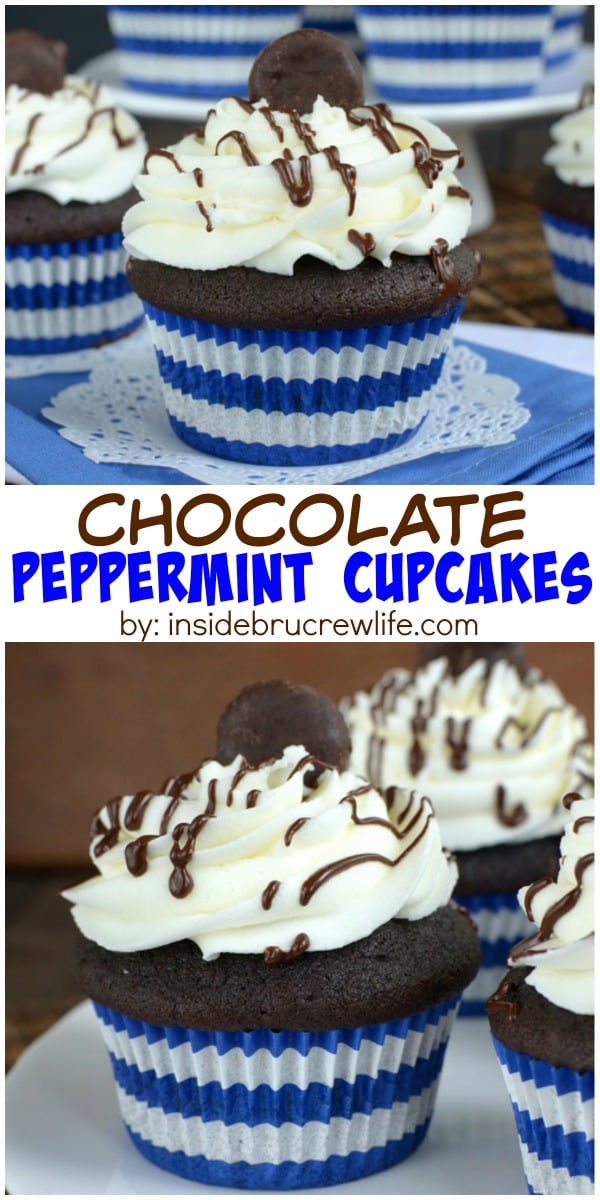 More Peppermint Pattie treats to chill your sweet tooth with: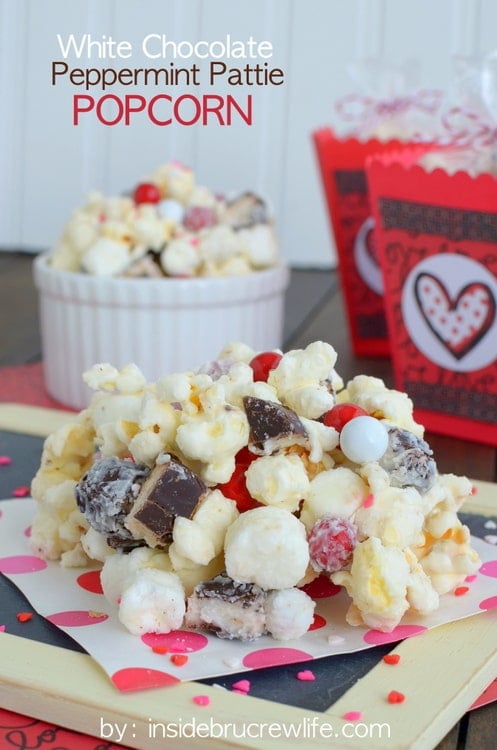 White Chocolate Peppermint Pattie Popcorn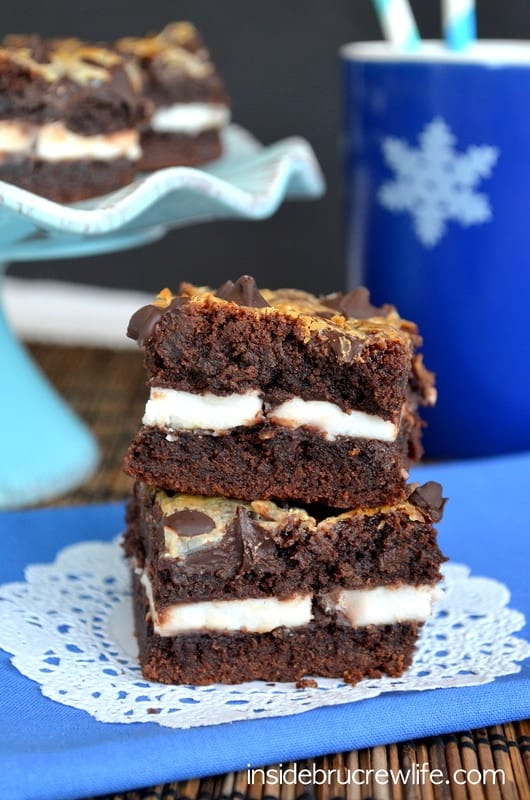 Peppermint Pattie Gooey Cake Bars