This Dark Chocolate Layer Cake is filled with a fluffy frosting and topped with hot fudge, pecans, and cherries. It is the perfect dessert to enjoy for any life celebration.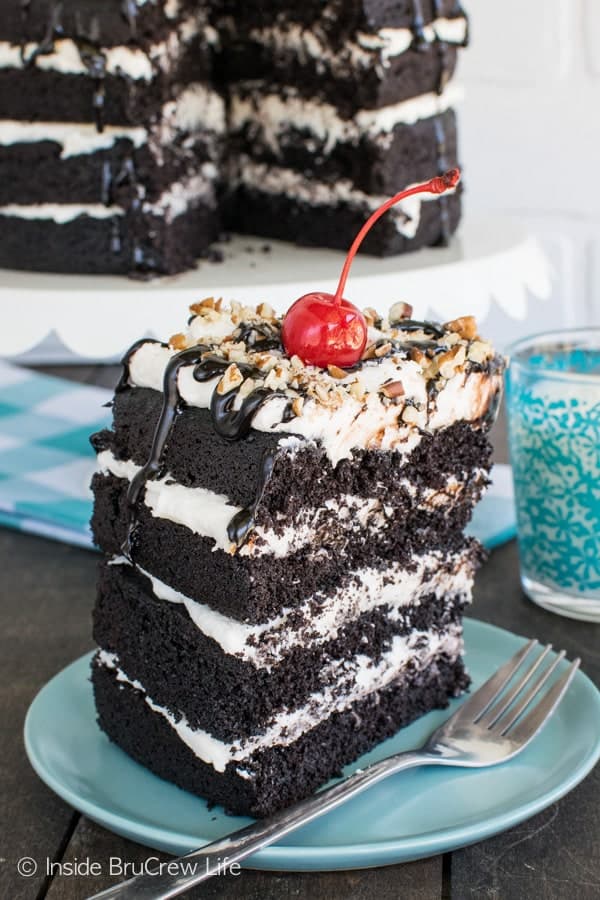 I am officially old. At least that's what our kids keep telling me over and over. I guess I remember thinking my parents were ancient when they were my age.
But honestly, I do not feel my age at all. They say 40 is the new 20, so that must be why I still feel young. Although, I have seen and been around some 20 year olds...and I don't think I want to relive those years again. 20 year olds look and act about 15 some days, so I think I'm going to start saying 40 is the new 30.
Usually by 30 you have settled down and figured out what life is all about and what you want to do with your life. You also usually realize that cake every once in a while is a pretty good thing to enjoy.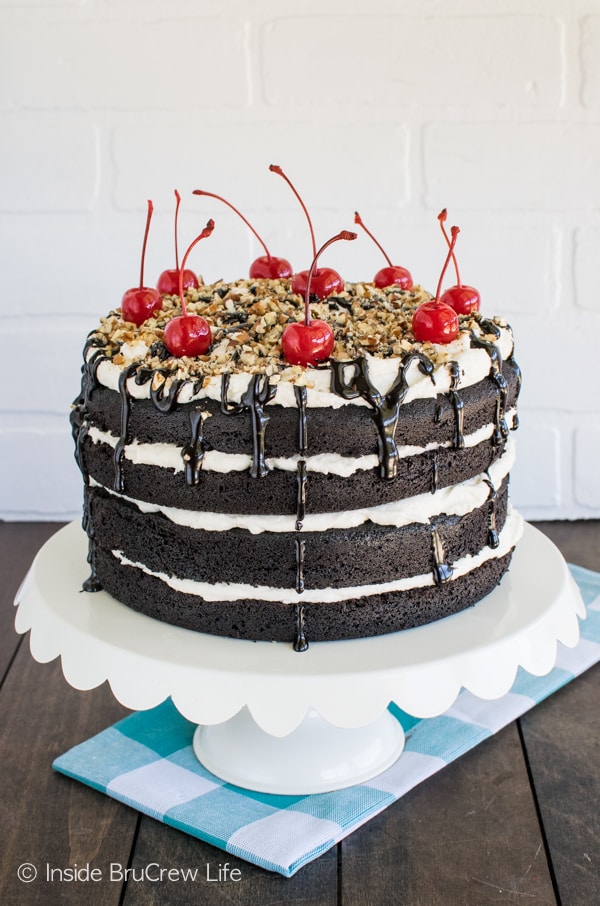 This past weekend was my 40th birthday! All morning long my daughter kept asking what we were going to do. It's so funny how when you are young, you have to have big plans and celebrations on your birthday. As you get older, it's just another day in your life...with cake, of course.
We did lunch out as a family, and then we stopped at a store to pick up some pots and cactuses. You can imagine the horrified look my daughter had when I told her that's all we were going to do for the big day. To her that was such a boring birthday!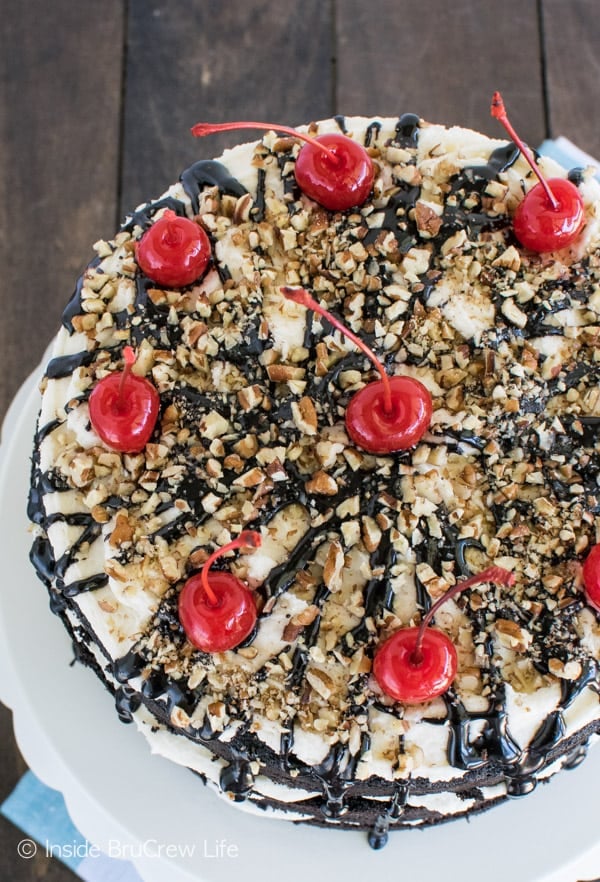 My husband offered to make me a cake...ok, he actually offered to go buy a cake for me, so that I could take the day off from baking.
But I actually love making my own cake every year...and I'm actually a big dessert snob. I have been making desserts for so many years now, that other desserts and treats do not impress me often.
So, I like to come up with fun birthday cake ideas. Making my own cake is actually enjoyable and super fun for me to do. There is no stress about it, and I can do whatever I want to it. One year I made this chocolate chip banana cake with honey peanut butter frosting and decorated the outside with a basket weave pattern. It was fun to do and tasted amazing.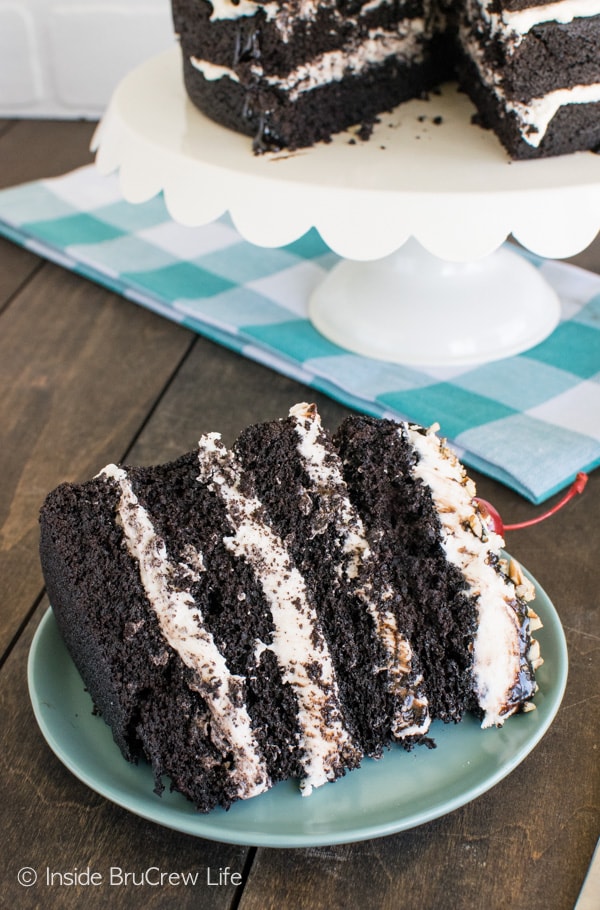 This year I had chocolate on the brain. I wanted a rich dark chocolate cake layered with fluffy frosting and topped with fudge and pecans. It just sounded like the perfect cake to celebrate hitting 4o with! 4 layers of cake to celebrate each decade of life!
I added the cherries on top at the last second because all of a sudden this dark chocolate layer cake was looking very brown and boring! Bright red cherries with stems always add a fun pop of color and fun to any dessert.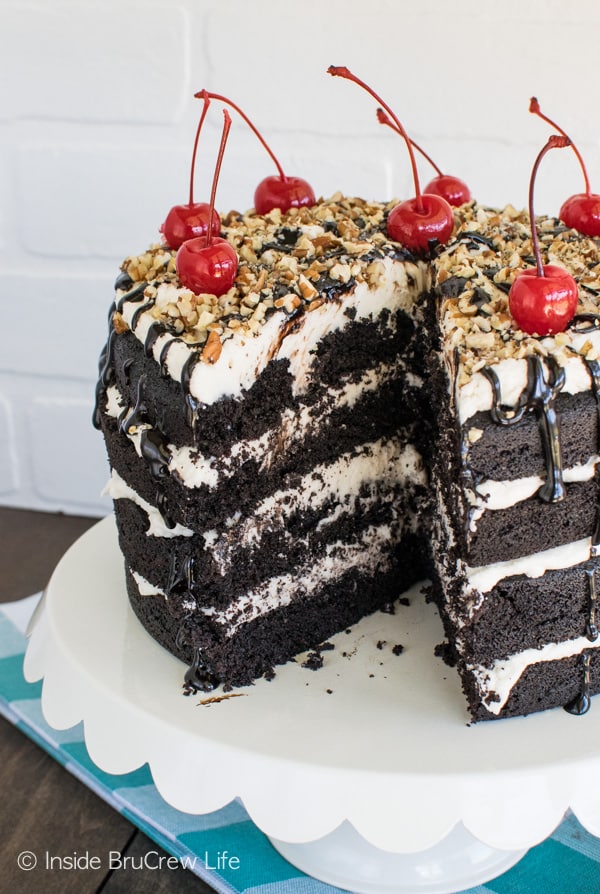 Stay up to date on all the BruCrew baking here:
FACEBOOK | PINTEREST | TWITTER | INSTAGRAM | BLOGLOVIN
Sign up to receive an email in your inbox for each new recipe:
EMAIL SUBSCRIPTION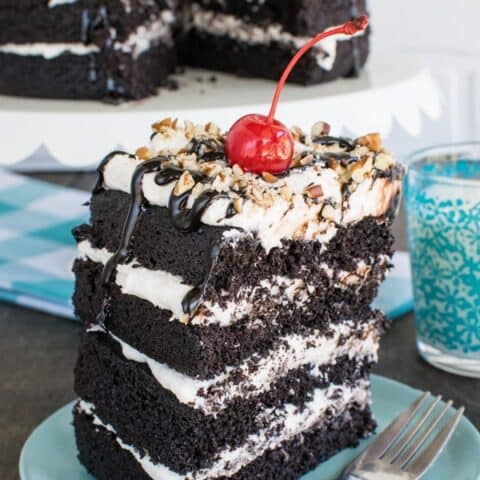 Dark Chocolate Layer Cake
Yield:
1 - 8 inch layer cake
Total Time:
1 hour
5 minutes
Layers of dark chocolate cake, frosting, hot fudge, and pecan chips make this Dark Chocolate Layer Cake an impressive cake to serve for any dinner party.
Ingredients
For the Cake
¾ cup unsalted butter, softened
2 cups granulated sugar
3 large eggs
2 teaspoons vanilla extract
2 cups all purpose flour
¾ cup dark cocoa powder
1 teaspoon baking soda
¾ teaspoon baking powder
½ teaspoon salt
¾ cup buttermilk
¾ cup strong brewed coffee, cooled
For the Frosting
½ cup unsalted butter, softened
½ cup shortening
¾ cup marshmallow cream
2 teaspoons vanilla extract
½ teaspoon rum extract
1 teaspoon salt
7 ½ cups powdered sugar
½ cup heavy whipping cream
¼ cup dark chocolate hot fudge topping
¼ cup chopped pecan
Maraschino cherries with stems, patted dry
Instructions
Preheat oven to 350 degrees. Grease 2 - 8 inch round cake pans and dust with cocoa powder.
Beat the butter and sugar until creamy. Add the eggs and vanilla and beat again.
Stir together the flour, dark cocoa powder, baking soda, baking powder, and salt in a bowl. Alternately add the flour mixture, buttermilk, and coffee to the butter mixture until everything has been mixed in completely.
Divide the cake batter evenly into the prepared pans. Bake at 350 degrees for 35-37 minutes or until a toothpick comes out mostly clean.
Remove the cakes from the oven and let cool 15 minutes in the pans. Flip out onto a wire rack to cool completely. Cut each cooled cake in half, horizontally.
Beat the butter and shortening until creamy. Add the marshmallow cream, vanilla, rum extract, and salt and beat again.
Slowly add the powdered sugar and whipping cream alternately until everything is mixed in. Beat on high for 1-2 minutes or until light and fluffy.
Place one cake layer on a plate. Spread ¼ of the frosting on top. Repeat with the cake layers and frosting.
Heat the hot fudge in the microwave until it is warm enough to stir, but not hot enough to melt the frosting. Drizzle over the top of the frosted cake. Sprinkle with pecan chips. Top with cherries.
Recommended Products
As an Amazon Associate and member of other affiliate programs, I earn from qualifying purchases.
Nutrition Information:
Yield:

12
Serving Size:

1
Amount Per Serving:
Calories:

874
Total Fat:

37g
Saturated Fat:

19g
Trans Fat:

0g
Unsaturated Fat:

15g
Cholesterol:

114mg
Sodium:

471mg
Carbohydrates:

132g
Fiber:

2g
Sugar:

109g
Protein:

6g

More fun cakes that are great for parties and life celebrations: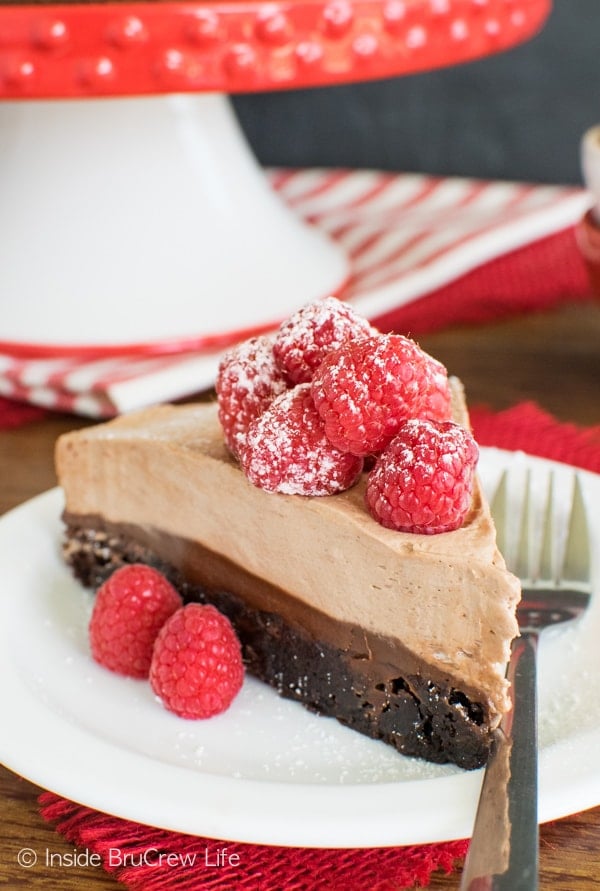 Raspberry Nutella Brownie Cake