The hidden cream center in these Chocolate Pumpkin Cream Filled Cupcakes will make everyone smile when they find it. These easy cupcakes are great for fall holiday parties.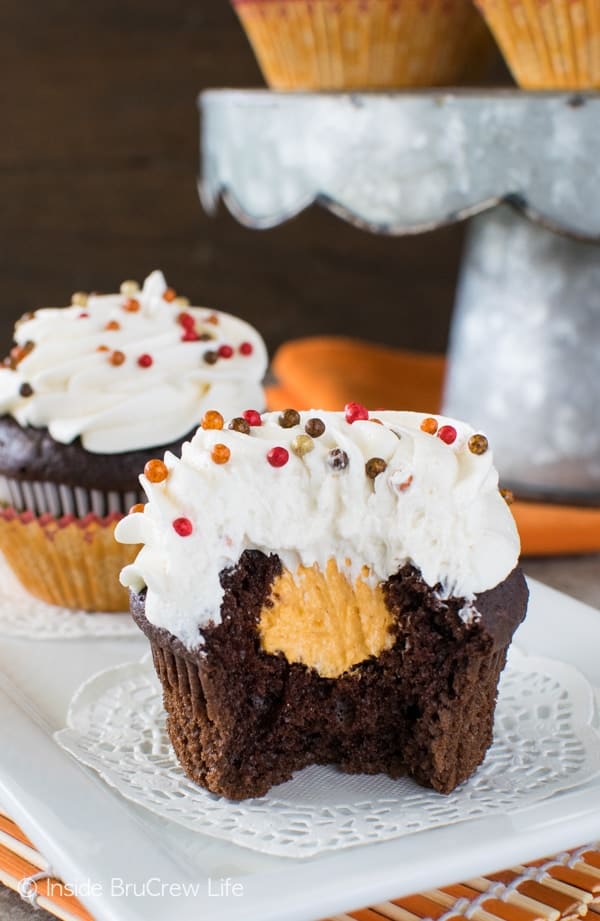 Now that it is past Labor Day, it's fair game on all things pumpkin. Now, I know you are probably thinking, "Girl, you shared a cinnamon roll pumpkin cake two weeks ago, so you were on the pumpkin train already." Ok, you are right, I did. I couldn't wait to share that one with you. It was sooooo good!!!
But I held off until September to start sharing the other couple of pumpkin recipes I have. In the past, I usually start making pumpkin treats at the beginning of August, but this year I just couldn't get into the pumpkin mood. Maybe the Texas sun and the zucchini banana cake were keeping me in summer mode. Until now...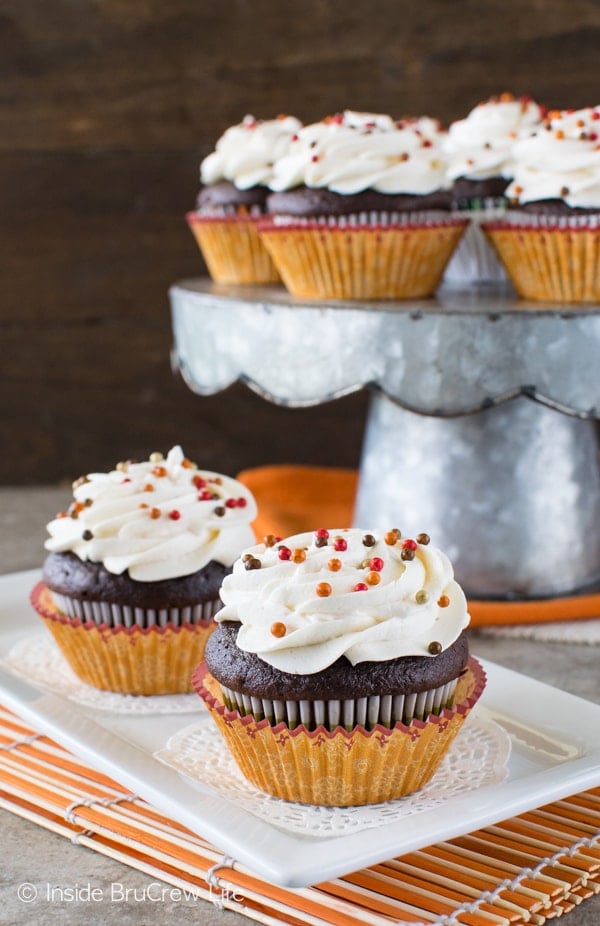 After a few pieces of that pumpkin cake, I couldn't wait to get going on more fall treats. Are you ready for more orange goodness in your life?
I sure hope so because if you follow my instagram, you probably saw my cart of canned pumpkin. Those cans have already become cake, pastries, parfaits, and cupcakes. I'm just getting warmed up!
Can you believe that I haven't made any cupcakes since March? That's just crazy. As soon as I realized it had been that long, I decided to add pumpkin to a cupcake. There was a spice cake and a chocolate cake mix in the pantry that I had to decide between.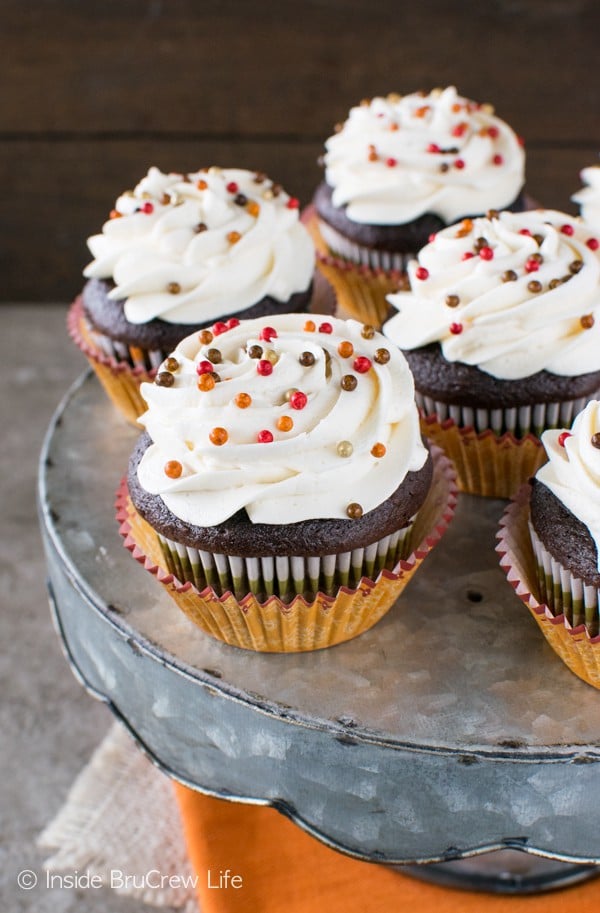 Either one would have been good for this fun recipe, but as I thought about how I wanted to put pumpkin cream in the center and white frosting on top, I thought chocolate would make them look kind of like Indian candy corn.
Speaking of candy corn...I already bought a bag of that too. Who else loves that stuff?
I always add a box of pudding to my cake mixes when I make cupcakes. You are more than welcome to make your cupcakes however you like. But if you like light fluffy cupcakes, go ahead and give my version a try. You won't regret it.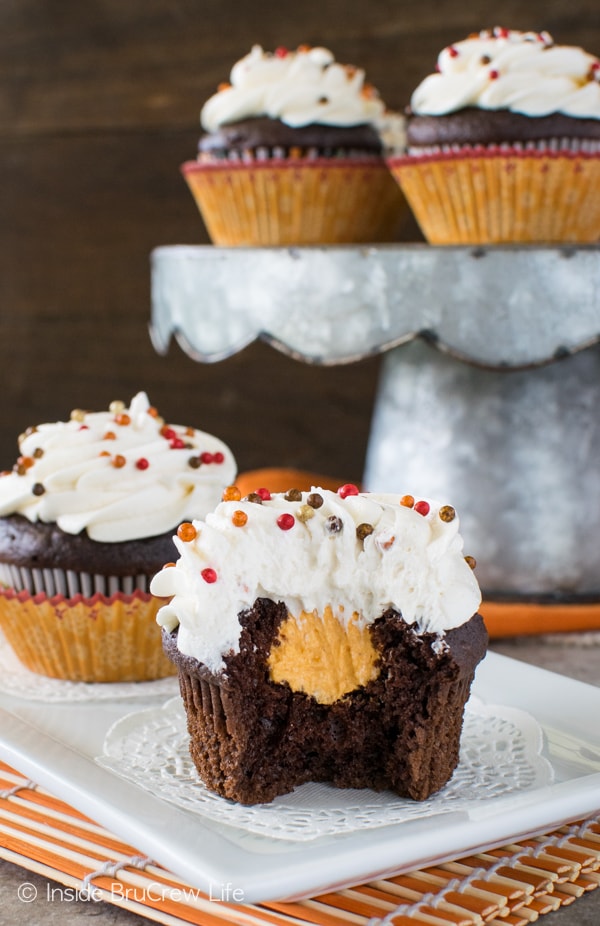 After the cupcakes are cool, cut out the center and fill it with the pumpkin cream goodness. You might have one or two spoonfuls left, but I think you know how to get rid of that. Wink, wink. A swirl of sweet frosting and fall colored sprinkles finished off the top of the cupcakes!
We had a group of church friends over last week, so I had these chocolate pumpkin cream filled cupcakes sitting out for dessert that night! I loved seeing the surprised look on everyone's faces when they would find that creamy pumpkin center.
These cupcakes disappeared pretty quickly, so this recipe definitely gets a thumbs up!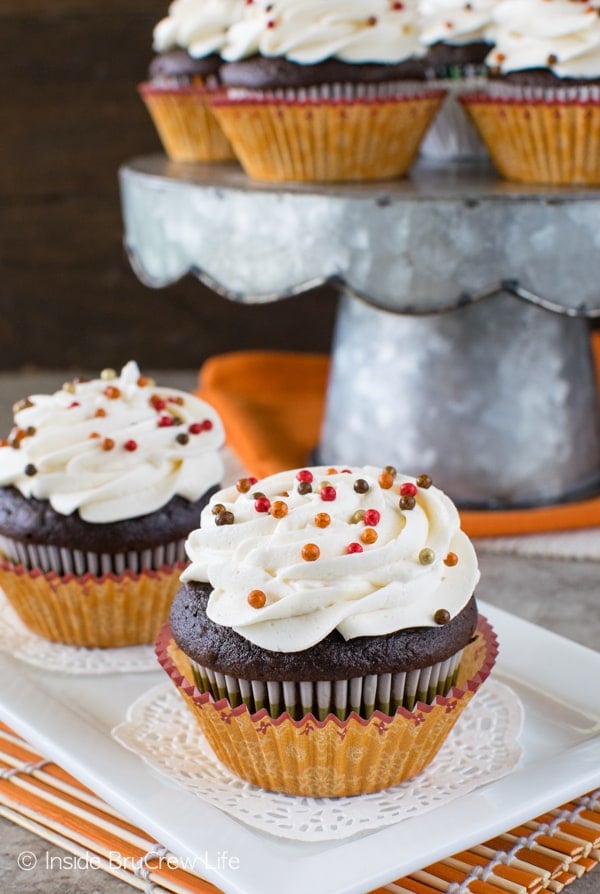 More fun pumpkin treats to enjoy this fall: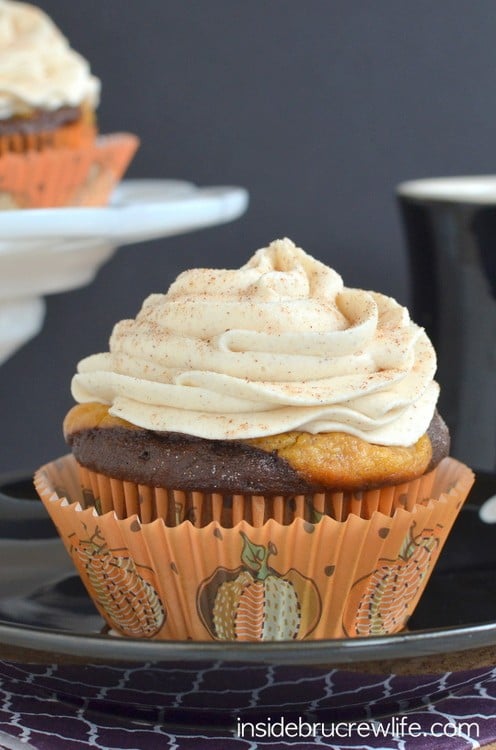 Chocolate Pumpkin Cheesecake Cupcakes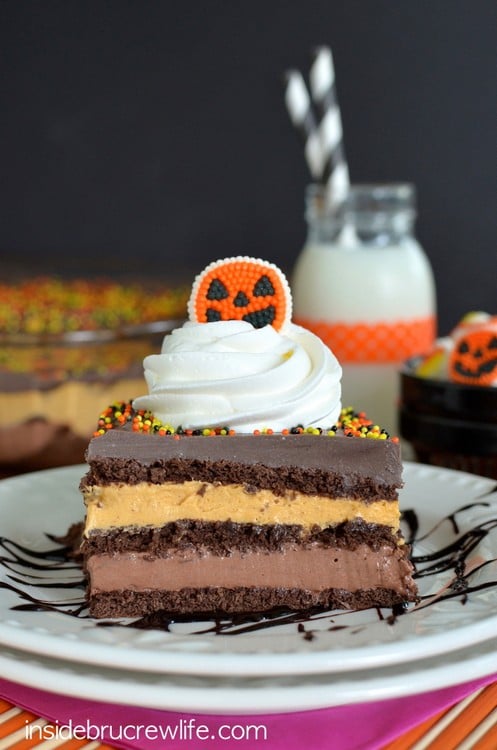 Pumpkin Fudge Eclair Cake