A cookie crust and a chocolate raspberry filling creates an amazing and easy pie. Make this Chocolate Raspberry Truffle Cookie Pie for someone special this month.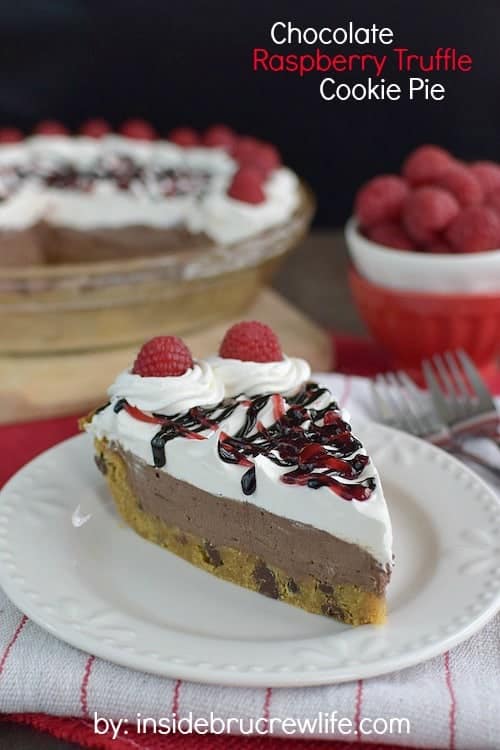 Raspberries and blackberries used to be my least favorite fruits. I think it was because the seeds always got stuck in my teeth. I have issues with things getting stuck there.
Anyone else remember the hilarious story of me and coconut when I shared these Mocha Cookie Crumble Cupcakes? Yeah, I'd like to forget it too!
It's that same reason that used to keep me from eating these fruits. But recently I have been all about the raspberry and chocolate combo. I may even like that more than strawberry and chocolate...but I haven't totally decided yet. These chocolate raspberry thumbprint cookies pushed me over the edge!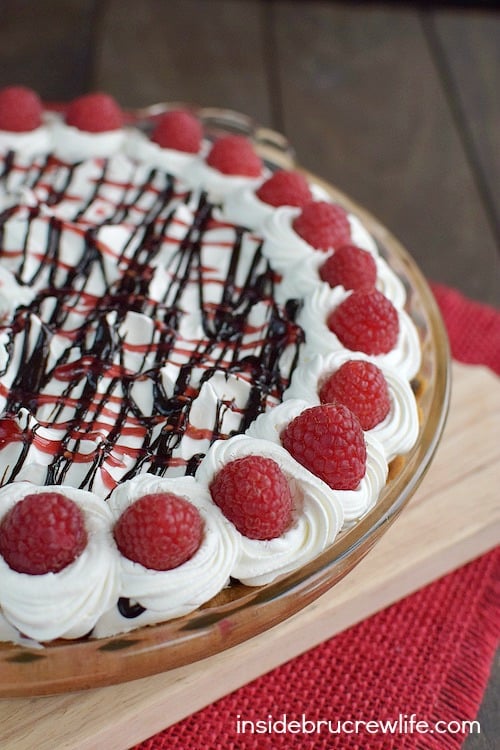 I still have issues eating raspberries plain. But put them on a chocolate and cookie pie, and I am all over a big slice of pie! The fresh burst of berry with the smooth creamy filling and the chewy cookie crust...oh, my!
Dang it! Now I'm totally craving this pie again, and the kids devoured all of it. I had a feeling I should have hidden that last slice. At least my hips are happy I let the kids have all of it.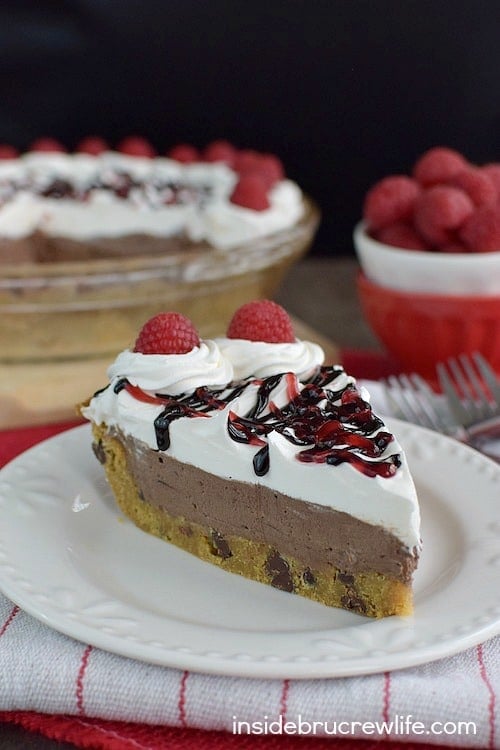 A few weeks ago, I shared this Chocolate Raspberry Truffle Dip. While I was busy shoving spoonfuls of that delicious goodness in my mouth, I started wondering what else I could do with it. I mean eating it by the spoonfuls was pretty amazing, but I knew it would be fabulous in some sort of a pie too.
Guess what? I was totally right! Smug smile...I love it when I'm right...especially about dessert ideas.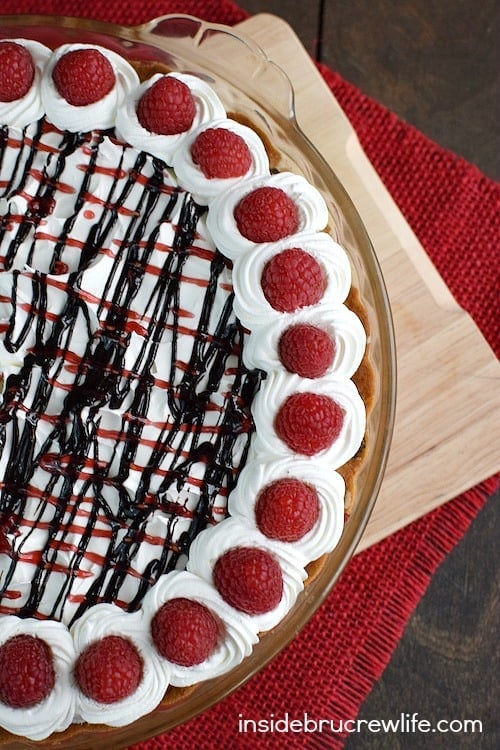 I do love finding ways to use pre-made items and give them a little bit of homemade flair. This pie does just that. Use a roll of refrigerated chocolate chip cookie dough for the crust. Little shortcuts like this just mean you are a little bit closer to eating pie. That's a good thing!
After the cookie bakes and cools, you can whip up a batch of truffle dip. Just do not start eating it by the spoonfuls...or the cookie crust will be very lonely.
More Cool Whip, some fun chocolate and raspberry drizzles, and fresh raspberries give this pie a special treatment. It totally looks like a gourmet dessert, but without all the hard work.
I'm thinking you and I both need to make this pie. Trust me...you really do want this pie ASAP!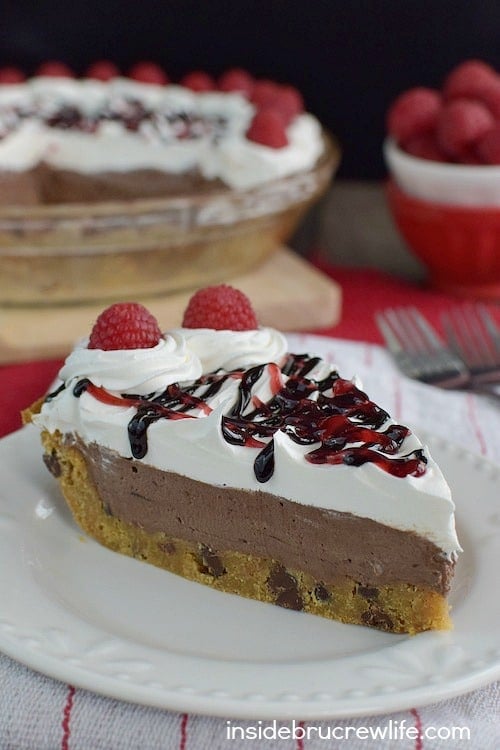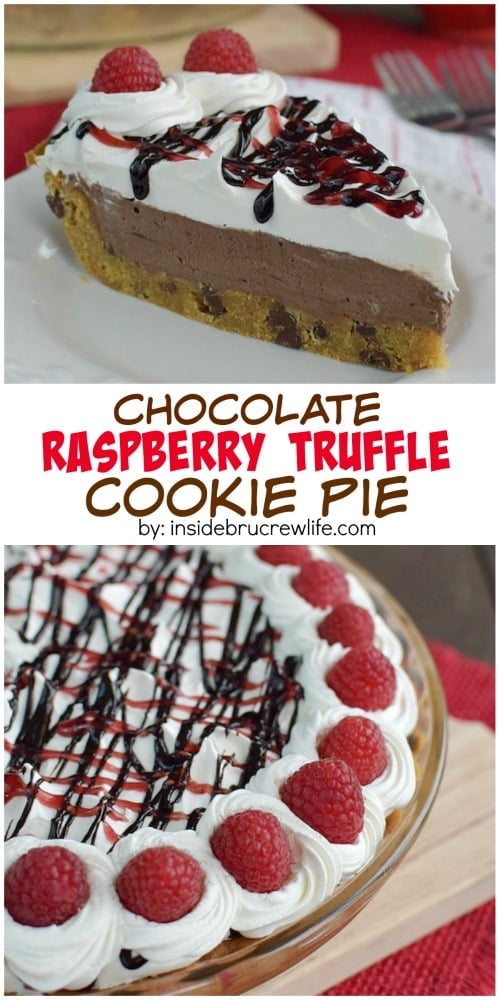 More fun and delicious pie ideas for you to make for your sweetie: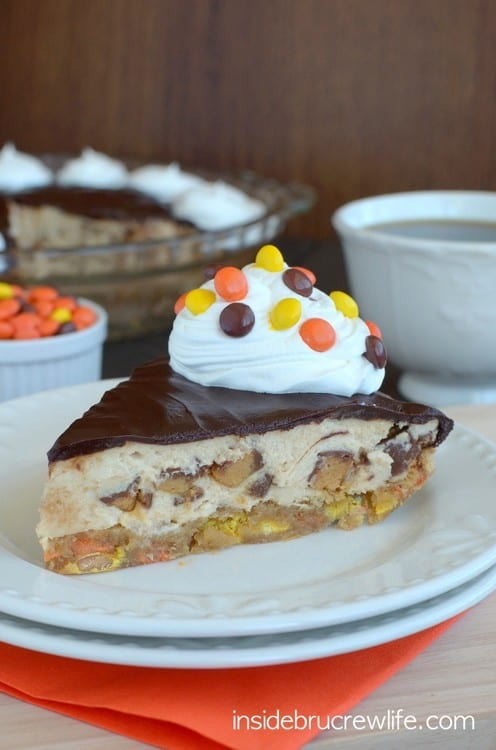 Triple Peanut Butter Cookie Pie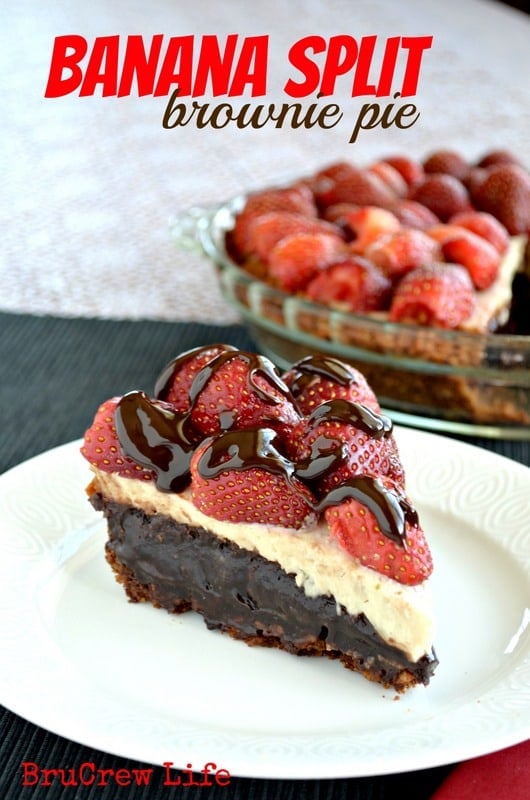 Banana Split Brownie Pie