Brownies combined with a banana split is the best of both worlds. This Banana Split Pie Recipe has layers of gooey brownies and a creamy banana cheesecake baked in a sugar cone crust. Watch everyone's eyes light up when you serve this banana split dessert.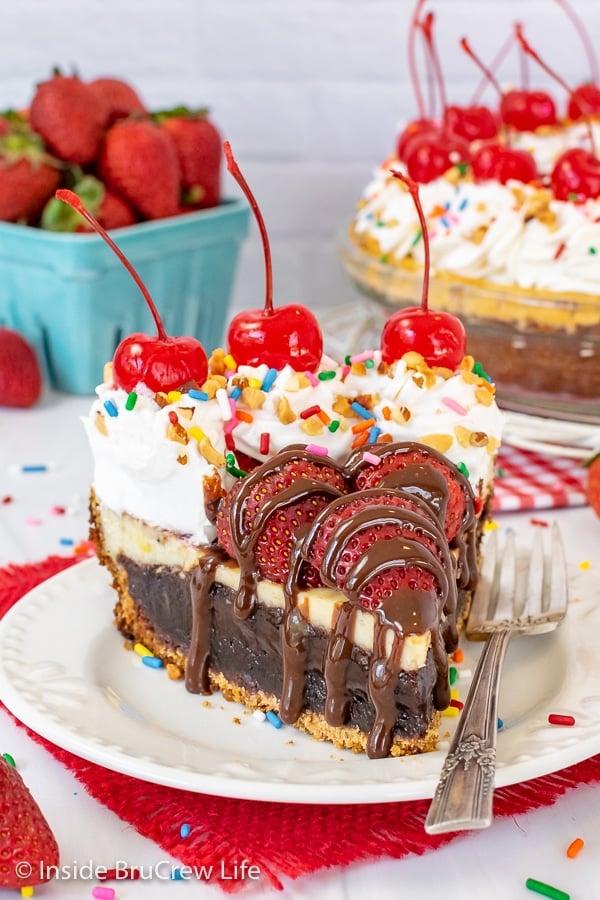 Banana splits are the ultimate summer dessert. There is something about bananas topped with ice cream and all the toppings that makes everyone smile.
Years ago I waitressed at Friendly's and served banana splits and ice cream sundaes to customers. There is something so fun about adding all the toppings to a giant banana split!
The best part about banana splits is how versatile they are. You can add whatever toppings you enjoy to them!
One of my favorite things to do is make banana split desserts. It's so easy to add those banana split flavors to different things like brownies, coffee cakes, or cookies.
Why This Works
This banana split brownie recipe was a fun way to add a banana split dessert on top of a brownie pie. Bananas and chocolate is a delicious combo.
A gooey brownie baked in a crust is the perfect base for a creamy banana cheesecake. Adding all the classic banana split toppings before you serve this pie is a must. This sweet dessert will satisfy the chocolate and fruit lovers in your family.
What makes this banana split pie unique is the crust. The original recipe from 10 years ago had a waffle cone crust, but that ends up a little chewy after baking.
A sugar cone crust is a great option because they bake up nice and crispy!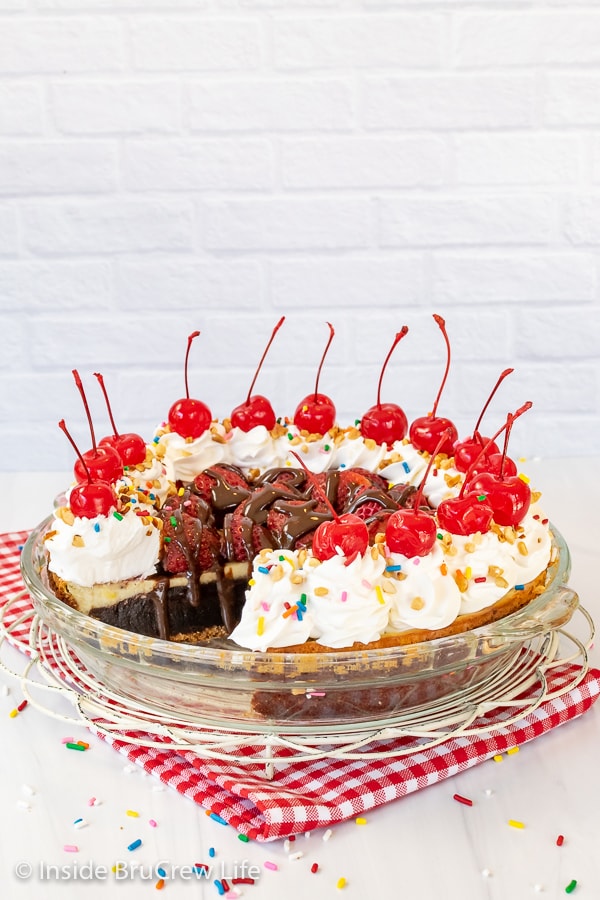 What is a Banana Split made of?
A traditional banana split has chocolate, strawberry, and vanilla ice cream served between a banana that has been "split" in half. The ice cream scoops are topped with syrups, fruit, whipped cream, cherries, and nuts.
Ingredients Needed
Each layer of these banana split brownies only takes a few ingredients. Using a box brownie mix saves some time for that layer.
Crust - sugar cones, sugar, melted butter
Brownie - boxed brownie mix, water, oil, egg
Banana Cheesecake - cream cheese, sugar, vanilla, egg, banana, flour
Toppings - strawberries, hot fudge, Cool Whip, sprinkles, nuts, cherries
BRUCREW TIP: Make and use this whipped cream recipe if you do not like Cool Whip.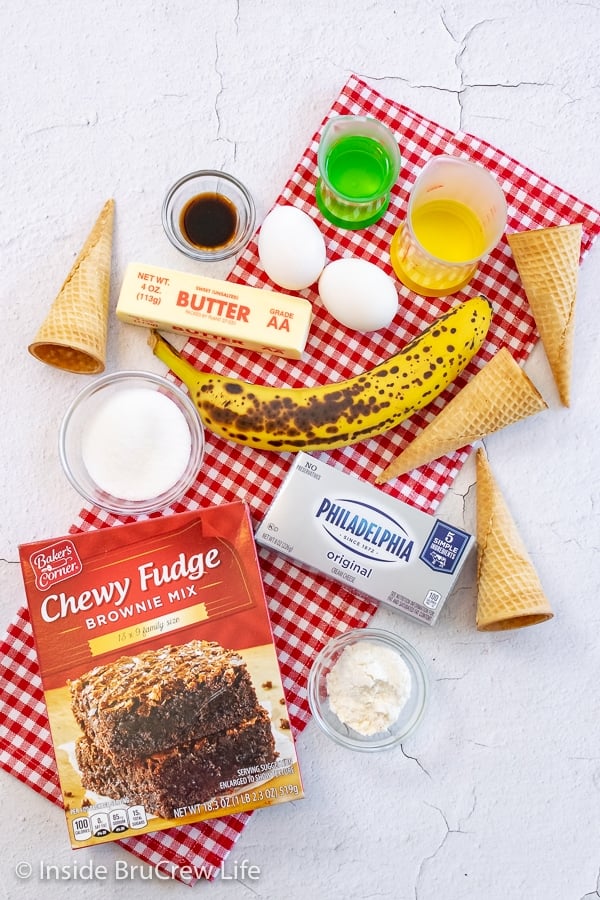 How To Make
This banana split pie only takes a few minutes to make. Each layer comes together very quickly. It's a great dessert to make the night before, so it has time to chill. When you are ready to serve, pull out all the toppings and have fun decorating.
Step One: Make a Sugar Cone Crust
This easy crust is made from a box of sugar cones that have been crushed into crumbs. It's very similar to a graham cracker crust, but the sugar cones give the banana split pie such a fun and unique flavor.
Stir together the crushed cones, sugar, and butter.
Press evenly into the bottom and sides of a 9 ½ inch deep dish pie plate.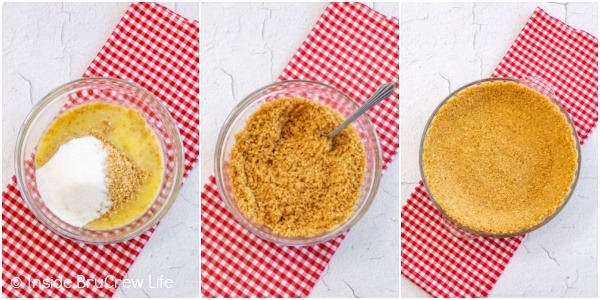 Step Two: Make Brownie Layer
This brownie pie starts with a box mix. Make sure you follow the recipe directions because you will not use the same amounts as what the box calls for.
Mix together the box brownie mix, oil, water, and egg until thick.
Spread in sugar cone crust evenly and gently. It will be very thick and sticky.
Bake 35 minutes.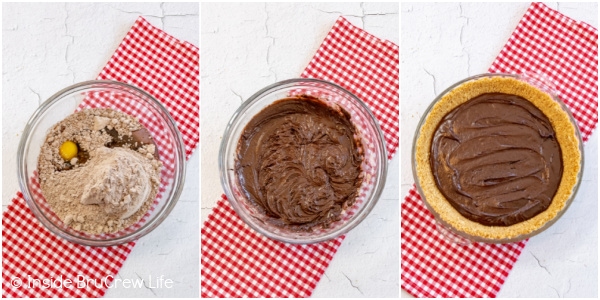 Step Three: Make Banana Cheesecake
Adding one ripe mashed banana to this simple vanilla cheesecake gives it just enough banana flavor. It is subtle, but definitely there.
Beat the cream cheese and sugar until creamy.
Add the flour, egg, vanilla, and banana and mix again.
Spoon gently over the baked brownie. The pie plate will be very full.
Bake another 25 minutes.
Remove and cool on a wire rack for 1-2 hours, then refrigerate until chilled.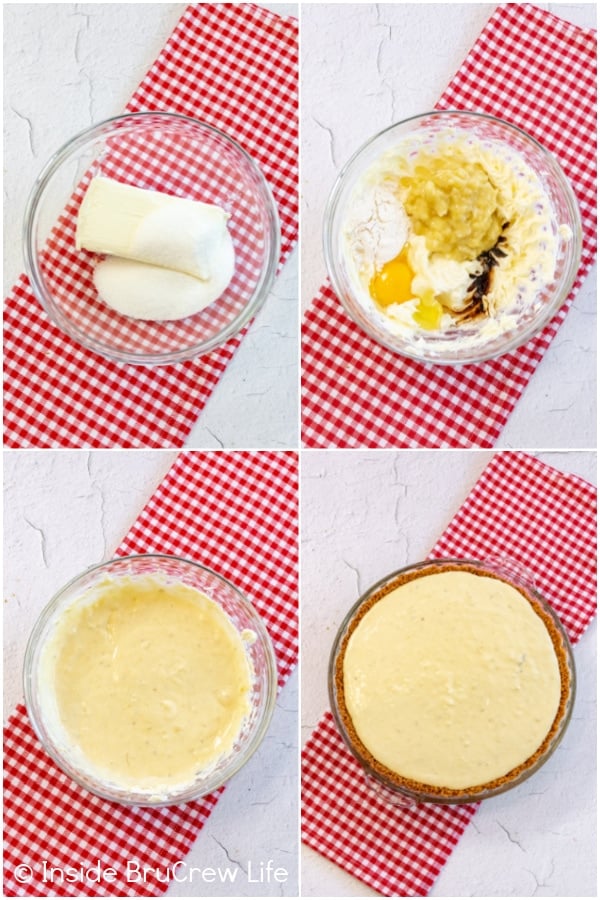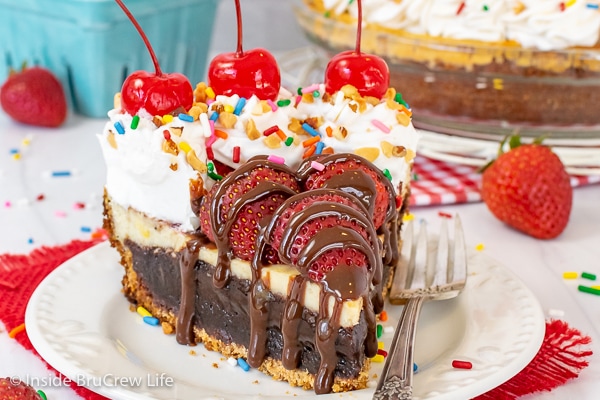 Step Four: Decorate the Banana Split Pie
Since this is a banana split dessert, we added a few traditional banana split toppings to it.
Arrange strawberry halves over the top of the chilled brownie pie.
Spoon Cool Whip into a piping bag with icing tip 1M. Swirl it around the outside edge of the banana pie.
Top with cherries, nuts, and sprinkles.
Drizzle warm hot fudge all over the strawberries right before serving.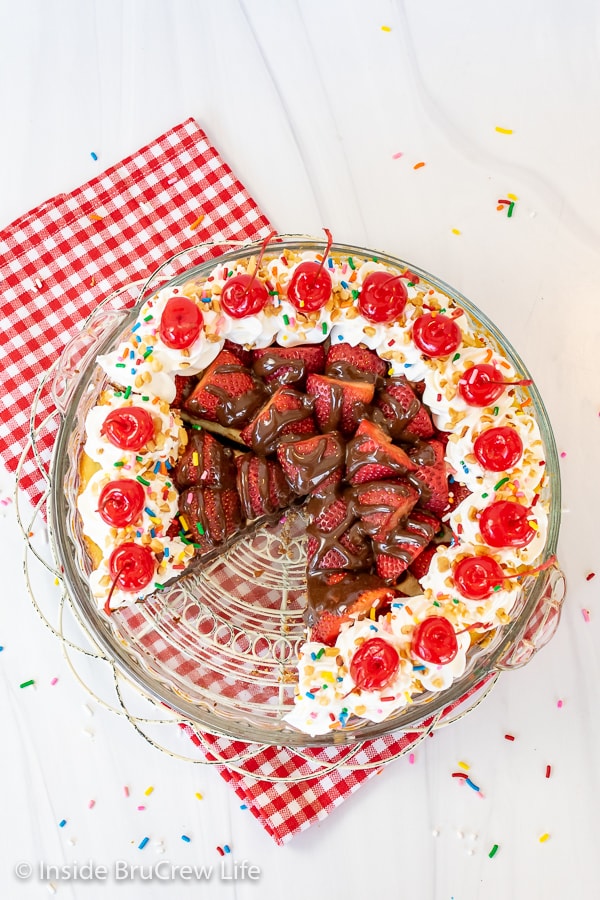 FAQ'S
How do you store a banana split pie?
Keep the banana split brownies in a tightly covered container in the refrigerator for 3-4 days.
Can you make this banana split brownie recipe ahead of time?
Yes, you can make the cheesecake brownies 1-2 days ahead of time. Add the toppings and fruit right before serving, so it doesn't get wet and mushy.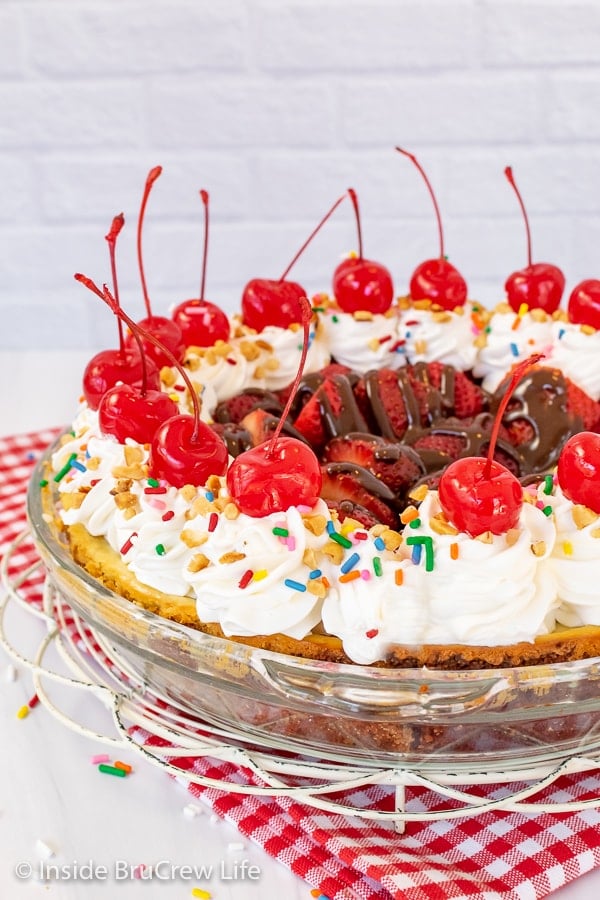 More Banana Split Recipes
Other Brownie Desserts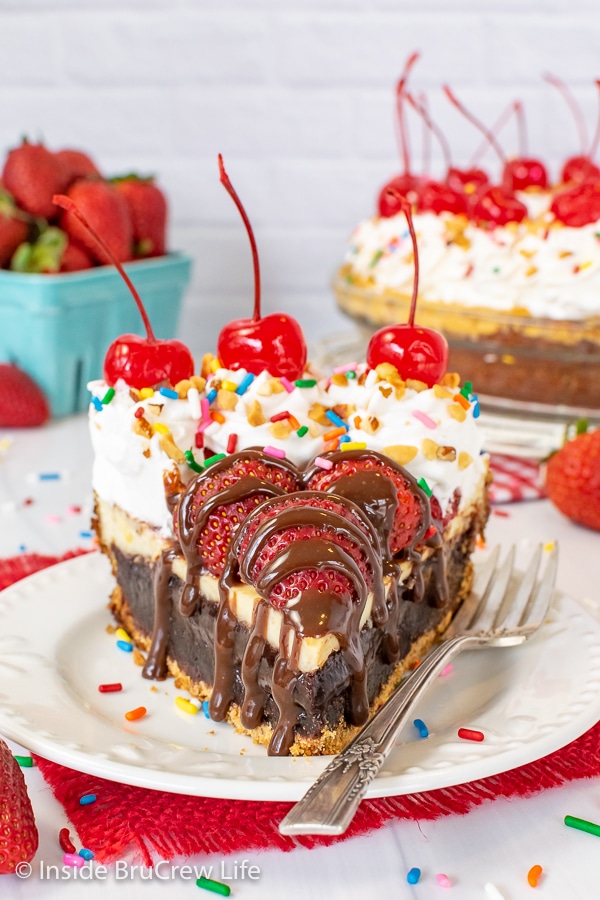 Do you love a recipe you tried from Inside BruCrew Life?
Please leave a 5-star ⭐️ rating and a review in the comments section below.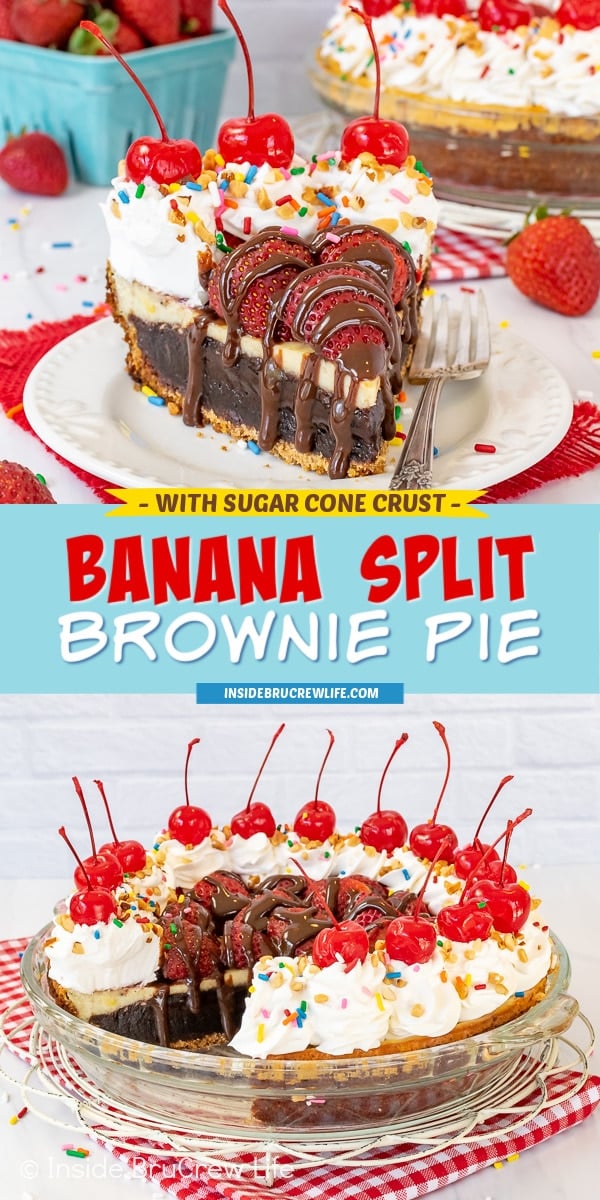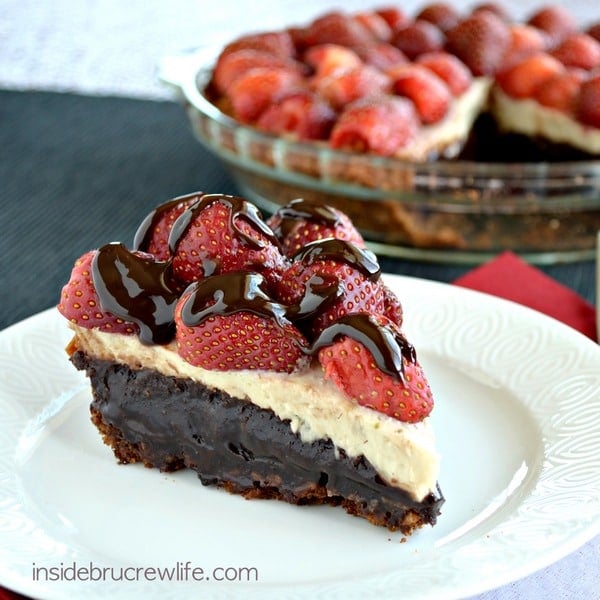 (original photo from March 2012)
*This Banana Split Brownie Pie was first published March 14, 2012. The post and photos were updated and republished June 3, 2021.