Make this Banana Split Brownie Pie when you need an extreme chocolate dessert. Layers of gooey brownie and creamy cheesecake make this a fun dessert for any occasion.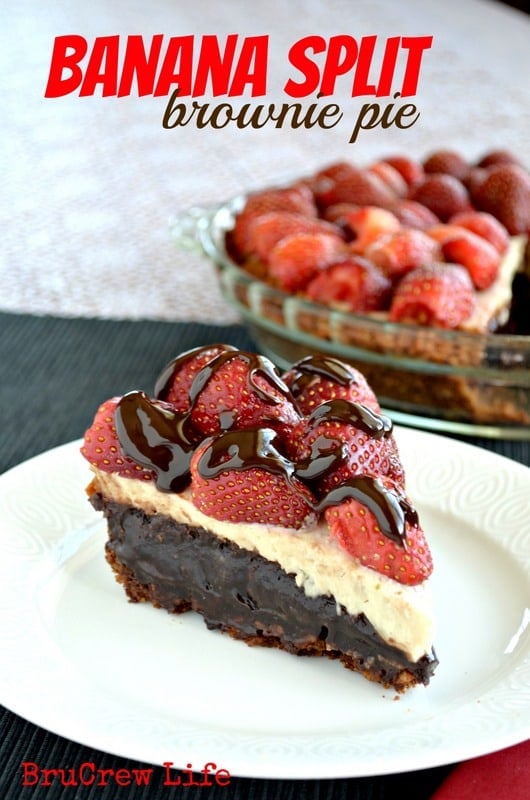 You know the saying it's as easy as pie?
That's not always the case…keep reading to see why.
Today is March 14…as in 3.14…
the mathematical numbers for
PI
.
(it's ok…I didn't remember that either)
I can honestly say that math was not my strongest subject…
something about all those numbers makes my head spin.
But I do like PIE,
you know the kind with the E on the end.
So when
Dorothy
(who loves Math and is wearing a PI shirt today)
asked me to participate in a fun pie hop for PI day…
my answer was clearly a yes.
I started flipping through some old cookbooks,
because I don't make pie very often.
This one was one that I have been wanting to make for a while.
Want to know a secret about my Pie?
Apparently I assume a lot when I am baking.
I saw brownies in the recipe and just went ahead
and made the full batch without reading further.
I finished up the rest of the recipe with a few modifications.
All seemed to be going well, until the next day when I cut a piece.
The center was very gooey and fudgey.
Now how did that happen when the Banana Split Brownie Pie was in the oven for 50 minutes???
I was bummed until I ate a piece…turns out my mistake tasted pretty good.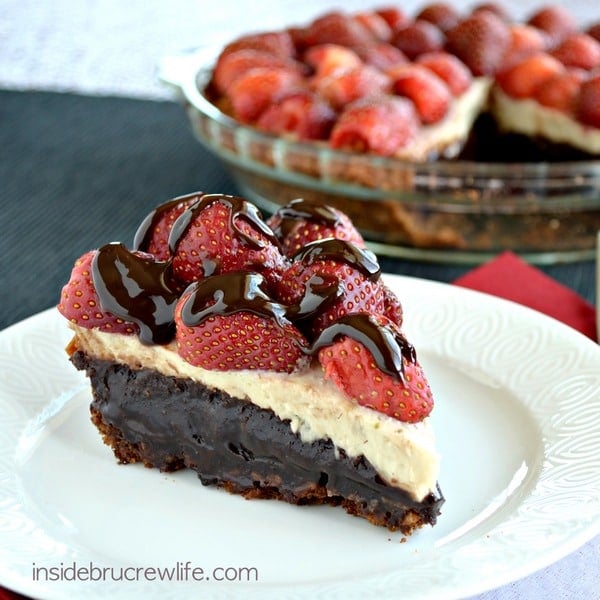 So I re-read the directions and found out
that you only use part of the oil and water for the brownies.
I just figured it was the normal amount so I didn't finish reading.
Yup, it was a User Error! I get a big fat FAIL!!!
Don't worry I made sure to put the RIGHT ingredients in the recipe.
Yours will turn out better than mine, I'm sure.
Just make sure you READ all the directions thoroughly!!!
But we do like undercooked brownie recipes around here,
so there was no problem devouring this yummy pie.
Maybe I should take this holiday to brush up on my math and reading skills??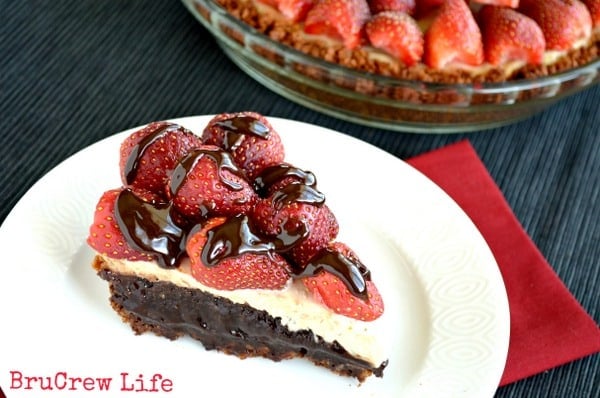 Stay up to date on all the BruCrew baking here:
FACEBOOK | PINTEREST | GOOGLE+ | TWITTER | INSTAGRAM | BLOGLOVIN
 Sign up to receive an email in your inbox for each new recipe:
EMAIL SUBSCRIPTION
Yield: 10 slices
Banana Split Brownie Pie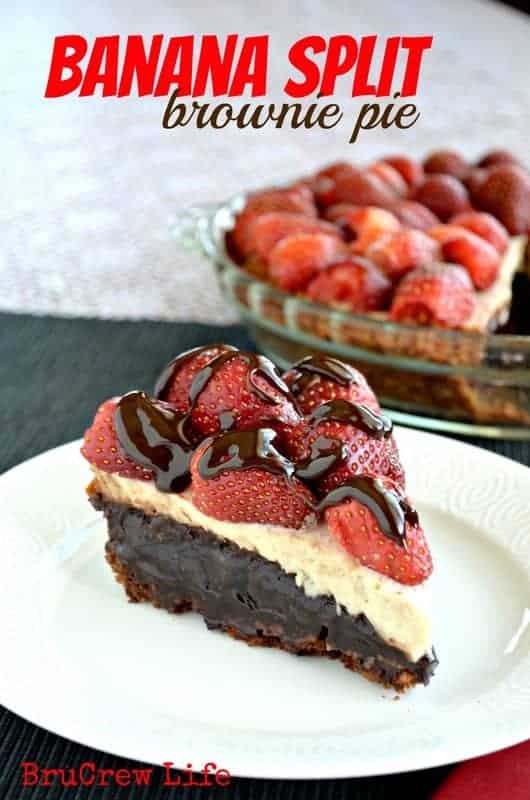 Layers of gooey brownie and creamy cheesecake make this Banana Split Brownie Pie a fun dessert for any occasion.
Total Time
1 hour
20 minutes
Ingredients
For the Crust
2 cups waffle cones, crushed*
6 Tablespoons butter, melted
For the Pie
1 brownie mix (9x13 size)
1/4 cup oil
2 Tablespoons water
1 Tablespoons instant coffee granules
1 egg
For the Cheesecake
1 - 8 ounce package cream cheese, softened
1/4 cup sugar
1 teaspoon vanilla extract
1 egg
1 banana, smashed
2 Tablespoons flour
For the Topping
I container strawberries, halved
1/4 cup hot fudge ice cream topping
Instructions
Preheat the oven to 350 degrees.
Crush the waffle cones and combine with the melted butter. Press into a 10-inch pie pan.
In a large bowl, combine all the brownie ingredients and stir until mixed. Spoon into the crust carefully. Bake for 30 minutes.
While the brownie is baking, beat the cream cheese, sugar, vanilla, flour, and egg until creamy. Stir in the banana.
Spread on top of the baked brownie very carefully. Bake another 20 minutes. Let cool on a wire rack. Refrigerate until serving time.
Before serving, place halved strawberries on top of the pie. Heat the hot fudge for 30 seconds and drizzle over strawberries. Refrigerate leftovers.
Recipe adapted from Pillsbury
Notes
*You can use a regular pie crust instead, if you like.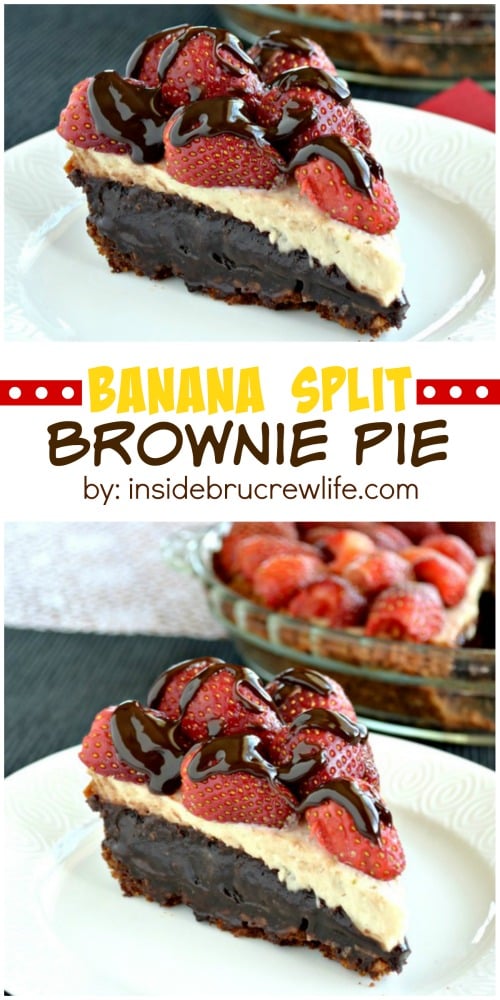 Now for the best part of this post…
You get to hop around and have even more PIE!!!
Make sure you stop at each one and leave them some "sweet" comments.
7. Karen (Trilogy Edibles) – Apple & Apricot Tart