This easy, no bake Chocolate Raspberry Truffle Dip is perfect for dipping just about anything into it. You can use sweet crackers and chips, fruit, or just go at it with a spoon.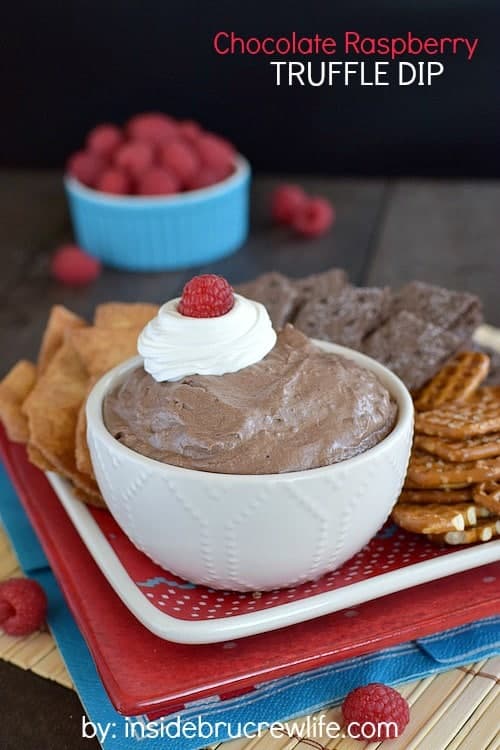 So, I have discovered a new love! Sweet cheesecake dips! Seriously, this new found love is probably all sorts of wrong for me and the healthy eating I have been trying to do, but it tastes so good!
Just think...only 10 minutes stands between you and this awesome dip right now. Well, that is if you have all the ingredients on hand. If not, add a trip to the store to your time. But you better believe me...it is totally worth it!!!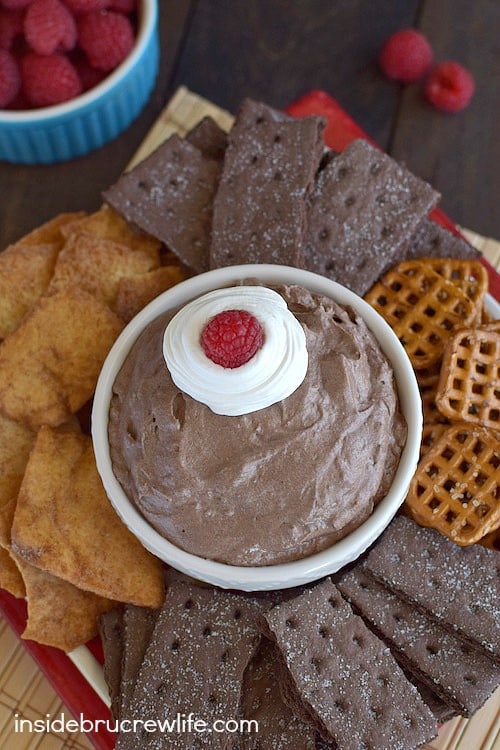 Last month I made this Hot Chocolate Cheesecake Dip and was blown away by how delicious it was. And you guys, loved it too! In less than 1 month, it was shared so many times that it made it into the Top Ten BruCrew Recipes from 2014! How crazy is that!?!?!
You guys seriously rock! I puffy heart love sharing these fun recipes each with you. Thank you so much for taking the time to visit, make the recipes, and share your feedback with me. Keep it coming!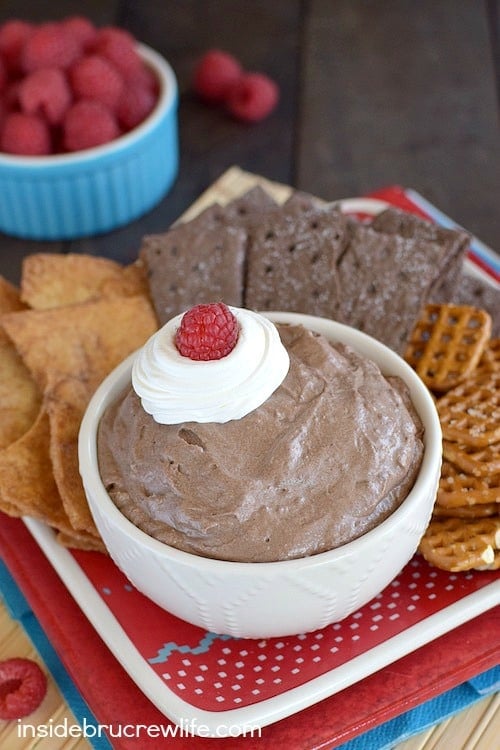 With Super Bowl and Valentine's Day coming in just a few short weeks, I got to thinking that we needed another fun sweet dip. One that could work for both days. But what flavor to make first???
The other day my hubby and I were grocery shopping, and I was picking up some yogurt to have on hand for snacking. A raspberry truffle yogurt caught my eye...and right away I knew what dip I wanted to make. A chocolate raspberry truffle dip sounded like it could be an instant win!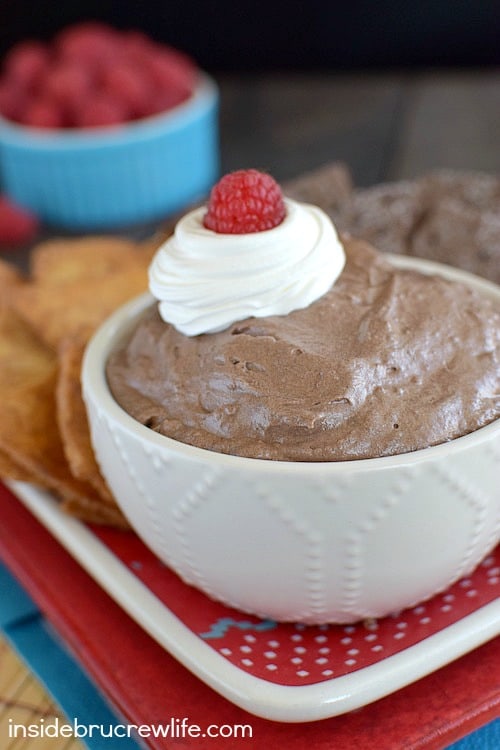 Super Bowl is all about fun food that can be portable and easy. I know most party tables are going to be full of appetizers like Pizza Pinwheels or Blackberry Brie Bites, but please make sure the tables get some desserts too. An easy sweet dip is just the thing to share at these parties.
Whip it up in less than 10 minutes and scoop it into a bowl. Make sure you have lots of fun dippers like graham crackers, cinnamon sugar pitas, and fresh fruit to serve it with.
This dip is also the perfect treat for your sweetie on Valentine's Day. After making a delicious dinner or going out to eat, you can have this waiting in the refrigerator to share.
Just make sure you do not eat a few spoonfuls to test it out. Why? Because you will seriously not want to stop eating it! Just trust me on that, mmmkay? So, maybe make a double batch, so you have enough to share.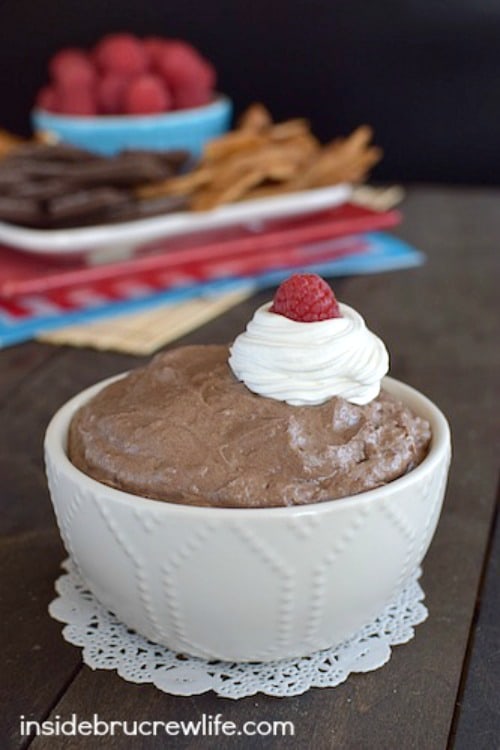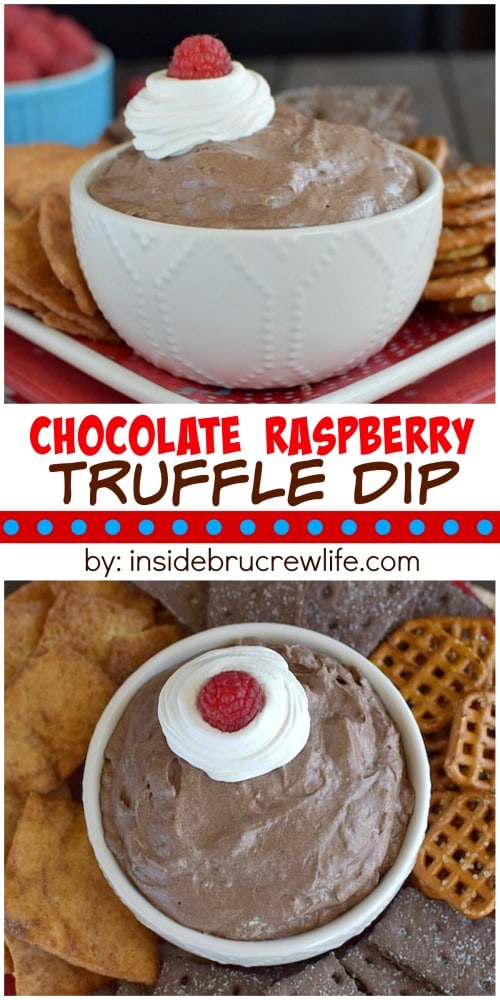 More fun recipes that include chocolate and raspberry: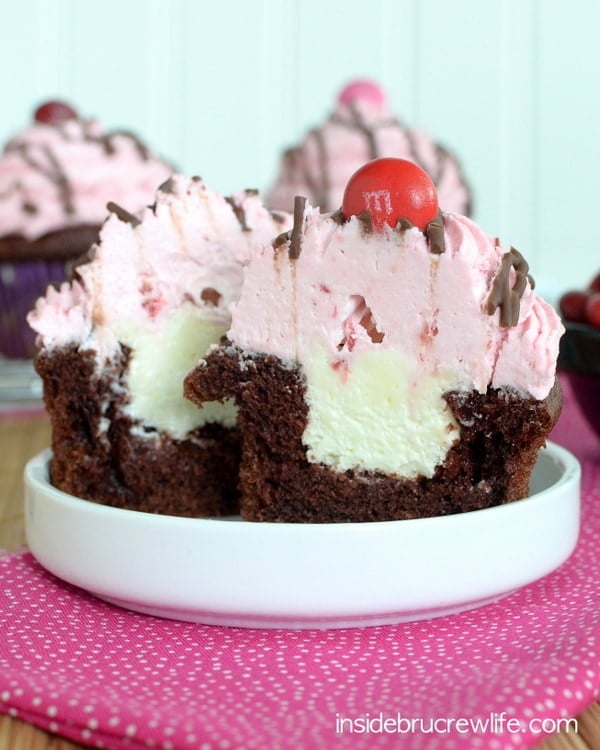 Raspberry Cheesecake Chocolate Cupcakes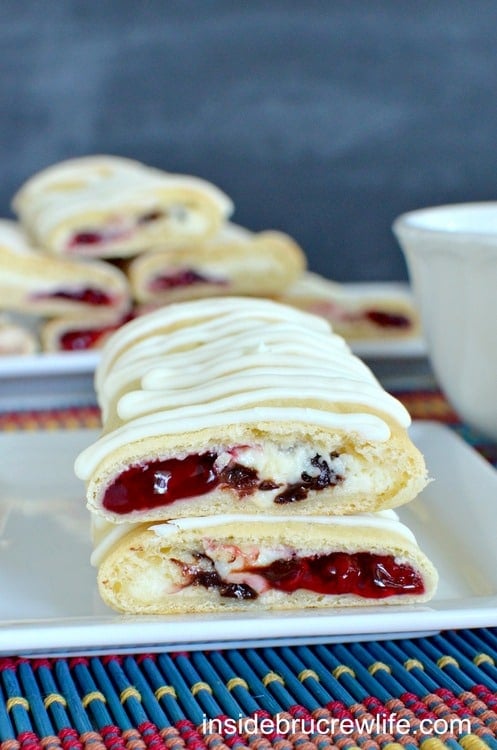 Raspberry Chocolate Chip Cheesecake Rolls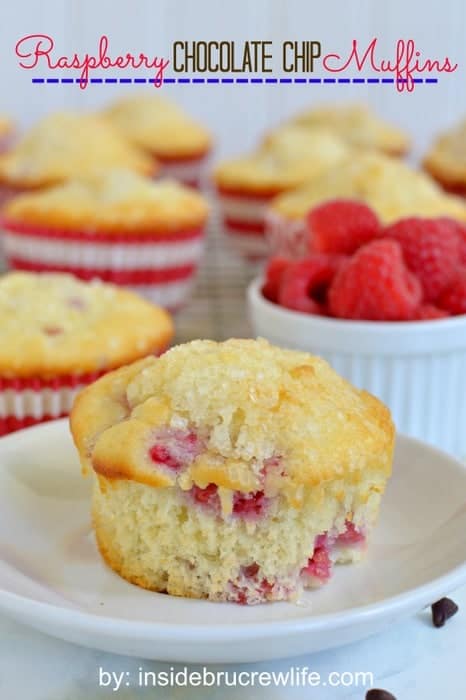 Raspberry Chocolate Chip Muffins
*I was provided product and coupons for this post from Challenge Butter, no other compensation was given. All opinions in this post are 100% my own.