The classic Campbell's Green Bean Casserole recipe is a beloved holiday side dish with creamy and crunchy textures. It can be prepared ahead of time and baked in the oven when ready.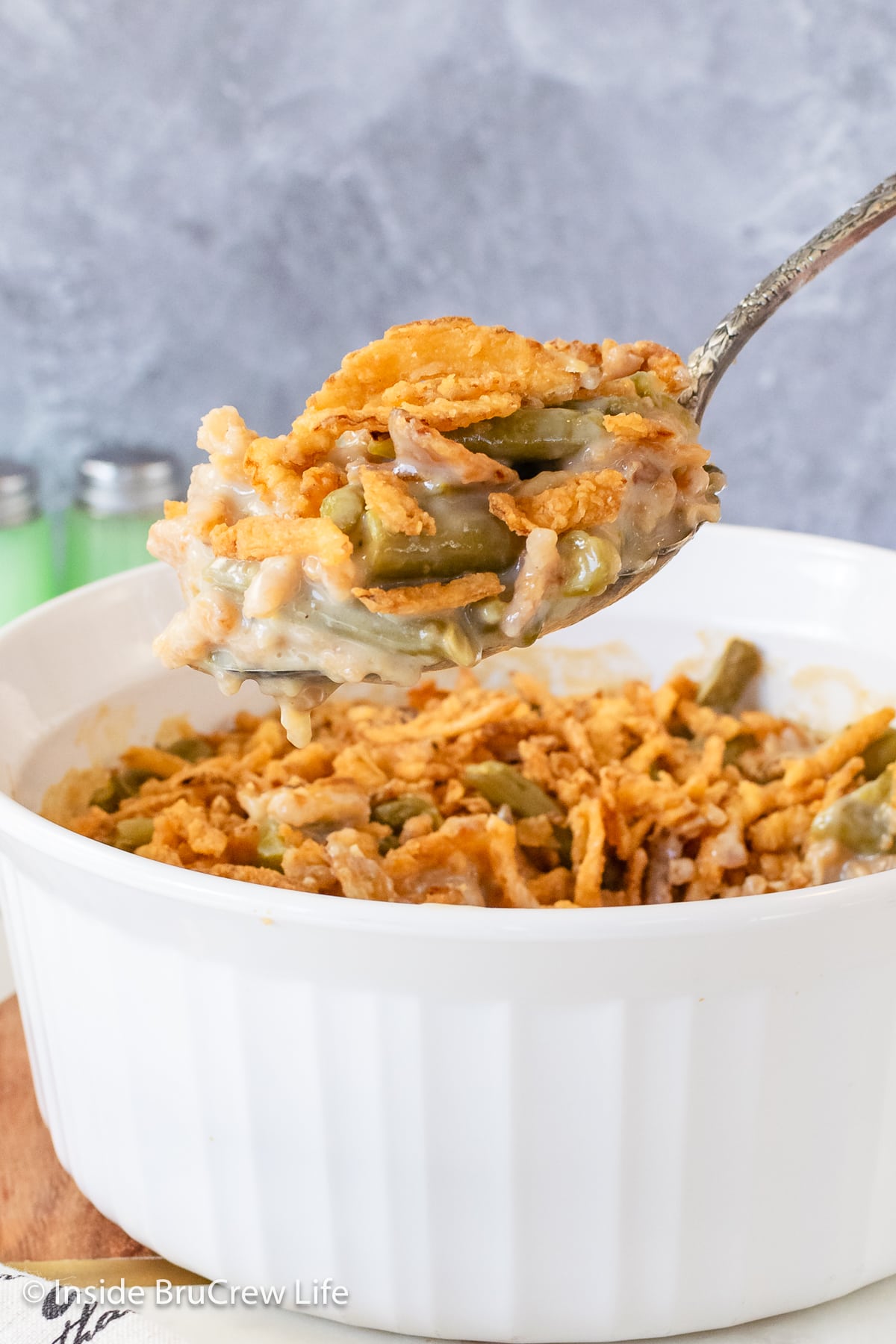 Jump to:
When you think about side dishes for a holiday meal, Campbell's green bean casserole is a tried and true favorite. This classic recipe and sweet potatoes, corn pudding, and pumpkin pie are always on our holiday table.
There is something about this easy recipe with green beans, creamy sauce, and crispy onions that adds a comforting touch to dinners.
We have made this side dish for every holiday for as long as I can remember. It's one that both our families grew up eating, and we continued that tradition after getting married.
Why You Will Love Green Bean Bake
Thanksgiving dinner isn't complete without a pan of green bean casserole! Am I right? This is one of our favorite side dishes for many reasons.
Easy to Make - The recipe is simple, inexpensive, and requires little prep time. You can make it with six ingredients, which is excellent when short on time or money.
Holiday Tradition - It's a classic dish, especially for Thanksgiving. People look forward to having it every year for family get-togethers and holidays.
Eat It Anytime - Even though it's famous for holidays, you can enjoy it any day as a side dish with different meals.
Add a Creative Touch - You can change the recipe by adding cheese, bacon, or different flavors to make it the perfect side dish.
Key Ingredients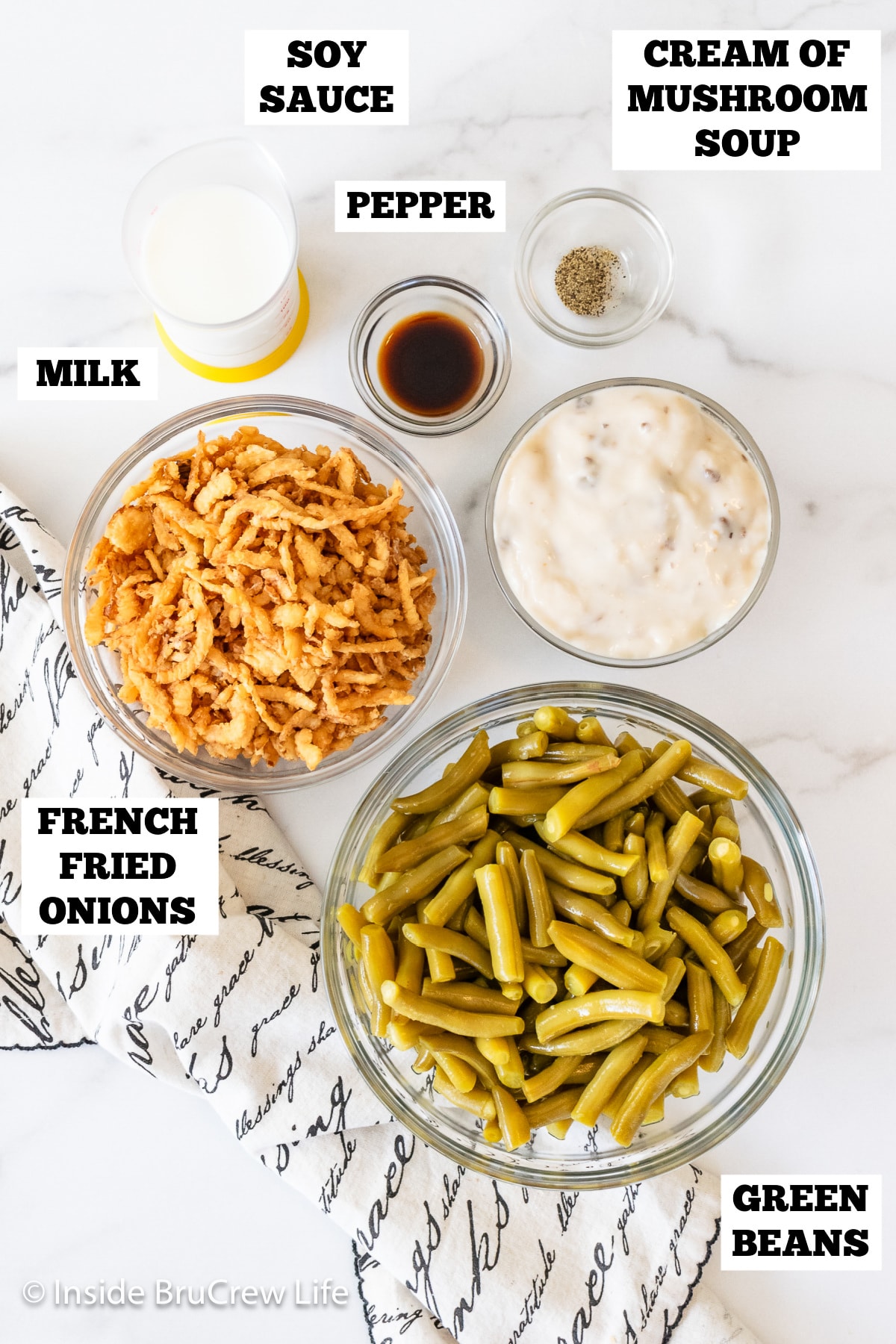 While other holiday recipes take much time to prepare, this easy green bean casserole can be prepped in minutes with simple ingredients. This version is made with canned green beans, which are easy and convenient.
Green Beans - We always use canned green beans for this recipe, but you can also use 4 cups of fresh or thawed frozen green beans. There are options in the recipe card for all three choices.
Cream of Mushroom Soup - Campbell's soup gives the green bean casserole recipe a creamy texture and taste. However, if you don't like mushrooms, use any other cream soup.
Milk - Thins the soup a little bit.
Crispy Fried Onions - Adds a nice crunchy texture inside and on the casserole.
How to Make Green Bean Casserole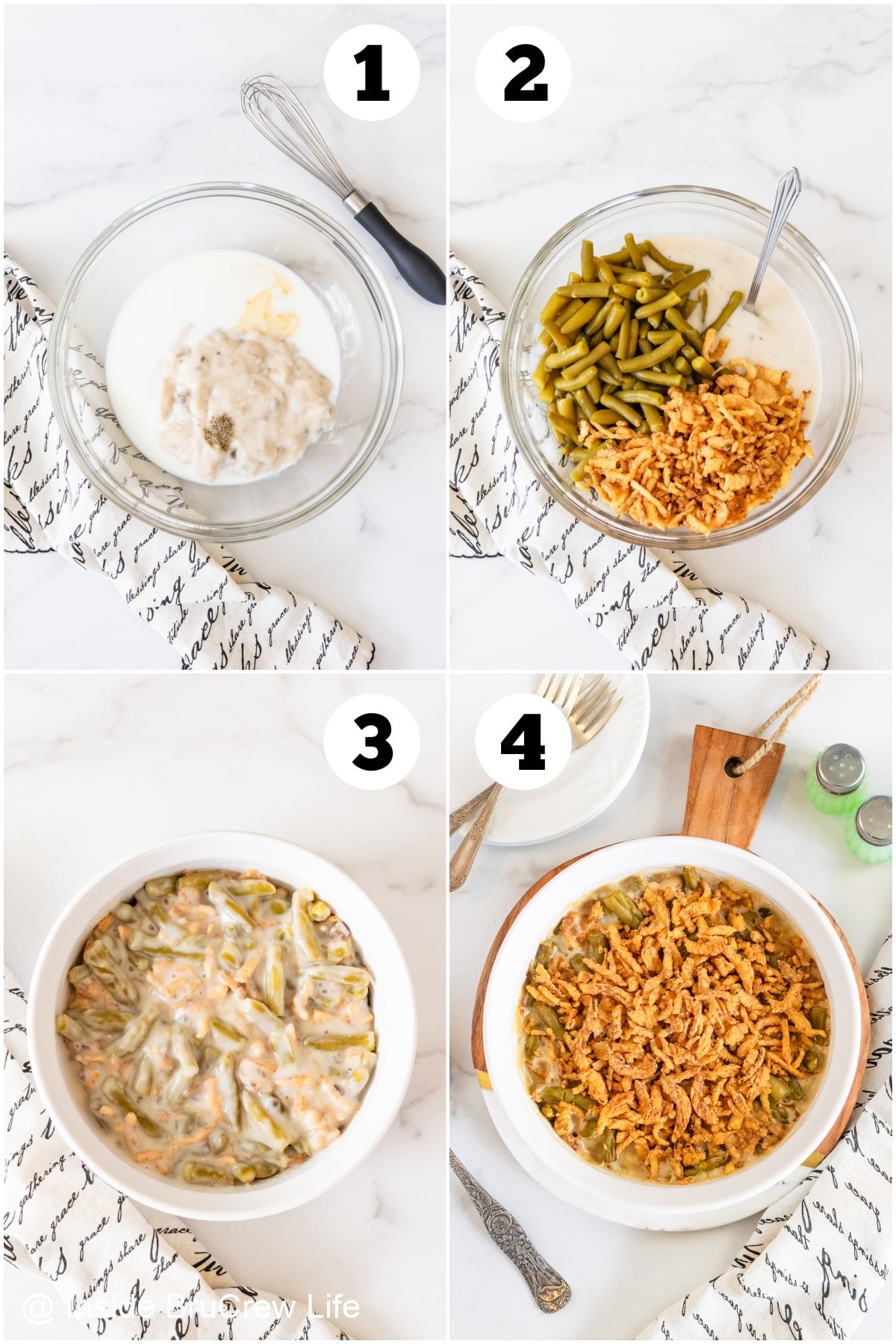 You won't believe how simple this classic green bean casserole recipe is. Open the cans of green beans, stir in the other ingredients, then pop it in the oven, and voila! A delicious side dish in minutes!
Serve it alongside turkey, ham, or steak for a delicious holiday meal experience.
Whisk together the cream of mushroom soup, milk, soy sauce, and pepper in a large bowl.
Add the well-drained green beans and some french-fried onions.
Spoon the green bean mixture into a greased casserole dish and bake until hot and bubbly.
Remove the pan and sprinkle the remaining onions on top of the hot casserole. Bake for a few more minutes to toast the onions golden brown. Serve immediately.
How to Store Green Bean Casserole
Once dinner is over, cover the baking dish with plastic wrap or transfer to an airtight container and refrigerate for 1-2 days.
I don't recommend keeping it for much longer because it does start to get runny over time. The fried onions will also get soggy, so this dish is best hot from the oven.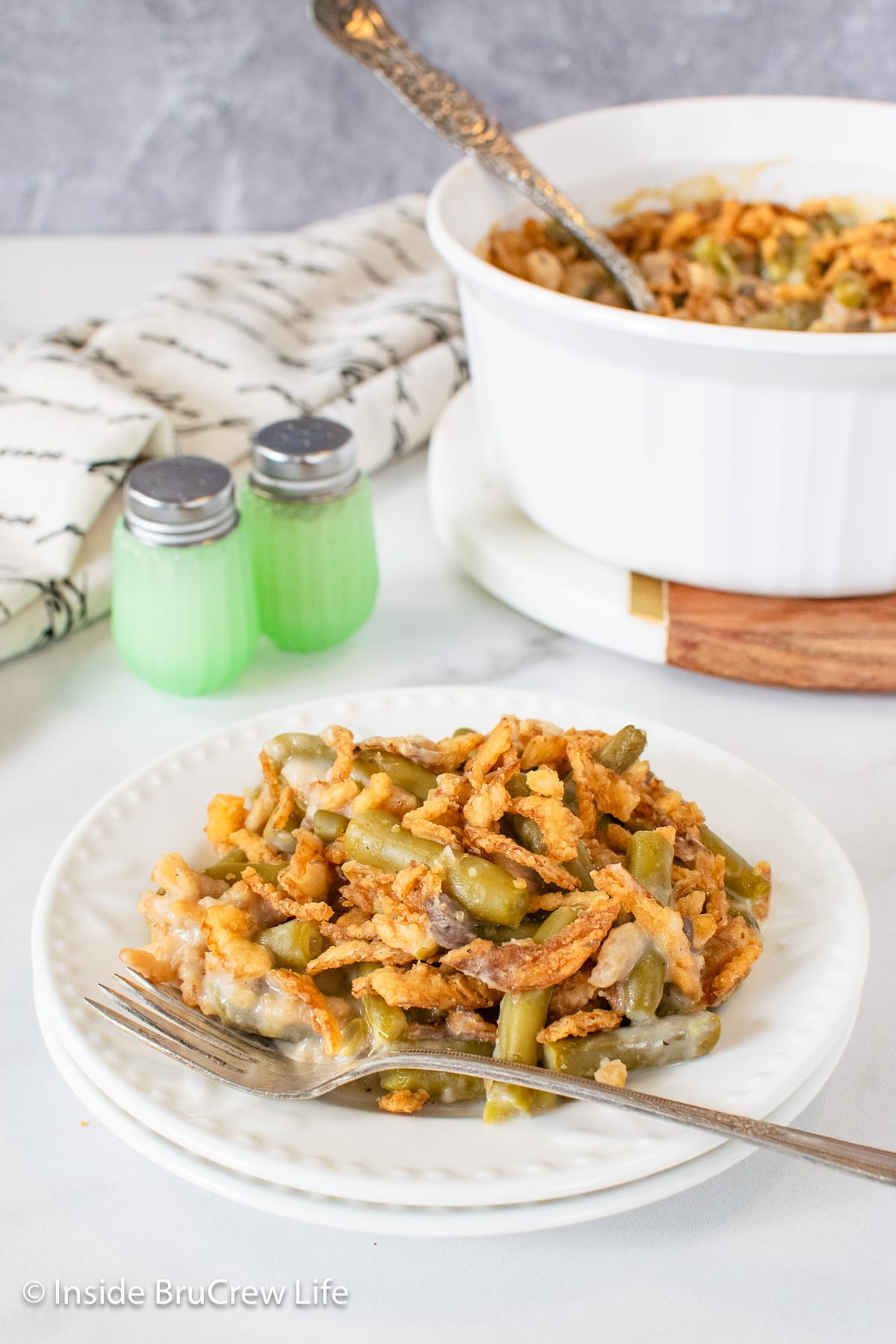 Tips & Tricks
Make this classic side dish ahead of time. Add the onions right before baking so they do not get soggy. Cover the dish tightly and place in the refrigerator for 24-48 hours. Bake as directed, adding 10 minutes.
For a cheesy green bean casserole, add one cup of shredded cheddar cheese to the soup mixture.
Add one cup of chopped bacon to the casserole if you want protein.
Add crushed red pepper flakes to the soup mixture to give it some spice.
Use the mushroom soup mixture with other vegetables, such as broccoli, cauliflower, or Brussels sprouts.
For less sodium, use Campbell's low-sodium soup and low-sodium green beans.
Are you serving a crowd? Double the recipe and bake it in a 9x13 dish. Heat it all the way through before serving.
FAQs
Which is better in green bean casserole, canned, fresh, or frozen green beans?
That really depends on your preference. I prefer soft canned green beans, while others prefer a firmer frozen or fresh green bean. I have included notes for making all three versions in the recipe card.
Why is my green bean casserole soggy?
Moisture from the green beans can make the casserole watery and soggy. Make sure to drain the liquid from your canned or frozen green beans completely.
Who made the first green bean casserole?
Dorcas Reilly created the green bean casserole recipe in 1955. She worked for Campbell Soup Company as a cook and made the classic dish we enjoy today.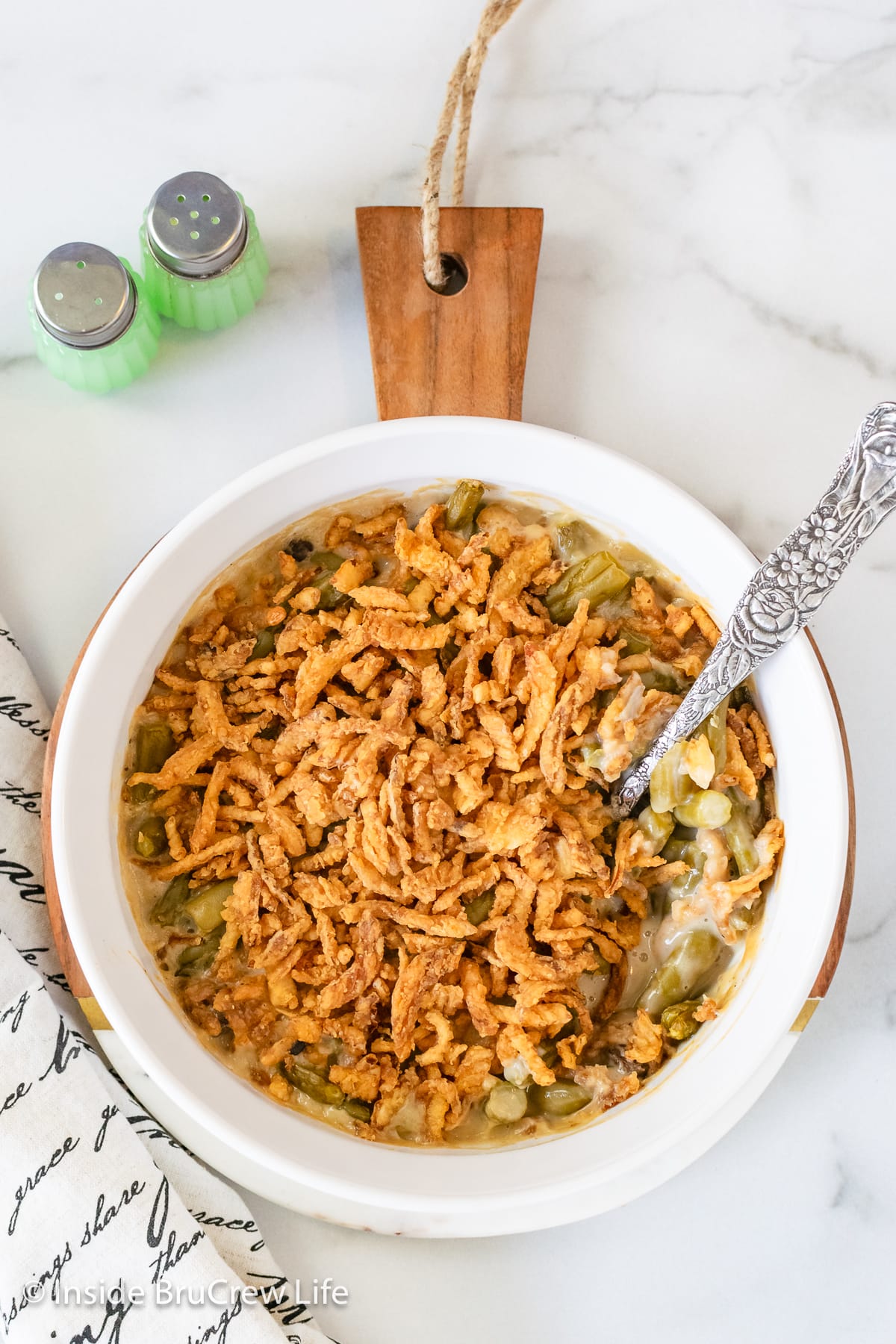 More Holiday Side Dishes
Do you love a recipe you tried from Inside BruCrew Life?
Please leave a 5-star ⭐️ rating and a review in the comments section below.
*This was first posted in November 2021. It was updated and republished in August 2023.