This Traditional Pumpkin Pie is easy to make and is so sweet and delicious. The creamy homemade filling will make this classic pie a hit at your Thanksgiving dinner.
Looking for more easy pumpkin desserts? Try our pumpkin chocolate chip cookies and this pumpkin dump cake.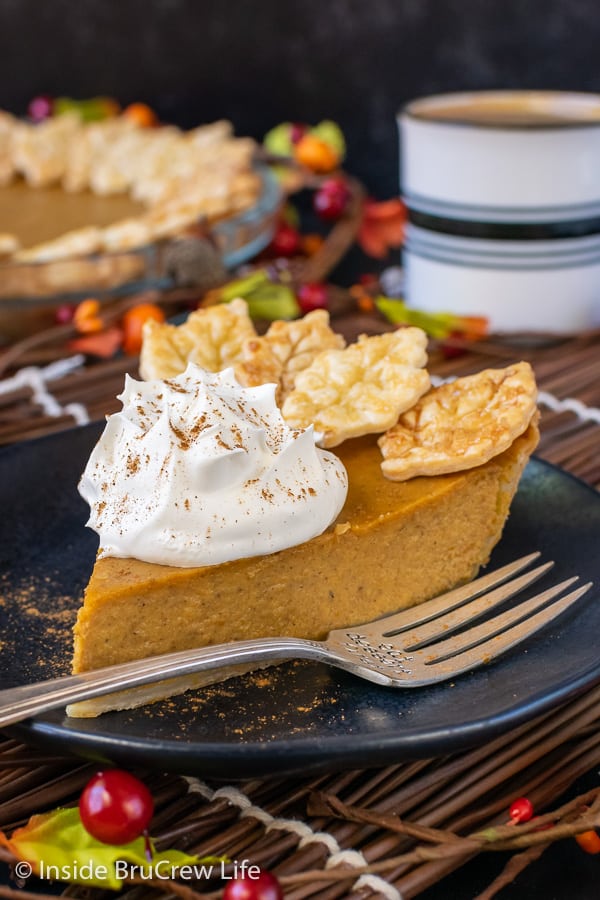 Jump to:
I absolutely love pumpkin pie. Like absolutely adore it and can't wait to dive into a slice of pie first thing on Thanksgiving day. The answer is yes, yes I do start with dessert.
A flakey crust filled with a creamy spiced pumpkin filling and topped with a giant dollop of Homemade Whipped Cream and fun little pie crust cookies are what dreams are made of.
Now I realize not everyone agrees with me here. There is the age old debate of which pie is actually best. If you are more of an apple pie fan, I suggest you make this Apple Crisp Pie instead. I'll gladly take your slice of pumpkin pie.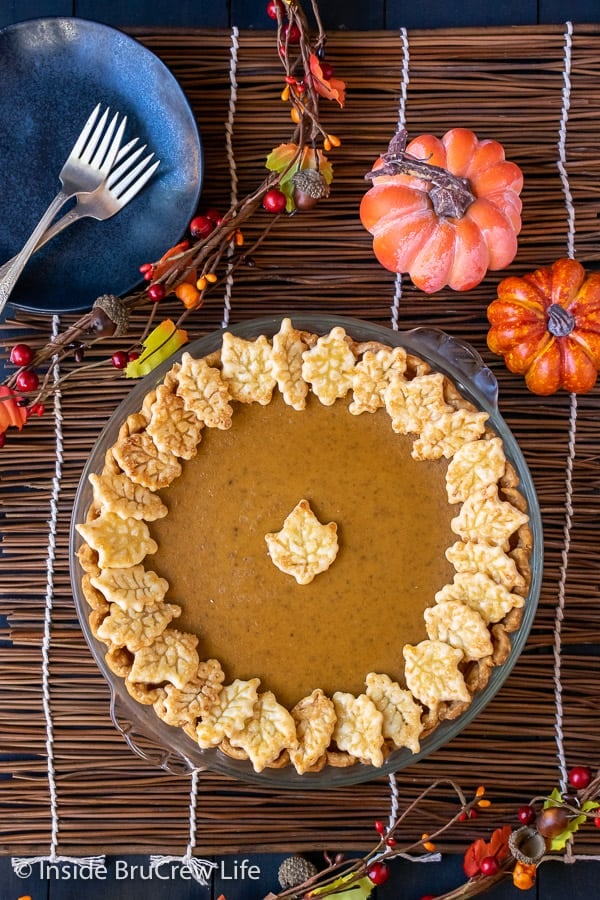 I grew up making and eating the classic pumpkin pie recipe that you can find on the back of the Libby's canned pumpkin. The day before Thanksgiving I was usually in charge of making the pumpkin pie, so we didn't have to think about it the next day.
Over the years, I tweaked that base recipe slightly with a few modifications that made it the best pumpkin pie. In my opinion anyway. Saying something is the best is very relative. Your best may not be my best and vice versa.
A few weeks ago our oldest son, who is at college, called and said he wanted to make pumpkin pie, but he couldn't find my recipe on the blog anywhere. I can't believe I have never shared my favorite pumpkin pie recipe here. That had to be fixed right away!!
Key Ingredient Notes
Sugar - I like to use a mixture of brown sugar and white sugar. The brown sugar adds just a little bit more of a molasses flavor. It's very subtle, but delicious.
Spices - You can use a few teaspoons of pumpkin pie spice if you like. But I have found that doing a mixture of cinnamon, nutmeg, ginger, and cloves adds a better flavor to the pumpkin pie filling.
Large Eggs - they help to bind the pumpkin custard together
Pumpkin Puree - make sure you grab the puree when you go shopping. You do not want to use the pumpkin pie filling because it already has spices and sugar added to it.
Milk - You can use a can of evaporated milk, half and half, or heavy cream for this. I like to use half and half because we always have that in our fridge. PRO TIP: You can also use any variety of regular milk, but you will need to add some cornstarch, so the filling sets correctly.
How to make Pumpkin Pie
Preheat the oven. Unroll a pie crust and place it in a deep dish pie plate. Crimp the edges. Refrigerate until needed.
Mix together the sugars, spices, salt, vanilla, and eggs. Add the pumpkin and beat again.
Slowly mix in the milk until completely combined.
Pour the pumpkin pie filling into the prepared pie crust. Cover the edges of the crust with tin foil or a pie shield.
Bake for 15 minutes, then reduce the heat and continue baking for another 45 minutes.
Remove and place on a wire rack until cool enough to handle, then refrigerate until chilled. (full recipe below)
Serve slices of pumpkin pie with Cool Whip or a homemade whipped cream. This chai whipped cream is also delicious on top of any pie.
One of my favorite things to add to a homemade pumpkin pie are these little pie crust cookies. They are so easy to make, and they make your pumpkin pie look magazine worthy.
Pie Crust Cookies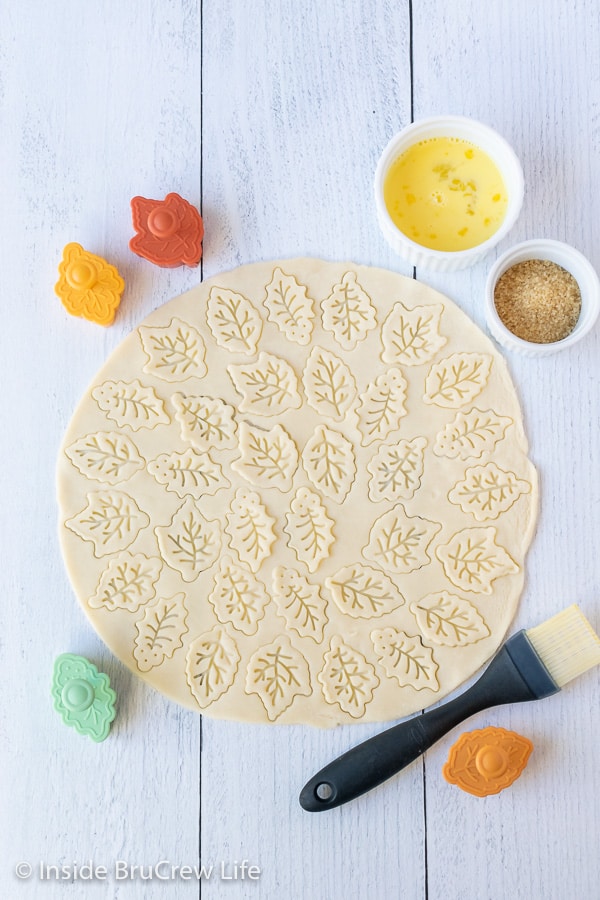 Unroll a pie crust and cut out shapes using little cookie cutters. I like to use a cookie cutter that has a built-in stamper because it adds a little detail to each cookie.
Place the pie crust cookies on a baking sheet.
You can re-roll and cut out more shapes one or two more times before the dough becomes unworkable.
Whisk together an egg and milk and brush on each shape.
Sprinkle with raw sugar or Cinnamon Sugar before baking.
Let the cookies cool on a wire rack after baking, so they are nice and crisp when you place them on your chilled pie.
You will have extra pie crust cookies after decorating your easy pumpkin pie. I like to serve the extra pie crust cookies with a bowl of pumpkin dip or this Lemon Cream Fruit Dip.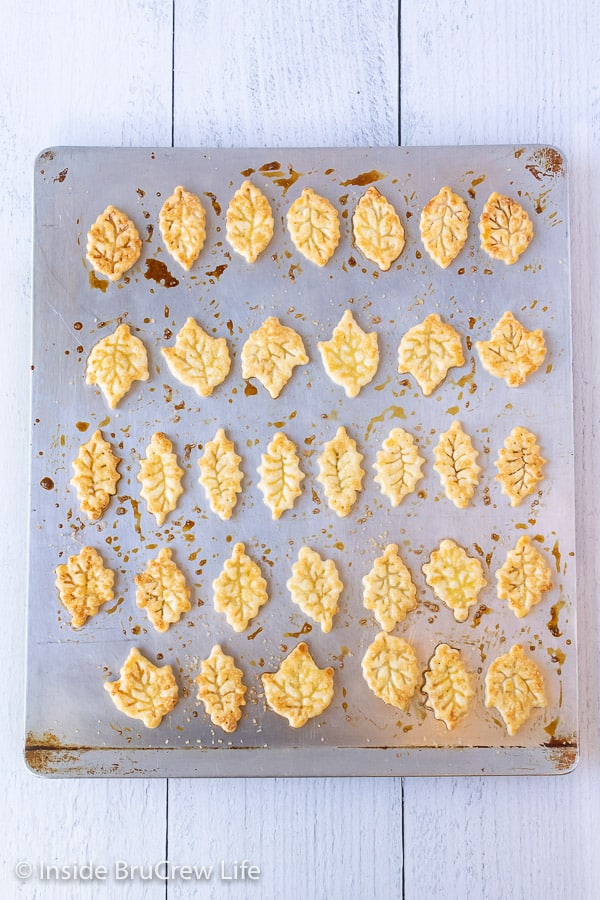 Recipe FAQ'S
How do you know when pumpkin pie is done?
The filling in the pumpkin pie should darken slightly as it bakes. It should also be slightly raised, and there may be a few tiny cracks where the filling and crust meet. As the pie cools and settles these cracks will disappear.

The edges of the pie should be firm, while the center of the pie should jiggle when it is done. The center of the pie should have some give to it. It should "jiggle like Jello, not wiggle like a wave".

If the whole pie is wobbly, continue to bake it. Keep an eye on your pie because all ovens bake differently. You do not want to over bake the pie because then it will crack.
Can you sub milk for evaporated milk in pumpkin pie?
Yes. You can use 1 ½ cups of half and half or heavy cream or a mixture of both instead of the canned milk.

You can also use regular milk (any kind), although when using regular milk make sure to add 1 Tablespoon cornstarch to help the filling set correctly.
How do I keep the edges of my pie from burning?
Use strips of tin foil or a pie shield over the edges of the pie to keep them from browning too much.
Do I need to refrigerate pumpkin pie?
Yes, the pumpkin pie needs to be kept in your refrigerator. You should refrigerate the pie once it is cool enough to handle. The pumpkin filling contains eggs and milk and when left out at room temperature they can start to grow bacteria.
Can I freeze pumpkin pie?
You sure can. It will keep in the freezer for a month. Make sure to wrap the pie tightly after it comes to room temperature after baking.

Wrap it in a few layers of plastic wrap and a layer of tin foil, then place in the freezer.

To defrost, place the pie in the refrigerator overnight and let it defrost slowly. The texture may change slightly after freezing and defrosting though.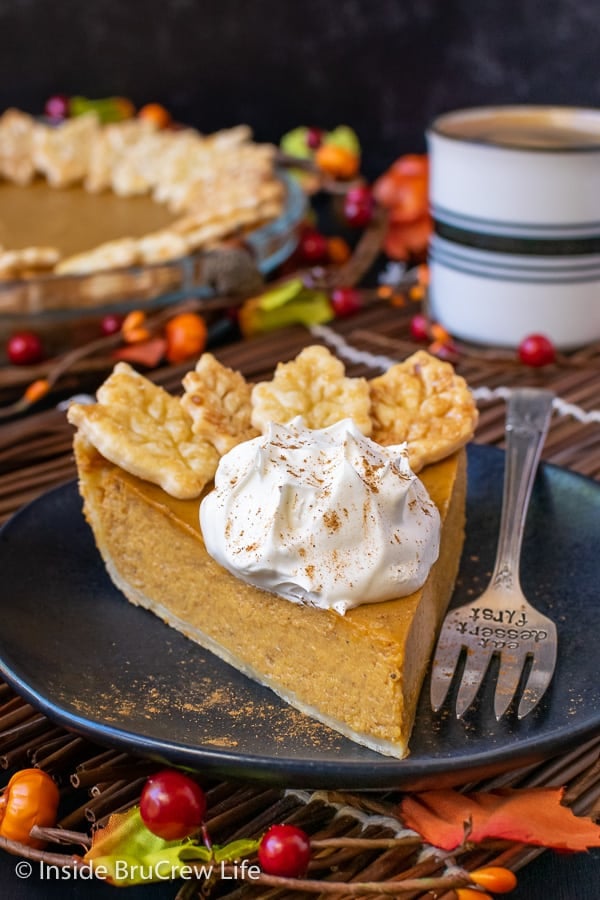 Easy Thanksgiving

Recipes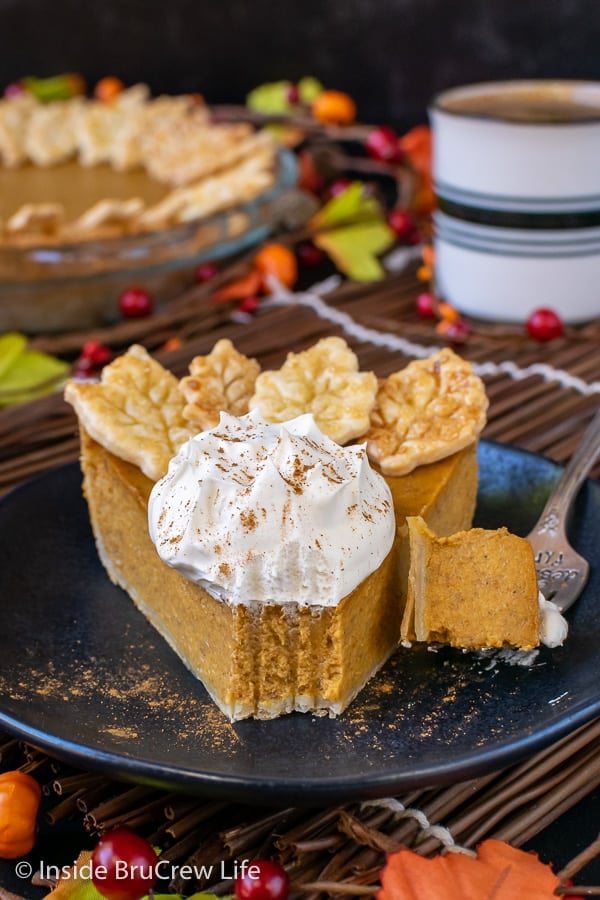 Do you love a recipe you tried from Inside BruCrew Life?
Please leave a 5-star ⭐️ rating and a review in the comments section below.