These easy cookie bars are topped with more cookies, marshmallows, and chocolate. Try a pan of these Cookies and Cream S'mores Bars the next time you get that chocolate craving.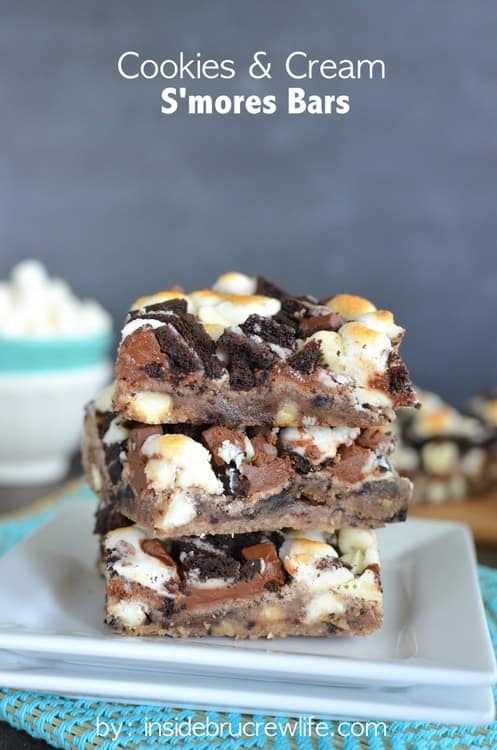 Ok, I'm officially obsessed with all things s'mores. You aren't too upset about that, are you?
Summer just brings the s'mores loving person out of me. Gooey chocolate and melty marshmallows...you can understand the obsession I'm sure.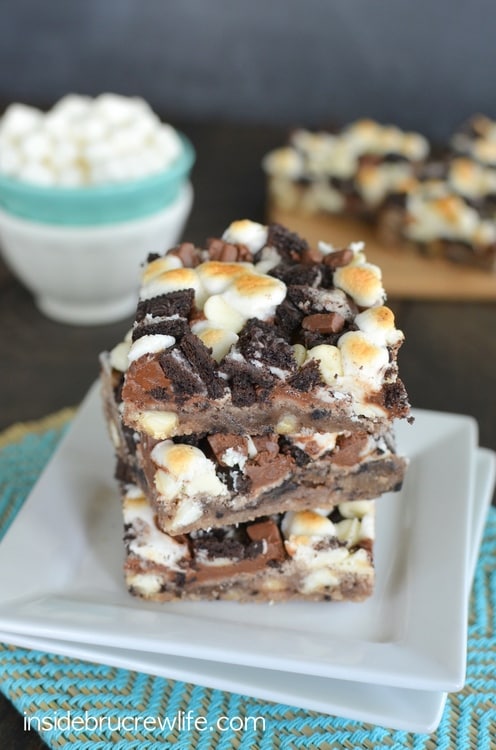 The other day while grocery shopping, we found this special edition cookie dough from Pillsbury. Our daughter puffy heart loves anything cookies and cream, so my hubby grabbed a package and threw it into the cart.
Now that's kind of a role reversal there. Usually I'm the one throwing all the sweets into the cart, while he fills it with the healthy salads and meats. Waahahahaha! I am slowly converting him to the dark side!
His thought process...make the cookies for the kids to enjoy.
My thought process...what fun and exciting treat can I make this into. 🙂 Yes, I have a problem....I'm ok with that! #dessertloverforlife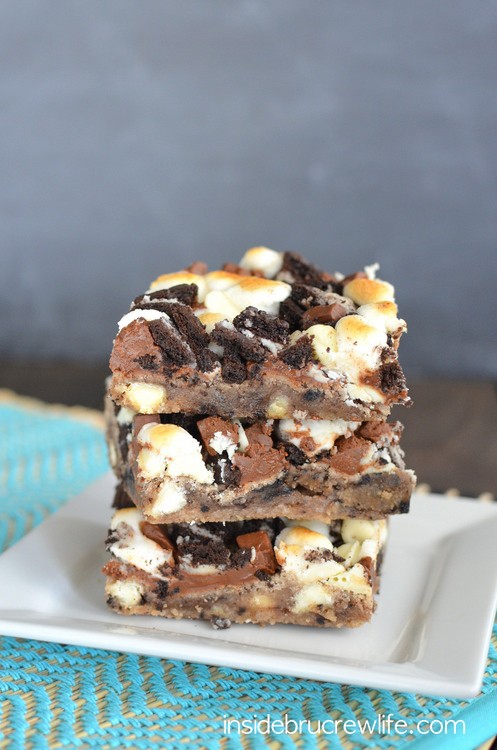 A half eaten package of Oreo cookies, half a bag of mini marshmallows, and a few Hershey's candy bars leftover from this Chocolate S'mores Pudding Cake were totally calling out from the cupboard to be used. You have to be quick around here if you want to use the Oreo cookies in baking. My cookie monsters are definitely revolting and taking over my baking stash!
Add the package of cookies and cream cookie dough, and you have an easy bar cookie to die for. Feel free to make your own cookie dough if you want, but I love easy peasy dessert like this. It seriously only takes 2 minutes to have the cookie dough in the oven.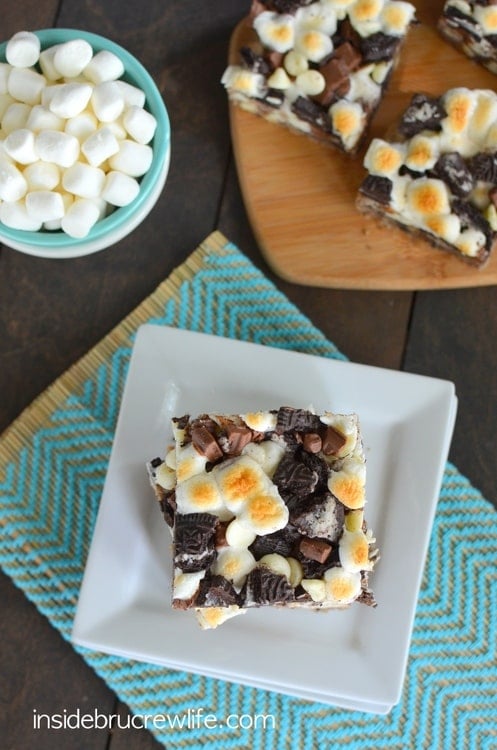 While the cookies are baking, mix together all the fun toppings. These bars are loaded with good stuff! Go ahead and eat a few pieces...I know I did!
The bars will look very under done when you pull them from the oven. Trust me and do not bake them any longer!!! Gently sprinkle the topping mixture on top and put it back in the oven for 2 more minutes. The chocolate and marshmallows will start to melt, but the real magic happens in the last minute. Turn your oven to broil for 1 more minute. Make sure you keep an eye on the marshmallows. They go from brown to burnt in seconds! Been there, done that!
After you pull them from the oven, press the cookie chunks down into the melted goodness. That will help them stay put as everything cools and hardens. Now if you really want to dig in, you can. But your tastebuds will probably hate you for it. I recommend waiting a little bit to enjoy these. The cookies stay together a little bit better after they cool. But again, that's totally up to you. I understand the need to dig in! One quick tip when cutting through marshmallows is to use a wet knife. The water on the knife will keep the marshmallows from sticking.
Woo hoo for another pan of dessert that didn't make it past the day. Of course all the kids playing at the church while their parents worked were a big help in devouring these awesome cookies.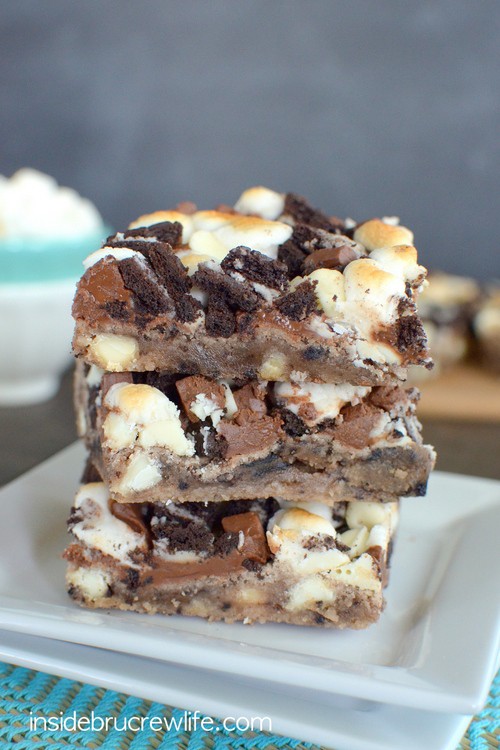 More fun Cookies and Cream treats to make:
Chocolate Chip Cookies and Cream Cookies
Mint Chocolate Cookies and Cream Fudge