Adding a thick layer of frosting makes these Coconut Nutella Brownies a dreamy summer dessert.  The fudgy brownies and coconut topping are sure to get rave reviews from everyone that tries them.
*Love these recipes? Be sure to sign up for the BruCrew email to have these recipes delivered to your inbox each time a new recipe is share.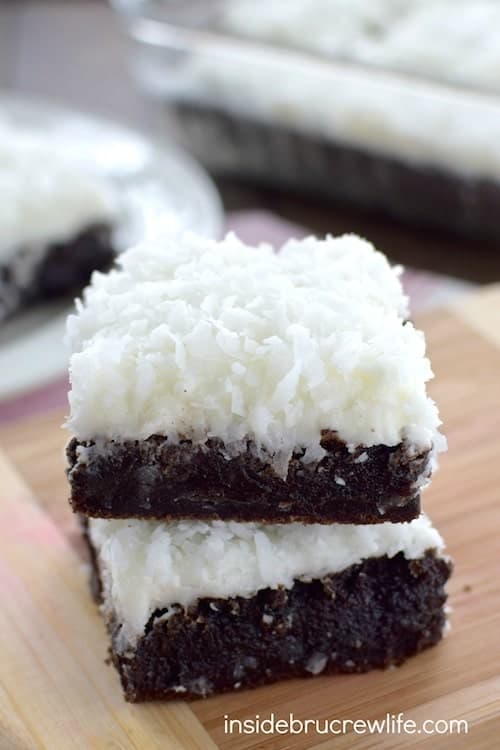 We go through a lot of brownies in our house.
My youngest absolutely loves brownies…plain brownies that is.  I tried to sneak chocolate chips in them one time, and he totally called me out and said those weren't plain.  He actually had me show him how to make a box brownie all by himself. So now, when that brownie craving hits, he can do it all by himself.  It's so cute to watch him in the kitchen making his pan of plain brownies.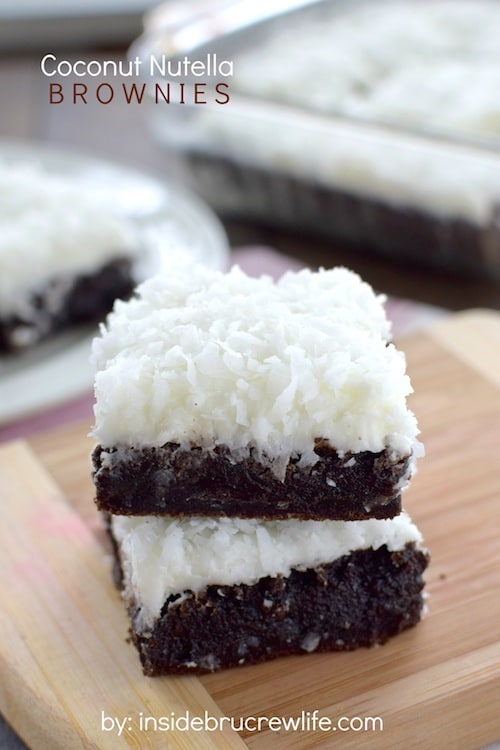 Sure I like a good plain brownie every once in a while, but usually I have so many crazy dessert ideas running through my head that plain just isn't an option.  I mean cake batter cheesecake brownies, salted caramel brownies, and marshmallow brownies just sort of happen.  Yup, brownies always get the fun treatment when I'm baking.
I took these homemade brownies and jazzed them up coconut and Nutella style. That combo always reminds me of our trip to St. Maarten a few years ago.  Waking up late, eating coconut Nutella crepes for breakfast, and sending the day on the beach were how we spent every single day there.  It was amazing!  I think a trip back needs to happen again.
Using coconut oil instead of butter helps add a little more coconut flavor to the chocolate brownie, and a generous scoop of Nutella swirled in the batter make them even fudgier.  Then to top them off, a thick coconut frosting with lots of shredded coconut is the perfect touch.  I do like to under bake my brownies, but you can bake them a few minutes longer to firm them up more if you like.
The frosting and Nutella really help keep them soft and amazing for days! I had to send the rest of the brownies with my hubby to work because I couldn't stop swiping little bites every time I went in the kitchen!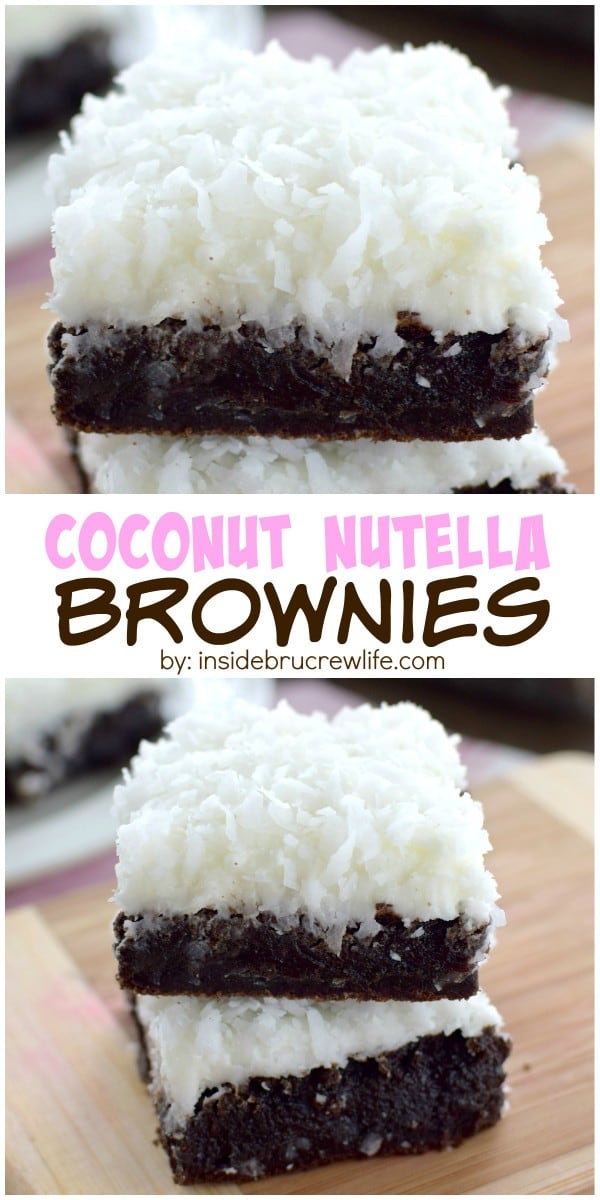 Stay up to date on all the BruCrew baking here:
FACEBOOK | PINTEREST | GOOGLE+ | TWITTER | INSTAGRAM | BLOGLOVIN
 Sign up to receive an email in your inbox for each new recipe:
EMAIL SUBSCRIPTION
Coconut and Nutella give these fudgy brownies a tropical boost. These honestly get better and better each day.
Ingredients
1 cup coconut oil
1/2 cup dark cocoa powder
4 eggs
2 cups sugar
2 teaspoons vanilla extract
1 teaspoon salt
1 1/2 cups flour
1/2 teaspoon baking powder
3/4 cup Nutella
For the frosting

1/2 cup coconut oil
1/2 teaspoon coconut extract
1/2 teaspoon rum extract
1/4 teaspoon salt
2 1/2 cups powdered sugar
1/2 cup heavy whipping cream
1 1/2 cups shredded coconut
Instructions
Place the coconut oil in a small sauce pan over low heat and stir until melted. Whisk in the cocoa powder. Let cool slightly.
Beat the eggs until frothy. Add the sugar and extracts and beat again. Slowly add the melted coconut oil and chocolate mixture and beat again.
Stir together the salt, flour, and baking powder. Add to the egg mixture slowly.
Add the Nutella and stir in gently. Spread the mixture in a greased 9x13 baking pan. Bake at 350 degrees for 32-35 minutes. Let cool completely.
Beat the coconut oil, extracts, and salt until creamy. Slowly add the powdered sugar and whipping cream until everything is mixed in. Beat on high until light and fluffy. Spread on the cooled brownies. Top with coconut. Cut into 24 squares. Store in a sealed container.
https://insidebrucrewlife.com/coconut-nutella-brownies/
Copyright Inside BruCrew Life
More delicious ways to enjoy coconut and chocolate: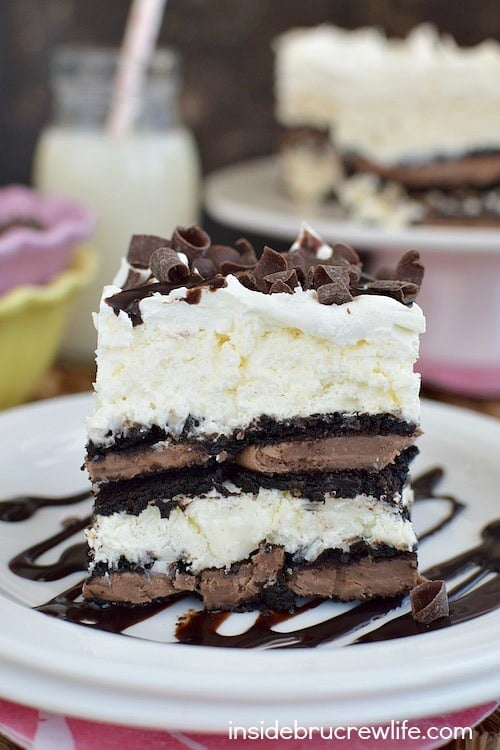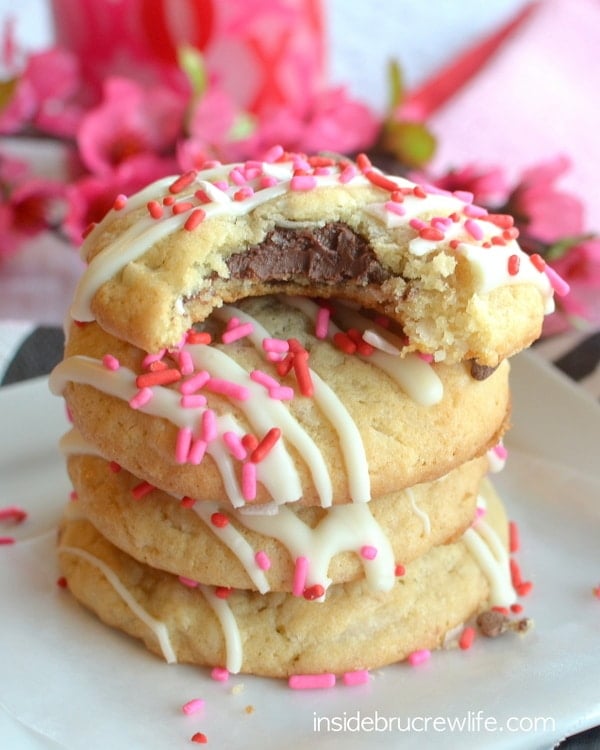 Coconut Nutella Cookies