Want a delicious sugar cookie, but do not want to spend the time all day in the kitchen? These Chocolate Mint Sugar Cookie Bars can be made and frosted in no time at all.
*Love these recipes? Be sure to sign up for the BruCrew email to have them delivered to your inbox.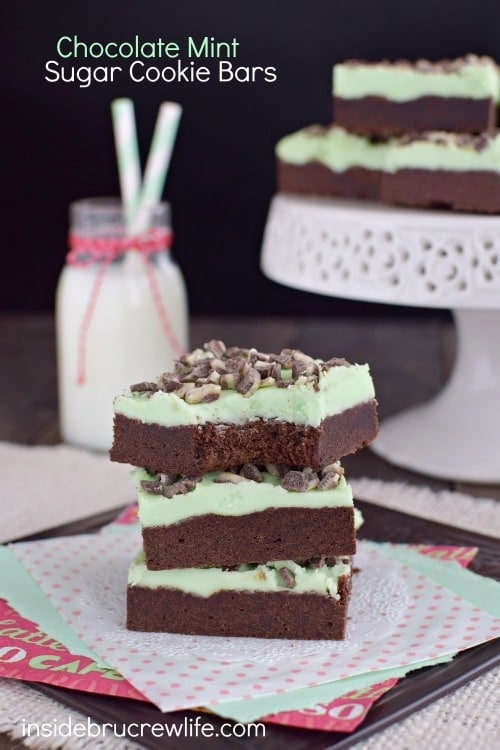 I used to make all my sugar cookies in cute shapes with fun colors.
But that takes a lot of time with all the rolling, cutting, coloring, and frosting. And then there are the sprinkles! Don't get me wrong because I love the sprinkle part of the cookie. But after spending all that time in the kitchen, sprinkles tend to go flying in all directions because you just want to be done. Oh…maybe that's just me.
Then I discovered sugar cookie bars…and I haven't looked at another cookie cutter since then.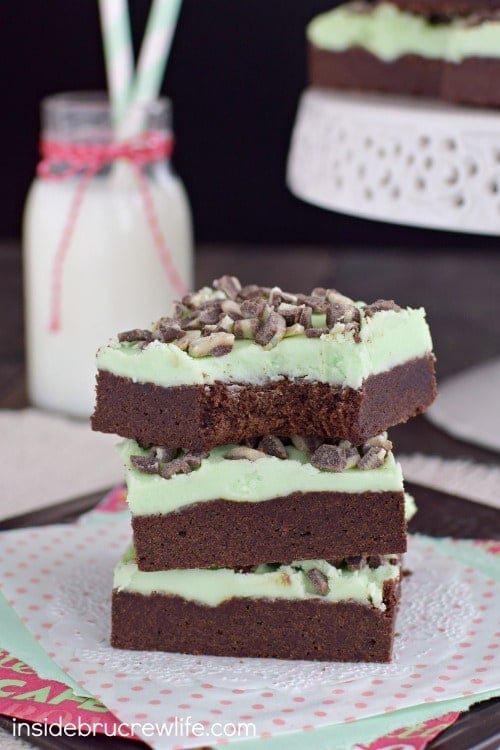 I'm sure there will come a day when I need to pull out my box of cute cookie cutters, but until then our sugar cookies are staying square.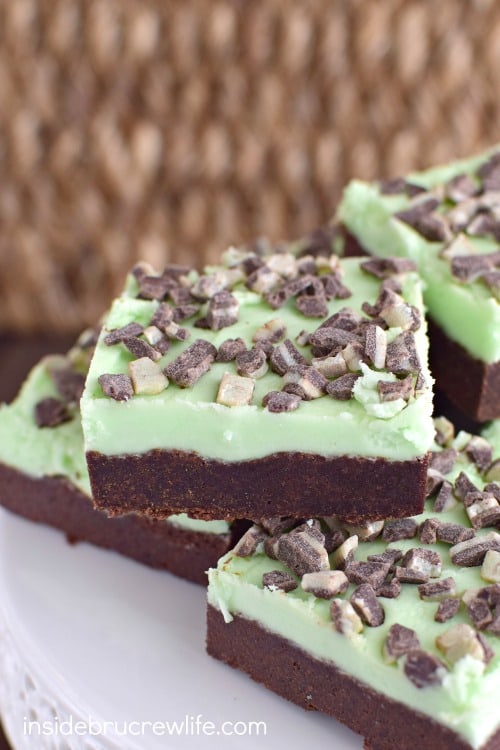 Recently I made these Eggnog Sugar Cookie Bars, and I knew I wanted another version that wasn't so holiday related.
Chocolate is always a good option, so I had to go with it. And of course mint is always a great choice to pair with it.
Easy chocolate sugar cookie dough gets pressed into a pan and baked for 14 minutes. Do not over bake the cookie bars! Let them cool before spreading on your mint frosting goodness.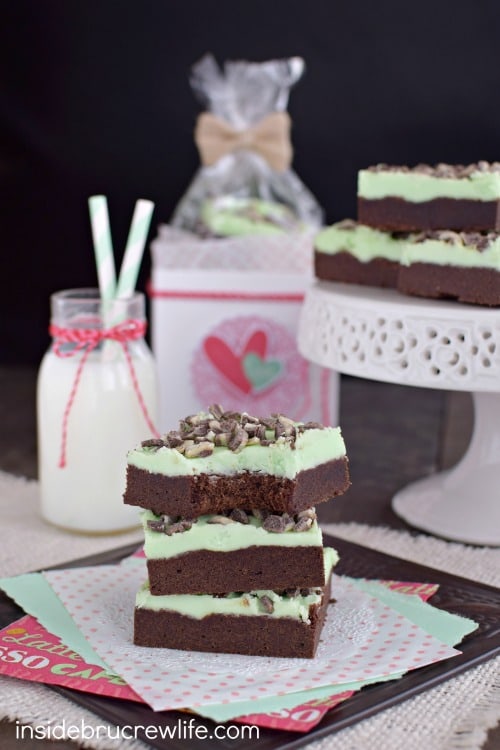 I found a bag of Andes Mint chips hiding in the back of my baking cupboard! Woo hoo! Gotta love a find like that!
Forget the sprinkles on these cookie bars…these mint chips are all I need. Does anyone else eat those by the handfuls? I try to resist them but, well, you know. A few handfuls may have disappeared…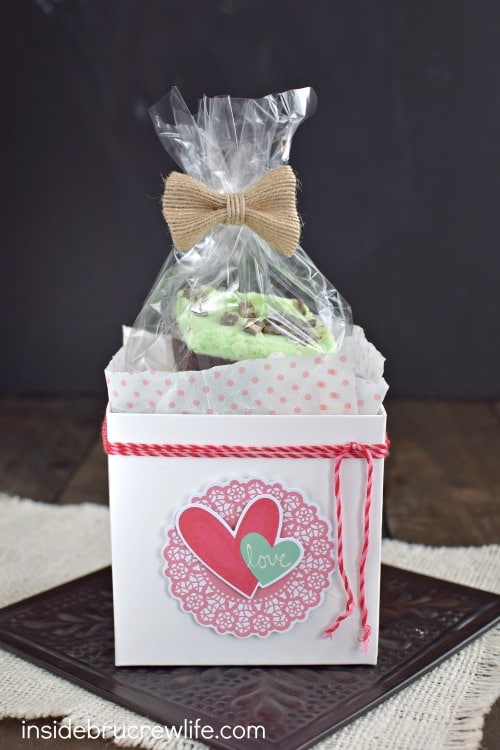 I just love the dollar spot at Target…my wallet not so much! Last week I found these cute stickers and twine. They were the perfect little accents for these white boxes I found in my hall closet. Yes, I'm a closet hoarder. We won't talk about what else I may have found in my boxes while I was digging.
Oh, yeah I also found that cute polkadot box liner at Target too. They are actually little paper bags that were in the party section. Rip them apart and they make great filler paper!
A plastic bag tied up with twine and a little rustic bow is all the cookies need to stay fresh in the cutesy box. Perfect little treat to gift a special friend with!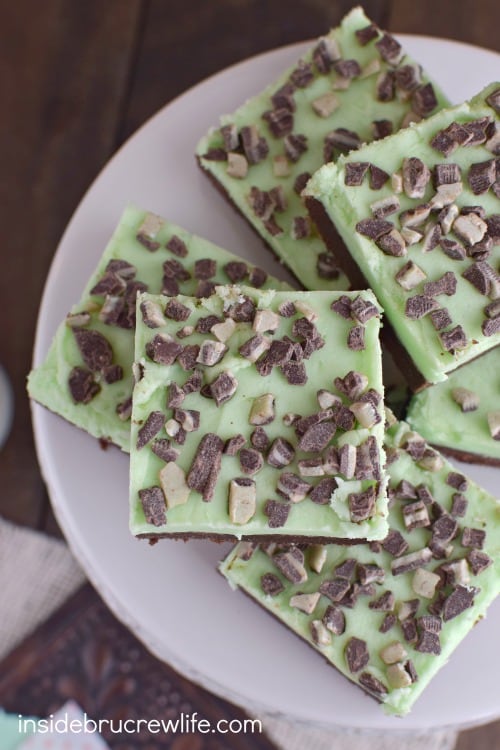 Stay up to date on all the BruCrew baking here:
FACEBOOK | PINTEREST | GOOGLE+ | TWITTER | INSTAGRAM | BLOGLOVIN
Sign up to receive an email in your inbox for each new recipe:
EMAIL SUBSCRIPTION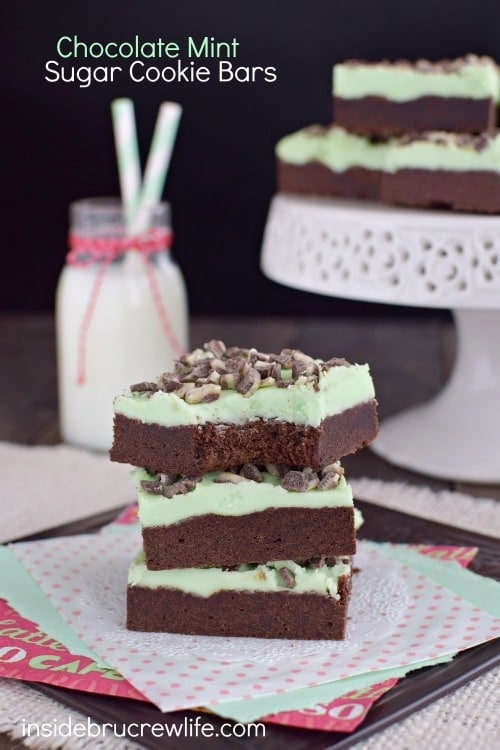 Chocolate sugar cookies are so much easier when they are made in one big pan. Top them with a mint frosting and Andes mint chips for a fun dessert.
Ingredients
1/2 cup butter, softened
1/2 cup brown sugar
1/2 cup sugar
1 egg
2 teaspoons vanilla
2 Tablespoons milk
2 cup flour
1/2 cup dark cocoa powder
1 teaspoon baking powder
1/2 teaspoon salt
For the Mint Frosting

1/2 cup butter, softened
1/2 teaspoon mint extract
6 Tablespoon heavy whipping cream
1/4 teaspoon salt
4 cups powdered sugar
green gel food coloring
1 cup Andes Mint chips
Instructions
Preheat the oven to 375 degrees. Spray a 9x13 pan with non-stick baking spray.
Beat the butter and sugars together. Add the egg and vanilla and beat again.
Stir together the flour, cocoa powder, baking powder, and salt. Slowly add to the butter mixture until everything is mixed in. Press the mixture into the prepared pan 9x13 pan. Bake for 14-15 minutes. Let cool completely.
Beat the butter, mint extract, and whipping cream until creamy. Slowly add the salt and powdered sugar until all is mixed in.
Add a little bit of green food coloring for a touch of color. Beat for another minute until creamy. Spread over the cooled bars. Top with the Andes Mint chips. Cut into 24 bars. Store in a sealed container on the counter.
https://insidebrucrewlife.com/chocolate-mint-sugar-cookie-bars/
Copyright Inside BruCrew Life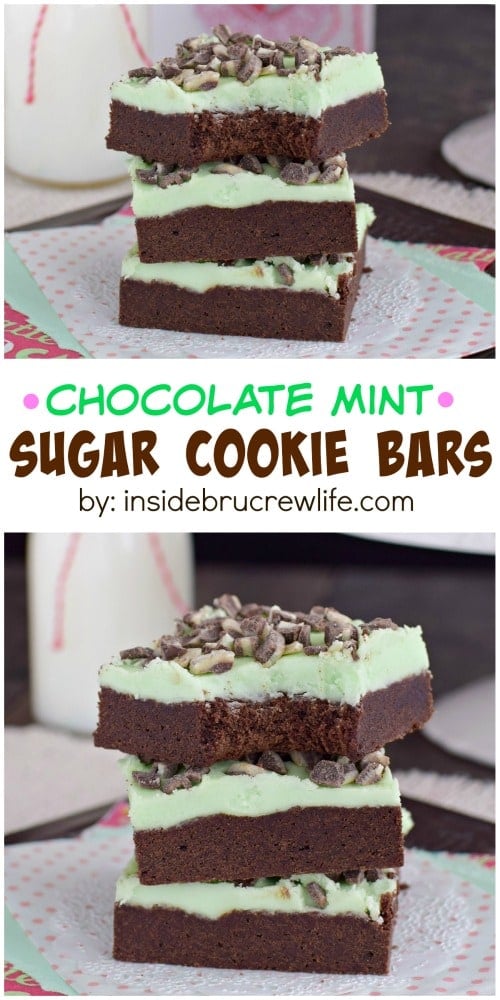 More fun chocolate and mint desserts that always disappear in our house: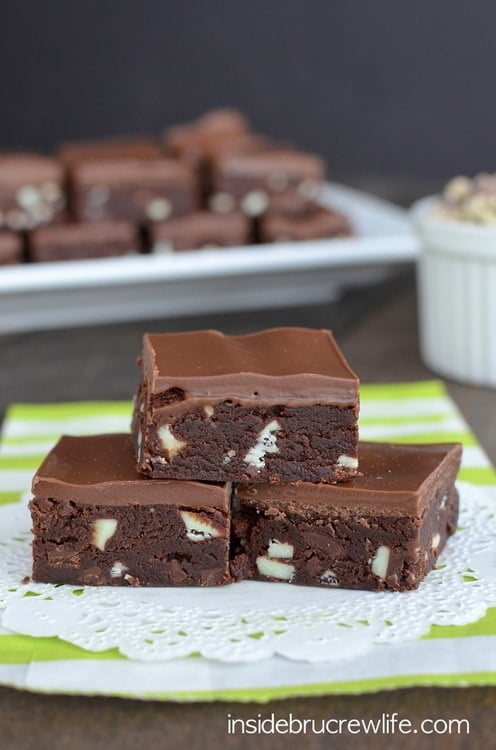 Andes Mint Cookie Dough Truffle Bars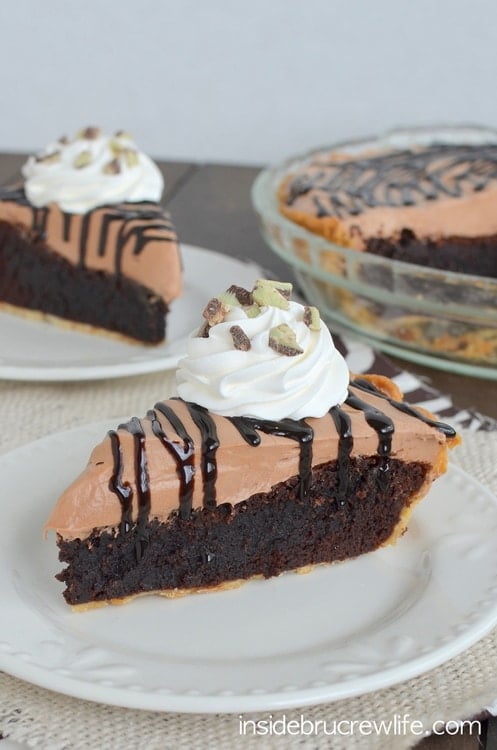 Andes Mint Cheesecake Brownie Pie