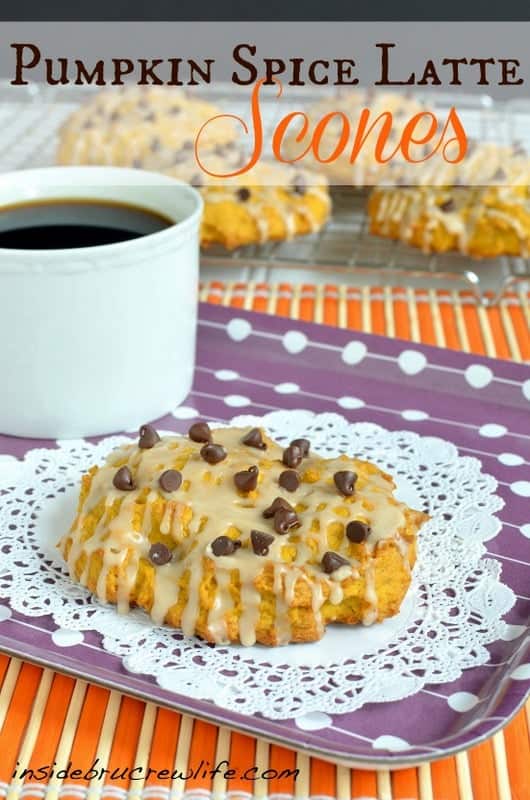 Every couple of months my husband asks for scones. Now usually he is very specific and wants "non candy" scones.
Apparently I can't bake with out adding cookies or candies to things...it's kind of an obsession of mine.
And he know's that if he doesn't specify how he wants them. There will be crunchy things or chocolatey things added.
So, the other day he was working on his car and wanted scones with his coffee to keep him going. Haha! There was no stipulation on the scone because he was distracted with pulling out the engine.
I could have gone super crazy with all sorts of yummy things. Visions of butterscotch and toffee were floating through my brain, but I restrained myself this time and threw the bags of goodies back in the cupboard.
These weren't for me after all.
I decided to go with a semi-plain coffee pumpkin scone. My pumpkin obsession is going strong. I have been making everything pumpkin lately!
Hopefully my family doesn't get sick of it because we have a month to go.
One thing about scones that I am not fond of is that I think they are dry. Maybe I haven't had a good one, or maybe that's just how they are supposed to be.
But I prefer a softer and flakier kind of a biscuit scone. So this recipe is what I have come up with.
I use the same base recipe and just change it out based on what flavor I'm going for. This time I reduced the cream and added the pumpkin.
They turned out so good. The pumpkin wasn't super overwhelming, but you could definitely taste it. It paired perfectly with the slight coffee flavor too.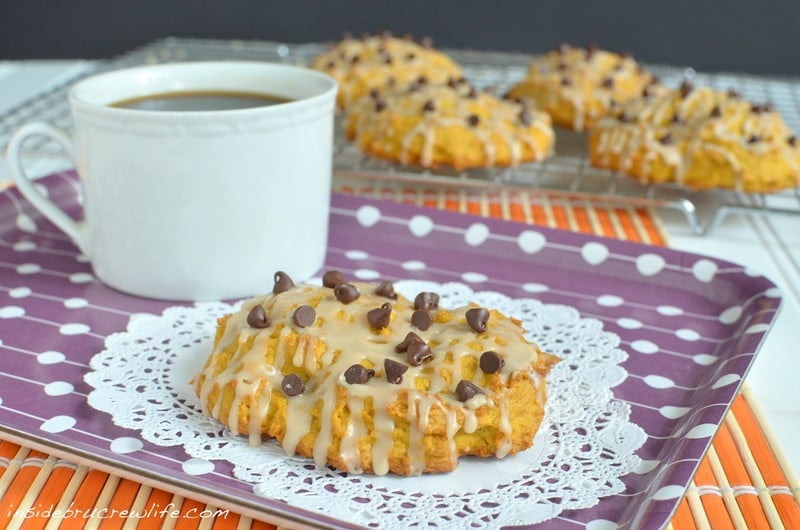 In case you were wondering, yes, I did leave some plain jane just for my hubby.
Well, ok, I only left 3 plain. The rest just looked so nekkid that I had to do something. I figured that a coffee glaze and a few chocolate chips to cover them up wasn't going too overboard.
Slightly plain pumpkin scones with a jazzed up topping...win win for both of us!!!
If you like this Pumpkin Spice Latte scones recipe, you might like some of these scone recipes too:
Berry Burst Oreo Scones
Salted Caramel White Chocolate Scones
Blueberry Coconut Scones
Pumpkin Spice Latte Scones
Soft pumpkin coffee scones drizzled with a coffee glaze and chocolate chips
Ingredients
2 cups flour
6 Tablespoons sugar
1 ½ teaspoons baking powder
¼ teaspoon salt
1 teaspoon cinnamon
¼ teaspoon nutmeg
6 Tablespoons butter, cold
⅓ cup heavy cream
1 ½ teaspoon instant coffee granules
½ cup pumpkin puree
1 egg
1 teaspoon vanilla
½ cup powdered sugar
1 Tablespoon coffee, cooled
¼ cup mini chocolate chips
Instructions
Preheat oven to 400 degrees. Place a Silpat on a baking sheet.
Place the heavy cream in a microwave safe cup and heat for 30 seconds. Stir and heat again for 30 seconds. Stir in the instant coffee granules and set aside.
In a large mixing bowl, sift together the flour, sugar, baking powder, salt, cinnamon, and nutmeg. Add the cold butter, and cut in until the butter is in small pieces.
Create a well in the dry ingredients. Pour in the heavy cream, egg, pumpkin, and vanilla. Stir until combined. Spoon out 9 spoonfuls and place baking sheet.
Press each scoop down and out to about a 3 inch size. Bake for 18-20 minutes. Let cool.
Stir together the powdered sugar and cooled coffee. Drizzle over scones. Sprinkle with mini chocolate chips immediately.
Nutrition Information:
Yield:

9
Serving Size:

1
Amount Per Serving:
Calories:

294
Total Fat:

13g
Saturated Fat:

8g
Trans Fat:

0g
Unsaturated Fat:

4g
Cholesterol:

51mg
Sodium:

213mg
Carbohydrates:

41g
Fiber:

2g
Sugar:

18g
Protein:

4g