The creamy spiced cold foam on this Pumpkin Cream Cold Brew tastes like the coffee shop version. If this is your favorite fall drink, save money by making this Starbucks copycat recipe in your own home.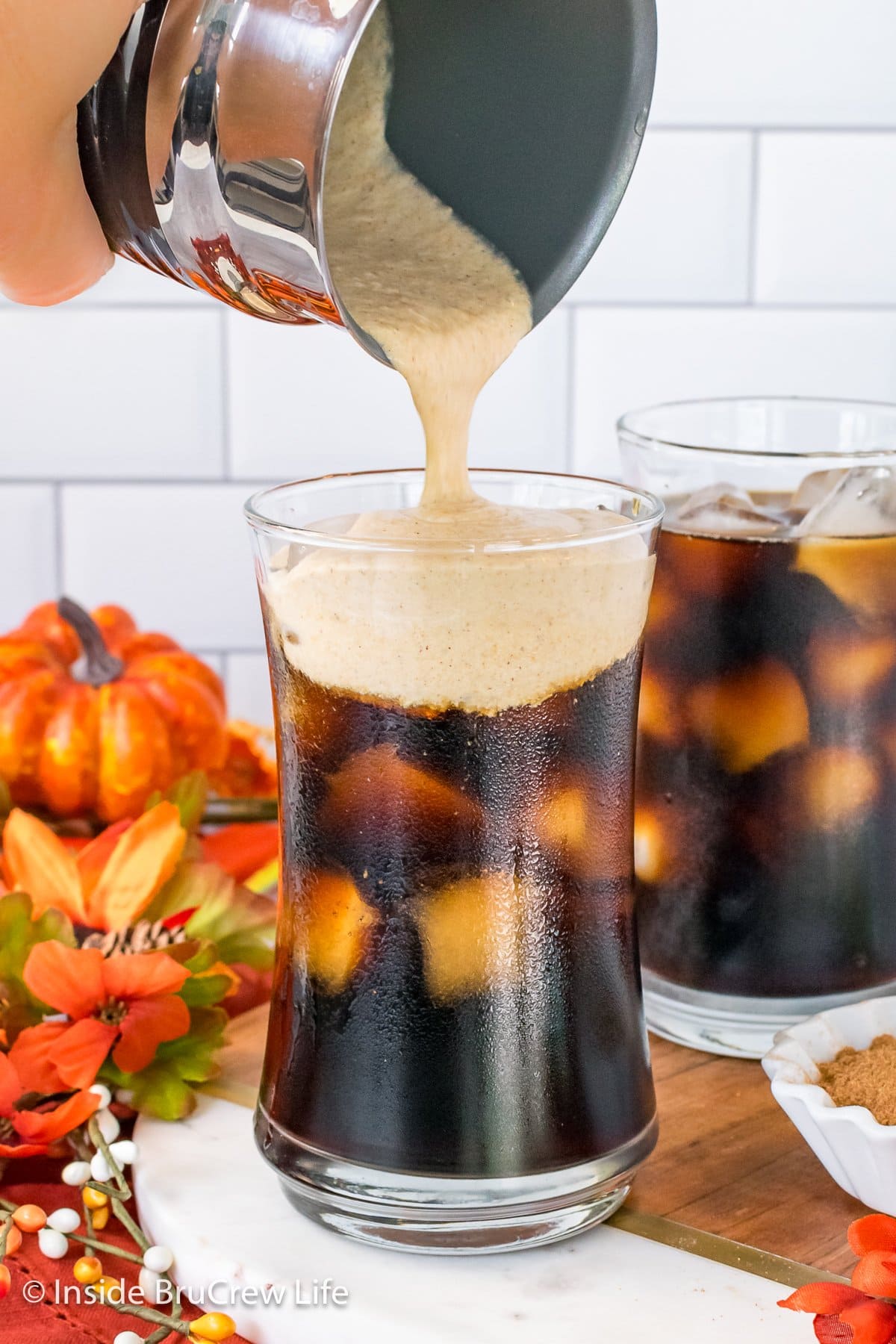 Jump to:
Raise your hand if you love pumpkin spice season. I love getting a Starbucks pumpkin cream cold brew and pumpkin scones as soon as they have them. I usually take multiple trips in the fall just to enjoy that amazing pumpkin spice drink and these pumpkin cream cheese muffins.
The problem with going to coffee shops all the time is that it can get expensive. So, I wanted to find a way to make and enjoy a pumpkin cold brew at home.
When you can find the perfect copycat recipe, there is no reason not to enjoy them all year. This Starbucks matcha green tea recipe and this frozen caramel coffee have been on repeat all summer.
Why You Will Love This Pumpkin Cold Brew
Our easy copycat recipe will show you how to recreate the pumpkin cream cold brew in the comfort of your own home. Say goodbye to long lines and hello to saving money!
Made with Pumpkin - Our cold coffee drink is made with real pumpkin puree giving you the best pumpkin flavor imaginable.
Easy to Make - This popular fall drink can be ready in minutes. You can make both the cold brew recipe and sweet cream ahead of time making it easy to whip one up whenever the craving hits.
Sugar Free and Dairy Free - The best part of making this drink at home is that you can make it without all the sugar. Oh, yeah! This pumpkin cream cold brew will save you time, money, and calories!
What is a Pumpkin Cream Cold Brew?
This pumpkin season coffee drink starts with a glass of iced cold brew coffee. It is topped with a pumpkin cream cold foam and dusted with pumpkin spice.
Ingredients Needed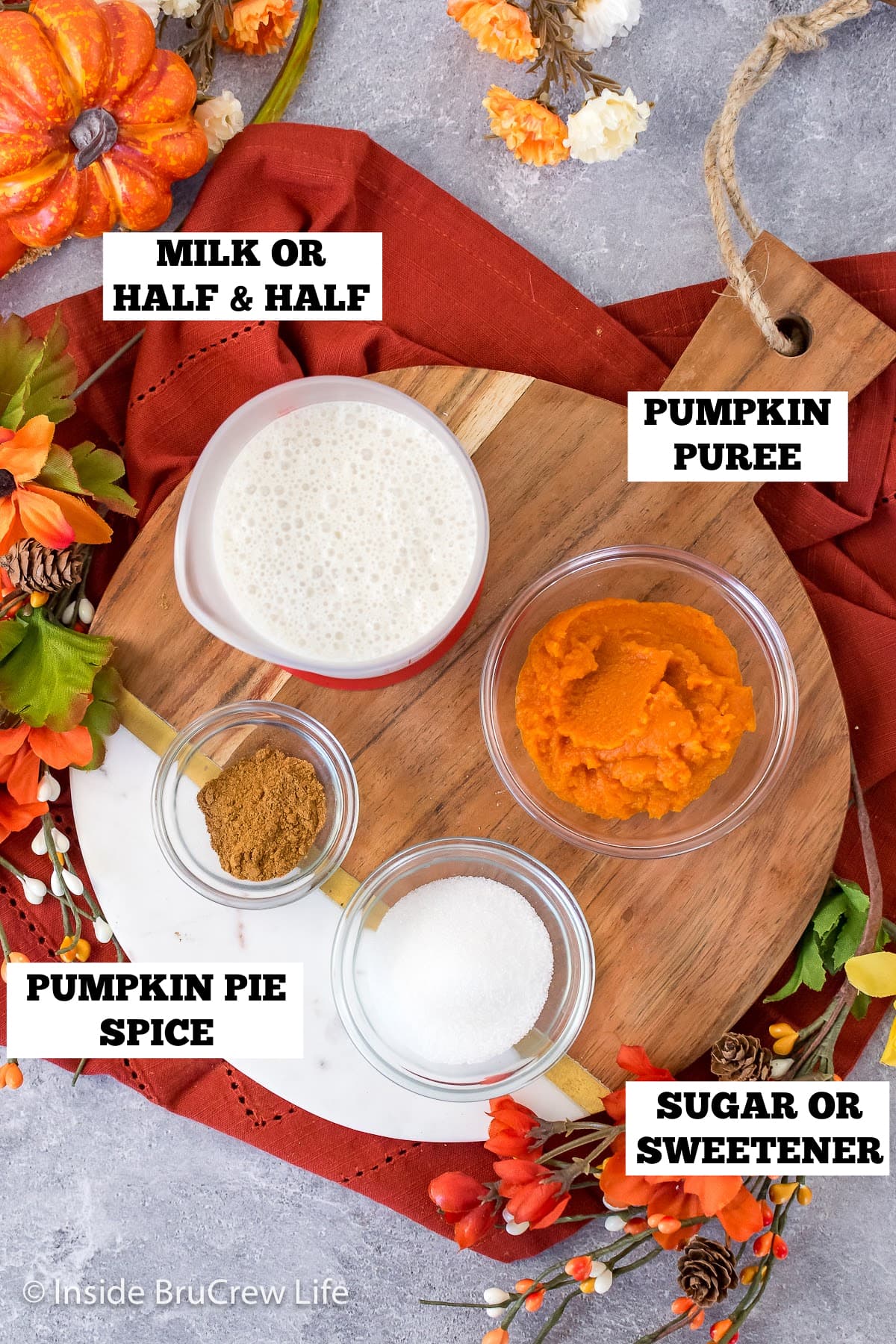 With just a few simple ingredients from the grocery store, this can be made right in your kitchen. To cut the calories from the Starbucks version, I modified the ingredients to make it sugar and dairy free. There is also an option to use cream and sugar.
Milk - For this drink, you want milk or cream that will froth well. I like using Silk dairy-free half and half because it is a low-calorie, low carb non-dairy milk. You can also use a mixture of heavy cream & 2% milk in place of this.
Pumpkin Puree - Make sure you buy puree, NOT the pumpkin pie mix. The mix has added spices and sugars in it.
Pumpkin Pie Spice - The spices in this will give your drink the fall flavor.
Sweetener - Monk fruit sweetener in the foam and sugar-free vanilla syrup in the cold brew coffee keeps the drink sugar-free. Granulated sugar works too.
BruCrew Tip: If you love hot coffee, try this Cinderella latte, pumpkin spice latte, and this pumpkin caramel latte.
How to Make Pumpkin Cream Cold Brew

Coffee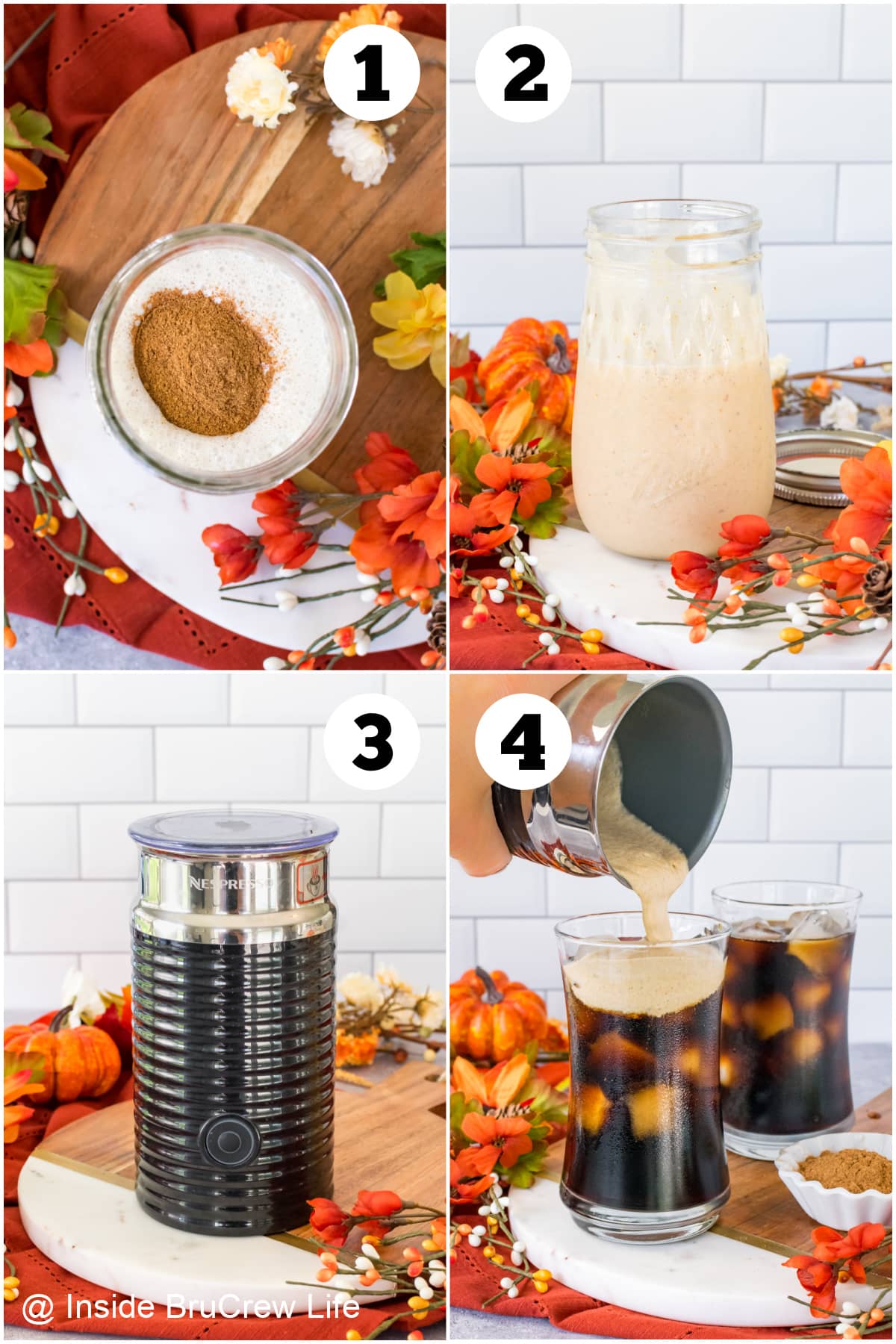 To save time, I keep chilled cold brew coffee in the fridge for making pumpkin cream cold foam coffee. It's easy to make your own if you have time, or you can buy your favorite brand in stores. I like the taste of STŌK and Starbucks cold brew.
Pour the Silk half and half, monk fruit, pumpkin puree, and pumpkin pie spice into a mason jar. Stir gently to mix it together. Place the lid on and shake slightly.
Chill the pumpkin cream until ready to use. Be sure to gently shake the jar before using the cream.
Froth ¼ cup of the cold pumpkin cream using one of the methods described below.
Add ice to a glass and pour in sugar-free vanilla syrup and cold brew coffee leaving room for the cream.
Pour the frothed pumpkin cream cold foam on top of the iced coffee and enjoy.
How to Froth Pumpkin Cream Cold Foam
You can make the cold foam for the pumpkin cream cold brew a few different ways. Here are the tools we have found that make it easy.
Milk Frother - A stand-alone milk frother with an option for hot or cold works best. We have the Nespresso one, and I love it.
Handheld Milk Frother - These are super inexpensive and work well to froth warm or cold milk. Just make sure to keep the moving wire whisk under the milk, or it will splatter everywhere.
Blender - Cover it and pulse the pumpkin cream mixture until it is foamy and thick.
Jar - Put a lid on it and shake, shake, shake. This option will not give you as much foam, but it works in a pinch.
Storage Recommendations
Store the leftover pumpkin cream in a tightly sealed jar in the refrigerator for 4-5 days. Shake the jar gently to mix the ingredients before using the cream.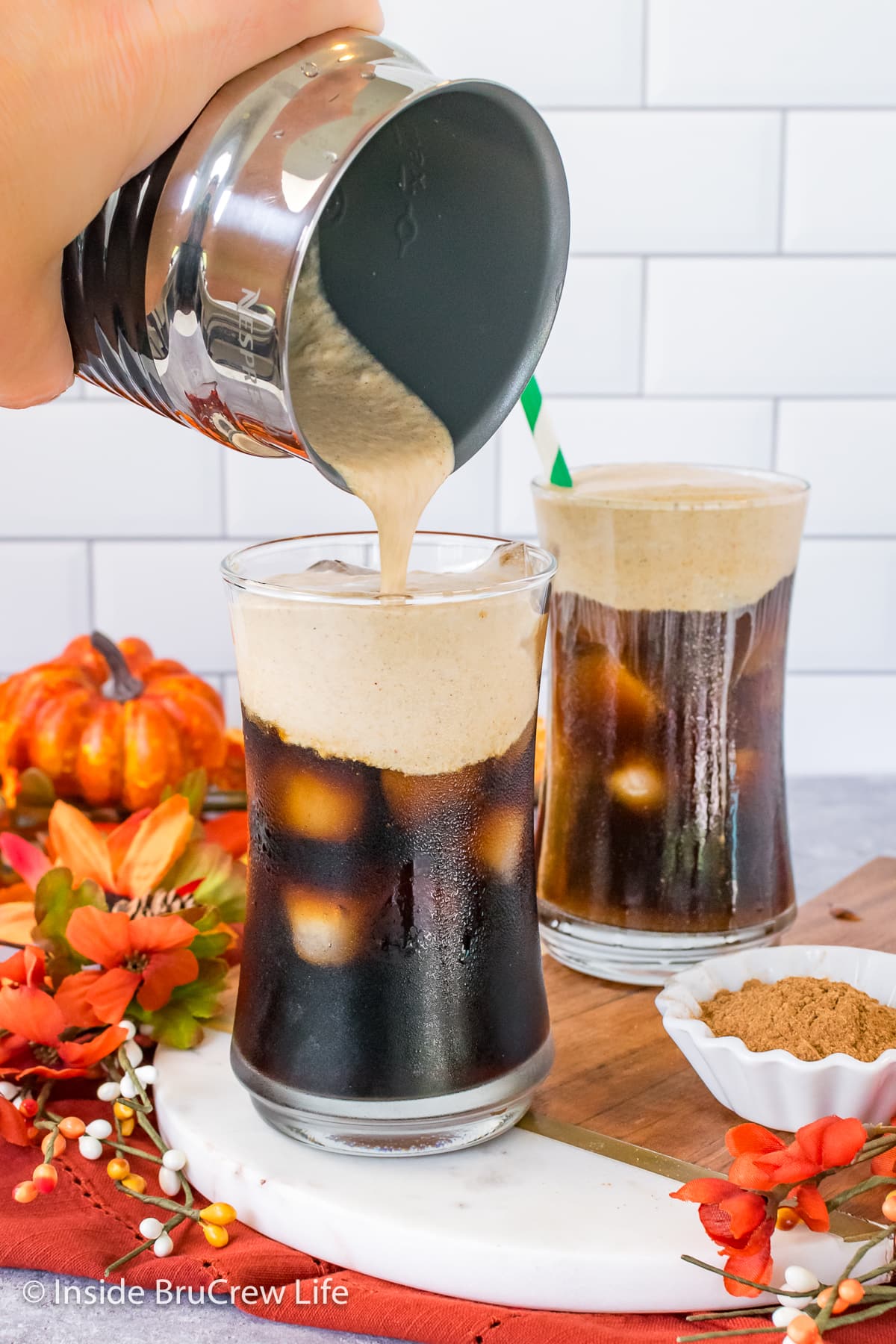 Tips

and Tricks
Monkfruit worked the best in the Silk half and half froth. We tried adding sugar free syrups or other sweeteners to it, and it didn't froth quite as well.
Regular half and half tastes good but is higher in calories, and does not froth at all.
A mixture of heavy cream and 2% milk froths great, but will be higher in fat.
You can also use maple syrup or agave syrup in place of the sugar free vanilla syrup in the cold brew coffee.
Serve a batch of the best pumpkin chocolate chip cookies with this pumpkin cold brew.
FAQs
What coffee is best for cold brew?
If you are making cold brew at home, choose a medium or dark roast coarsely ground coffee. Let it steep in cold water for 24 hours before filtering.

If you are buying it from the store, choose Starbucks cold brew or Stok cold brew for the best results.
Can I make the pumpkin cream ahead of time?
Yes, this pumpkin cream mixture can be made a few days ahead of time. Keep it in a tightly sealed jar in the refrigerator until you make your cold brew.
How do you froth the pumpkin cream topping?
There are a few different ways to froth a cream mixture. The easiest is to use a stand frother or a handheld milk frother. These kitchen tools will give you the best froth for your coffee.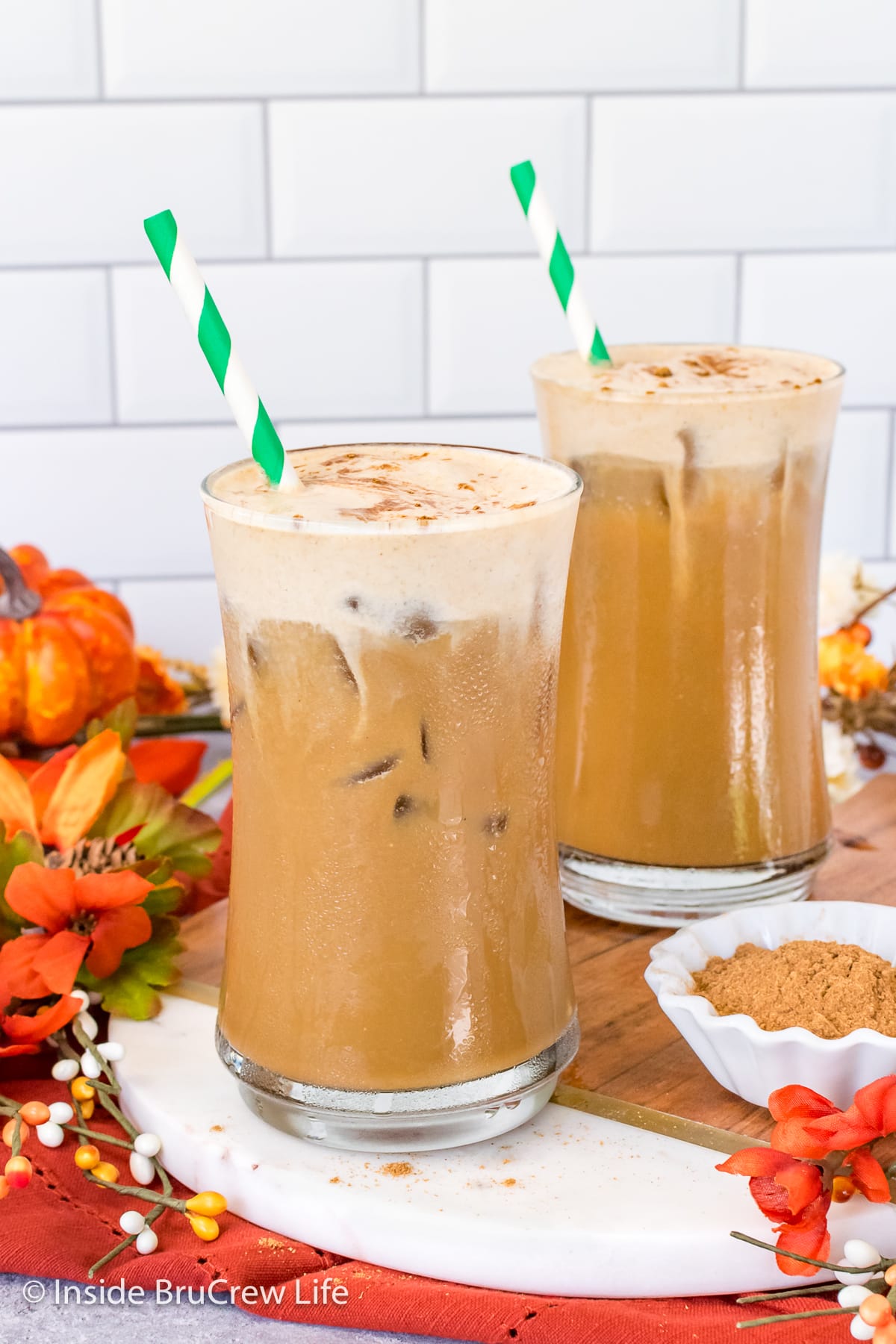 Other Copycat Recipes
Do you love a recipe you tried from Inside BruCrew Life?
Please leave a 5-star ⭐️ rating and a review in the comments section below.
*This post was first shared September 2020. It was updated and republished August 2023.