It just wouldn't be fall without some Pumpkin Pecan Bread baking in the oven to make your house smell delicious. The sweet praline frosting on top adds so much flavor to each slice.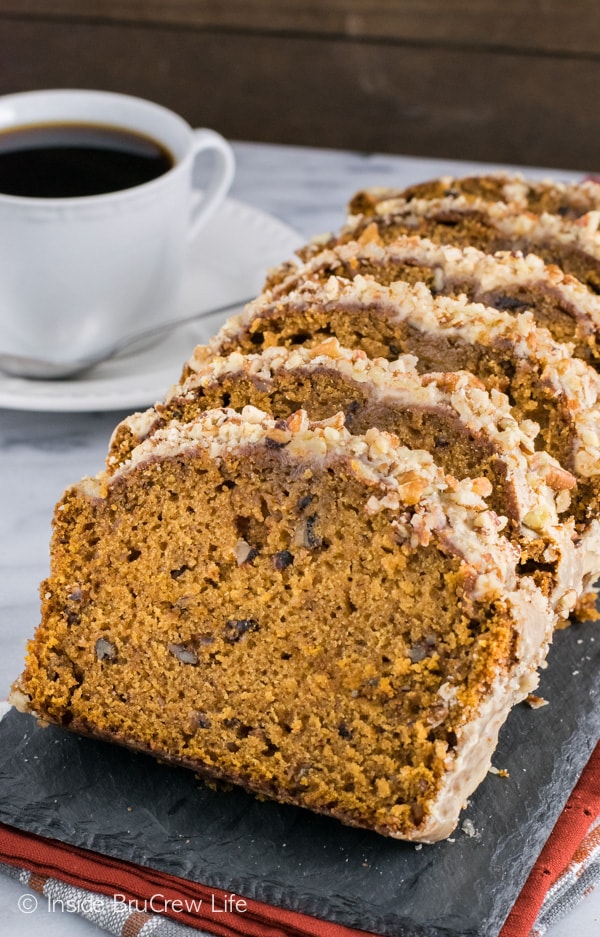 Every year as the weather starts to get cooler and the leaves change, I start to get the pumpkin itch. I have to pumpkin allthethings that come out of my kitchen.
This year is no different. So far I have made at least 10 pumpkin treats. I promise to space them out a little bit though. Pumpkin overload isn't always a good idea.
One thing that I make every year is this Chocolate Chip Pumpkin Bread. Each year I like to give it a fun little twist to it to make it different from the year before.
I realize that there are about a million pumpkin breads floating around the Internet, but trust me when I say you need this version for breakfast very soon.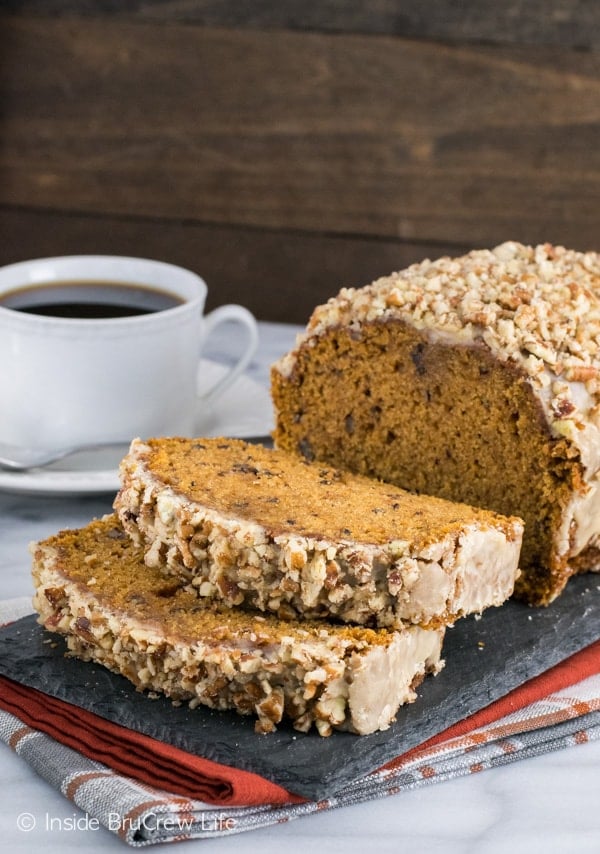 I kept the pumpkin bread recipe pretty simple by not adding any extras to the batter except for some pecans and spices.
This year I can't seem to get enough of pecan and praline desserts though. I promise that I was planning on keeping this Pumpkin Pecan Bread extra simple, but then I decided that it needed a glaze and more nuts.
Simple doesn't happen often with me, I guess. At least I thought about it.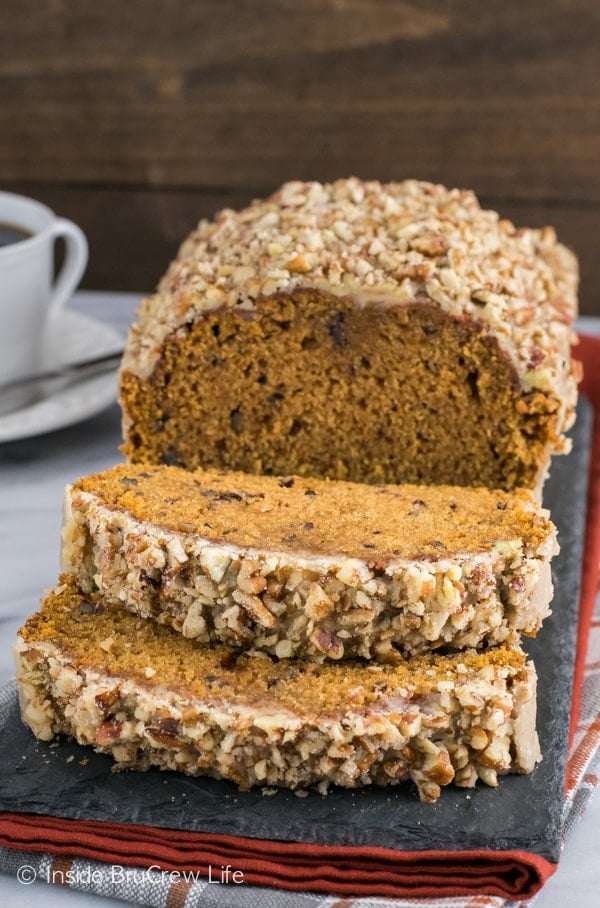 How to make a Pumpkin Pecan Bread:
Mix together the sugars and oil. Add the eggs and pumpkin puree and beat again.
Stir together all the dry ingredients.
Alternately add the dry ingredients with the milk to the pumpkin mixture.
Spoon the batter into a greased bread pan and bake. (see full recipe below)
As I started to think about what kind of glaze would work for this bread, I remembered this Apple Praline Cake, and I knew that I had to have that frosting again because it is so amazing.
Since a thicker frosting tends to make my family call breakfast bread a cake, I thinned the frosting down to a little bit runnier glaze.
Making an Easy Praline Glaze:
Place the butter, sugar, and milk in a sauce pan and bring to a boil.
Whisk in the powdered sugar and vanilla.
Let it cool some before spooning it on top of the pumpkin bread.
Make sure the bread is on a wire rack with a pan under it to keep the glaze from going all over your counter.
Press on some chopped pecans and let it set, then slice yourself an extra large slice to go with your morning coffee.
I am one of the breakfast contributors for Food Fanatic. Make sure you head over there to print this Pumpkin Pecan Bread recipe.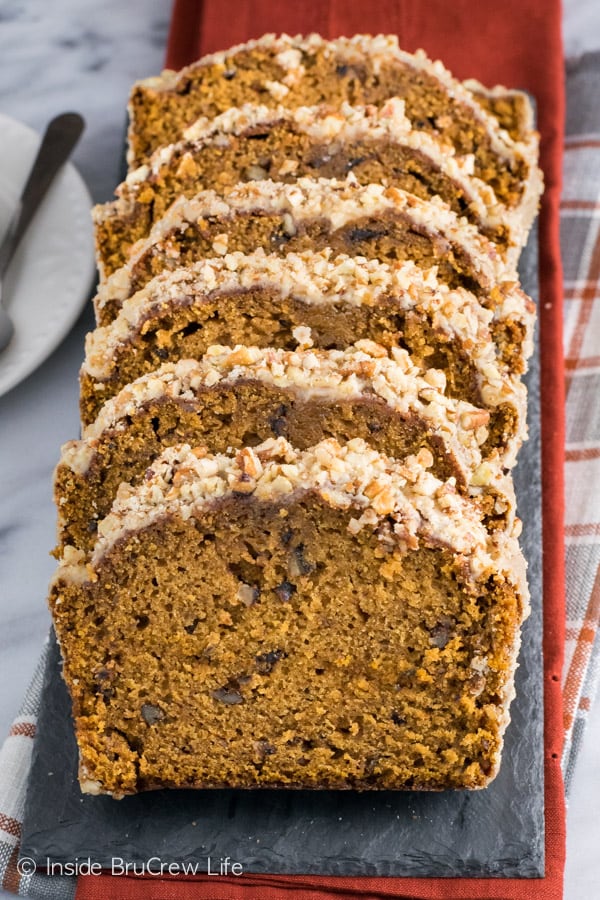 More easy pumpkin breakfast recipes you may like:
These soft Cinnabon Pumpkin Muffins have a delicious secret ingredient that makes them light and fluffy.
You need to try this Caramel Chocolate Chunk Pumpkin Bread. It is loaded with chocolate and topped with an amazing caramel frosting!
These easy no yeast Pumpkin Pecan Cinnamon Rolls can be made and on the table in under an hour. Perfect for enjoying with coffee today!
Add this Homemade Pumpkin Spice Coffee Creamer to your morning cup of coffee. It's a great way to have a pumpkin spice latte made in your own kitchen!
A sweet cinnamon roll crust makes these little Pumpkin Pie Cinnamon Roll Cups the perfect way to enjoy pie for breakfast this fall.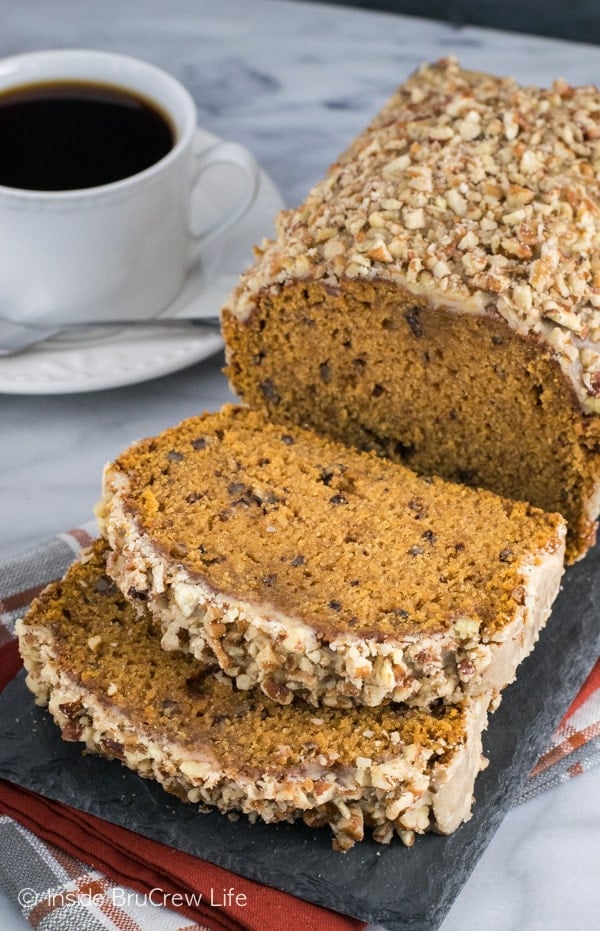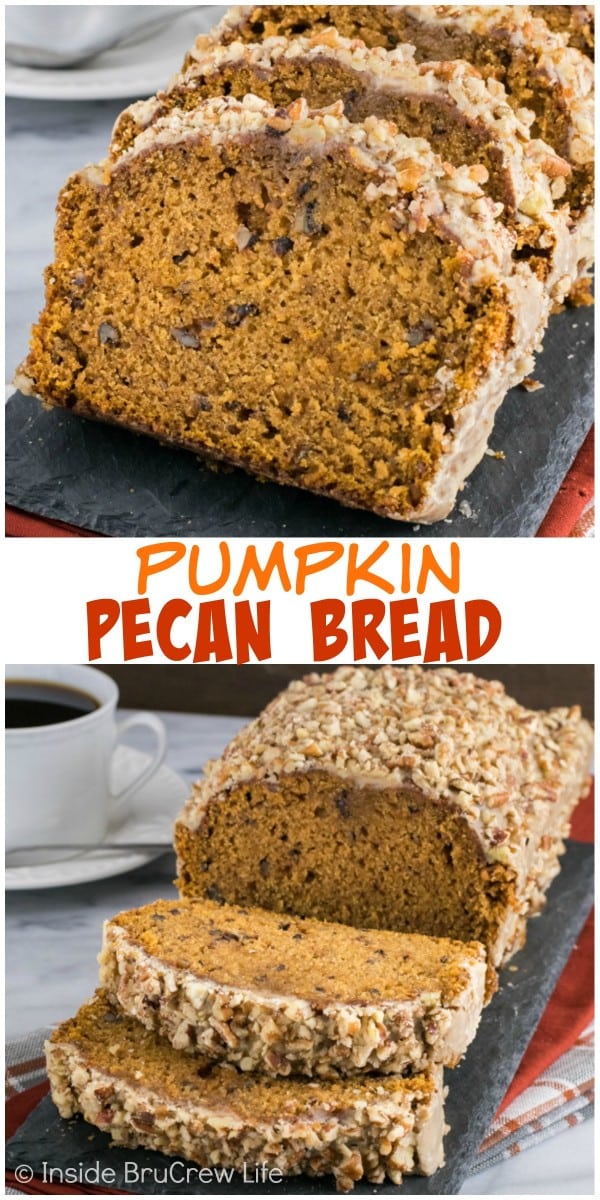 *The post for Pumpkin Pecan Bread was first published on October 5, 2015. The post has been updated and republished on October 11, 2019.