Buffalo Shrimp Tacos are the perfect dinner for busy nights. Shrimp cooked in wing sauce, wrapped in a tortilla, and piled high with your favorite toppings is the way to go.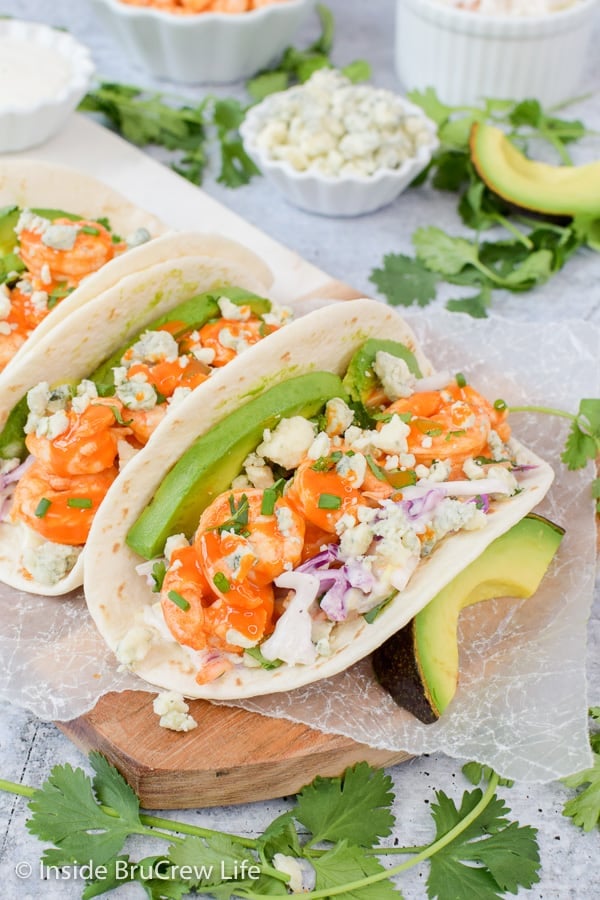 Tacos are such an easy meal to make. Plus, everyone loves tacos, so you can't go wrong with a taco dinner. Especially when it falls on taco Tuesday, am I right?
Now, don't get me wrong. We enjoy taco Thursdays, taco Sundays, and taco Mondays too. Basically, any kind of taco is a win no matter what day of the week it is.
I love how quick these easy shrimp tacos are to make. The shrimp literally takes less than 10 minutes to cook. Then I fill bowls with the toppings that I prepped ahead of time, and let everyone go to town filling their tacos with their favorite toppings.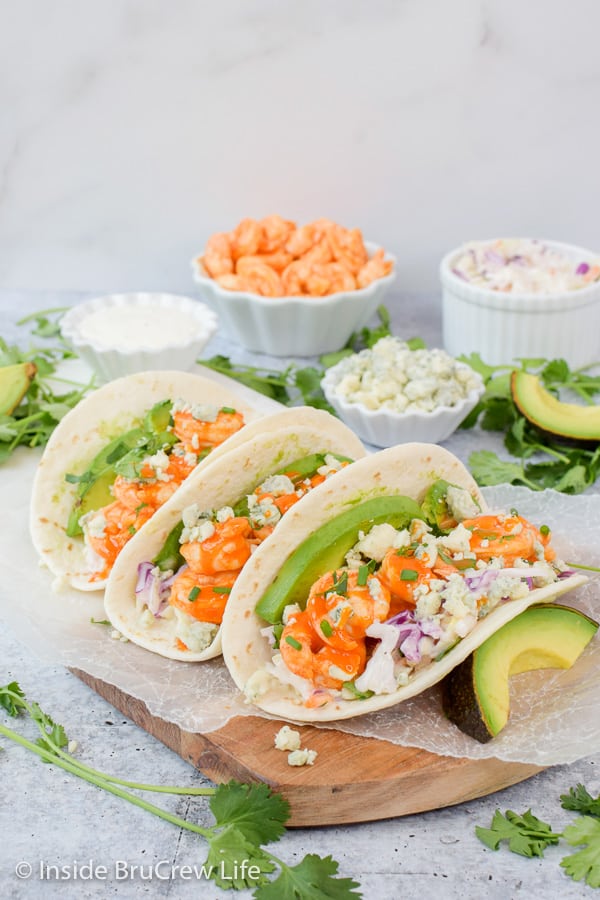 Now one thing I usually do when we have these Buffalo Shrimp Tacos is to also have some buffalo chicken ready for our youngest to use in his tacos. He is not a fan of fish or shrimp, so buffalo chicken tacos make him happy.
I like to buy an extra rotisserie chicken to shred and keep in the freezer for times like this or for making an Easy Buffalo Chicken Dip to snack on. It only takes a few minutes to defrost it and stir in some wing sauce.
And if I'm out of shredded chicken, we always have canned chicken in the pantry. Pop open a can, drain it, and stir in the wing sauce. Just an FYI if you have someone in your house that doesn't like shrimp either.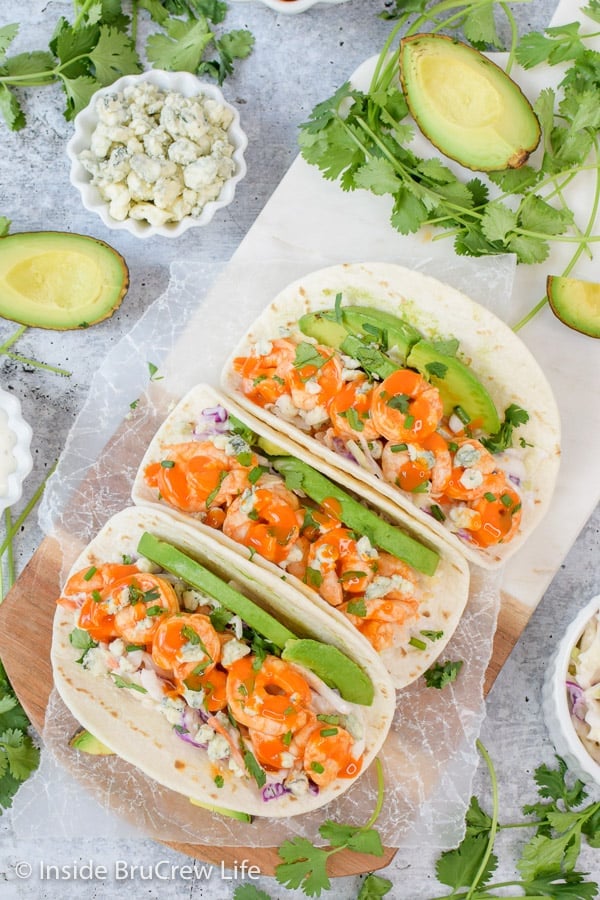 I like to use a bag of frozen medium shrimp when we make these easy Buffalo Shrimp Tacos and these Caribbean Jerk Shrimp Tacos. While the shrimp is thawing, you can stir together the slaw, chop the onions and cilantro, and set the table.
How to make Buffalo Shrimp Tacos:
Prep your shrimp. If they are frozen, run them under cool water to thaw. Peel and remove the tails, if needed.
Chop all your veggies and stir together the coleslaw and ranch dressing. Place everything in bowls for everyone to top their own tacos.
Pat the shrimp dry, place in a bowl, and stir in the buffalo wing sauce. You can make your own with some hot sauce and butter, or you can use a bottle from the store. Sweet Baby Ray's has one that we really like.
Pour the shrimp and wing sauce in a preheated skillet and cook until done. This doesn't take very long. In about 4-6 minutes, the shrimp will be pink and cooked through.
Spoon the shrimp into a bowl and get ready to load up your warm tortillas with taco goodness.
Recipe Tips:
If you want spicier shrimp, use regular hot sauce instead of wing sauce.
You can use whatever size shrimp you like or have. We prefer the medium shrimp with a smaller tortilla.
We like flour tortillas, but you can use corn if that is what you prefer.
Love blue cheese dressing? Go ahead and use that in your slaw instead of the ranch dressing.
Want to make these low carb shrimp tacos? Skip the tortilla and serve the buffalo shrimp in a lettuce wrap or on a salad.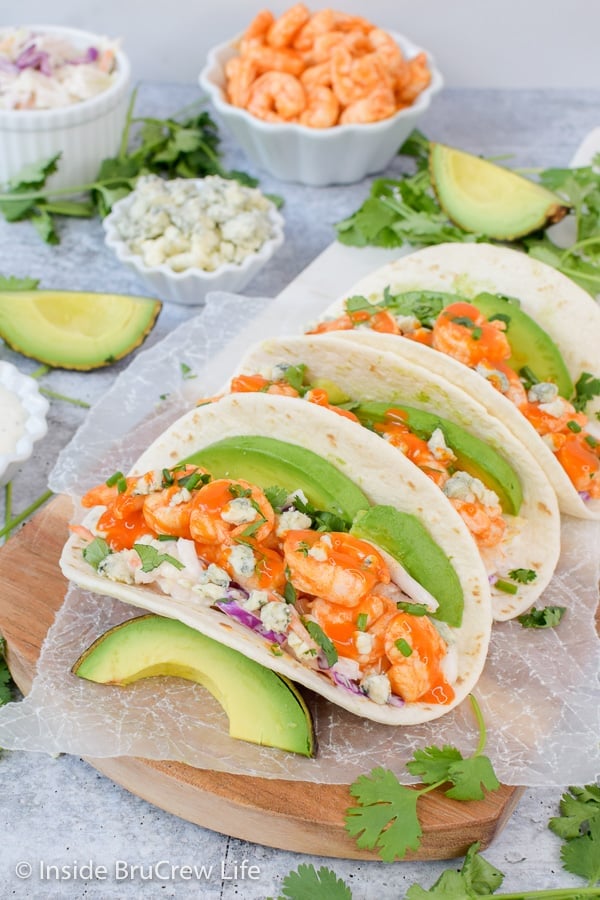 There is no wrong way to top a taco, in my opinion. Feel free to use your favorite taco toppings or whatever you have in the fridge at the moment. Here are a few of our favorites that we keep on hand.
Toppings for Buffalo Shrimp Tacos:
Coleslaw
Avocados, cubed or sliced
Green Onions
Cilantro
Blue cheese crumbles
Buffalo wing sauce
Lime juice
Sour cream
Salsa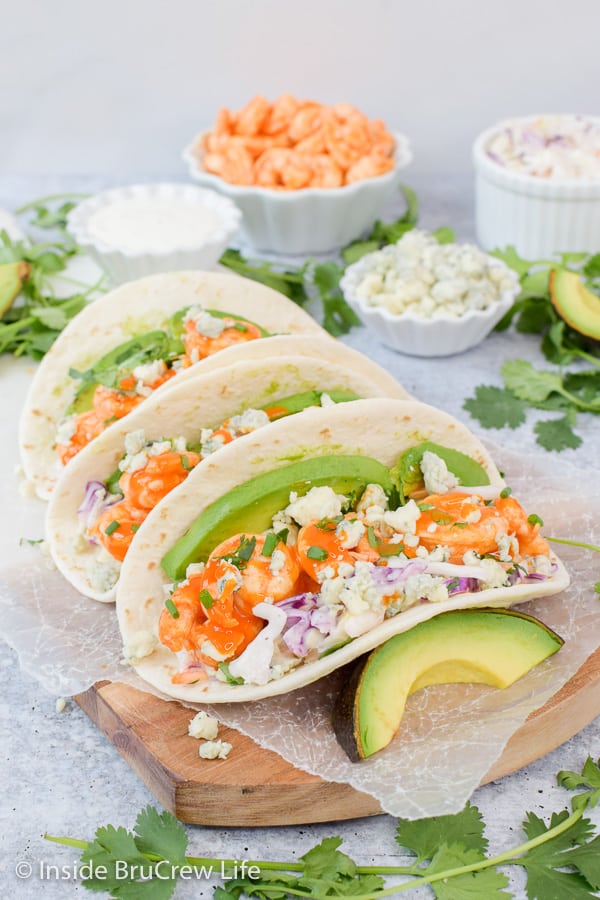 More easy shrimp recipes: