Looking for an easy and delicious dip to serve at your next game day party? Grab a box of crackers or a bag of celery and dig into this Easy Buffalo Chicken Dip. The creamy and spicy flavor in this cheesy dip will have everyone going back for more.
If you are a fan of buffalo chicken, I really recommend trying this buffalo chicken pasta or these buffalo sliders.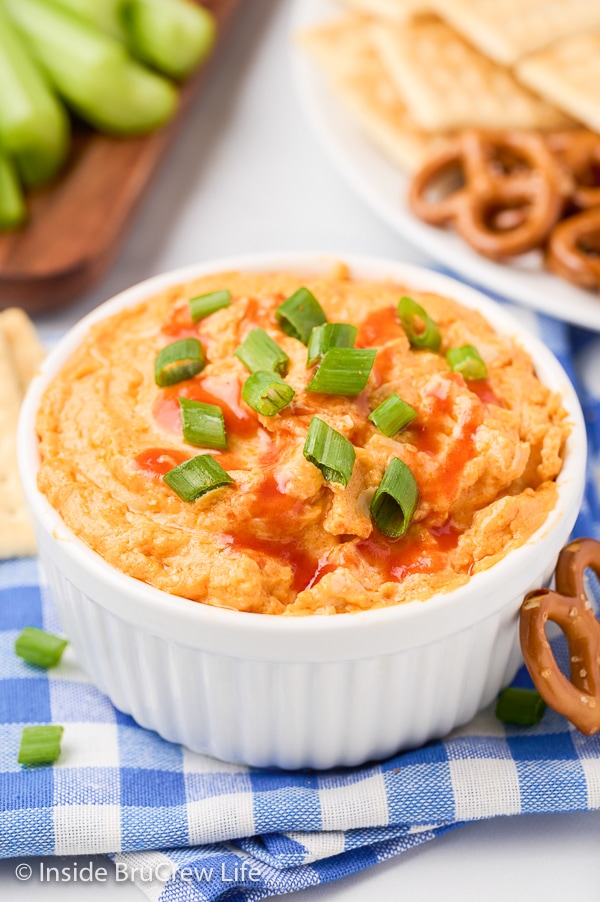 One of our favorite things to do with our kids on Friday night is a snack supper and game night. Everyone gets to decide on their favorite appetizer or snack that they want for the night.
Buffalo chicken dip is always on the menu. It is the perfect appetizer for these nights because it is so easy to make with just a few simple ingredients. In fact, it is so easy that our teenagers can make it just as quickly as we can.
This easy game day appetizer never lasts long in our house. I mean what's not to love about your favorite buffalo wing flavor turned into an irresistible party dip. Am I right?
The creamy dip is packed with spicy flavor and will have you going back for a second helping in no time at all. Serve this delicious dip at your next Super Bowl party, and you'll be the star of the night.
Why We Love This Dip
Perfect appetizer for game nights or parties.
Easy to make with just 6 ingredients.
Ready in minutes.
Always a hit with anyone who tries it.
Reheats well IF you have leftovers.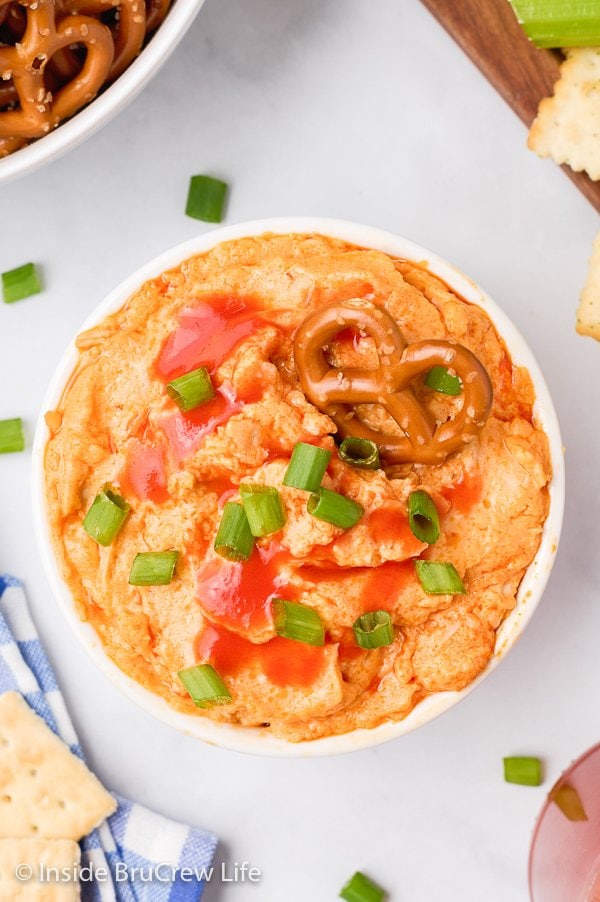 Ingredients Needed
This easy dip is made with ingredients that you may already have in your fridge or pantry.
Cream Cheese - One block of full fat cream cheese gives the dip a creamy base.
Hot Sauce - When we make buffalo chicken recipes we like to use Frank's Red Hot Sauce. You can also use buffalo wing sauce.
Ranch Dressing - This is a preference issue. We prefer ranch. Others like blue cheese. You do whatever makes you happy!
Garlic - Adds a little bit of flavor. You can used garlic powder or minced garlic.
Chicken - We usually keep canned chicken in our pantry just for this buffalo chicken dip. You can also use shredded rotisserie chicken or finely diced grilled chicken.
Cheddar Cheese - Gives the dip the cheesy texture. Feel free to use a mild, medium, or sharp shredded cheese.
Optional Toppings - green onions, hot sauce drizzles, and blue cheese crumbles.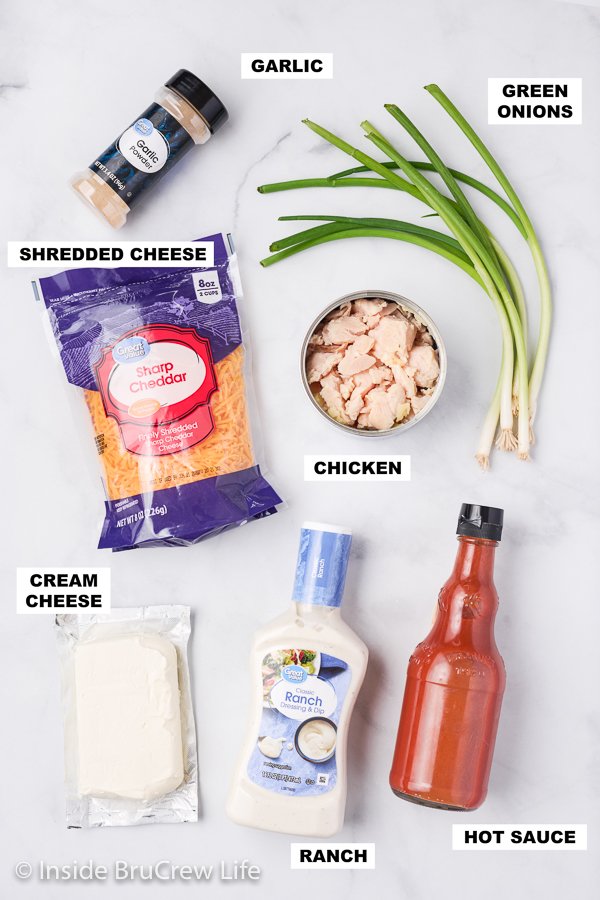 How to make Buffalo Chicken Dip
This chicken dip is so easy to mix together. Feel free to make it mild or spicy, depending on how much hot sauce you use.
If you like spicy food, keep the amounts that are shown in the recipe. If you prefer a little less spice, I would recommend only using ¼ cup.
Mix together the softened cream cheese, hot sauce, ranch dressing, and garlic in a sauce pan until it looks like a paste. A hand held mixer or even a fork works great for this.
Stir in the canned chicken and shredded cheese gently and heat it over medium heat until creamy and smooth.
Open your bag of chips or crackers and dig in. It's that easy.
Storage
Buffalo chicken dip can be made ahead of time and can be heated up when you are ready to serve it.
Refrigerator - Store the cheese dip in a tightly sealed container in the fridge for 4-5 days.
Reheat - Place the dip in a sauce pan over low-medium heat or in microwave safe container and heat until melted and creamy again.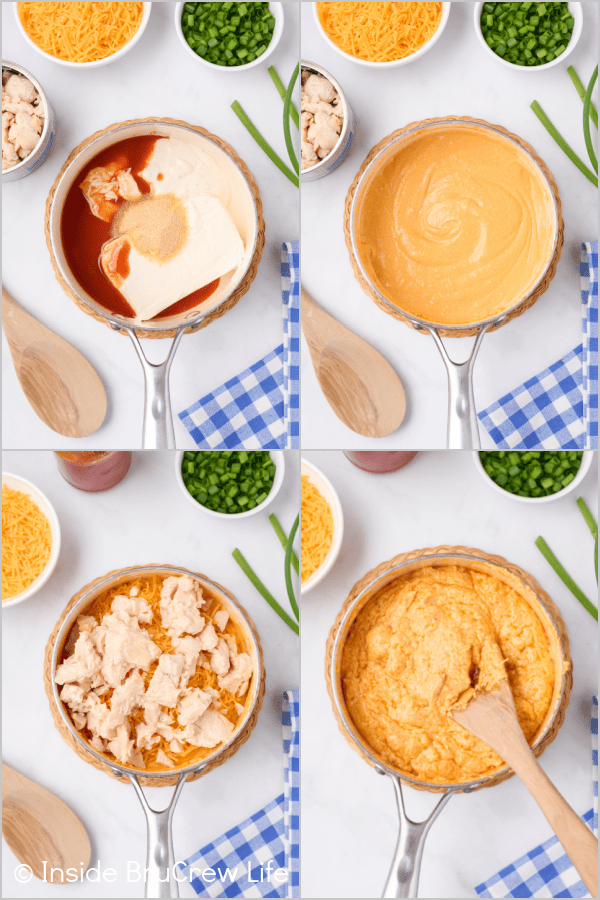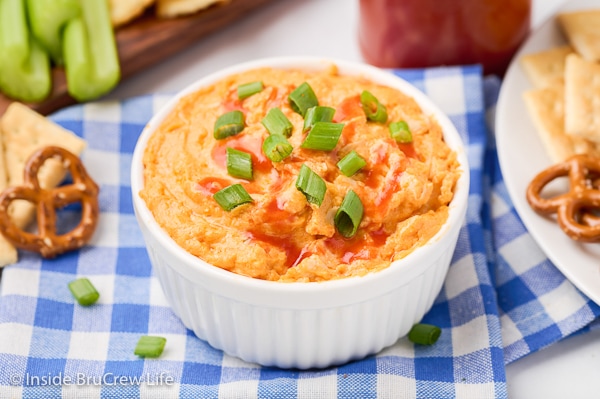 Recipe Tips
We usually use canned chicken in this easy cheesy chicken dip. Remember to stir it in gently because it is more fragile than diced chicken. You can also use any type of shredded or chopped chicken for this dip. Rotisserie chicken or any leftovers from a chicken dinner is perfect for this recipe.
Ranch dressing versus blue cheese dressing is always a hot topic when you make a buffalo chicken recipe. I happen to prefer ranch dressing, so that's how we make it. It's totally fine if you want to make yours with blue cheese.
Make sure to set your cream cheese out ahead of time so it is soft. Don't worry if you do forget. To soften cream cheese quickly, unwrap it and heat it in the microwave for 15-20 seconds.
If you dip is greasy, you may need to heat the mixture a little bit longer and stir constantly until everything melts together.
FAQ'S
What kind of cheese should I use?
Really any type of shredded cheese will work for this easy dip recipe. We usually use all cheddar cheese, but you could do colby, monterey jack, mozzarella, or a mixture of all the above.
What do you eat buffalo chicken dip with?
Pretty much anything is fair game. We love eating ours with pretzels, crackers, tortilla chips, peppers, or celery sticks. Bonus: If you eat this buffalo chicken dip with veggies, it counts as a low carb appetizer.
Or stuff it inside this buffalo chicken calzone for a fun after school snack or easy dinner.
What is the difference in hot sauce and buffalo sauce?
Hot sauce is just a mixture of peppers and vinegar, and buffalo sauce has melted butter or oil mixed into it. Either works in this recipe.
What other recipes can you make with canned chicken?
This cheesy chicken pasta and this chicken ravioli are two of our favorite meals that have canned chicken in it.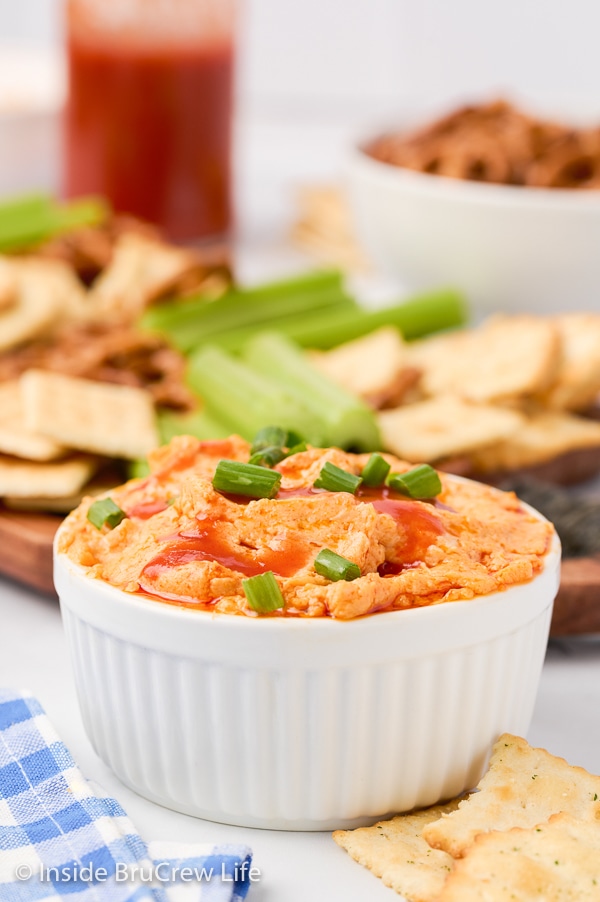 How to make Buffalo Chicken Dip in a Crock Pot
This buffalo chicken dip is perfect for baking in a crock pot. Stir together the cream cheese, hot sauce, dressing, and garlic with a mixer or fork until it is creamy.
Add in the drained canned chicken and shredded cheese gently, and then plug it in. The game day dip will be ready in 1 ½ - 3 hours, depending on if you cook it on high or low.
Making this cheesy dip in a small slow cooker makes it easier to transport to parties or game day events. Plus, it stays warm for the entire party or event. Having a second crock pot to bring this chicken queso dip is also a very good idea.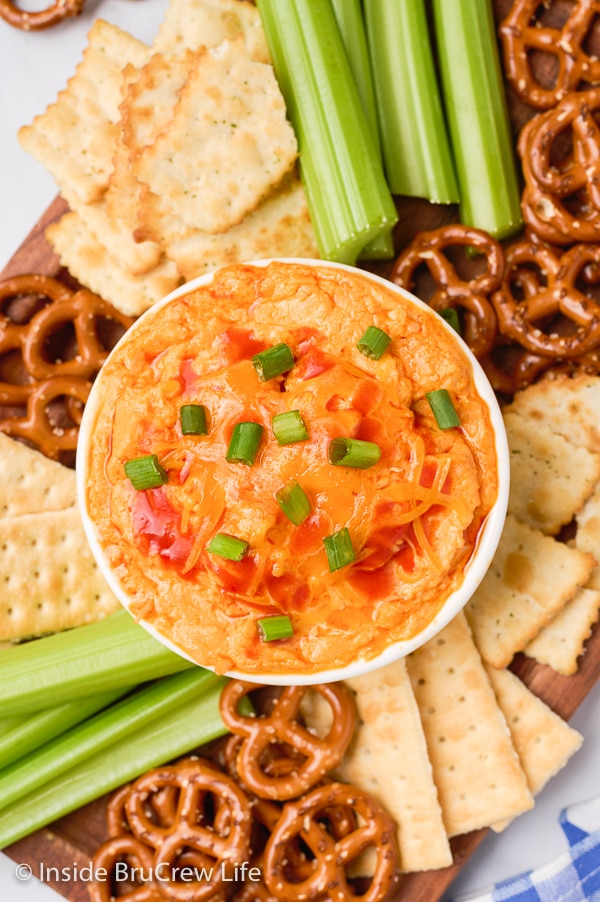 More Easy Dip Recipes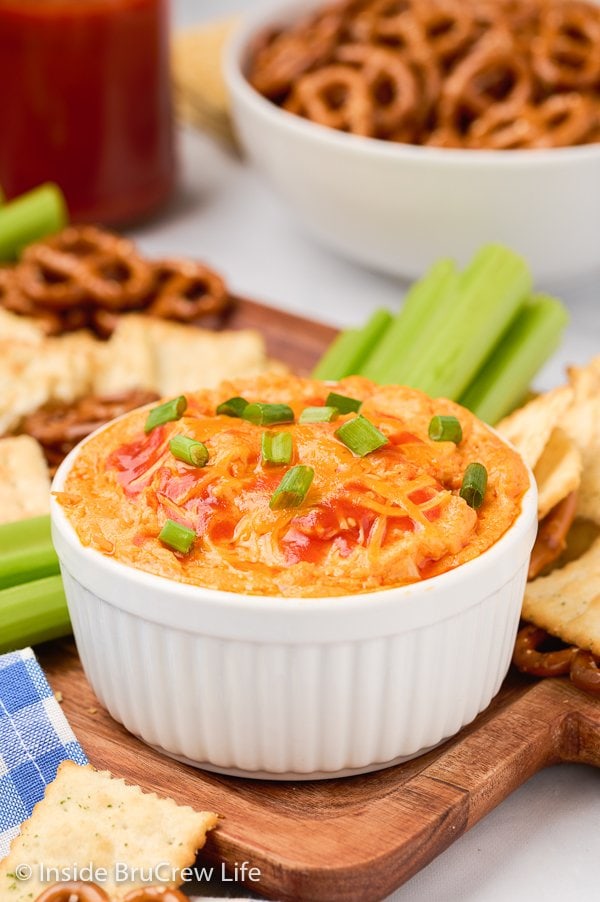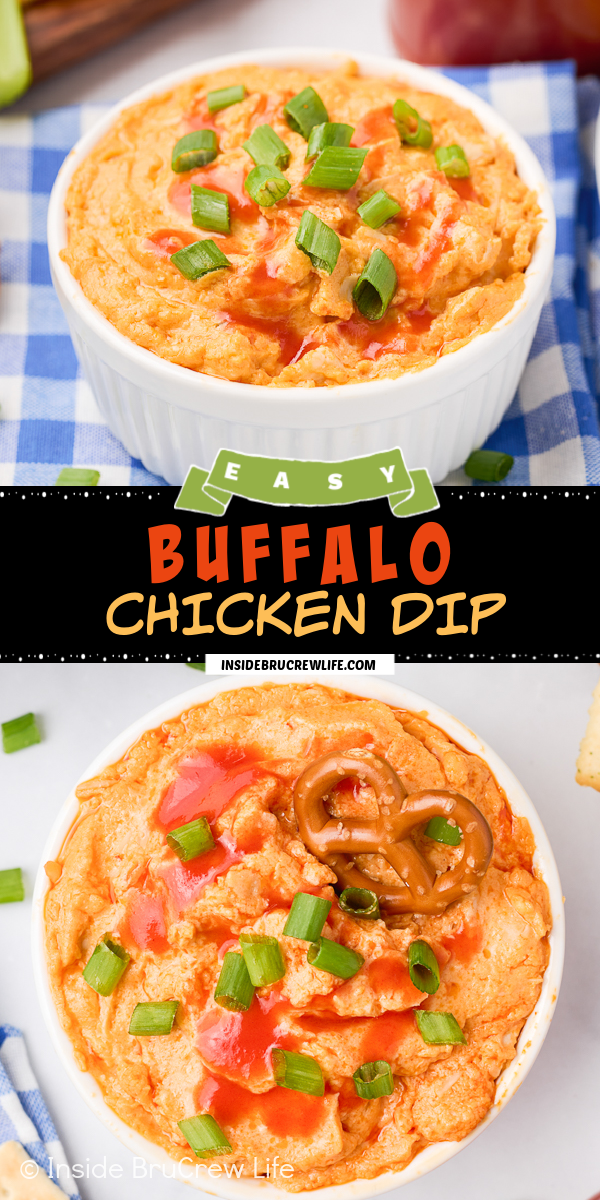 *The post for Buffalo Chicken Dip was first published April 2018. The post and pictures were updated January 2022.