Three times the eggnog makes these easy Eggnog Cheesecake Crumble Bars a fun treat to add to your cookie trays this holiday season.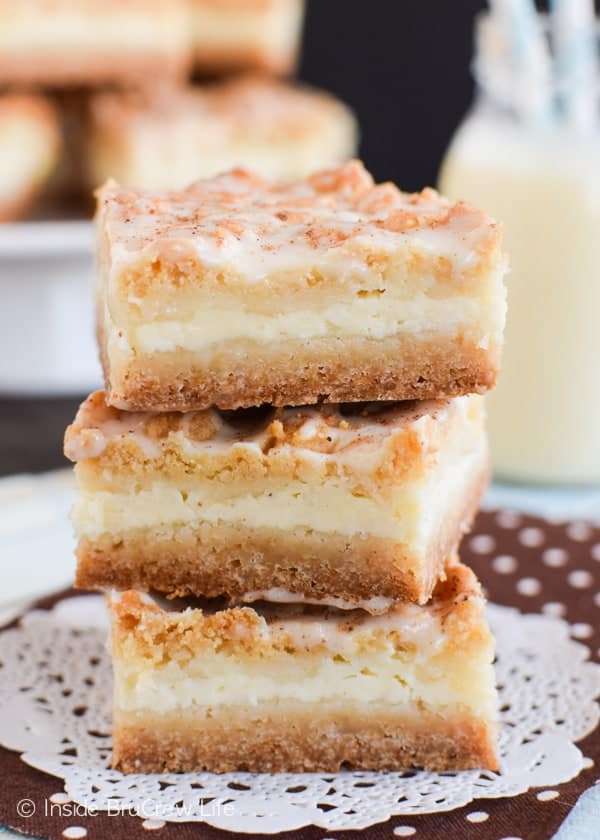 Every Christmas season I look forward to buying a container of eggnog. Now I realize this drink is one that you either love or hate.
I'm on team love and like to drink a small glass of it every once in a while during the month of December, but usually I buy it for baking things like these Eggnog Sugar Cookie Bars or this Eggnog Cream Pie.
Our oldest son loves eggnog too, so I have to hide it in the fridge. If I don't hide it, he will drink it all before I get around to baking. I have a bad habit of buying ingredients one day, then not baking my recipe idea until later in the week.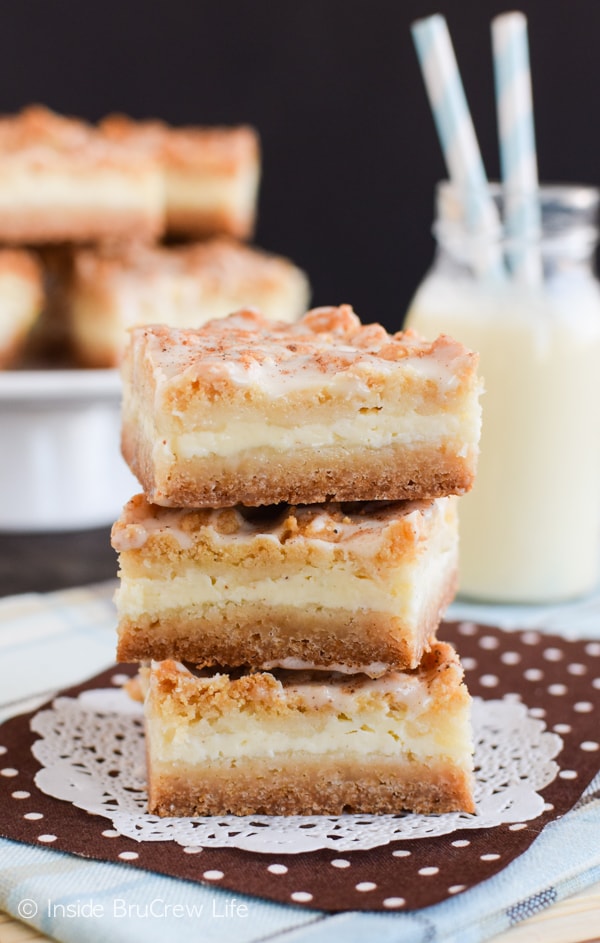 This year was no different. I bought a container of eggnog, but I wasn't ready to bake anything just yet. I started to put it in the fridge by the milk. As soon as I closed the door, I second guessed that decision.
Immediately, I opened the door and moved it to the condiment shelf. Big ketchup bottles are great for hiding small bottles of eggnog, by the way. Now before you give me grief from hiding it, that hiding spot lasted all of one day.
Imagine the grief I got when our son found it, and realized that I was "hiding" it in the door. He knows me too well to know it wasn't an accident that it was put there. So, I had to make up for it by letting him drink all of the eggnog.
The next shopping trip I brought home two cartons, so he could get his daily eggnog fix, and I could bake some eggnog cheesecake crumble bars. #winningatlife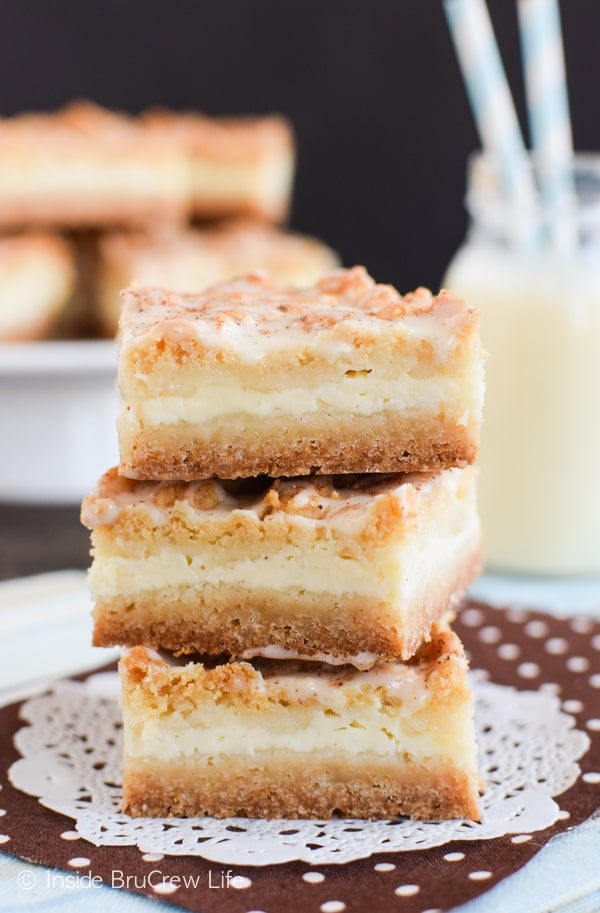 These easy cake bars have three times the eggnog love in them. I used it to make a soft dough out of the cake mix, mixed it into the cheesecake, and then made a glaze to drizzle on top. Eggnog love is happening in cake mix bars for sure!
A slice of these cake mix bars and a glass of eggnog should get you into the holiday spirit for sure.
How to make Eggnog Crumble Bars:
Mix together the dry cake mix, melted butter, eggnog and extract until a soft dough forms.
Press half the dough evenly on the bottom of a foil or parchment lined pan.
Beat the cream cheese and sugar until creamy. Add eggnog, nutmeg, and extract and beat again.
Pour the cheesecake batter on the dough in the pan.
Crumble the other half of dough evenly over the top of the batter. Bake and cool.
Drizzle the chilled bars with an eggnog glaze.
PRO TIP: Lining your pan with foil or parchment makes it easier to get the bars out of the pan later. Plus, it saves you from washing extra dishes. Win, win.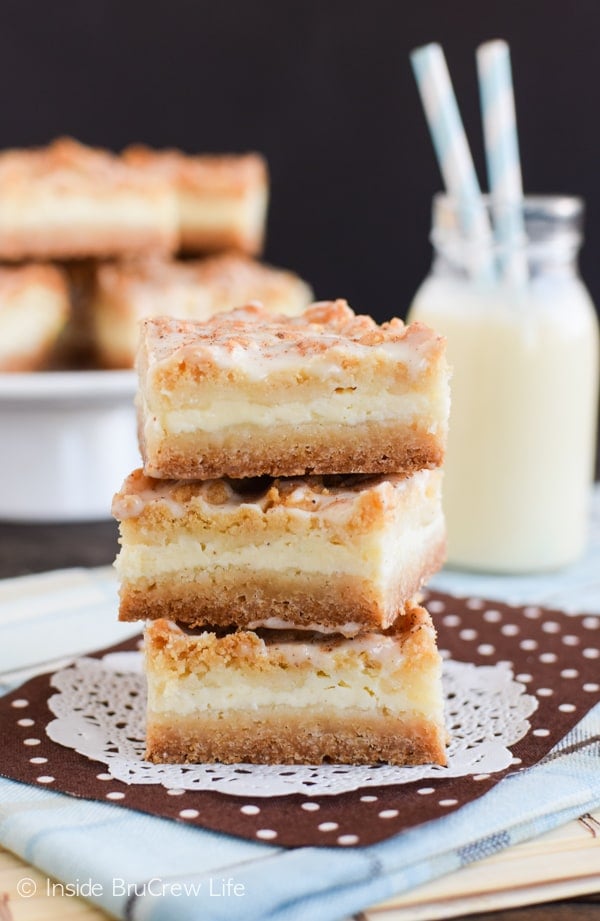 More ways to use eggnog in recipes: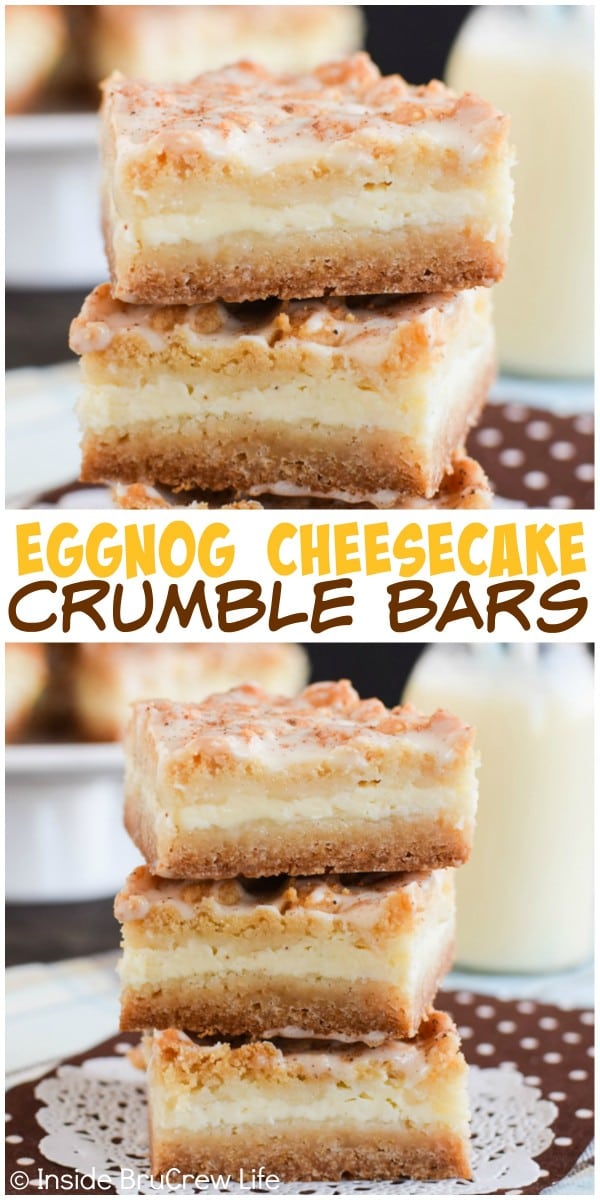 *The post for Eggnog Cheesecake Crumble Bars was first published December 17, 2015. The post was updated and republished December 10, 2020.