This creamy and sweet Eggnog Pie is delicious when served with a big swirl of homemade eggnog whipped cream. It's the perfect dessert for the holidays.
Love eggnog? You need to try this no bake eggnog pie and these eggnog cupcakes.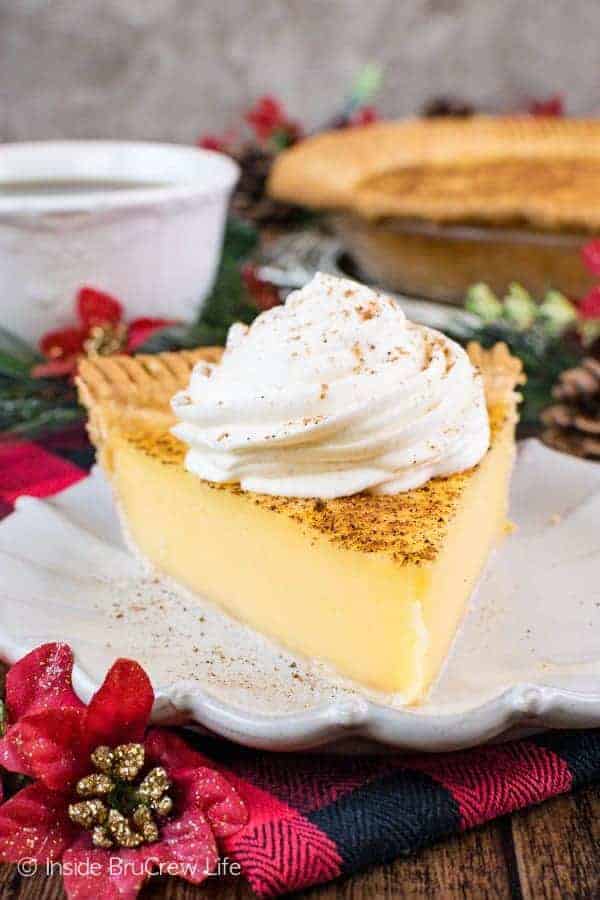 Every year around this time I realize that I have made and photographed way too many holiday desserts. There are only so many days after Thanksgiving to be able to share Christmas desserts.
But I still go crazy in our kitchen making cookies, fudge and candy, snack mixes, and pies that I think would be great for this time of year. Then I look at my calendar and the available time I have to work on editing and writing, and I realize that all of these treats just aren't going to happen.
This eggnog cream pie is one of those desserts. I actually made this recipe last year, but I never got around to sharing it because I ran out of time. Well, that and I actually didn't like the photos that I took last year.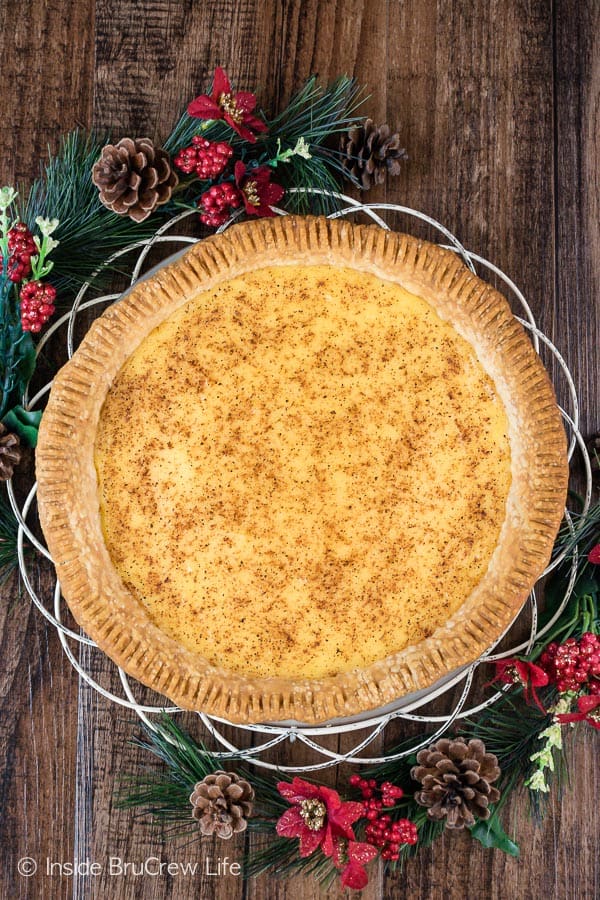 So last month, I set out to make the pie again with better pictures. This time I was really happy with the lighting and set up, but I almost missed out on sharing it again because here it is days before Christmas.
I feel like I'm sharing this one just in the nick of time. Please tell me that not everyone has their holiday menu for the weekend and next week completely finished. Surely someone needs another pie recipe to make.
The idea for this eggnog pie actually came from the popular Indiana sugar cream pie. Can you believe that we lived in Indiana for 12 years, and I never had a slice of the Hoosier pie. Crazy, huh?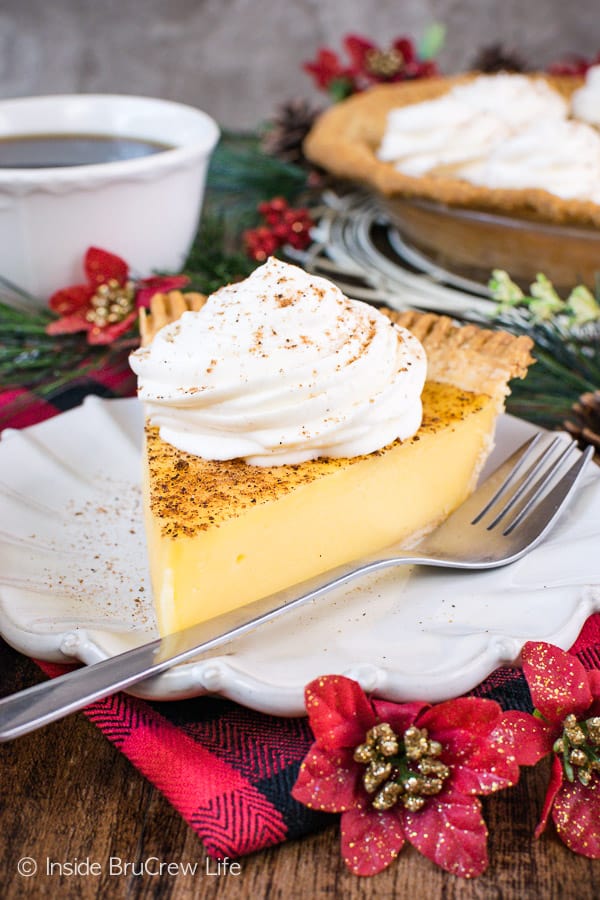 What is a sugar cream pie?
This creamy custard-like pie is made from a mixture of sugar, milk, butter, cornstarch, and spices. The sugar pie is thought to have originated from the early Indiana pioneers or from the Amish.
It also goes by the name of desperation pie which is the name for pies made when fresh fruit was not available or money was tight but you still wanted a slice of pie. This old fashioned sugar pie is made with just a few basic ingredients that everyone usually has on hand.
This delicious creamy pie is an egg-free way to enjoy a custard-like texture. According to some, a true sugar cream pie does not include eggs.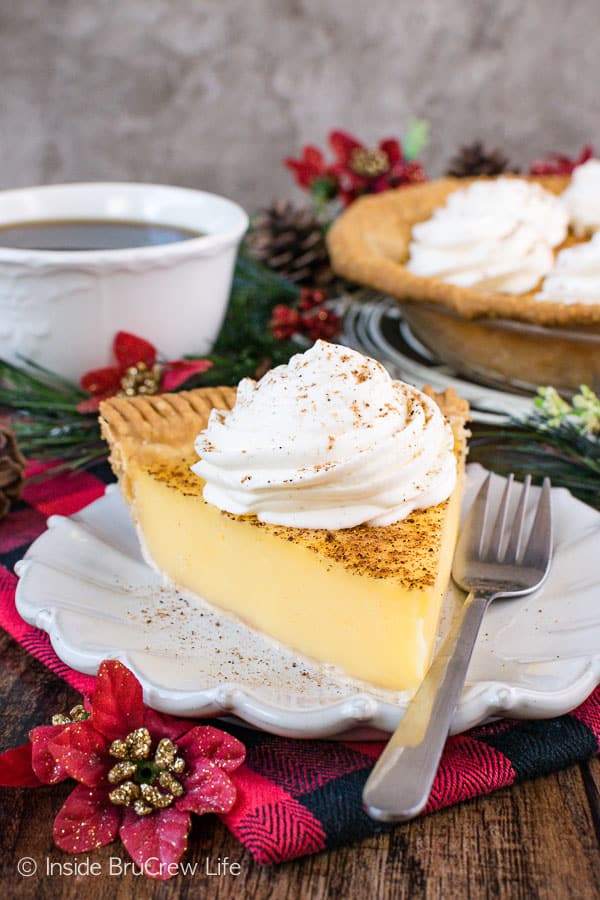 A few weeks ago, I bought a carton of eggnog for our boys and I to enjoy. As I was drinking a small glass of the creamy goodness, I started thinking about making some sort of eggnog dessert for Christmas.
That's when I remembered the eggnog pie from last year that never got shared. Yup, it was time to make that again.
How to make Eggnog Pie
Bake the Pie Crust
Flip a 9 inch pie plate upside down. Form a double layer of foil around the bottom of the pan. Set both aside.
Unroll the pie crust and place it in the bottom of the pie plate. You can use a store bought pie crust like I did, or you can make a homemade one. Either one works.
Crimp the edges, then place the foil form into the pie crust. This will keep the pie crust from bubbling up when it bakes. Bake and cool the crust.
Make the Eggnog Pudding
Combine the sugar and cornstarch in a saucepan. Slowly whisk in the eggnog until it is smooth. Bring the mixture to a low boil.
Reduce the heat. Cook and stir for about 2 minutes, or until it is thick and bubbly.
Remove it from the heat and stir in the butter and rum extract.
Bake the Pie
Pour the eggnog pudding into the cooled pie crust. Sprinkle with nutmeg and bake for 15-20 minutes.
Cool on a wire rack for about an hour, then refrigerate until chilled.
Serve with swirls of homemade whipped cream or eggnog whipped cream and a sprinkling of nutmeg.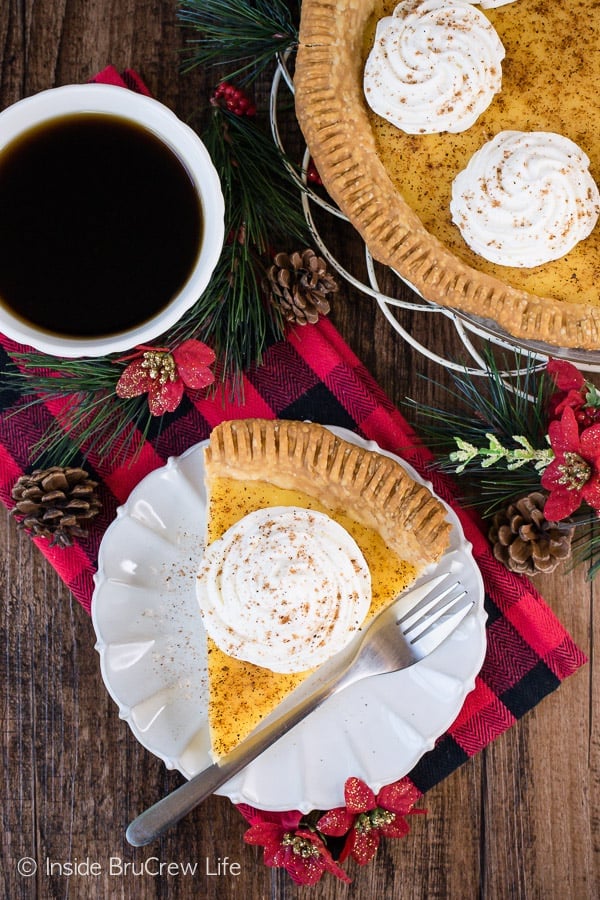 More Eggnog Recipes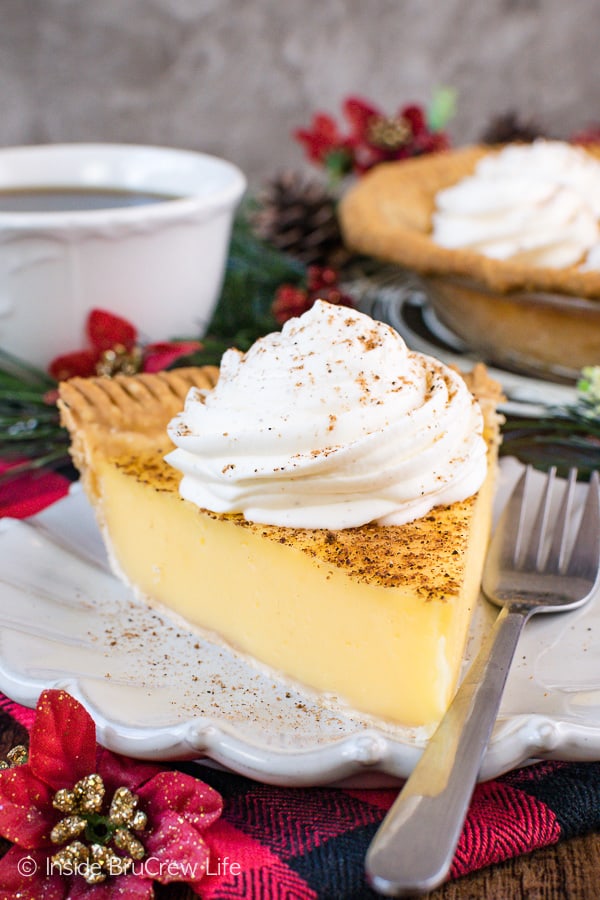 Do you love a recipe you tried from Inside BruCrew Life?
Please leave a 5-star ⭐️ rating and a review in the comments section below.