Eggnog Cheesecake Pie: Layers of no bake cheesecake and eggnog pudding make this an easy, but delicious dessert to impress everyone at those holiday parties.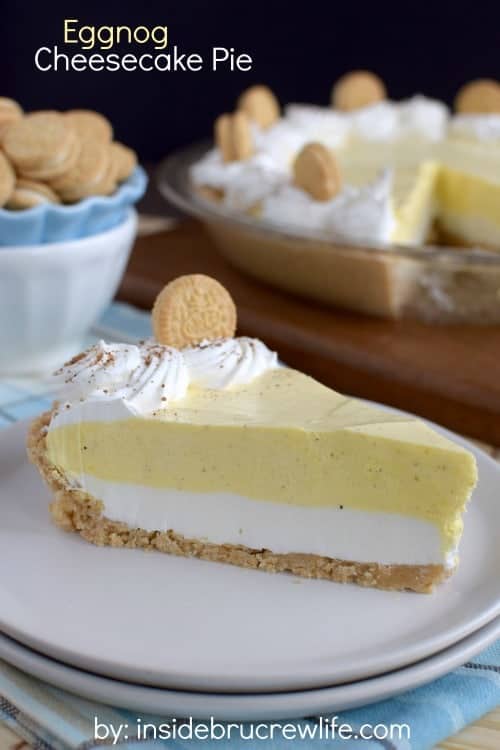 So, this is the pie that didn't want to be.
After making this pie a few times I can finally share this delicious no bake pie with you. Oh, I didn't have to remake it because of recipe trouble. In fact, I didn't change a single ingredient about the pie. Well, I did decide to make the pie in layers after the first mess up, but the ingredient list stayed the same.
You see for the first pie attempt, I was in a hurry. So, I tried to take a shortcut in the pudding step. Let's just say you can't take shortcuts when it comes to pudding mixes. That just needs to be whisked into the eggnog separately, end of story. So that was batch one that I had to throw out.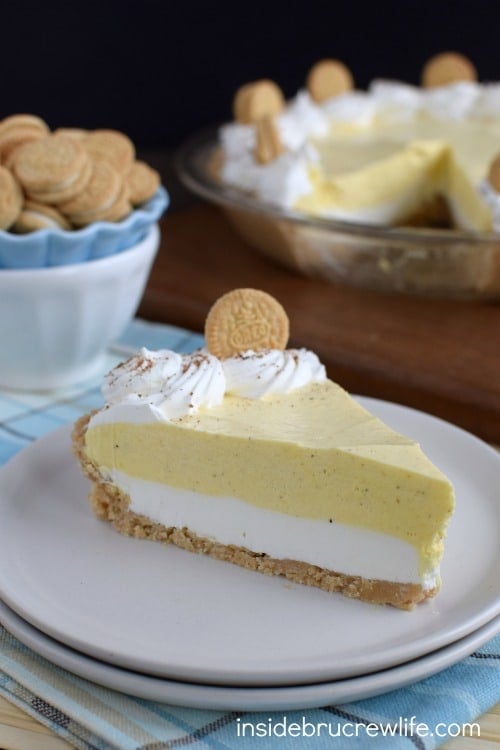 Pie two started out much better. I had a little more time that morning, so I made sure my layers were whisked properly and layered nicely in the crust. But...our fridge had decided to die the night before. Pudding pies need to be refrigerated, so they can set up properly.
It happened to be freezing outside that day, so I had this brilliant idea to put the pie out on the back deck on the table until I could take pictures of it. As I walked back inside, I briefly thought about covering the pie, but dismissed that idea because after all it was freezing out there. What could possible happen to it? I headed back inside to lick my bowls clean. Let me tell you...those filling layers are super deeeelicious!
Fast forward an hour or two later. I've got my table and camera ready to capture this pretty pie. I walked outside and did a double take. Oh, the pie was still there on the table, but it was missing a few things. All those little Oreo cookies had vanished.
Apparently there were still some birds that hadn't migrated out of the area yet, and they must have thought they hit the mother load because they swiped every last cookie! But let me tell you, they were the neatest thieves because the rest of the pie still looked great. What to do, what to do???
Here's the kicker...I took that pie inside, fixed the swirls, and added more cookies all around just so I could take my pictures while the light was good. Come on, you know you would too!
As soon as I was finished shooting, that entire pie went into the garbage can. Sad face! That was so hard to waste another batch of ingredients, but NO WAY was I eating pie that birds had feasted on too!!!
My son has been asking for me to remake this pie. I do happen to have some eggnog in my fridge...what could possible go wrong next time?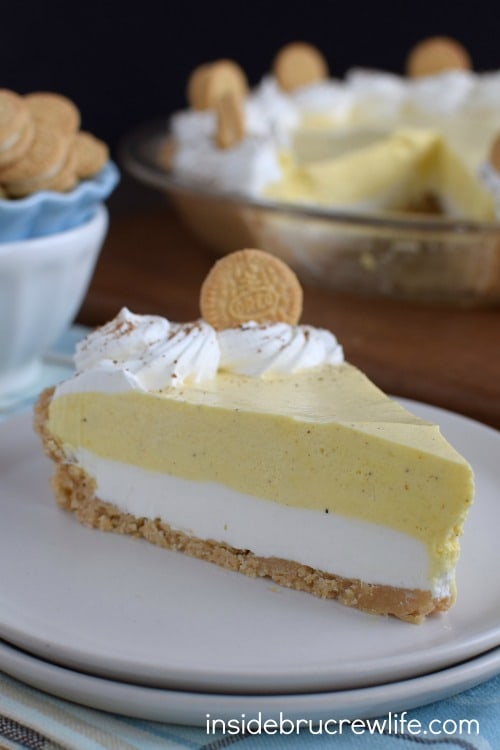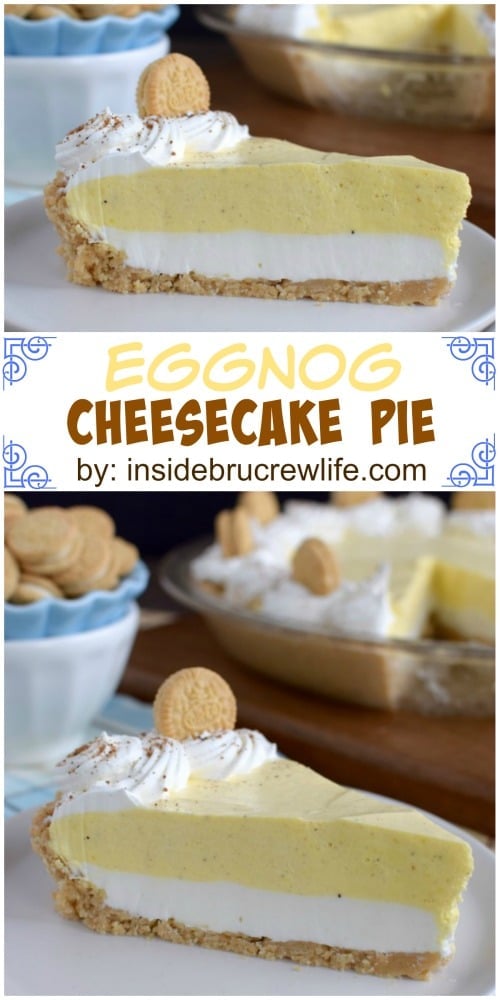 More eggnog desserts to enjoy this holiday: