These simple Eggnog Thumbprints and a glass of milk or coffee is a great way to end the day. Such an easy sweet to add to your Christmas cookie trays.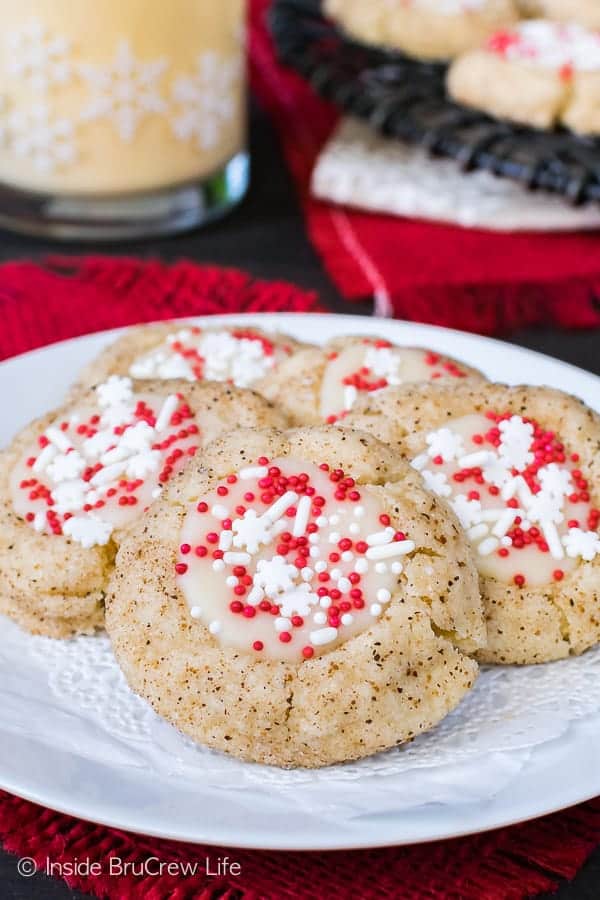 So, I realized today as I was getting ready to share this cookie recipe with you that I missed National Cookie Day on Monday! A day dedicated to all things cookies, and I totally spaced out. I even had this recipe made, photographed, and ready to go. Apparently I wasn't supposed to celebrate cookie day! So today we are celebrating Wednesday with cookies.
I mean, your cookie jar needs some fun right now, right? Please say yes. Please say yes!
How many of you have started your holiday baking already? So far, I have made some frosted mocha shortbread cookie sticks, red velvet peppermint kiss cookies (recipe coming soon), and these eggnog thumbprint cookies. That's just the cookie department. Lots of peppermint treats have been tested and posted too! Trust me when I say you need this peppermint mocha fudge tart in your life ASAP!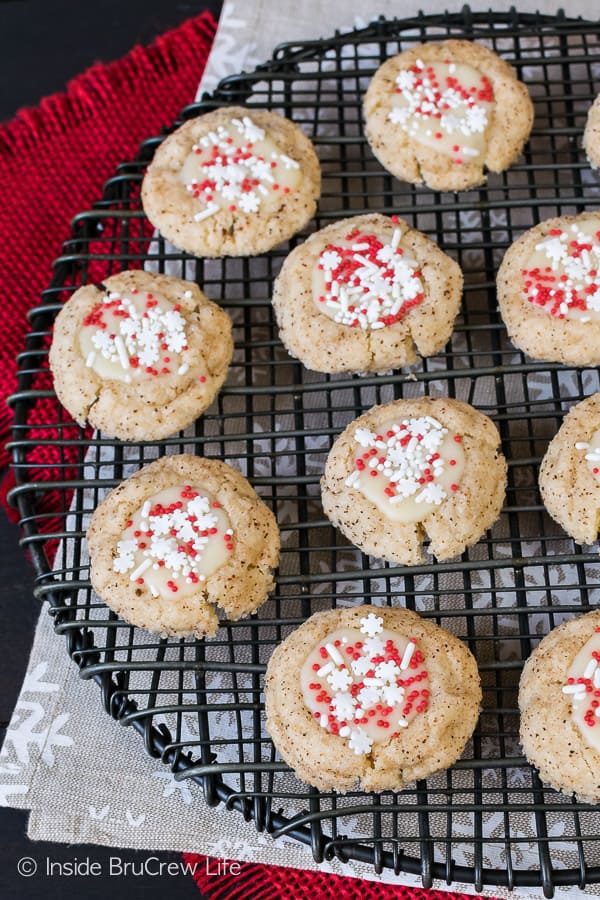 Today we are switching up holiday flavors and going with some eggnog. I know this holiday drink can be controversial. You either love it or you hate it. I'm a big fan of the creamy drink, but I have noticed that I can't seem to drink very much of it anymore.
Thank goodness my two boys can and will chug a big glass of it. The eggnog doesn't go to waste here. Well, it goes to my waist. LOL! But that's why I don't drink as much now.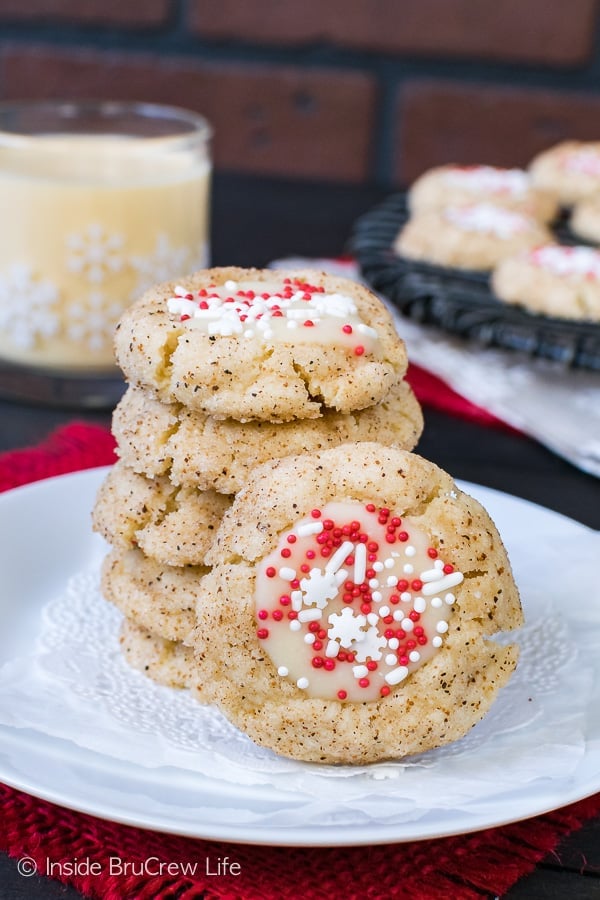 Right before our oldest came home from college for Thanksgiving break, I bought our first container of eggnog. He loves it, so I knew I wanted to have a fun little treat waiting for him when he arrived. He and my husband gave these little cookies two thumbs up. They both said the flavor was great, and they loved how plain and simple they were.
Well, other than the sprinkles. Both of them agreed that the sprinkles were unnecessary. Who are these aliens? How could you not like sprinkles? I'm team sprinkles and always will be!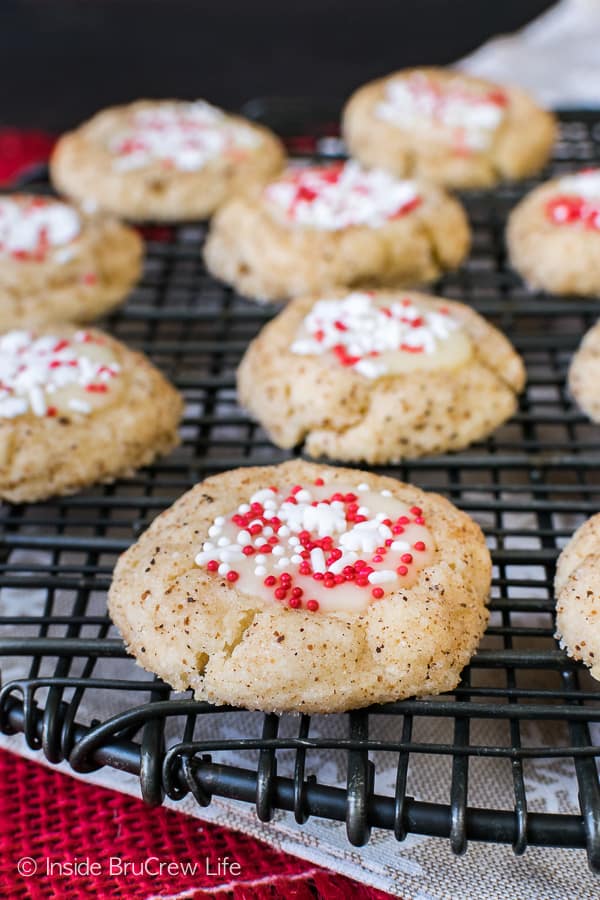 Tips for Eggnog Thumbprint cookies
Make sure to set out your butter ahead of time. It's easier to cream with sugar when it is soft.
Mix in the eggnog and flour slowly. Chill the dough.
Stir together the sugar and nutmeg before you start rolling.
Use a small cookie scoop or a teaspoon to scoop the dough. Shape with your hands and roll in the sugar mixture.
Bake for 12 minutes. Remove and let them cool on the tray for 2 minutes before pressing your thumb (or tart shaper) in the center. Let them cool.
Heat the white chips and eggnog in the microwave until melted and creamy. Let it cool for at least 10-15 minutes. It really needs to set up before you can fill your cookies. Otherwise, it will run out of the centers.
Decide whether you are a sprinkle lover or hater. Lovers add sprinkles. Haters do not. It's cool either way.
Serve the cookies with coffee. My boys said this was the best way to eat them.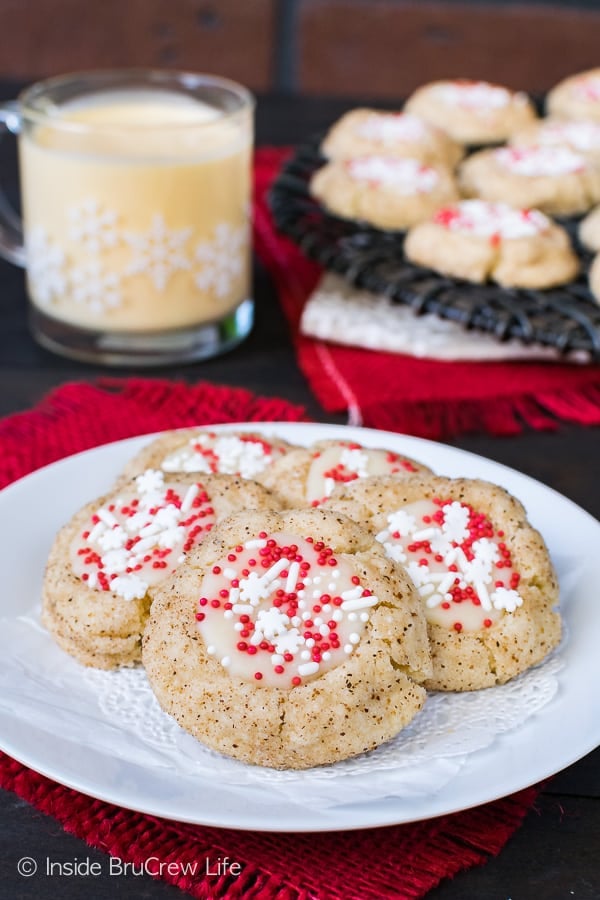 Other eggnog recipes
I love how pretty and easy this Eggnog Cake from Love from the Oven looks.
Start the day off with some Eggnog Pancakes from Grandbaby Cakes. That maple cranberry syrup looks amazing!
A batch of these Eggnog Cheesecake Bars from Shugary Sweets and a cup of coffee would make an awesome dessert.
CLICK HERE TO PIN THIS RECIPE FOR LATER!