Swirls of chocolate and peanut butter frosting and a hidden peanut butter cup make these Reese's Chocolate Peanut Butter Cupcakes disappear in a hurry.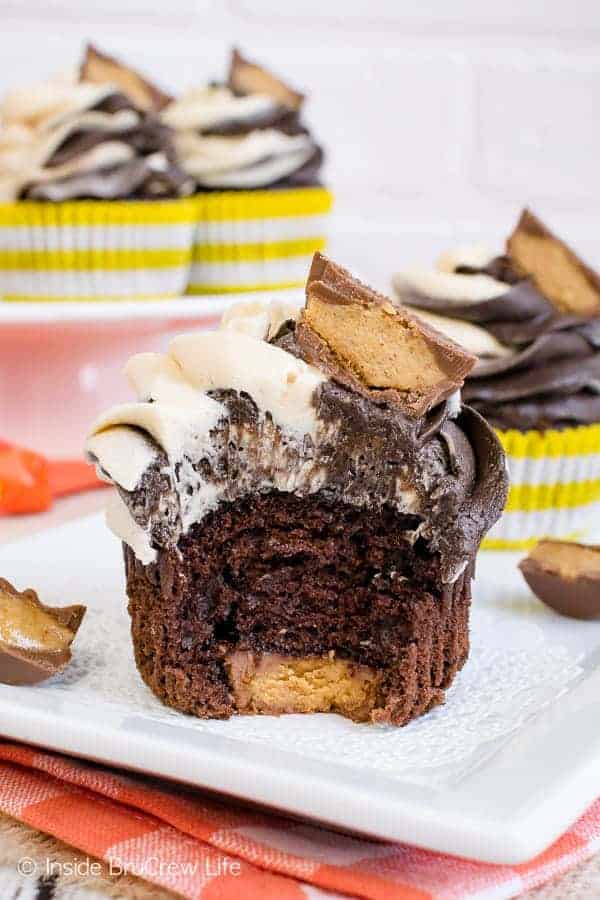 (photos updated June 2018)
Today I'm bringing you an "oldie but goodie" recipe. This post was originally published eight years ago when I was a new blogger. The photos desperately needed an update, and I was craving chocolate and peanut butter goodness. So here we are with the same great recipe, but better looking pictures.
A few years ago I made a batch of chocolate cupcakes for our oldest son's class to celebrate his birthday.
Man, what a birthday he had! First he fell at recess and got a huge bump above his eye. Then after school we were rear ended hard. It was a 4 car accident all caused by the guy behind me.
Then my back hatch wouldn't even open. Praise the Lord no one was hurt, and we all had insurance. That was definitely a birthday for the kiddo to remember.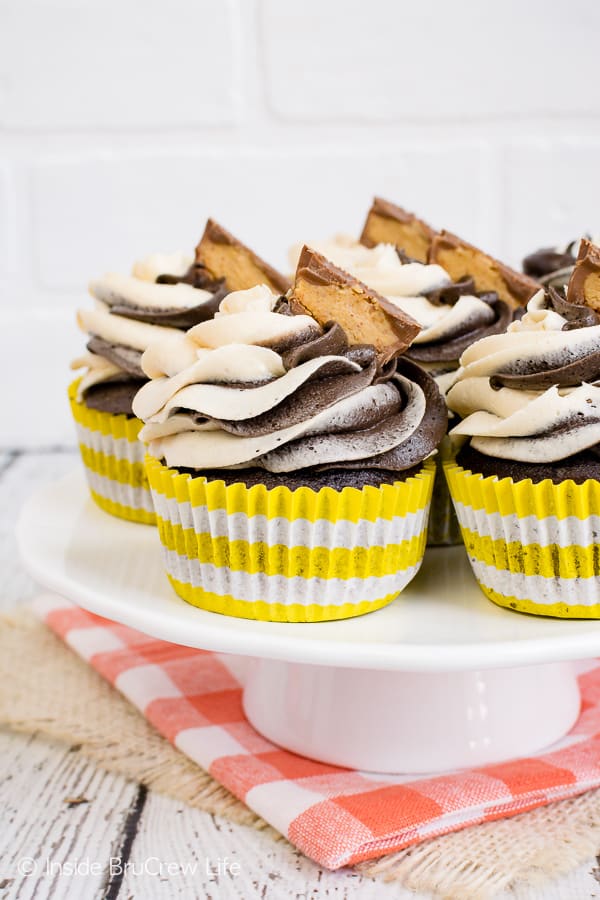 After making chocolate cupcakes for the kids, I was totally craving a decadent cupcake. Then the Reese's peanut butter cups in the pantry started calling out to me, so I had to hit the kitchen.
It's true. I really do hear voices when it comes to sugar. I am thinking it might become a problem in the back end department.
Maybe hitting the gym hard core instead of the kitchen should be my priority...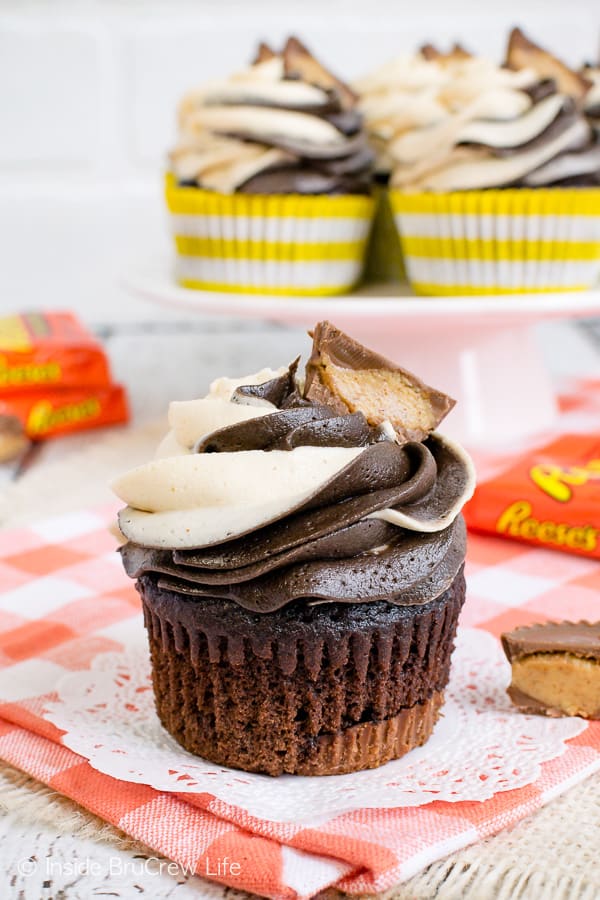 But instead I headed to the kitchen and baked an entire peanut butter cup in the bottom of each of these easy peanut butter cup cupcakes.
Chocolate and peanut butter is one of the best combinations. Everyone in our family loves it which means I'm not left to finish off a batch of cupcakes on my own.
To finish off the best chocolate cupcakes ever, I swirled Dark Chocolate Buttercream Frosting and the Best Honey Peanut Butter Frosting together. I love how it looks like swirled soft serve ice cream.
A small miniature peanut butter cup cut in half added a fun decoration to the top.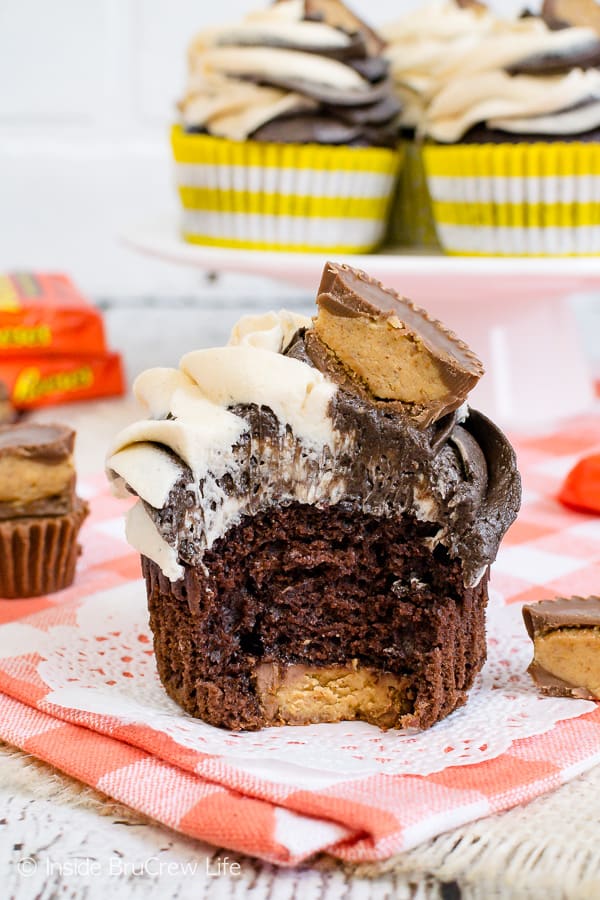 How to make these Reese's Chocolate Peanut Butter Cupcakes:
Preheat your oven. Line a cupcake pan with 24 liners. I like to find ones that go with the theme of whatever cupcake I'm making.
Unwrap your Reese's peanut butter cups and drop one into each cupcake liner.
Mix your cake batter using a dark chocolate cake mix and a box of chocolate pudding. Do not follow the box directions though. Make sure you follow the ingredients I have listed below. It's important because of the added pudding mix.
Spoon the cake batter evenly into the cupcake lines. Bake and cool the cupcakes.
Make both kinds of frosting. Now I like a huge swirl of frosting on top of my cupcakes, so I used two full batches, and we had some leftover for sneaking bites with a spoon. If you do not want that much frosting, go ahead and only make half a batch of each frosting.
Spoon a small amount of each frosting into two clear piping bags. Do not over fill them because you will be putting both into one large bag.
Cut the tips off each one. Drop both bags into a large piping bag that has icing tip 1M attached to it. Close the top of the bag tightly with the palm of your hand. Gently swirl the frosting on top of the Reese's Chocolate Peanut Butter Cupcakes.
You will need to remove the individual frosting bags from time to time to refill them. This can be messy, but the end results are so worth the mess.
Cut 12 miniature peanut butter cups in half and place on top of the cupcakes for a fun decoration.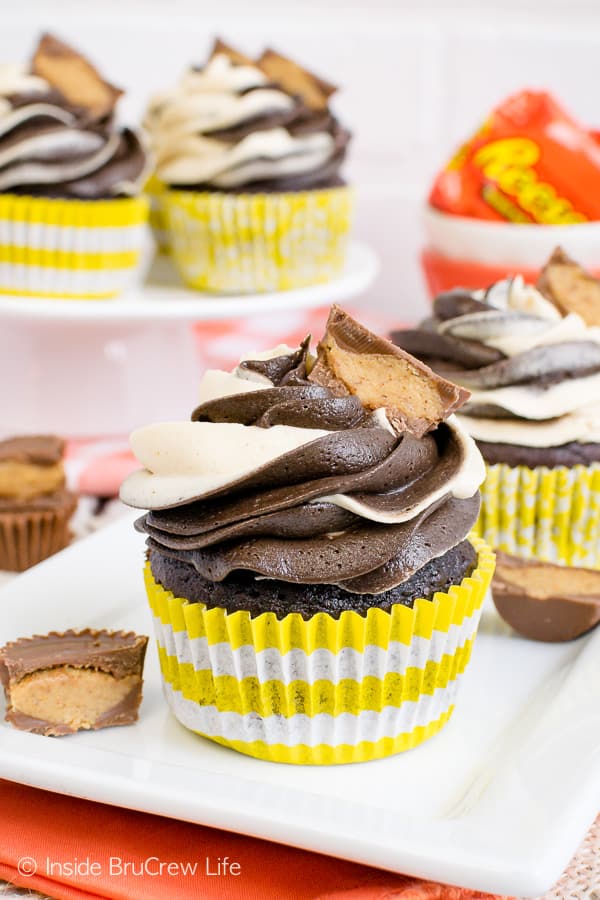 More fun cupcakes to make for parties:
Reese's Chocolate Peanut Butter Cupcakes recipe: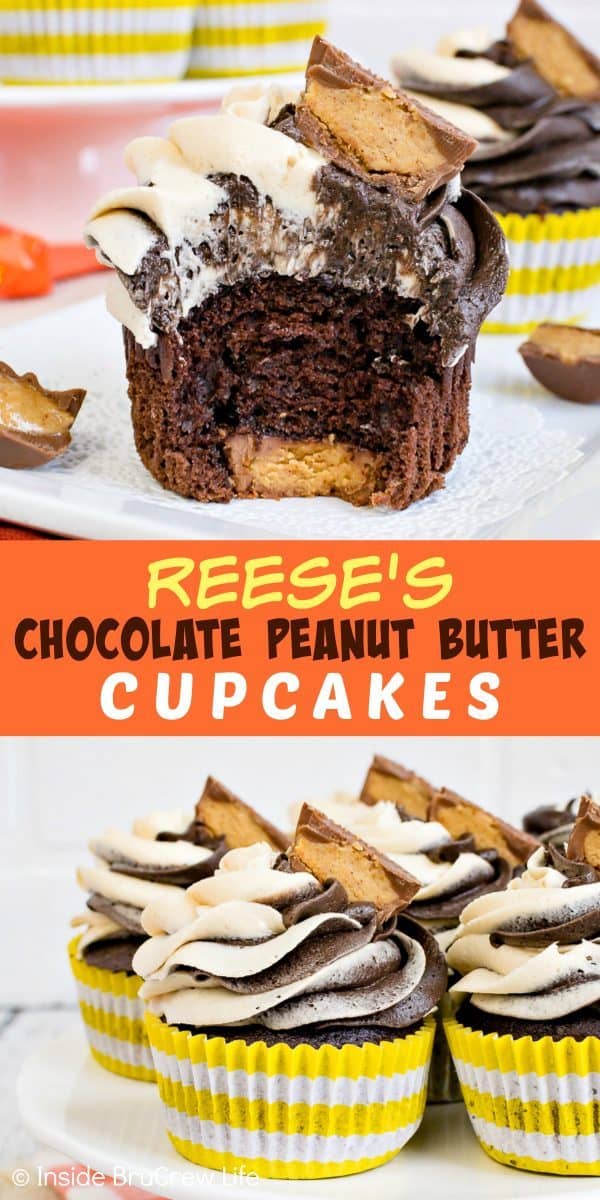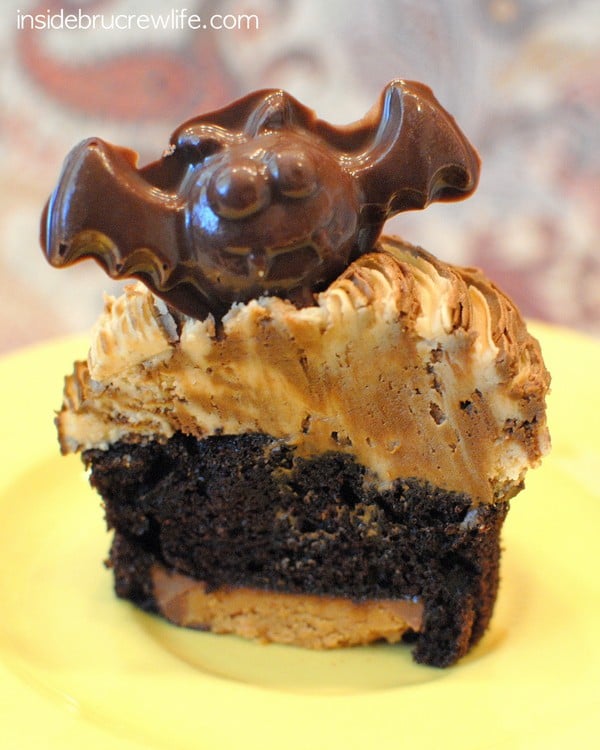 (original photo from October 2010)