Make a batch of these Halloween Cookies and Cream Cookies to share with family and friends. This easy chocolate cookie recipe is soft and delicious and full of chocolate chips and colorful candies, making it perfect for Halloween parties.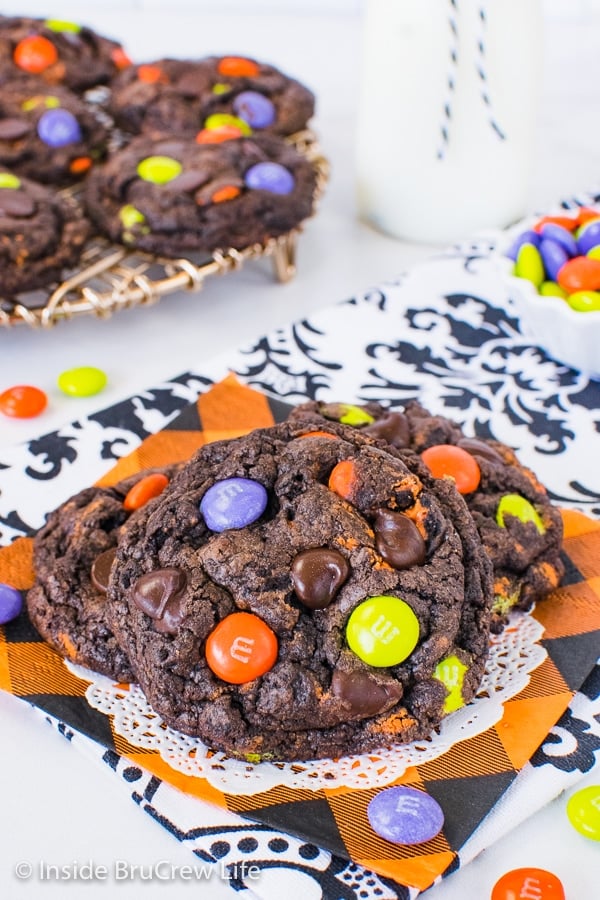 Jump to:
Last weekend our daughter had a pool party/Halloween party that she was going to, so I offered to make a few treats for it.
First on the list of treats were these peanut butter zombie eyeballs. They are my all time favorite Halloween treat, so I am always looking for an excuse to make more gooey eyeballs. She said they were the most popular treat at the party.
Next on the list were chocolate cookies. I'm all about cake mix cookies when I need a quick and easy dessert. We always have a few box mixes in the cupboard and lots of chocolate chips and candies to jazz them up.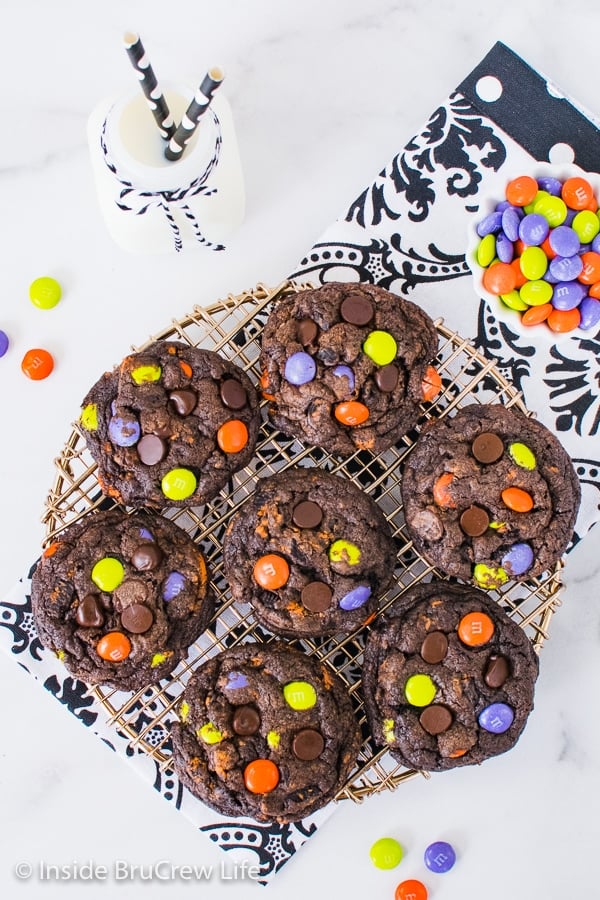 🥛
Why Make Cake Mix Cookies
They are shortcut cookies made from using a store-bought cake mix instead of the regular dry ingredients.
Using just a few extra ingredients, you can transform any flavor of cake mix into a soft, delicious cookie.
Want to add more fun to these easy cake mix cookies? Add extra ingredients to jazz them up. Every batch can be different just by changing up the mix-ins.
Candy – M&M's, Reese's Peanut Butter Cups, Butterfingers, Bunch a Crunch, Reese's Pieces, Peppermint Patties, Rolos
Dried Fruit – cherries, blueberries, cranberries
Cookies – Oreos, Nutter Butters, Chips Ahoy, Animal Crackers
Chocolate Chips – white chocolate, dark chocolate, milk chocolate, butterscotch, peanut butter, mint, peppermint
Other - sprinkles, nuts, maraschino cherries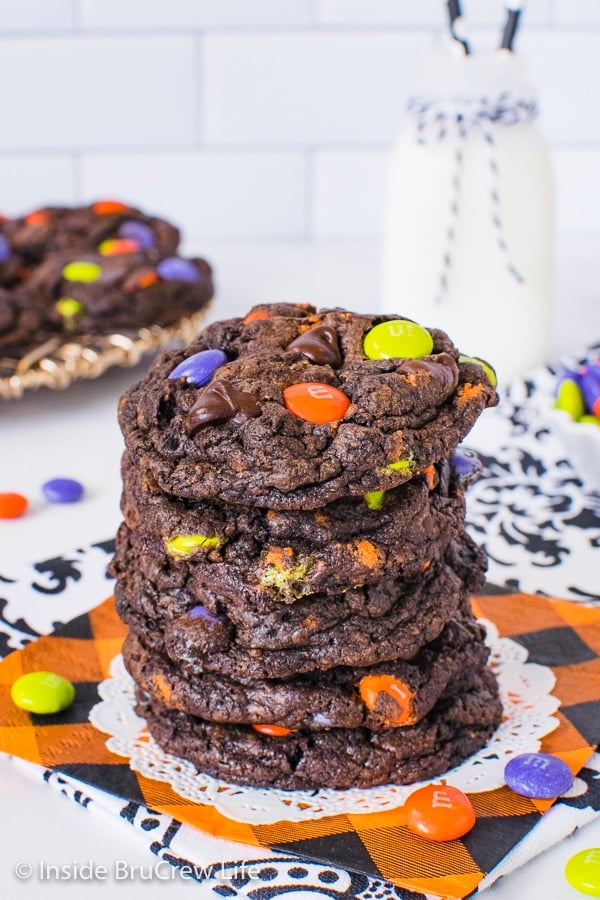 A few years ago I made these Chocolate Chip Cookies and Cream Cookies and they are hands down our daughter's favorite cookie. She requests them any time she needs a treat to share with friends.
I decided to make a fun Halloween version by using a chocolate cake mix with orange cream Oreos and the Halloween M&M's stirred into the dough.
These chocolate Halloween cookies are the perfect easy treat to make for Halloween parties.
⏲️
How to make Halloween Cookies and Cream Cookies
Beat together cake mix, butter, cream cheese, egg, and vanilla until a soft dough forms. (full recipe at bottom of post)
Gently stir in chocolate chips, M&M's, and Oreo cookie chunks.
Refrigerate dough for at least an hour. You can speed up this process by freezing the dough. Just do not let it stay in there too long or it will be too hard to scoop.
Scoop dough into 24 even dough balls and place on baking sheet. Press 3 extra M&M's into the top of the balls and bake.
Let the baked cookies cool on the hot pan for 2 minutes. Tap the tops of the cookies gently to flatten slightly. Move gently to a sheet of wax paper on the counter.
Press extra chocolate chips into the warm cookies. It's not necessary but it makes them look prettier.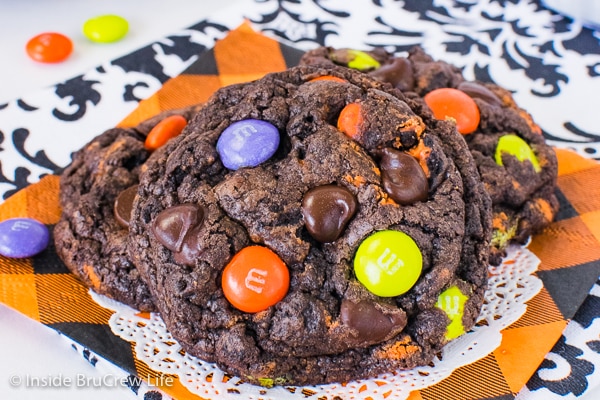 👩🏻‍🍳 Tips and Tricks
These cookies do need time to chill before you can bake them. Make sure you allow enough time for chilling when you go to make them.
Do not over bake these cookies and cream cookies. Cake mix cookies look like they are under done when you take them out of the oven. The cookies will continue to bake as they cool on the hot pan.
Want to make these look like monster cookies? Press candy eyes into the warm cookies for a fun look.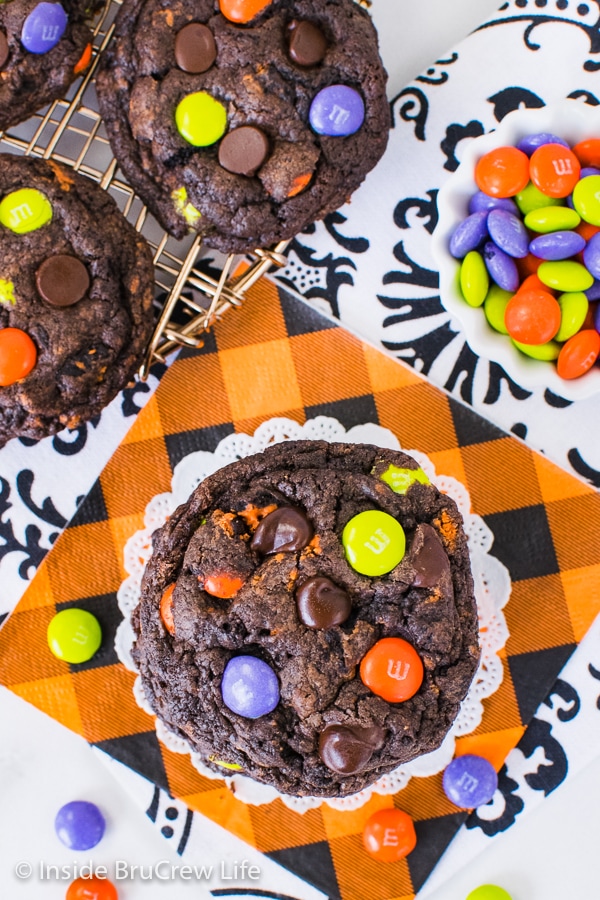 📖
Other Easy Halloween Recipes