Make these easy no bake Dirt Marshmallow Pops for Halloween or school parties. This kid friendly snack will be the first thing to disappear off the dessert table.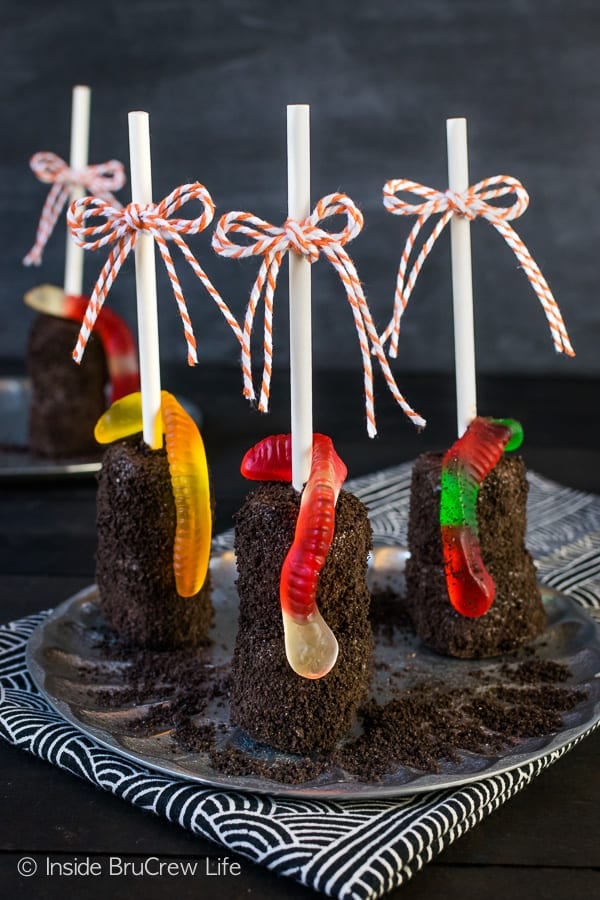 I just realized that Halloween is less than a week away. Seriously you guys! Where is the time going??? I feel like October just started...
Now that our kids are older they could care less about Halloween costumes, pumpkin carving, Ghost Cookies, or trick or treating. Well, I think they might be considering walking the neighborhood for some candy, so they better find some sort of a costume.
How do you guys feel about teenagers and trick or treating? I have mixed feelings on it. If the teens put some effort into it and actually have a costume on, then I'm totally cool with it.
But the kids that show up at the door in street clothes have me a little tight fisted with my bowl of candy. Is that wrong of me?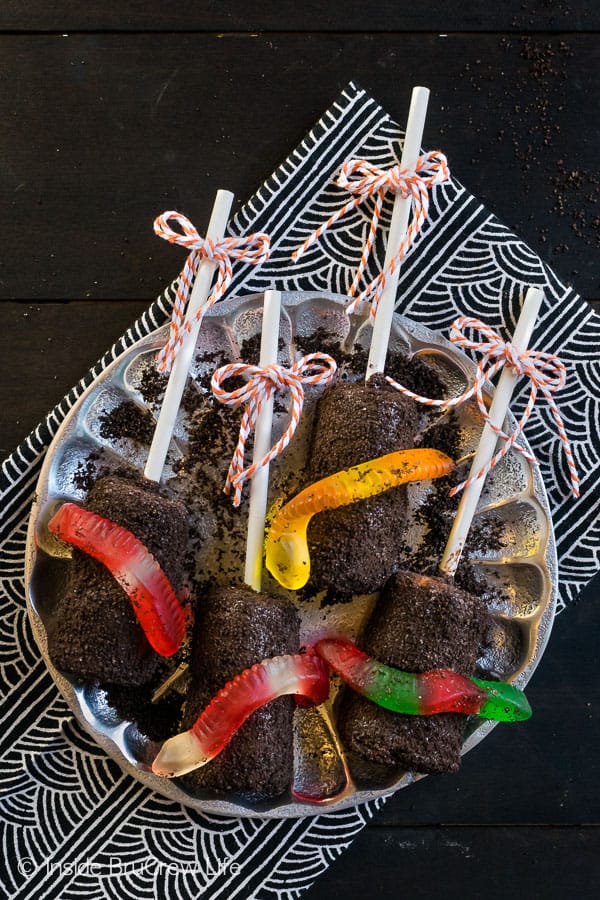 I also just realized that I never put out all my spooky decorations this year. In September I had my hubby pull the fall decorations out of the garage attic.
I promptly put out all the pumpkin stuff and then put the box of Halloween decorations in the garage, so I wouldn't forget about it.
Guess what? I totally forgot. Guess what else? I'm totally pulling out my skeletons and rats this afternoon. At least I have a week to enjoy them, right?
Yikes! That means only a week left to make spooky treats too.
If you are still looking for a fun and easy Halloween snack for school parties, these Dirt Marshmallow Pops are your answer!
They are so easy to make, and kids of all ages adore desserts with gummy worms on them.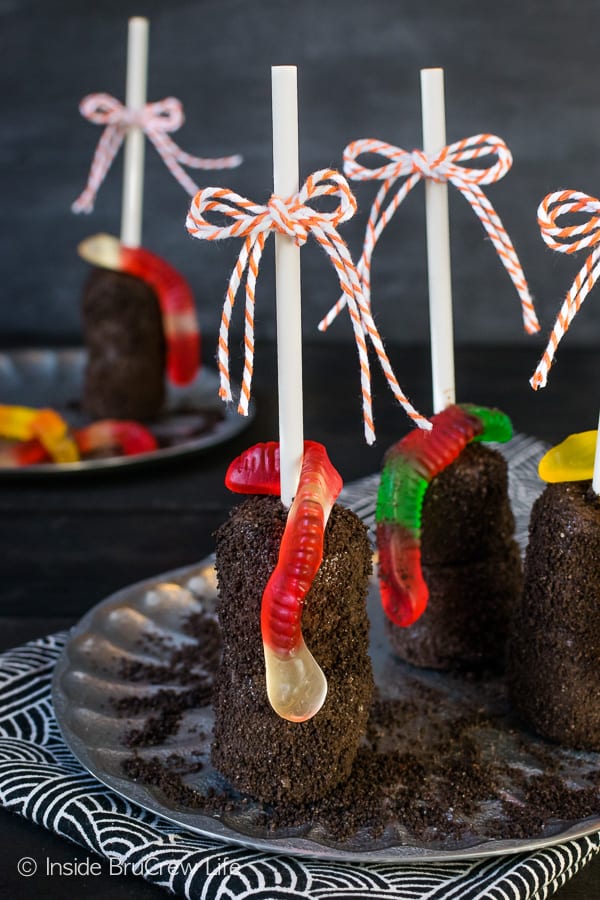 What is Dirt Pudding?
Dirt pudding is probably one of my favorite desserts. Layers of chocolate pudding and crushed Oreo cookies is delicious any way you serve it. And the bright colored gummy worms on top of an easy dirt pudding dessert always gets smiles.
We made these Pudding Filled Dirt Cupcakes a few years ago, and they still my favorite treat to make for Halloween parties.
How do you serve dirt pudding? You can layer it in a large parfait dish, in a 9x13 pan, in little Mason jars, or in a plastic sand bucket. That last one should be new, of course.
How long does dirt pudding last in the refrigerator? Pudding can last up to a week in the fridge. The cookie crumbs in the dirt dessert will start to get very soft and mushy after three to four days though.
Can I make dirt pudding ahead of time? Yes, you could totally make this easy pudding dessert a day or two ahead of time.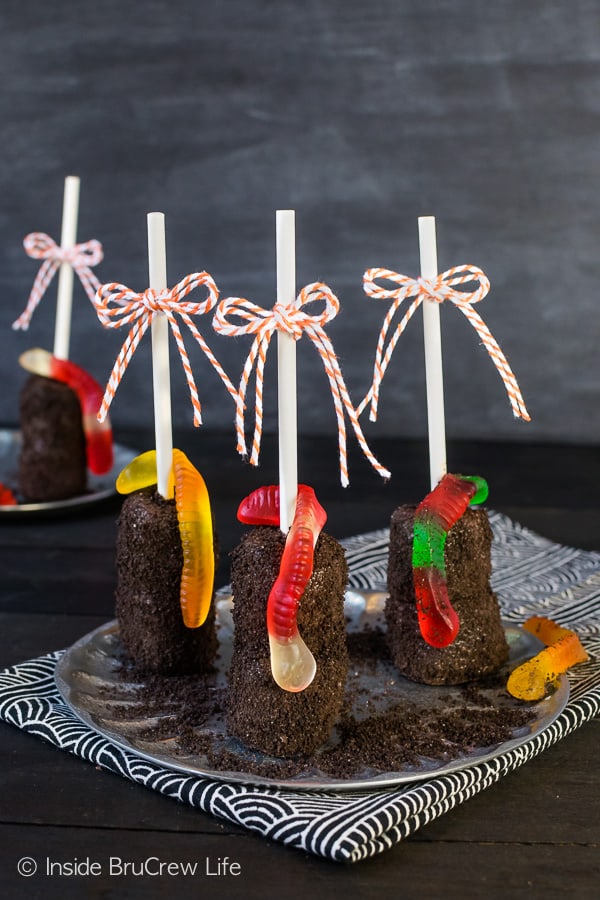 Easy Halloween Treats
I'm a huge fan of easy treats and googly eyes. These Frankenstein Marshmallows are another easy Halloween treat that kids get a kick out of.
Last year when we were traveling, I saw these Dirt Marshmallow Pops in one of the many candy stores I visited. Almost every candy store or theme park that we have been to sells some sort of chocolate covered marshmallows.
And every time I think what a rip off they are. Five dollars for one stick of marshmallows! No way jose! Not when I can make the same thing for super cheap!
I knew these chocolate covered marshmallows would be a fun and super easy treat to make and share for Halloween.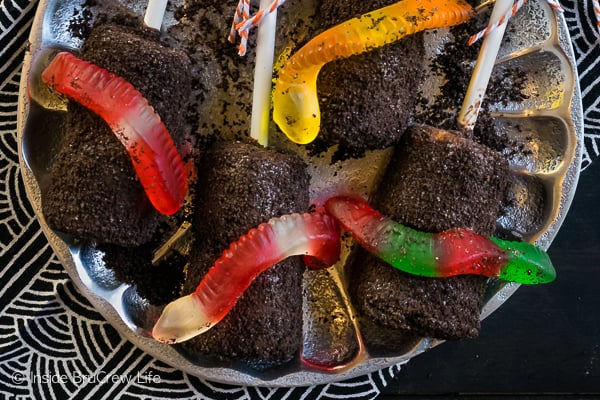 How to make Dirt Marshmallow Pops:
Crush a few Oreo cookies in a food processor. You can also use a plastic baggie and a rolling pin, if you need too. The food processor will give you a finer crumb consistency though.
Place two large marshmallows on the end of 8 inch lollipop sticks. Make sure the stick doesn't go all the way through the bottom of the last marshmallow. Colored paper straws are another fun thing to use.
Melt the dark chocolate melts in the microwave according to the package directions. Stir until melted and creamy.
Dip one stick of marshmallows at a time into the melted chocolate, turning until everything is covered. To keep the sticks from getting chocolate all over them, use a spoon to pour chocolate over the marshmallows.
Tap the stick on the edge of the bowl gently to remove the excess chocolate. If you used straws, do not tap on the bowl because it will bend the straws. Tap the straw with your fingers instead.
Sprinkle the chocolate covered marshmallows with the crushed Oreo crumbs. Stand up on a parchment lined tray to set.
Right before serving, tie some orange baker's twine around the top of the sticks and add a gummy worm to each one.
These make great gifts or holiday favors. Wrap them in plastic bags before handing out.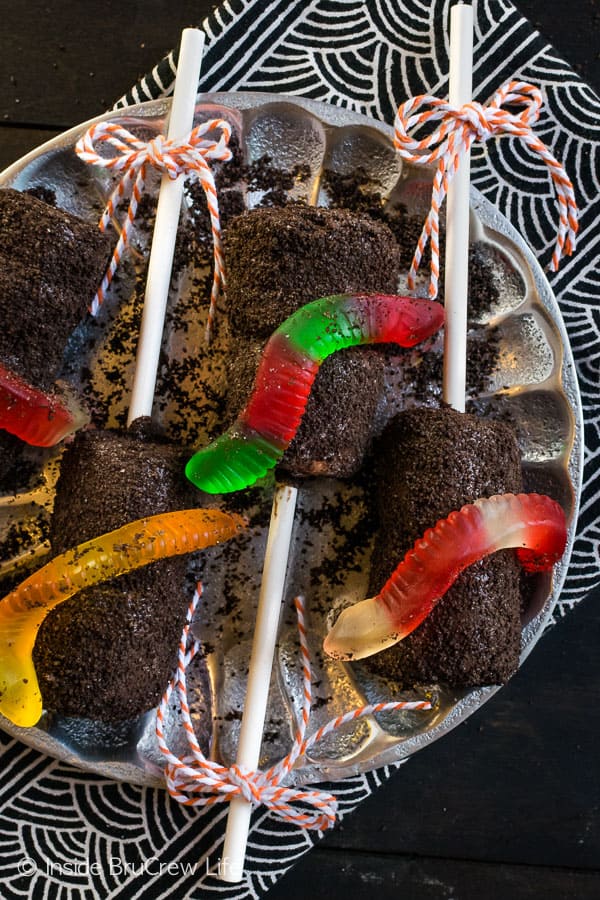 If you loved todays Dirt Marshmallow Pops recipe, here are a few more no bake recipes you may enjoy:
Oozing red gel frosting and a candy eye add a fun and spooky flair to these easy no bake Peanut Butter Zombie Eyeballs.
Cookies, candies, and chocolate transform store-bought cookies into cute Owl Moon Pies.
Add these easy no bake Peanut Butter Pumpkins to the top of brownies or a dirt pudding cup.
A bowl of this easy Monster Mix Popcorn is loaded with peanuts, holiday cereal, and candy corn. Perfect snack mix to munch on while watching scary movies.
Chocolate and strawberries make these Easy Strawberry Ghosts a fun Halloween dessert.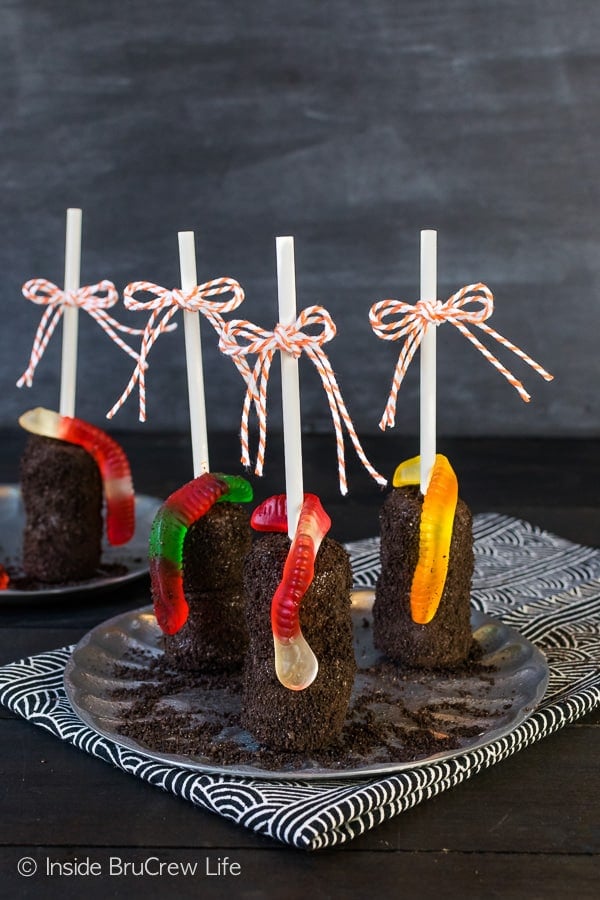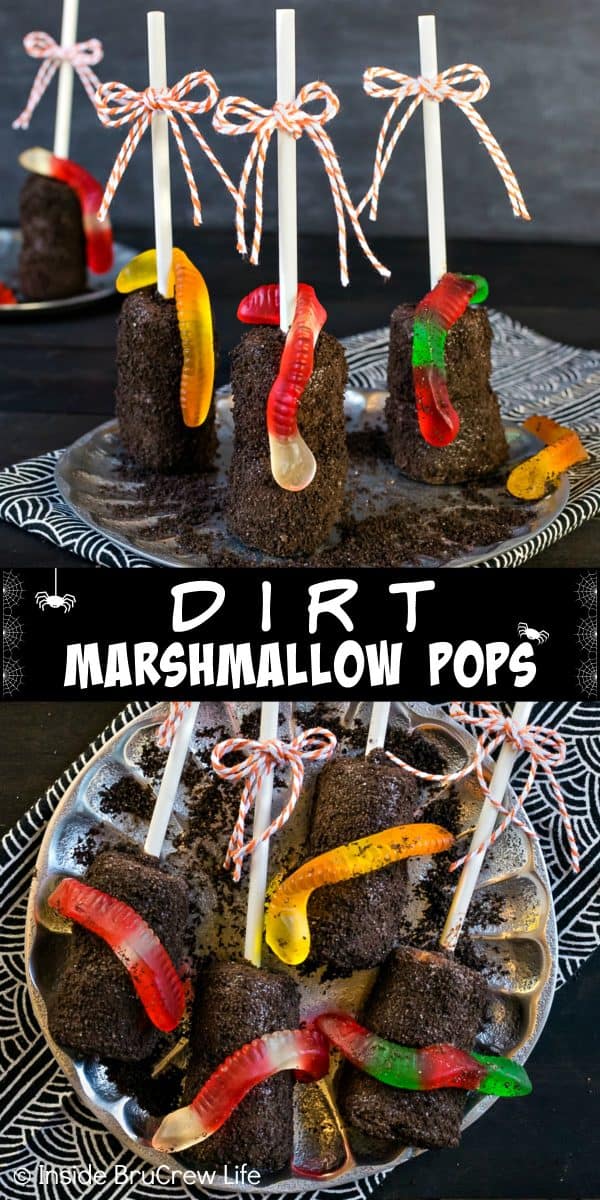 *This post contains affiliate links. Inside BruCrew Life may receive a small percentage from sales made through these free links. As always these links do not cost you any extra. Thank you for letting us share products we use and love this way.