These Healthy No Bake Brownie Bites are an easy chocolate treat that are made with just six ingredients. Get ready to enjoy a healthy, fudgy bite in just minutes!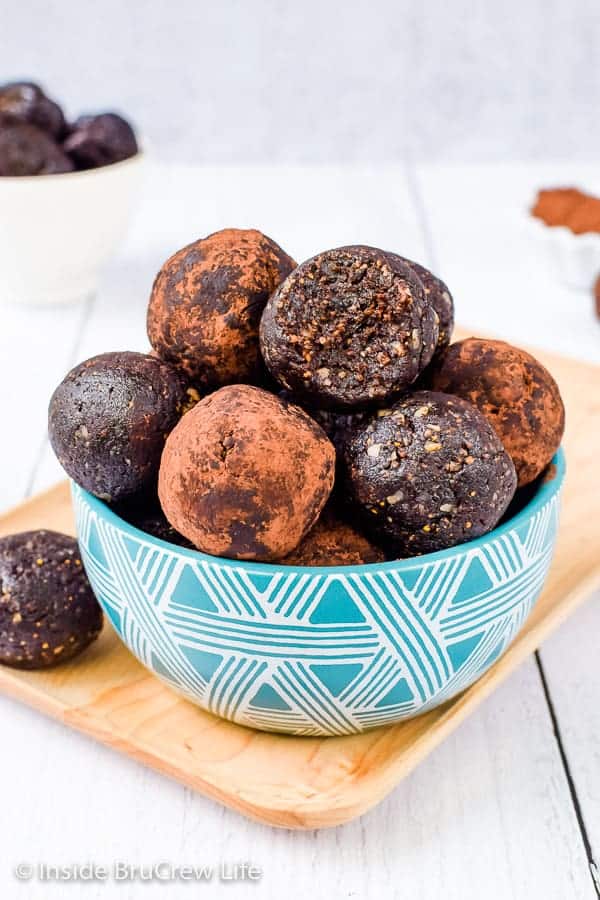 Say hello to my solution to chocolate cravings. These healthy brownie bites made with natural ingredients will satisfy all those sweet cravings you are experiencing.
One of my all time favorite cookies are fig newtons. Yes, it's true. I have always loved those little fig cookies. So, when I found these chocolate brownie bars from Nature's Bakery, I couldn't wait to try them. They have a couple of different flavored fig bars, but the chocolate one is definitely the best.
In my quest to make healthy desserts that do not sabotage my skinny jeans, I decided to make my own version of those brownie bars without any grains.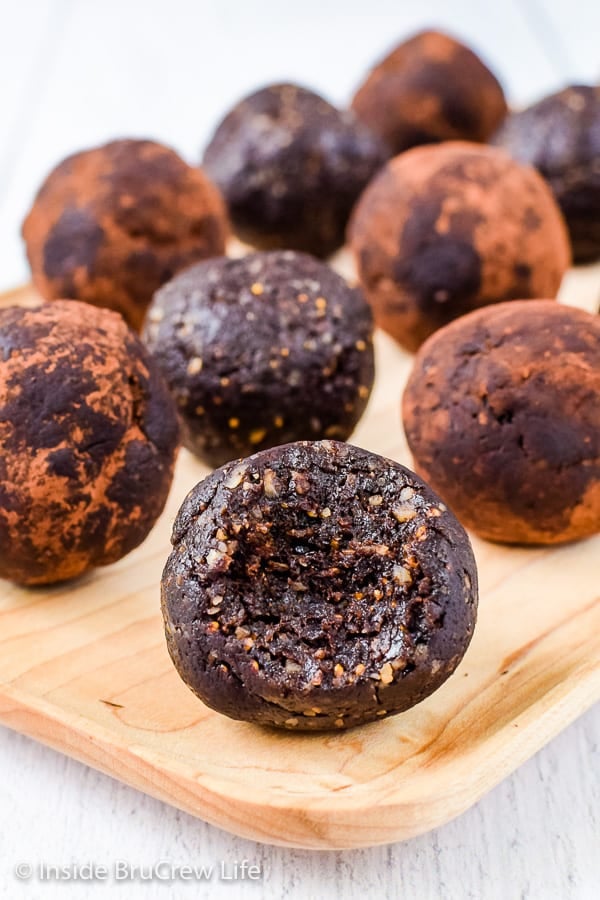 I can honesty say that I ate this entire batch of chocolate brownie energy bites. It's true. I hid the box of energy balls from everyone. Now I did pace myself and made the batch last a few days, but holy cow are they good.
Good enough that you want to keep grabbing another one and another one. I had the same problem when I made these peanut butter chocolate chip bites too.
Key Ingredients
Pecans - these heart healthy nuts are loaded with antioxidants, vitamins, minerals, and healthy fats. They are low in sugar, which will help you maintain energy levels and help prevent blood sugar spikes
Dried Figs - these dried fruits make up the base of the brownie bites giving them a soft texture and natural sweet flavor.
Dark Cocoa Powder - gives these bites a rich and dark chocolate flavor
Raw Honey - provides a little bit of moisture and natural sweetness
Vanilla Extract - gives these energy bites a little bit more depth of flavor
Coarse Sea Salt - a touch of this will balance out the sweetness from the figs and honey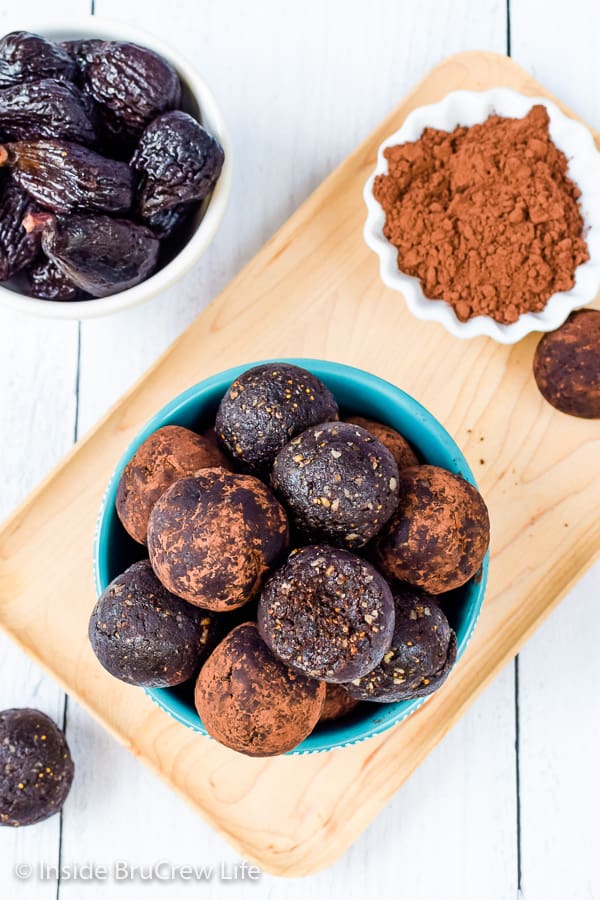 These little chocolate energy bites are so easy to make. All you need is a food processor and a few minutes to make a batch of healthy bites. Plus, that means only one dish to wash later.
How to make No Bake Brownie Bites
Place the pecans in a food processor and pulse until they are finely ground. Make sure not to pulse too much or you will end up with pecan butter.
Add the figs (without stems), cocoa powder, vanilla, honey, and sea salt and pulse again until a soft dough forms. You should be able to press it together between your fingers.
Roll the mixture into 18 even balls and place on a parchment lined tray.
Feel free to roll the balls in extra cocoa powder if you like. Brush off the excess powder, so you don't inhale and choke on it when you take a bite.
Store the brownie bites in a sealed container in the refrigerator or freezer.
Can you use a different nut in these brownie bites?
Yes, you can use any nut that you like. I just prefer the taste of the pecans myself.
Can you use a different sweetener?
Yes. You can use a liquid stevia or maple syrup if you like. You can also use a powdered sweetener, but that may affect the texture. Make sure you add a little bit at a time and taste the dough as you go. Different sweeteners may not need as much.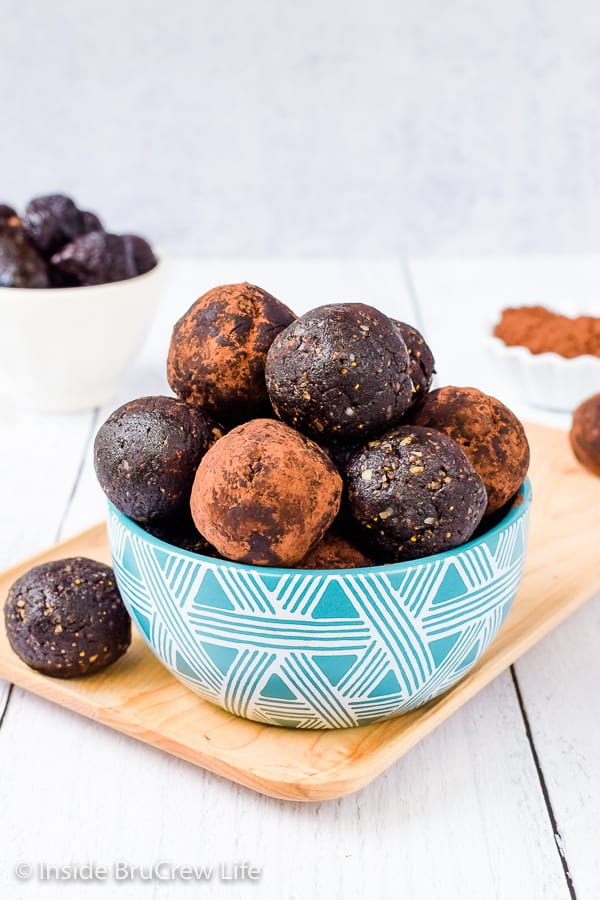 More healthy bite-sized treats