This gooey Blackberry Lemon Dump Cake is best when served warm with vanilla ice cream. It's the perfect summer dessert for serving a crowd.
Keep in touch with us. Subscribe to the free BruCrew email to have these recipes sent to your inbox.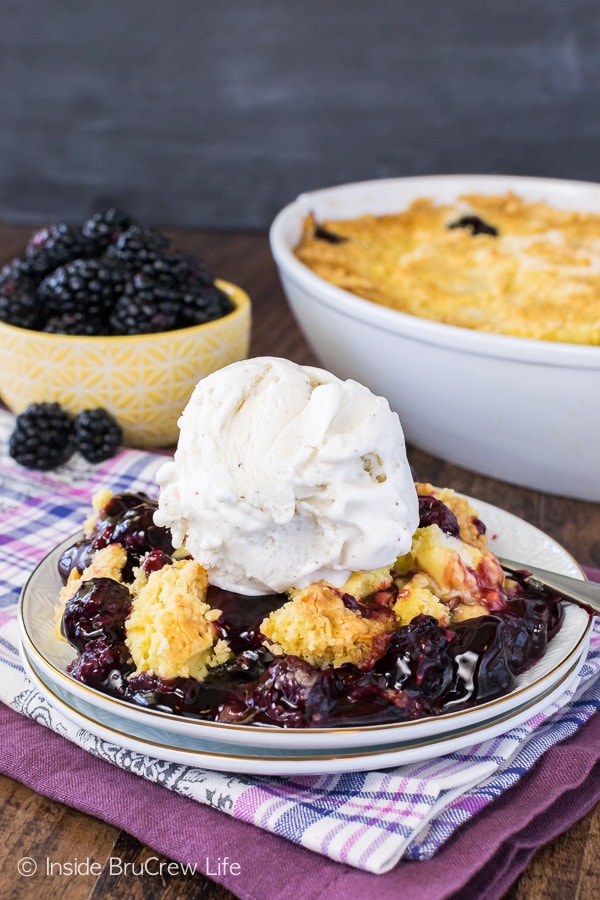 CLICK HERE TO PIN THIS RECIPE FOR LATER!
Do you ever have those days where nothing goes as planned?  This past weekend my hubby was off work for four days because of the Fourth of July. We wanted to clean out some closets, purge some junk, and he also wanted to work on his car. The weekend went fine. We got some cleaning done and had a lazy movie night with the kids.
Then Monday morning our son found a giant wet spot on the carpet.  The condensation tube for our air conditioner had gotten blocked and was leaking water everywhere.  We have no idea how long it has been like that.  Our air conditioner unit is located behind one of our living room walls. No one usually walks or sits back there.
My husband got a rug doctor from our church and got to work on the carpet. After getting a few gallons out, he pulled the carpet back and looked at the padding. It was still completely soaked!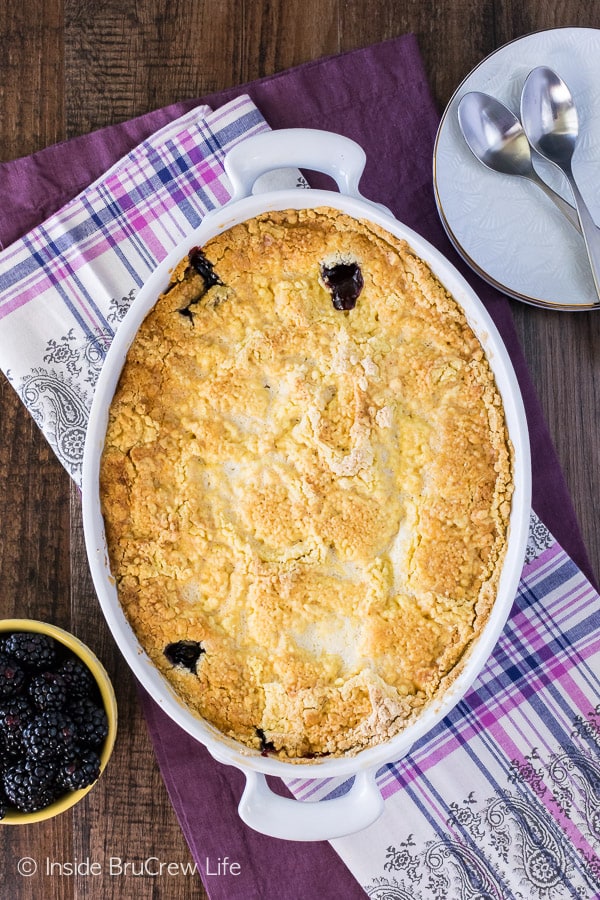 All we could do was pull the carpet back further and take out the soggy padding. My hubby had to cut padding, dry flooring, and go buy new padding. At least we found it before it got any further, right?
One day later and 8 feet of new padding, and we are good to go.  Fingers crossed we got that tube completely unclogged because we don't want to find more water in the carpet again.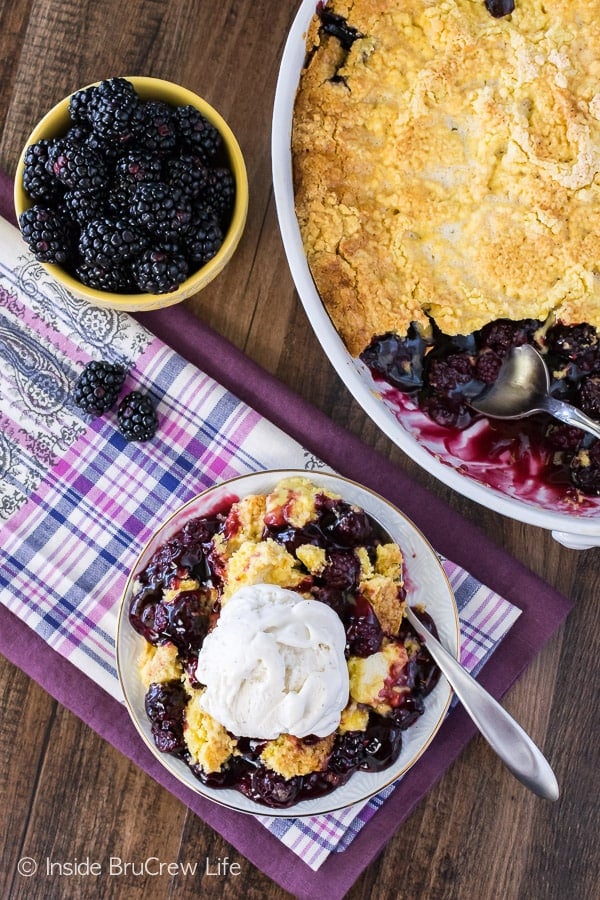 Let's talk about some comfort food. Over the years an easy gooey dump cake or this easy strawberry cobbler have been some of our go to desserts during the summer.  I can't believe that I have never shared one of them on the blog before now.
The name can kind of be a turn off for some people.  I don't know why something so delicious is called dump cake.  You literally DUMP everything into the pan and bake it, so that's where the name came from.  No stirring, no mixing, no work.  Gotta love easy desserts that taste out of this world, right?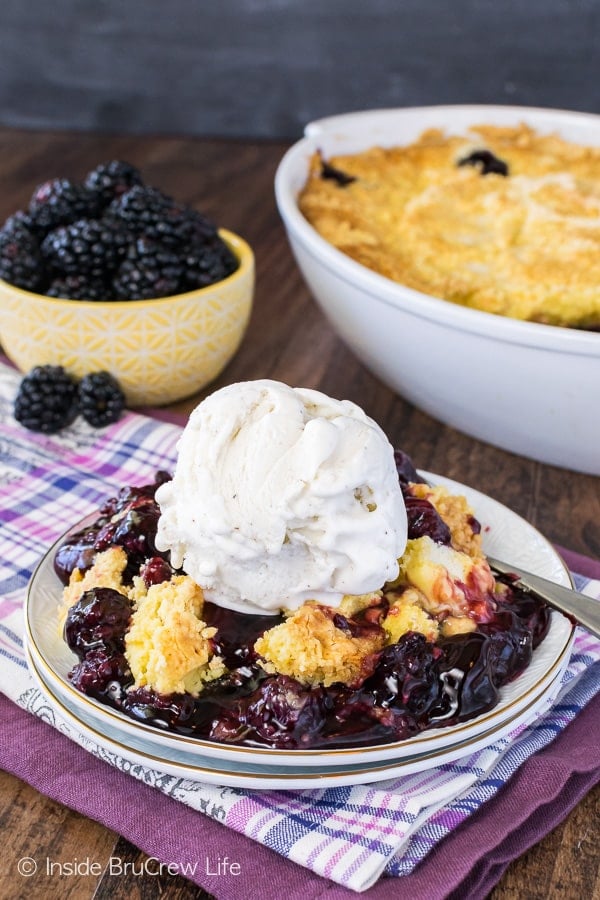 There are so many different ways you could make a dump cake.  You could do vanilla cake with blueberry or cherry filling.  Or try spice cake with apple pie filling.  The possibilities are endless!
While I was cleaning out the pantry this past weekend, I came across some cans of blackberry pie filling and a lemon cake mix. This amazing blackberry lemon dump cake had to happen right away.
I dumped it all in my casserole dish and baked it for about 50 minutes.  Let the cake sit for just a little bit to set up, but make sure you serve it warm with a big scoop of vanilla ice cream.  It's so good!!!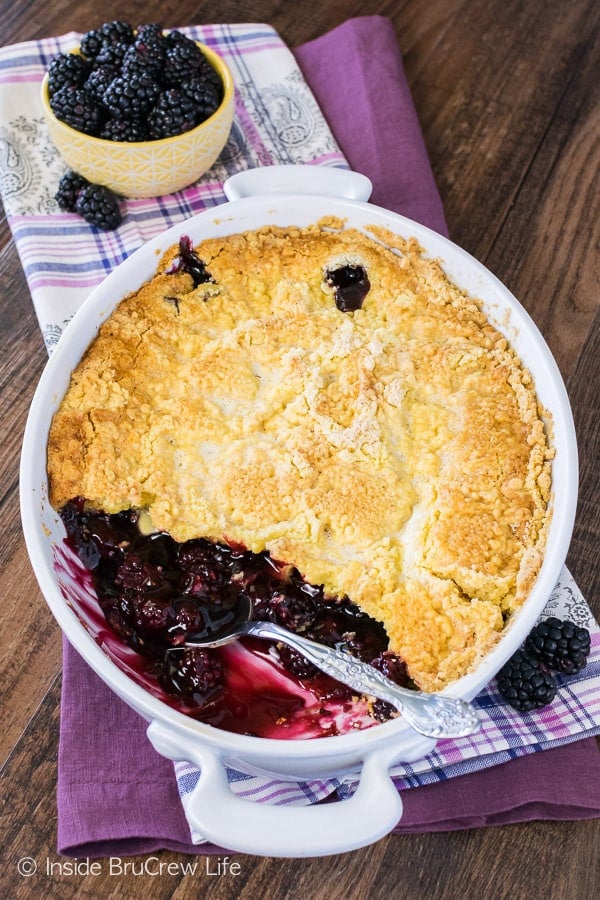 Stay up to date on all the BruCrew baking here:
FACEBOOK | PINTEREST | TWITTER | INSTAGRAM | BLOGLOVIN
 Sign up to receive an email in your inbox for each new recipe:
EMAIL SUBSCRIPTION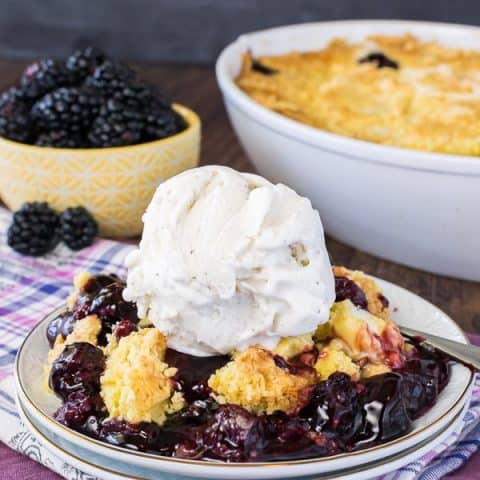 Blackberry Lemon Dump Cake
This gooey Blackberry Lemon Dump Cake is best when served warm with vanilla ice cream. Perfect dessert for serving a crowd.
Ingredients
2 - 21 ounce cans blackberry pie filling
1 lemon cake mix
12 Tablespoons butter
vanilla ice cream
Instructions
Preheat the oven to 350 degrees. Spray a 9x13 or 2.8 L casserole dish with nonstick spray.
Pour both cans of pie filling in the pan. Sprinkle the dry cake mix on top.
Cut the butter into small pieces and sprinkle over the entire top of the cake.
Bake for 40-50 minutes, or until the top is golden and the fruit is bubbling. My dish was a little deeper, so I baked it the full 50 minutes.
Remove and let set for 15-20 minutes. Serve warm with ice cream. Refrigerate leftovers.
Nutrition Information:
Yield:

12
Serving Size:

1
Amount Per Serving:
Calories:

530
Total Fat:

23g
Saturated Fat:

12g
Trans Fat:

1g
Unsaturated Fat:

9g
Cholesterol:

38mg
Sodium:

553mg
Carbohydrates:

77g
Fiber:

4g
Sugar:

42g
Protein:

5g
Here are some more easy summer cakes from friends that I can't wait to try.