These Honey Sriracha Barbecue Meatballs are a great appetizer or dinner choice. The sweet and spicy flavor from the homemade barbecue sauce will have you wanting more.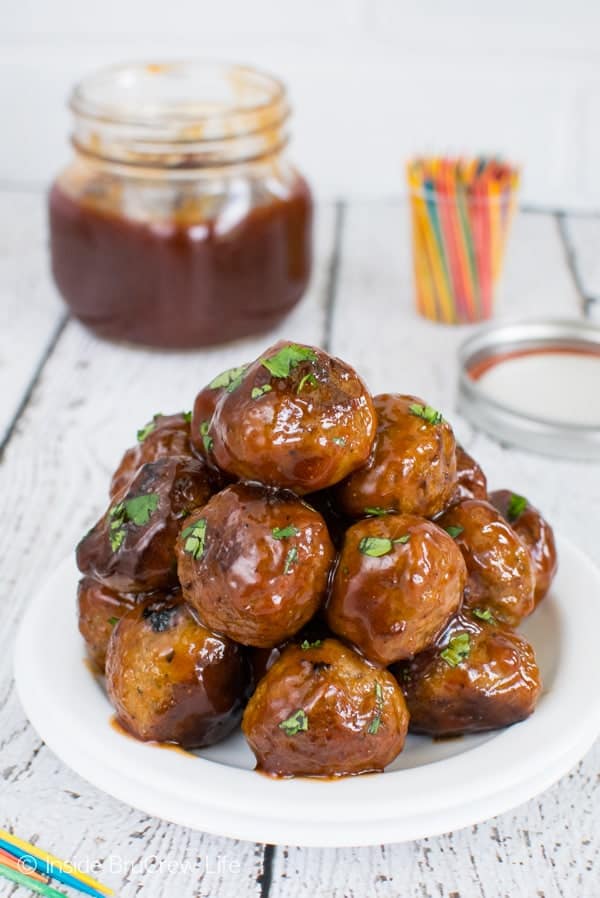 Our youngest son absolutely loves spicy food. I don't mean loves it…he absolutely lurves it with every ounce of his being. The hotter the better is his motto when it comes to salsas and hot sauces.
He even douses this Three Cheese Macaroni and Cheese with a generous helping of hot sauce.
A few weeks ago when we were on vacation we stopped at a craft mall. One of the stores there was a beef jerky outlet.
They also sold chocolate covered beans and different varieties of hot sauce, so I grabbed a bag of chocolate while the boys scoped out the hot sauce and jerky.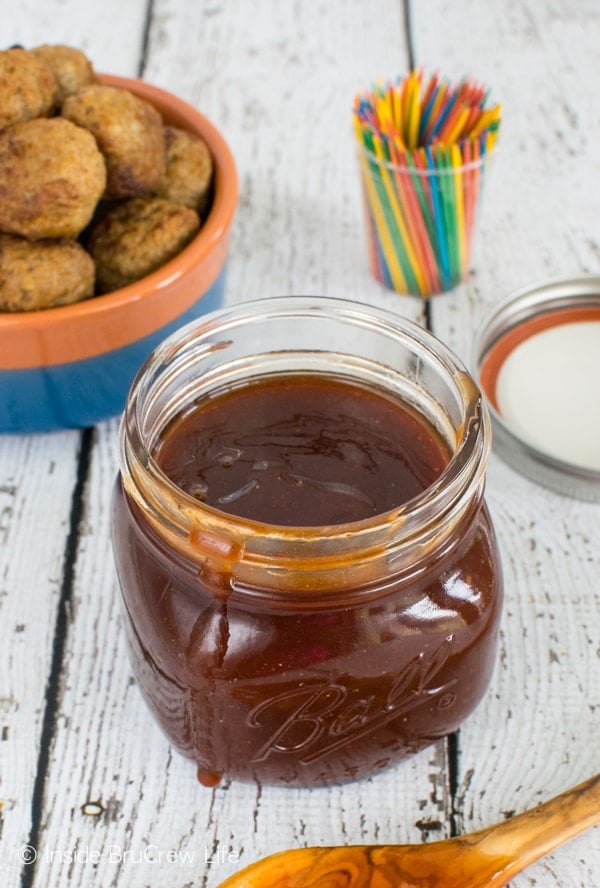 One of the things that caught our son's eye was the hot sauce tasting station. They had all the different varieties set up on the counter, so you could try them before buying them.
There were a few that were so hot that you had to sign a waiver before you were even allowed to test them. Of course, my son begged us to let him do it. It was one of the moments, when we just said, "why not".
He chose the absolute hottest sauce that they were allowed to share. It's a good thing they only give you the tiniest amount on a spoon because he said his mouth was on fire immediately.
Usually he says hot sauces are not spicy enough for his taste, but today he found one that burned off every taste bud.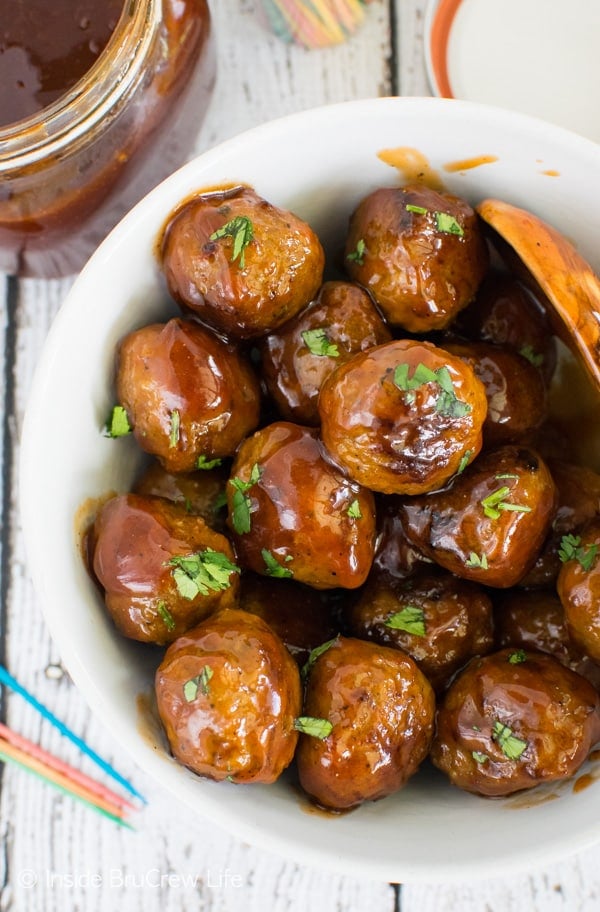 Over the past few months, I have had the opportunity to work with Red Gold® creating recipes using their tomatoes. Last year Red Gold added Sriracha Ketchup to their products.
It has been so popular that this year they have added salsa and tomatoes to the Sriracha line.
Since my son loves spicy food so much, I knew he was going to enjoy trying out the spicy salsas and ketchup on his food. He gave it two thumbs up, so I know that we will by keeping both items in our fridge.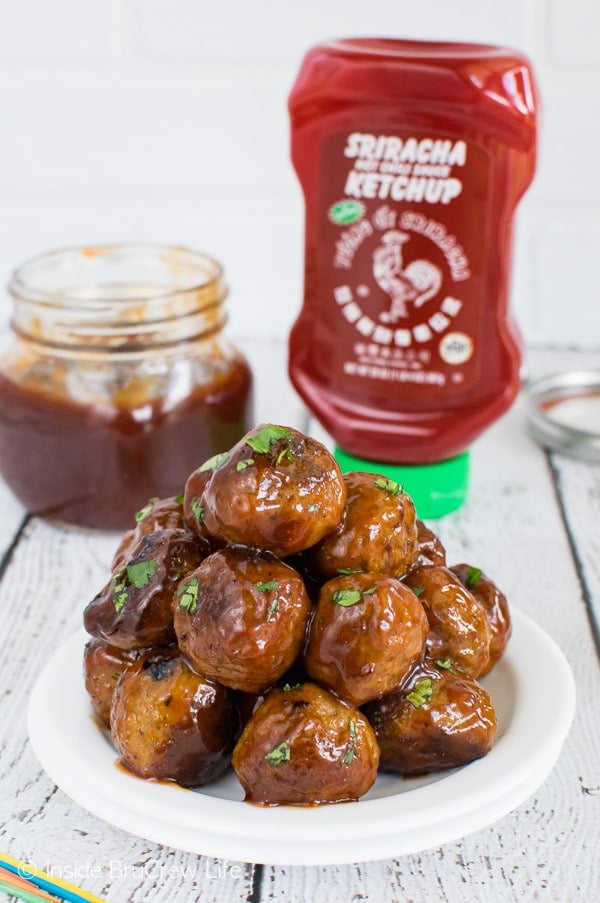 I love a little bit of sweet with my spicy, so I used the Sriracha Ketchup to make a homemade honey barbecue sauce. Your first taste will give you that sweet honey taste, but then the heat from the sriracha will hit you. Your taste buds will be singing with flavor.
This is the perfect sauce to use on grilled chicken, slow cooker pulled pork, or this baked meatball recipe.
Ingredients for Homemade BBQ Sauce:
Sweetener: a mixture of honey and brown sugar gives this barbecue sauce a sweet flavor
Ketchup: the spicy sriracha ketchup adds a great spice that pairs well with the sweet
Vinegar: we prefer to use a balsamic vinegar because it is naturally sweeter, but any vinegar will do
Worchestershire Sauce: adds a depth of flavor to the sauce
Seasonings: a little bit of salt, pepper, and paprika give it the flavor it needs
How to make Honey Sriracha Barbecue Sauce:
Stir together the honey and brown sugar until sugar is dissolved.
Add the rest of the ingredients and stir until completely mixed together.
Spoon into a jar and refrigerate until chilled.
We like to keep a big bag of frozen meatballs in our freezer. I love the convenience of just throwing them in the oven when we want a quick snack or dinner. These Honey Sriracha Barbecue Meatballs disappeared in a hurry the other night when we had them for dinner.
I definitely see more of this homemade barbecue sauce in our future. It will add the perfect sweet and spice to these BBQ Chicken & Avocado Quesadillas or these BBQ Chicken Sandwiches.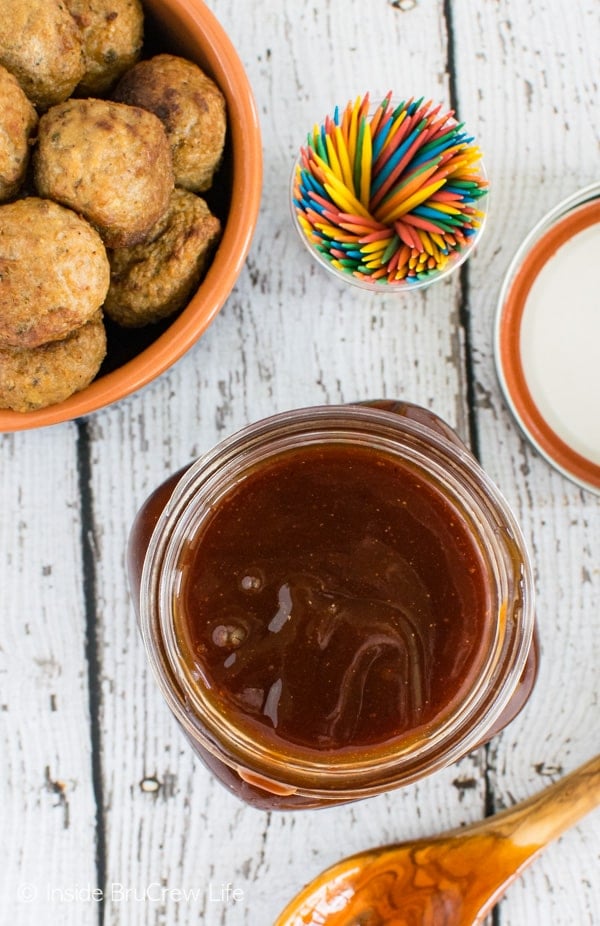 *I was compensated for my time creating this recipe as a brand ambassador for Red Gold. All opinions expressed in this post are 100% my own. Thank you for letting me share the brands and products we use and love.