Three kinds of cheese make this Three Cheese Mac and Cheese a winner at the dinner table every single time. With its gooey, velvety texture and irresistible cheesiness, there's no denying that this baked macaroni and cheese is the ultimate comfort food.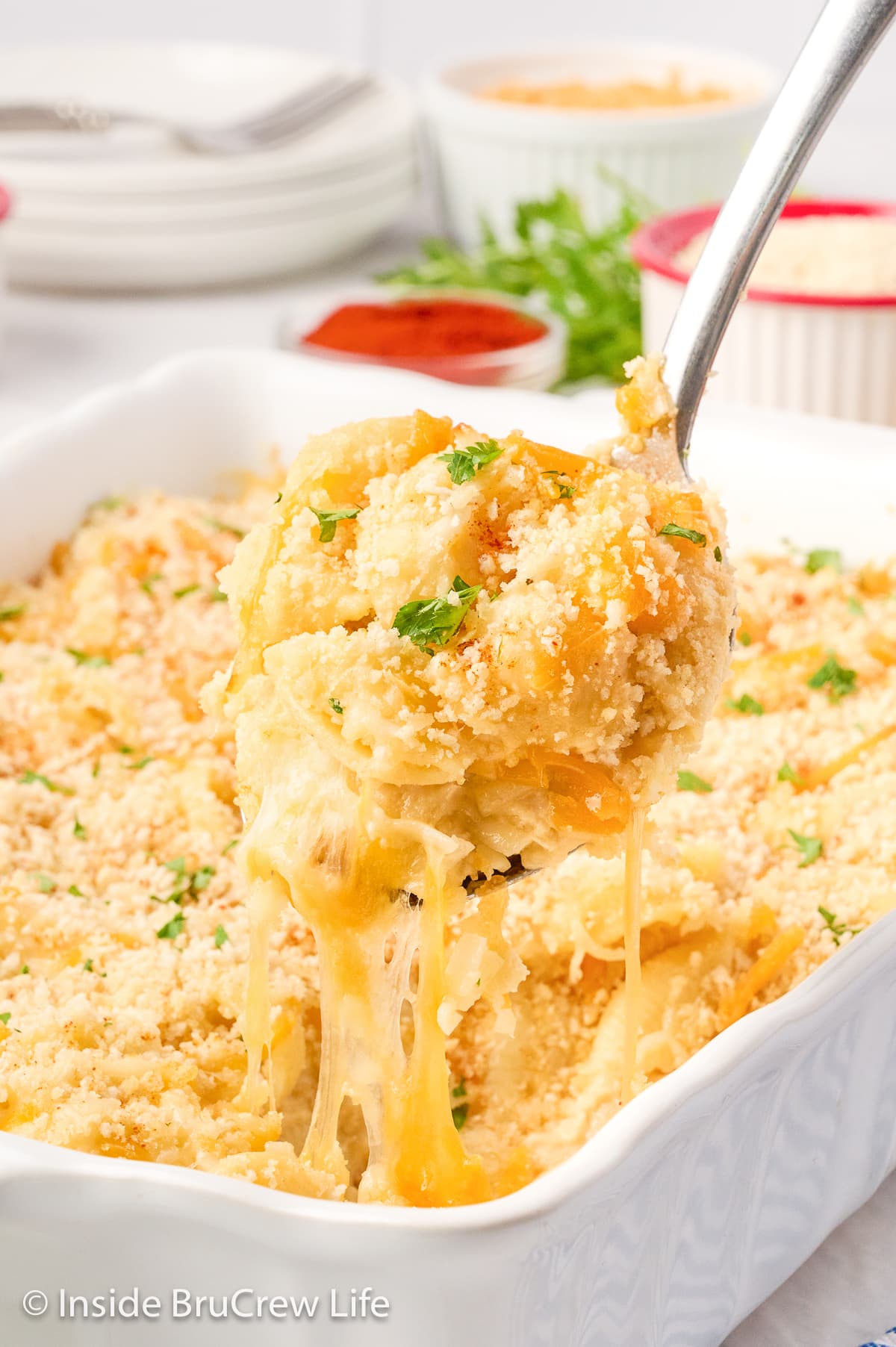 Jump to:
Our family loves a good pasta dish. There is something amazing about loading a simple noodle dish full of cheese and meat that makes it the ultimate comfort food.
Some of our favorite pasta dishes are skillet ravioli lasagna, chicken pasta bake, and this epic buffalo chicken pasta. If you have not tried them, you are in for a treat! Check them out and let me know if you rave about them like others do.
Why Make Three Cheese Mac and Cheese
But sometimes you just want to keep the pasta simple. Mac and cheese is one of those dishes that has a special place in many people's hearts. It's comfort food at its finest.
There's something about the combination of creamy cheese and tender pasta that just hits the spot. If you're a fan of cheesy pasta, then you're going to love this three cheese mac and cheese.
Comforting - Mac and cheese is a classic comfort food that is often associated with childhood memories of home-cooked meals.
Versatile - It can be made in many different ways, with various types of cheese and pasta shapes, and can be customized with additional ingredients like bacon, vegetables, or spices.
Easy to Make - This makes it a convenient meal option for busy weeknights or when you want to whip up something quick and easy.
Affordable - Pasta is generally an inexpensive dish that can be made with affordable ingredients like pasta, cheese, and milk.
Delicious - The combination of tender pasta and creamy cheese sauce creates a rich and satisfying flavor that is hard to resist.
Key Ingredients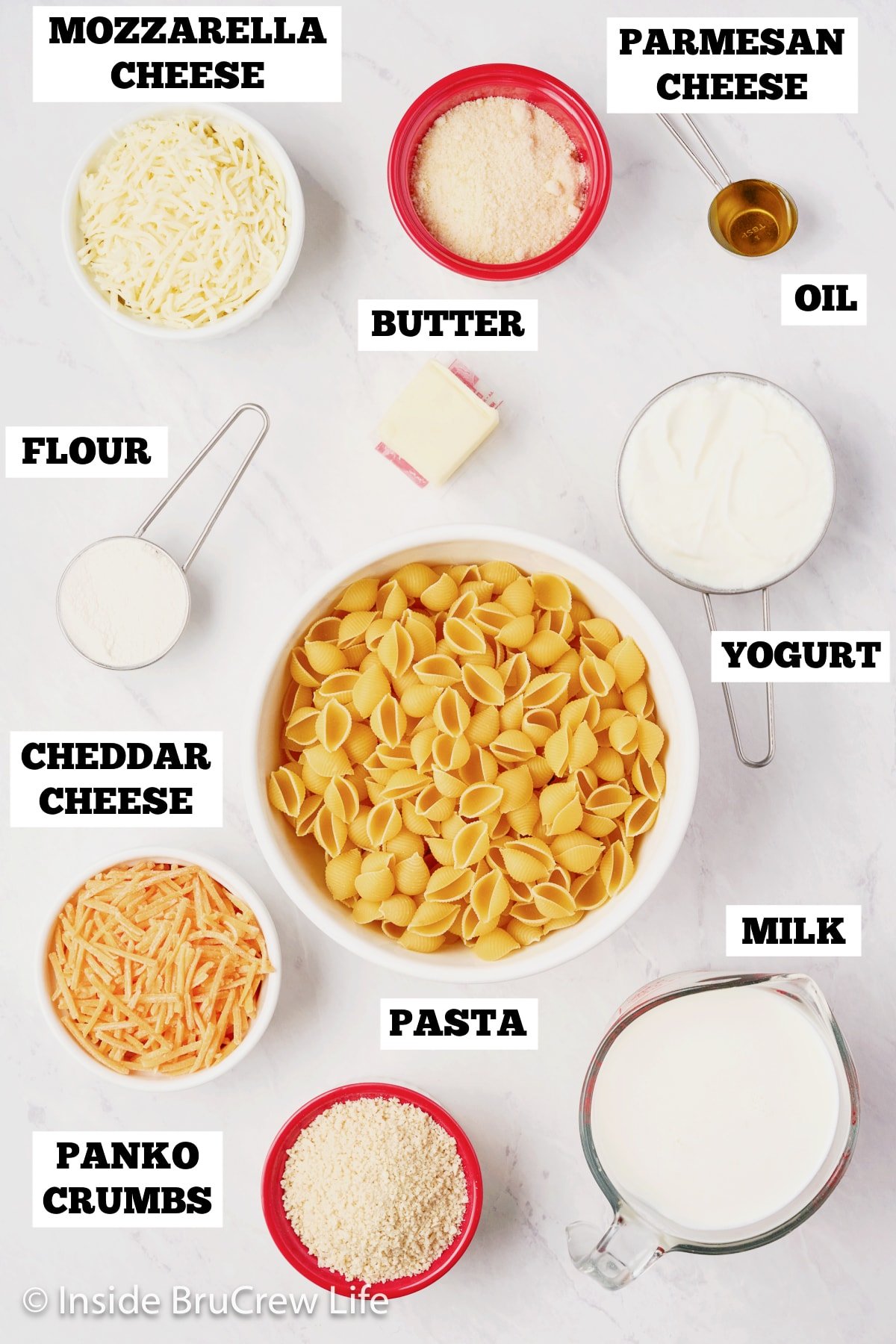 Make this three cheese mac and cheese recipe with simple ingredients from your kitchen, plus three different kinds of cheese.
Noodles - This recipe used shell shaped pasta. You could use whichever shape pasta you prefer. You could also use gluten free pasta if you would like.
Bechamel Sauce - A combination of butter, flour, milk, and Greek yogurt creates a creamy sauce.
Cheese - The three cheeses that work together in this dish are grated parmesan and shredded cheddar and mozzarella. For the creamiest sauce, I recommend using freshly shredded cheese.
Panko Crumbs - This adds a nice crunchy texture on top of the pasta.
How to make Three Cheese Mac and Cheese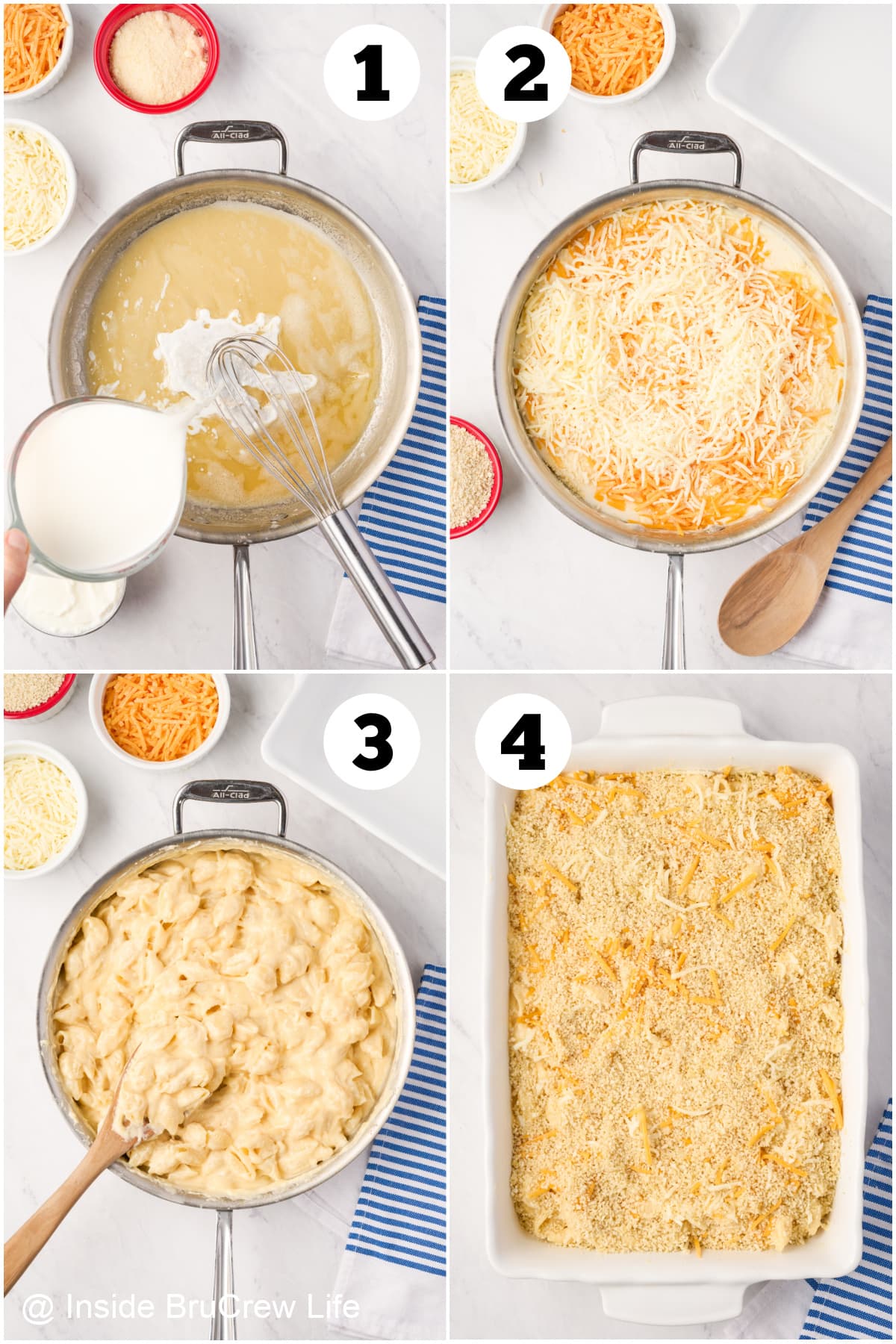 This macaroni and cheese from scratch is so easy to prepare. Get ready for a rich and creamy pasta dinner that both kids and adults will love.
Make the roux. Melt the butter in a large pot, then sprinkle the flour on the butter. Stir and cook on medium heat for a few minutes. Whisk in the milk slowly, and cook until it thickens.
Cook the cheese sauce. Lower the heat, and add the yogurt, Parmesan cheese, and 3 cups shredded cheese until melted and smooth, stirring constantly.
Add cooked pasta. Stir the drained noodles into the melted cheese.
Bake and serve. Spoon the pasta into greased pan. Top with more shredded cheese and Panko crumbs, and bake until melted and bubbly.
BruCrew Tip: Cook the macaroni noodles in a separate pot while the cheese sauce is coming together.
Tips for the Best Triple Cheese Mac and Cheese
Use high-quality cheese. The key to making great mac and cheese is using good quality cheese. Use a combination of cheddar, mozzarella, and parmesan for a rich and flavorful sauce.
Shred the cheese yourself. To get an even creamier texture, shred the mozzarella and cheddar cheese yourself from a block of cheese. Bagged cheese has a coating on the cheese that doesn't allow it to melt as well.
Use smaller macaroni. Elbow macaroni is the traditional pasta shape for mac and cheese. Small shells work well too since they hold the cheese sauce.
Add seasoning as desired. To enhance the flavor of your mac and cheese, add some seasonings like garlic powder, mustard powder, and paprika.
Don't overcook the pasta. Cook the pasta until it's al dente, which means it should be tender but still firm to the bite. Overcooked pasta can become mushy after baking and won't hold the sauce well.
What to Serve with Mac and Cheese
This baked three cheese mac and cheese can be served as a main dish or a side dish. Here are some great proteins, sandwiches, soups and salads to serve it with to make a complete meal.
Storage Recommendations
In the Refrigerator - Place leftover mac and cheese in an airtight container and keep in the refrigerator for up to 5 days. Reheat in the microwave until warm.
In the Freezer - Spoon your cheesy pasta mixture into a disposable foil pan and let it cool. Add your extra shredded cheese and crumbs. Cover and seal tightly. Freeze for up to two months.
Thaw the frozen meal in the fridge 24 hours ahead of time. Place in a preheated oven and bake until hot and bubbly. Check to see if the center is heated before taking it out. It it is still cool, add an additional 15 minutes.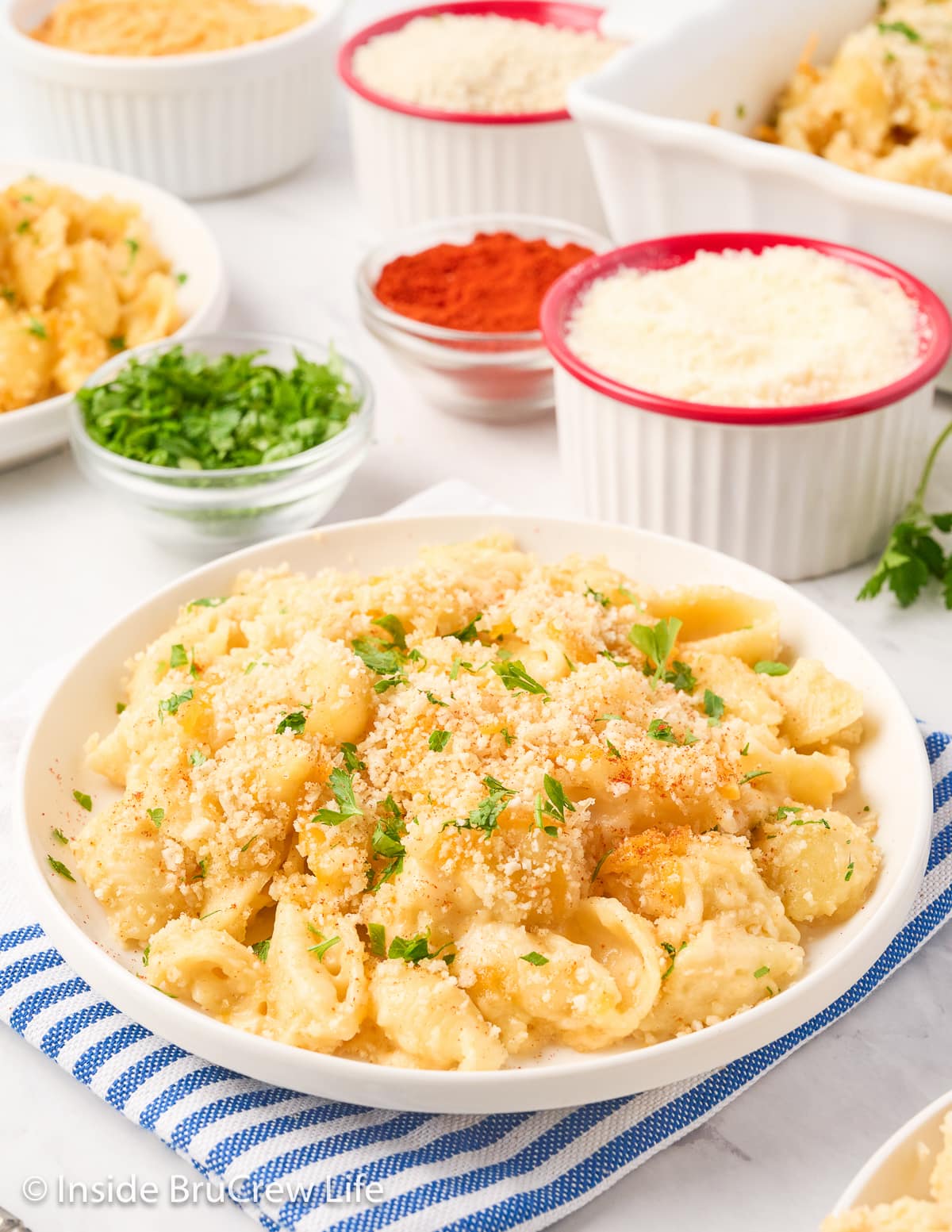 FAQ
Can I add extra things to my macaroni and cheese?
Definitely. Try adding shredded chicken, diced ham, bacon, or any other meat you love. You can also add different veggies to the cheese mixture.
What if I don't have yogurt?
You can substitute sour cream in place of the yogurt.
Do I have to bake this mac and cheese dish?
No, as soon as you stir the pasta into the melted cheese, it's ready to be eaten. Go ahead and dig in.
Can you make macaroni and cheese ahead of time?
Yes. Make and pour it into the dish and then refrigerate until you need to bake it. Remove it 30 minutes ahead of time, if you are baking it in a glass dish. If you place it in a foil pan, you can bake it right from the refrigerator. Make sure to add 15-20 minutes to the baking time.
Do you cover the pan when baking macaroni and cheese?
Yes, I cover my pastas with foil for the majority of the baking time. You can remove the foil a few minutes before it is finished to toast the crumbs.
Do you love a recipe you tried from Inside BruCrew Life?
Please leave a 5-star ⭐️ rating and a review in the comments section below.
*This three cheese macaroni and cheese recipe was first published October 2015. It was updated and republished in March 2023.