Three kinds of cheese make this Three Cheese Macaroni and Cheese a winner at the dinner table every single time. The creamy macaroni and cheese recipe will have everyone licking their plate clean.
Add this McCormick slow cooker pulled pork and this classic green bean casserole to your plate for a delicious comfort food meal that everyone will enjoy.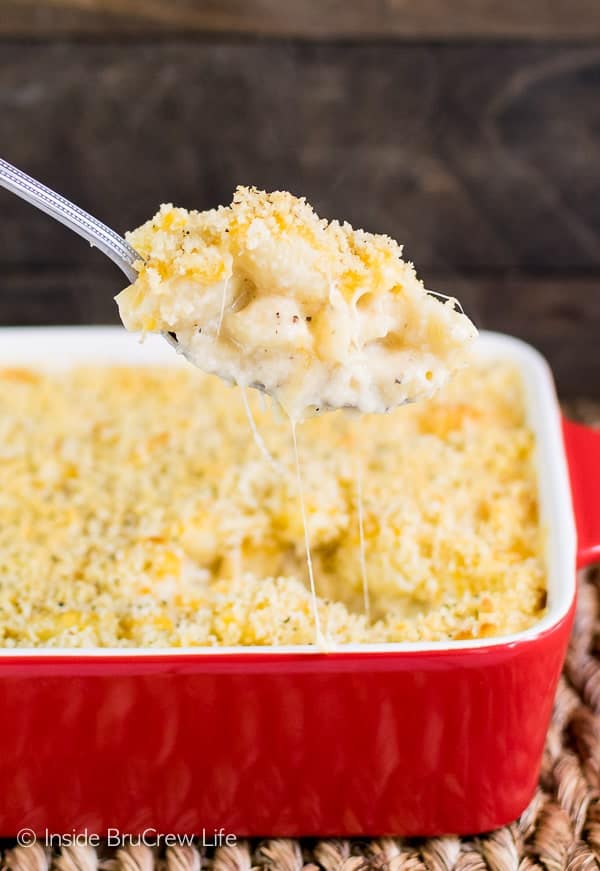 The other day my husband and I ran out to do some errands, and we told the kids we would be back in an hour. Now if I tried to do that alone, I would fail miserable.
I like to look at all the things in every aisle and take my time. Plain and simple, I'm just slow!
My husband knows this about me, so he volunteers to go with me sometimes. He likes to hurry me along. I'm sure at times he wishes he had a cattle prod to make me go even faster. LOL!
We picked up the few things we needed at Sam's Club, then I wanted to make a Target stop for a few ingredients we needed to make this skillet ravioli lasagna for dinner.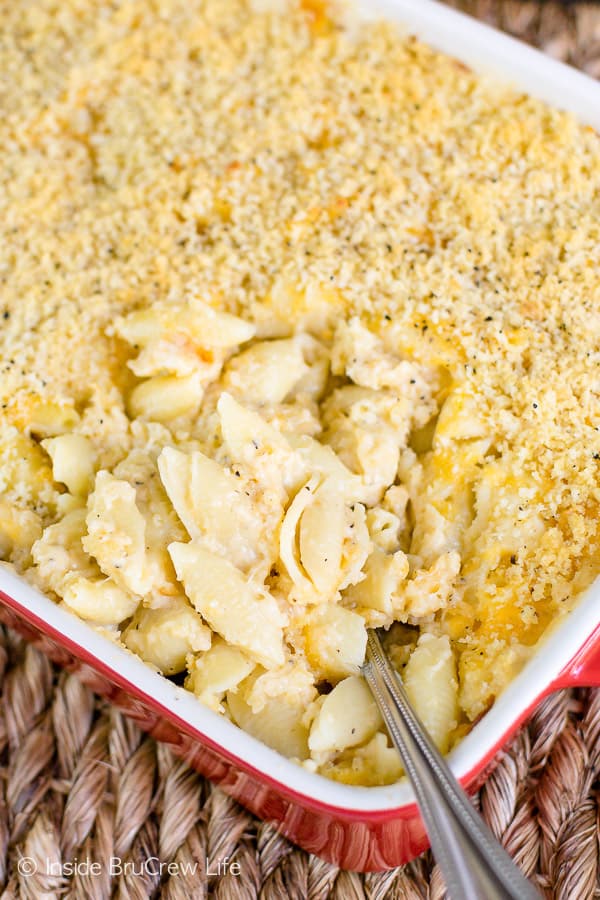 What is it about Target that makes me loose time? Every single time I go in there, I emerge with a cart full of cute, but mostly unnecessary items and have lost an hour (or more) of my life.
Anyway, as we pulled up to Target my husband asked for my list and said I wasn't allowed to step foot in the store because we only had 5 minutes. He also said I couldn't be trusted in the store alone.
Haha! He knows me so well! There is no way that I could do a 5 minute Target run by myself.
We headed in and grabbed what we needed, and then I may have made a quick detour to the clothing section. What? They have new fall apparel in.
Lucky for me, we forgot one item on our shopping list. So, while my husband went to get it, I had more time to browse the clothes. It's just so hard to resist cute fall clothes this time of year!!!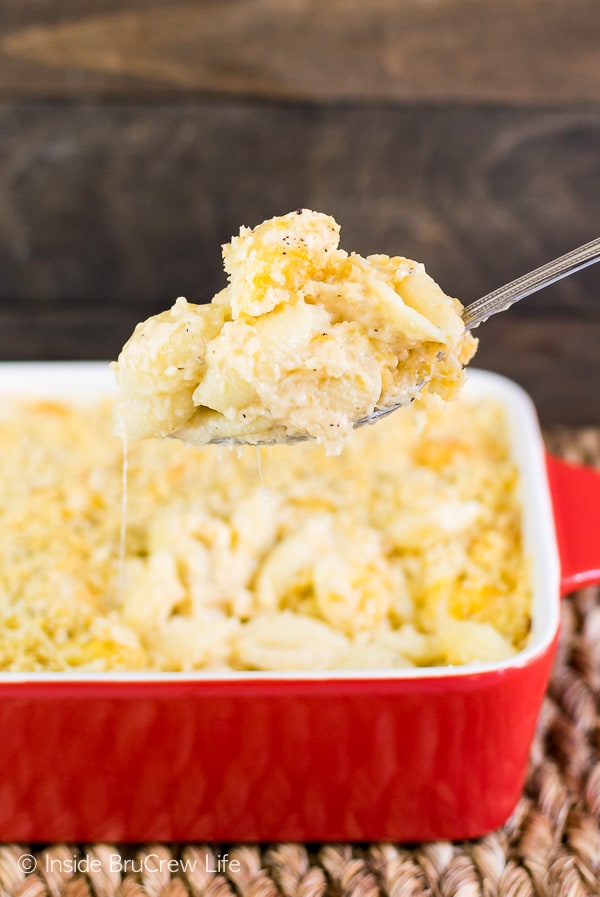 Want to know what else I have a hard time resisting? Cheesy, gooey pasta!!!! Am I right? There is just something so comforting about a pan of the best macaroni and cheese. Especially when that pan includes three kinds of melted cheese!
I have been trying really hard to stay on top of dinners around here. And by staying on top, I really mean making dinner at least once a week. It's a start, right?
Our youngest absolutely loves baked macaroni and cheese, so I took this chicken pasta bake recipe and made it into a pan of cheesy goodness. This meatless meal has plenty of cheese, yogurt, and milk giving you all your dairy for the day. I know that's just what you wanted to hear.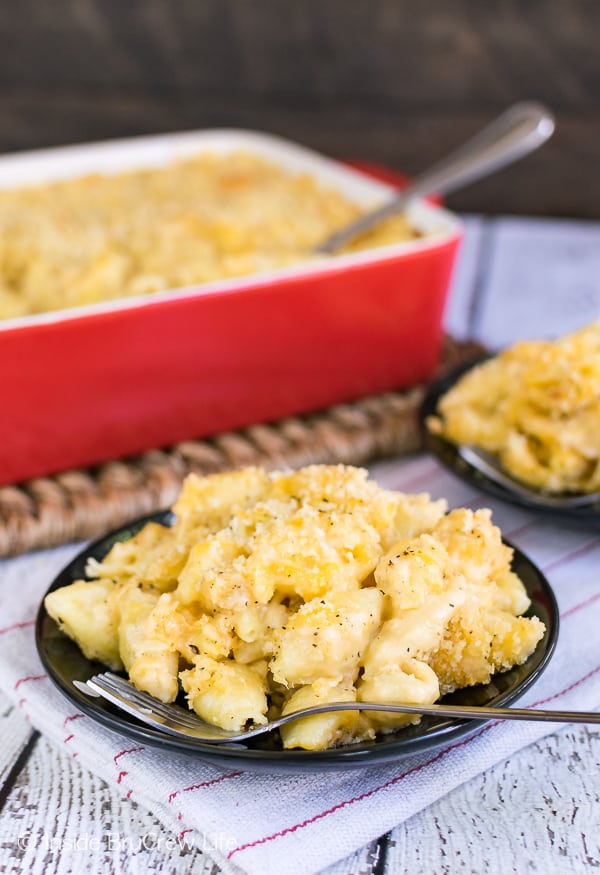 Feel free to use whatever pasta you have lurking in your cupboards. I had a box of shells leftover from making this BLT chicken skillet, so I used that this time.
How to make Three Cheese Macaroni and Cheese
Cook the noodles first. Make sure to undercook them slightly because you do not want mushy noodles in your casserole.
Melt the butter in a skillet. Sprinkle the flour on the butter, stir, and cook for 1-2 minutes.
Whisk in the milk slowly. Cook until mixture thickens.
Stir in yogurt, Parmesan cheese, and 1 cup shredded cheese.
Add cooked pasta. Spoon into greased pan, top with cheese and panko crumbs, and bake.
Recipe
FAQ'S
Can I add extra things to my macaroni and cheese?
Definitely. Try adding shredded chicken, diced ham, bacon, or any other meat you love. You can also add different veggies to the cheese mixture.
What if I don't have yogurt?
You can substitute sour cream in place of the yogurt.
Do I have to bake this macaroni and cheese dish?
Nope. As soon as you stir the pasta into the melted cheese mixture, it's ready to be eaten. Go ahead and dig in.
Can you make macaroni and cheese ahead of time?
Yes. Make it and pour it into the casserole dish and then refrigerate it until you need to bake it. Remove it from the fridge 30 minutes ahead of time before baking it if you are baking it in a glass dish. If you place it in a foil pan, you can bake it right from the refrigerator. Make sure to add 15-20 minutes of baking time.
Is macaroni and cheese freezer-friendly?
Yes, spoon your cheesy pasta mixture into a disposable foil pan and let it cool. Add your extra cheese and crumbs. Cover and seal tightly. Freeze for up to two months. Place the frozen meal in a preheated oven and bake for at least an hour. Check the middle to see if the center is heated and creamy. It it is still cool, add an additional 15 minutes.
When baking macaroni and cheese do you cover it?
Yes, I like to cover my pasta dinners with foil for the majority of the baking time. You can remove the foil a few minutes before it is finished to toast the crumbs.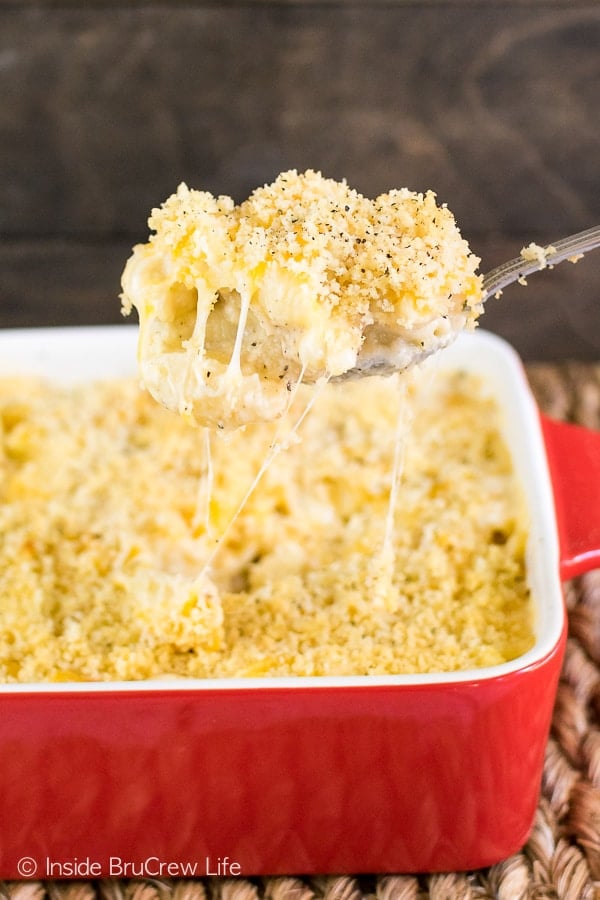 More Easy Pasta Dinners
Love a recipe you tried from Inside BruCrew Life?
Please leave a 5 star ⭐️ rating and/or a review in the comments section further below.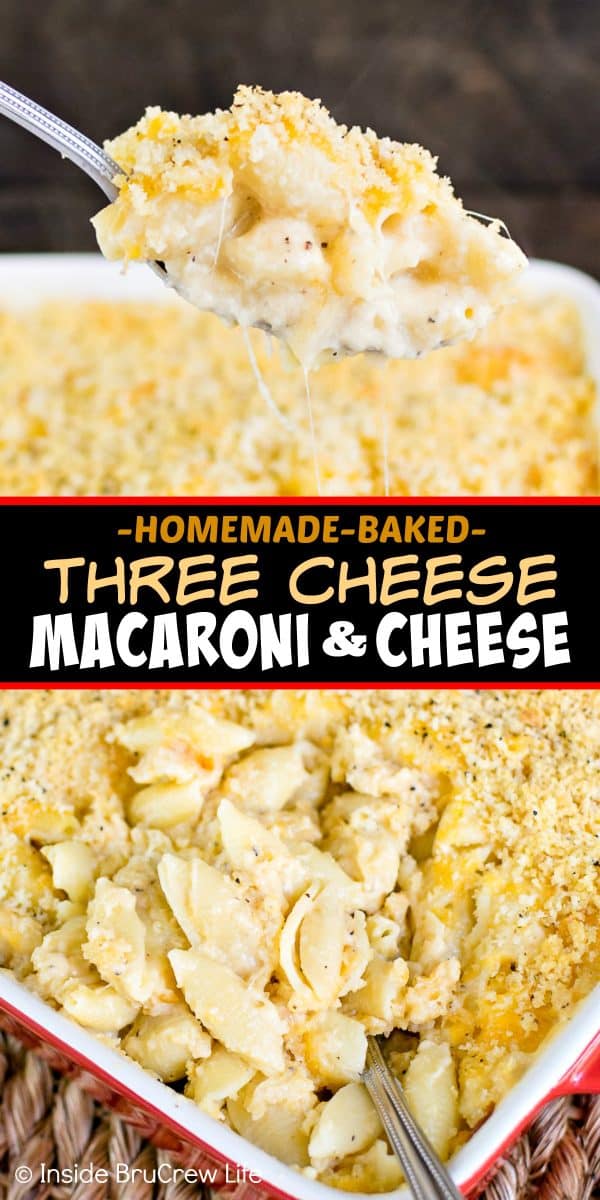 *This Three Cheese Macaroni and Cheese recipe was originally published on October 7, 2015. It has been updated and republished in August 2018.