Marshmallows and hot chocolate are a fun addition to popcorn balls. These Hot Chocolate Popcorn Balls are easy to put together and would be perfect for any Valentine's party this week.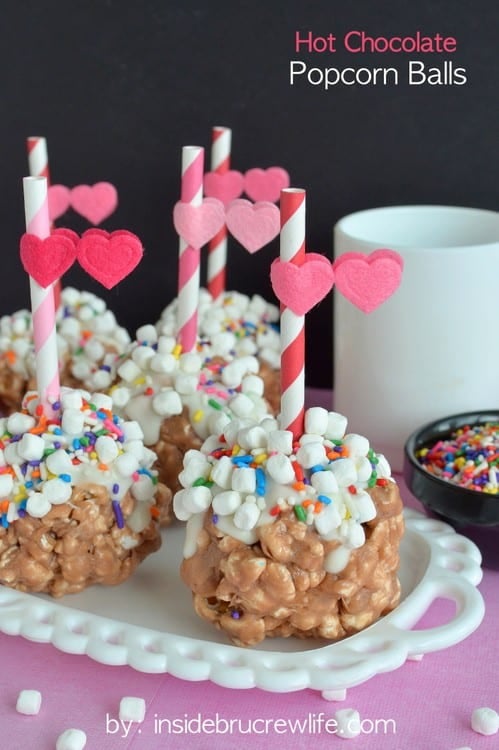 We like to make fun treats from time to time around here. Not that you are surprised by that fact at all because most of the fun treats get shared with you too. But sometimes those fun treats get made and and eaten before they ever make it here.
These popcorn balls were a treat I made for my kids last year. I have been wanting to make them again, so I could share them, but before I knew it a whole year had passed.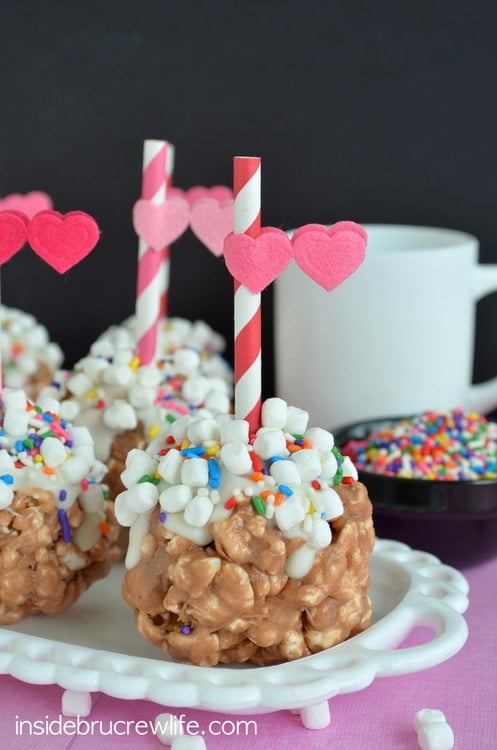 This past week I made another batch of popcorn and set aside what I needed to make these yummy treats.
You are going to make them just like a rice krispie treat, but with some white chocolate and hot chocolate mix added to the melted marshmallows.
I found that the easiest way to form the balls was to gently press the warm mixture into a buttered 9x13 pan. Do not press it tight at all! Pressing rice krispie treats too firmly makes them hard, and I have a feeling it would do the same to these.
The pan is just so you can measure each ball without eyeballing it. Use a hot knife to cut the mixture into 12 even squares.
Take each square and gently form it into a ball. Again, do not press it too tightly together! While the mixture is still soft, press a striped straw down into the center and form the ball around it. Be gentle. Then place them on a piece of wax paper or cupcake liner to cool completely.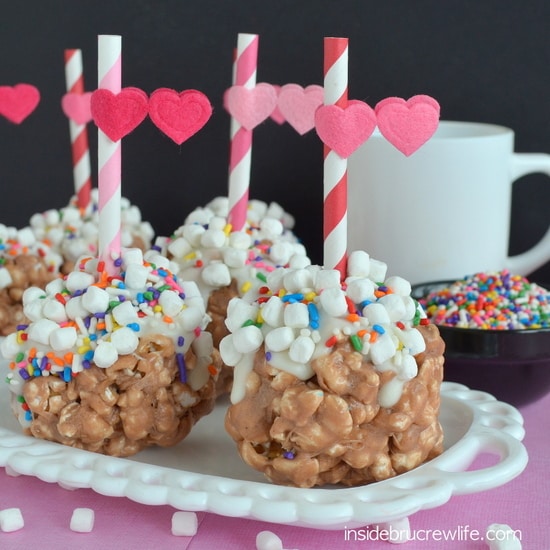 Now you could go ahead and eat them just like this. But I have this crazy habit that doesn't let me do anything plain. I love to top our hot chocolate with whipped cream and sprinkles, so I decided to mimic that look on the popcorn balls.
A drizzle of white chocolate, a few sprinkles, and of course more mini marshmallow bits turns these plain popcorn ball into popcorn balls with style.
I'll take style over plain any day of the week. My family doesn't always agree with me on this though.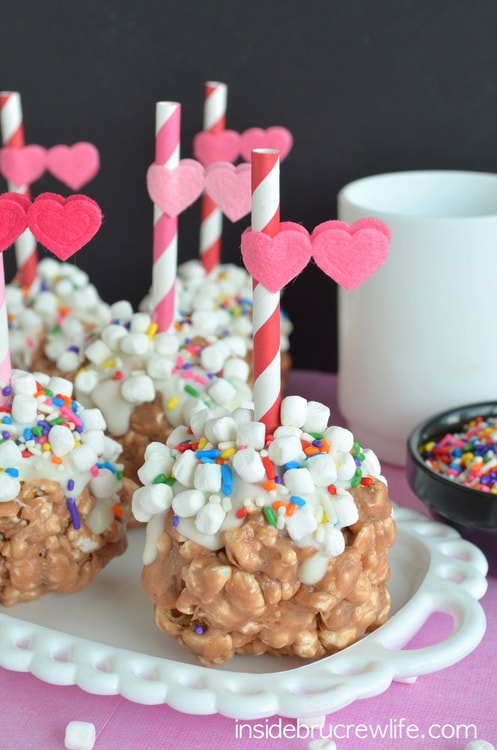 Stay up to date on all the BruCrew recipes here:
FACEBOOK | PINTEREST | TWITTER | INSTAGRAM | BLOGLOVIN
More ways we like to enjoy hot chocolate in our baking: