These homemade Raspberry Hot Chocolate Granola Bars are great for on the go breakfasts or snacking on after school. Easy to make, chewy, and so delicious!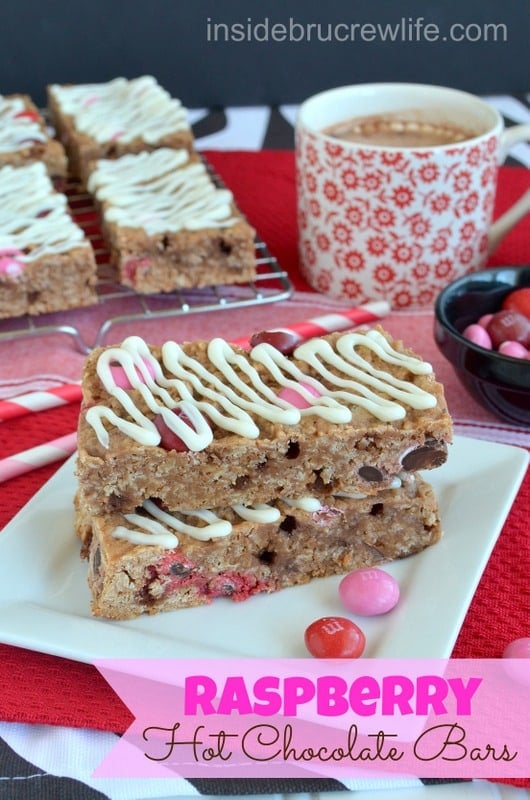 Hello, Raspberry Hot Chocolate Bar goodness!
Yes, I like to incorporate chocolate into my breakfast every.single.chance I get! I don't see it as any different than adding chocolate chips to muffins. And I'm not going to apologize for the spots of color in my baked goods.
Lately I have had some not so favorable comments about this Almond Joy Banana Bread...I am fully prepared for the bashing these granola bars will take for the color in them. Bring it on...it won't stop me from throwing colored M&M's into more things. Actually it just might make me do it more. I'm kind of like that!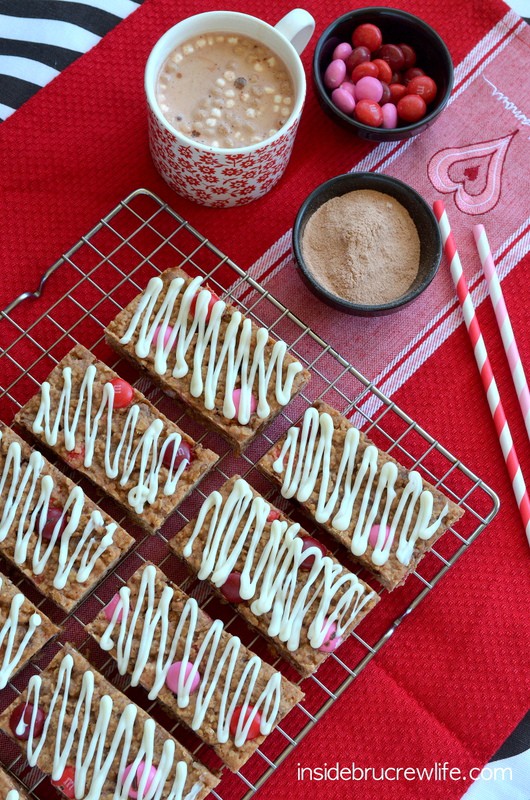 This bar recipe has become my favorite go-to granola bar. It is so easy to customize it for other flavors. Last month I had the thought that hot chocolate would be great in them.
Turns out I was right...I only know this because the pan of Peppermint Hot Chocolate Granola Bars disappeared rather quickly. Probably from all the "just one more" bites I kept taking.
So, when I started thinking of doing more recipes with hot chocolate, I went to the grocery store and started looking for some other flavors. As soon as I saw the raspberry flavor, I knew that I had to try that for the bars.
Finding the raspberry M&M's in the candy aisle was just the icing on the cake....or should I say the chocolate in my bar. I love these pretty pink and red candies. They are the perfect color and flavor for Valentine's day treats.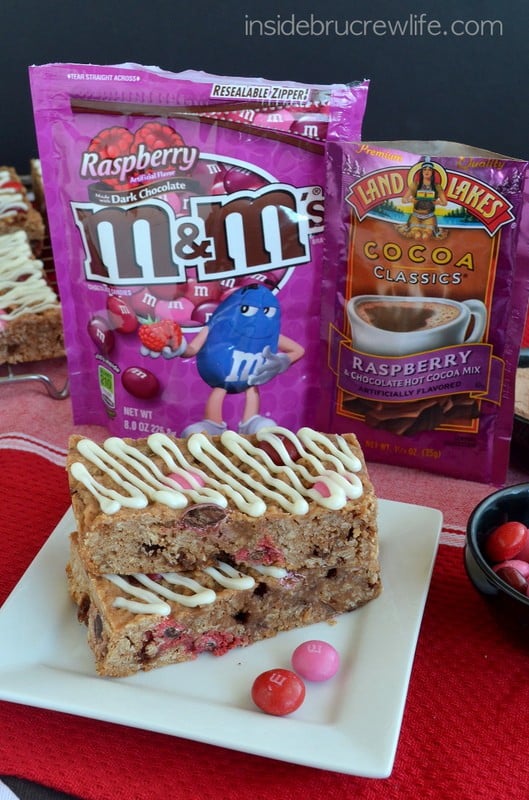 My daughter went to a sleepover last weekend. It was the perfect "excuse" to bake yet another treat. Actually I was happy to get these Raspberry Hot Chocolate bars out of the house. I couldn't stop eating little bites. It is possible that I like this version the best out of all the ones I have made.
Let's just talk about this sleepover for just one minute. Can you believe my daughter told me to make sure I wore make up when I picked her up? Apparently I just look better that way. Ha! Yes, I walk around my house with no makeup on and sometimes even mismatched clothes.
Or better yet...I have been wearing my tight jeans this week. My thought is that it will stop me from eating more sweets if I can't breathe! It has worked one day so far.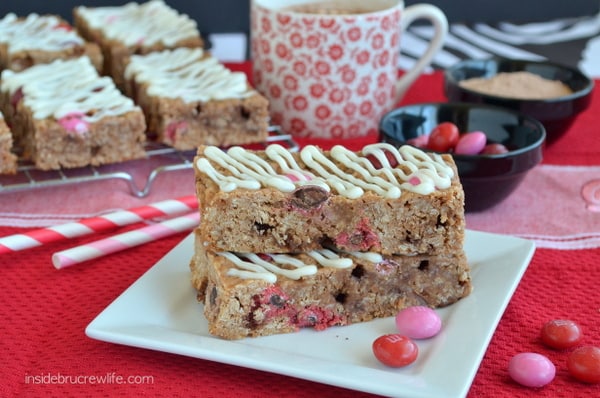 Ok, let's get to the bars because really that's why you are here right? To scroll through my ramblings and get to the recipe?
The texture of these bars is soft and chewy. They aren't hard and crumbly like the store bought ones. If you like the hard ones, you could probably bake these an extra 5-10 minutes and get that texture. But I like all my baked goods to be soft, so I pulled them out of the oven at 22 minutes. I almost second guessed myself because they looked underdone. For one split second I thought about baking them longer. They had an almost undone look to them.
DO NOT bake these homemade granola bars any longer. They will set up as they cool and become this perfect chewy granola bar texture. The raspberry hot chocolate is subtle but definitely there. The raspberry M&M's help enhance the raspberry flavor just a little bit more.
If you don't like that much chocolate on your breakfast goods, go ahead and skip the white chocolate drizzle. Like I said, I always look for ways to include chocolate in every meal, but that's just me.
These are the perfect on the run bar. Package them individually in ziplock bags and grab one as you run out the door for school or work.
The only thing you will regret is not grabbing TWO for the road.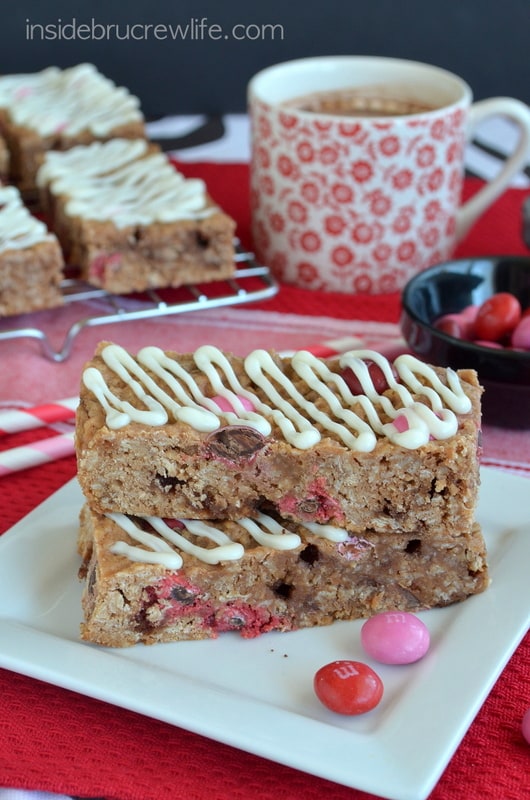 More homemade granola bars to try:
Make sure you don't miss any of the crazy baking by following the BruCrew here:
FACEBOOK | PINTEREST | TWITTER | INSTAGRAM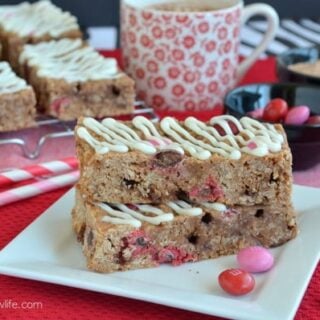 Raspberry Hot Chocolate Granola Bars
These homemade Raspberry Hot Chocolate Granola Bars are great for on the go breakfasts or snacking on after school. Easy to make, chewy, and so delicious!
Ingredients
¾ cup unsalted butter, softened
¾ cup packed brown sugar
2 large eggs
2 teaspoons vanilla extract
1 ½ cups all purpose flour
2 ½ cups quick oats
½ teaspoon salt
¾ cup dry raspberry hot chocolate mix
¾ cup raspberry M&M's
1 cup mini marshmallow bits
¼ cup white chocolate melts, melted
Instructions
Preheat oven to 350 degrees. Spray a 9x13 pan with nonstick spray.
In a mixing bowl, beat the butter and sugar until creamy. Add the vanilla and eggs and beat again.
Mix together the flour, oats, salt, and dry hot chocolate mix and slowly add to the butter mixture.
Gently stir in ½ cup of the M&M's and the marshmallow bits.
Spread mixture in pan. Press the extra ¼ cup of M&M's into the top of the batter. Bake for 20-22 minutes. Cool on a wire rack.
Cut into 14 bars. Drizzle the bars with melted chocolate. Let set. Store in a sealed container.
Nutrition Information:
Yield:

14
Serving Size:

1
Amount Per Serving:
Calories:

289
Total Fat:

13g
Saturated Fat:

8g
Trans Fat:

0g
Unsaturated Fat:

5g
Cholesterol:

54mg
Sodium:

140mg
Carbohydrates:

38g
Fiber:

3g
Sugar:

18g
Protein:

5g
Nutrition facts are an estimate and are not guaranteed to be accurate. If you need special diet advice, please see a registered dietician.