Sweet caramel and salty nuts gives this Caramel Cashew Cheesecake a delicious flavor. It's an impressive dessert that everyone will love.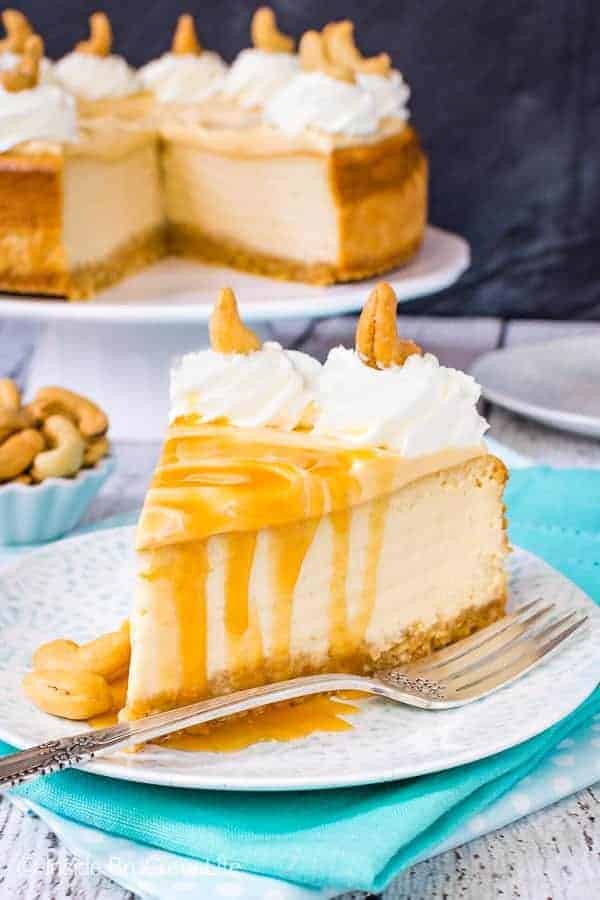 It's so easy to get in the habit of taking everyday things for granted. I think that at times we let things or people that should be extremely special to us become too commonplace.
I know that there are times that I get in the habit of thinking that nothing exciting or special happens in my life anymore. It's times like that that God reminds me that He still does all those exciting things for me. Unfortunately I have gotten so used to those things that I don't even realize it anymore.
Staying amazed at all the things God is doing in our lives, even the little things, is a good way to live. It gives us hope. Being grateful and recognizing the little things in our day to day life helps us to live our life with praise and gratitude.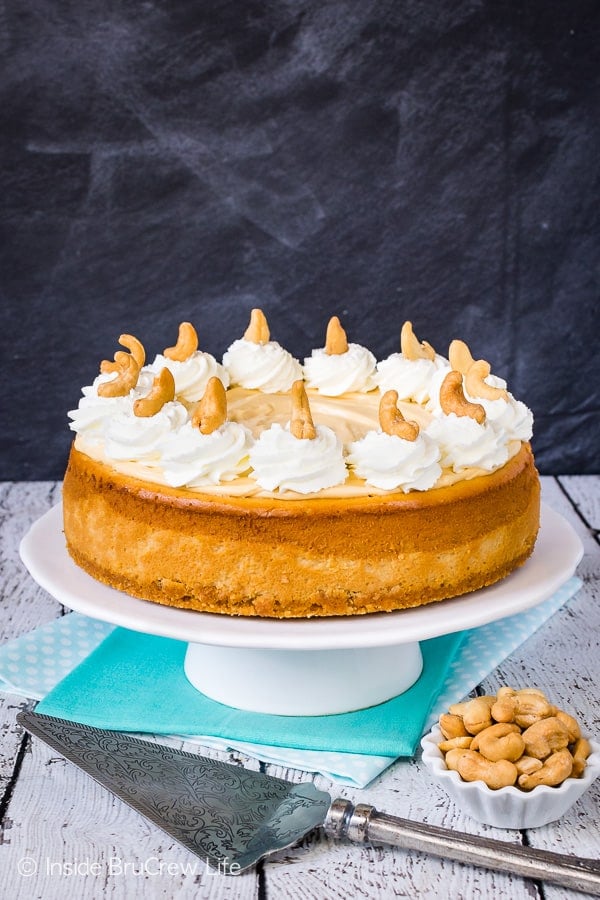 This week Thanksgiving took on a new meaning for us. A few nights ago my husband left the house, just like he does every Sunday night, to pick our daughter up from babysitting.
I didn't even think about it as he left the house. I mean this is a weekly routine, so why would it be any different.
About 20 or 30 minutes later, I got a call from him saying he had been in a car accident, but that everything was ok. Another driver ran a red light as he was going through the intersection. The impact spun his vehicle around 180 degrees and then flipped it onto its side.
There were people on the scene immediately helping him break a window to climb out. By the grace of God, everyone involved in the accident walked away unhurt.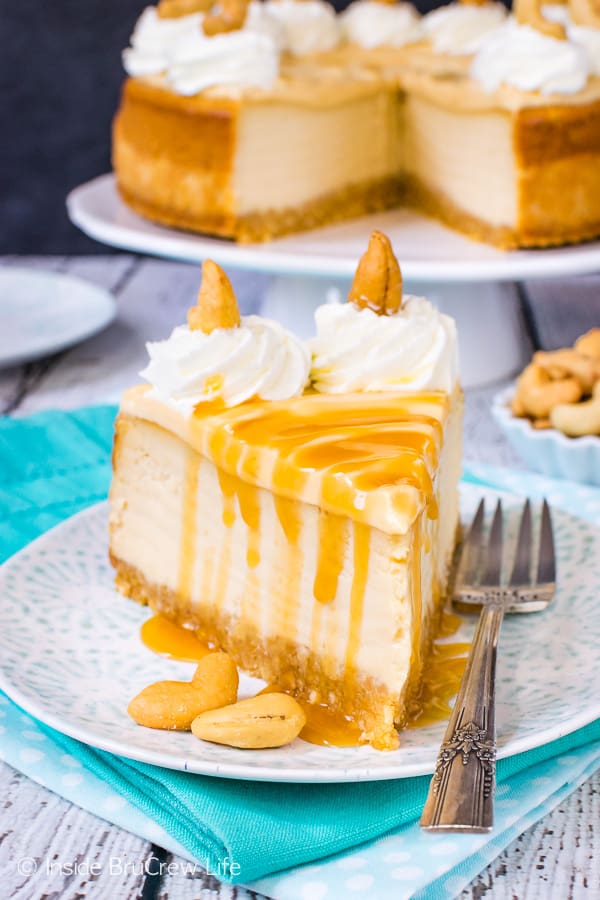 It was just another reminder to me that I have taken my husband being here every single day for granted.
This week as we celebrate Thanksgiving, I know our family will be extremely thankful that we still have a husband and father to celebrate with.
Being grateful for every day and minute I have with him will definitely be on my mind throughout the coming days and years.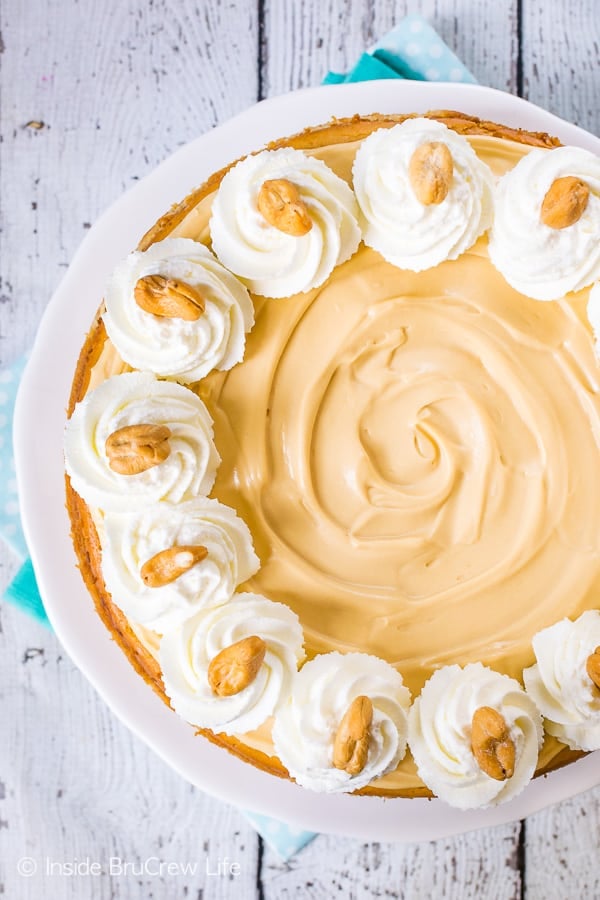 One of the thing that my husband and I enjoy doing together is baking cheesecake. I have to give him total credit because he actually started baking full-sized cheesecakes before I did.
I would just help him come up with flavors and crust ideas. This Vanilla Bean Cheesecake is the base recipe that we use to make other versions.
Over time, I started baking more and more cheesecakes, and then I had the awesome privilege to write Cheesecake Love. It still gives me chills to say I have a published book on the shelves at bookstores.
In the book is a recipe for a caramel cheesecake with a thick gooey caramel topping and chopped pecans. This Caramel Cashew Cheesecake was actually the inspiration for the version in the book.
We found the recipe for this caramel cheesecake in an old cookbook at Goodwill years and years ago. We have made it many times over the years, each time making slight tweaks until we got just right.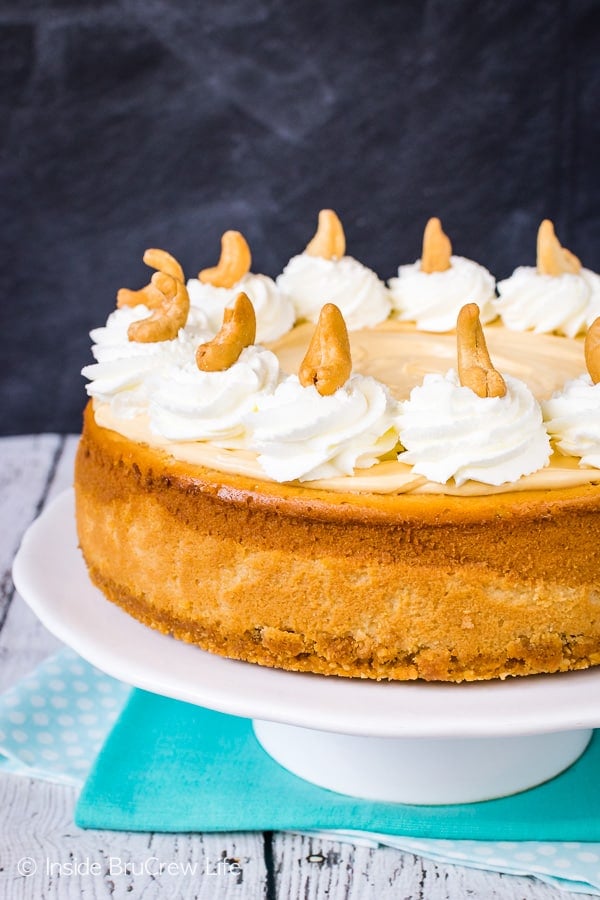 Tips for making this Caramel Cashew Cheesecake:
Line the bottom of a 9-inch springform pan with parchment paper. Place a large sheet pan on the very bottom rack of your oven and fill it halfway. Start preheat the oven.
Place the cashews in a food processor and pulse until finely chopped. Be careful though because you do not want to make cashew butter.
Mix the chopped nuts, graham cracker crumbs, and melted butter in a bowl. Press the mixture evenly into the bottom of the springform pan.
Beat the cream cheese and sugar until creamy. Add the cream, vanilla, flour, and caramel topping to the mixture and beat again until creamy.
Add the eggs one at a time while you are mixing the batter. Do not over mix the cheesecake batter once the eggs are added. This will incorporate too much air which can cause cracks as your cheesecake bakes.
Pour the cheesecake batter onto the crust and bake for one hour. Remove the cheesecake from the oven and place it on a wire rack. Let it cool 5 minutes, then run a knife around the outside edge to loosen it from the pan.
After 2 hours of cooling on the counter, place the caramel cheesecake in the refrigerator and chill it for 4-6 hours or overnight. Remove the cheesecake from the pan and place on a plate.
Beat heavy whipping cream and powdered sugar until stiff peaks form. Mix some of the homemade whipped cream into a thick caramel dip that you would dip apples into.
Spread the caramel cream on top of the chilled cheesecake, then pipe the remaining whipped cream around the edges of the cheesecake and top with cashews.
Serve slices of the cheesecake with caramel ice cream topping and watch everyone devour it.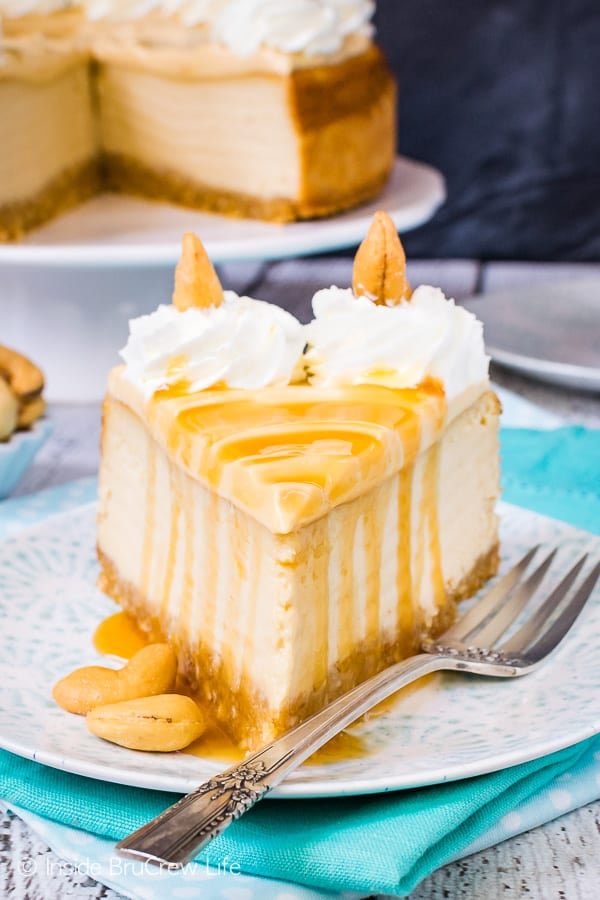 More cheesecake recipes you may enjoy: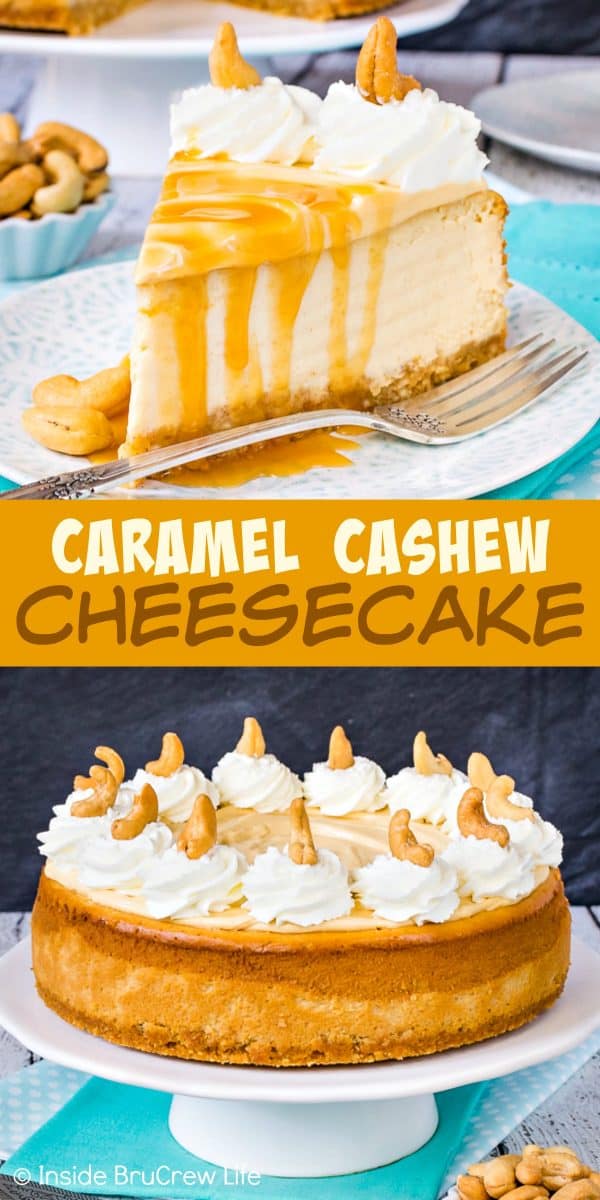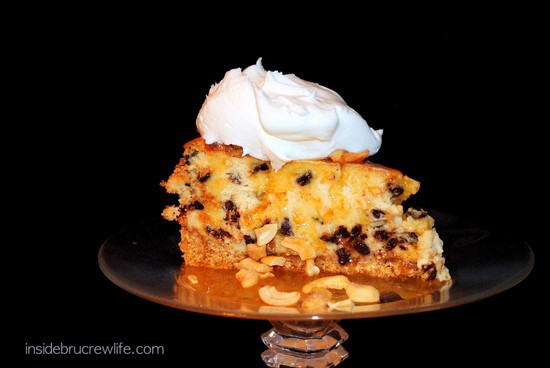 (original picture from December 2009)
*The post and recipe for this Caramel Cashew Cheesecake was originally published on December 17, 2009. The pictures and post have been updated and republished on November 20, 2018.
**Inside BruCrew Life is a participant in the Amazon Services LLC Associate Program. We may receive a small percentage from sales made through these links with no added cost to you. Thank you for helping to support us and for letting us continue to provide free recipes for you.