The Best Peanut Butter Cup Cheesecake is amazing and will disappear right before your very eyes. Chocolate and peanut butter layers with more chocolate needs to happen right away.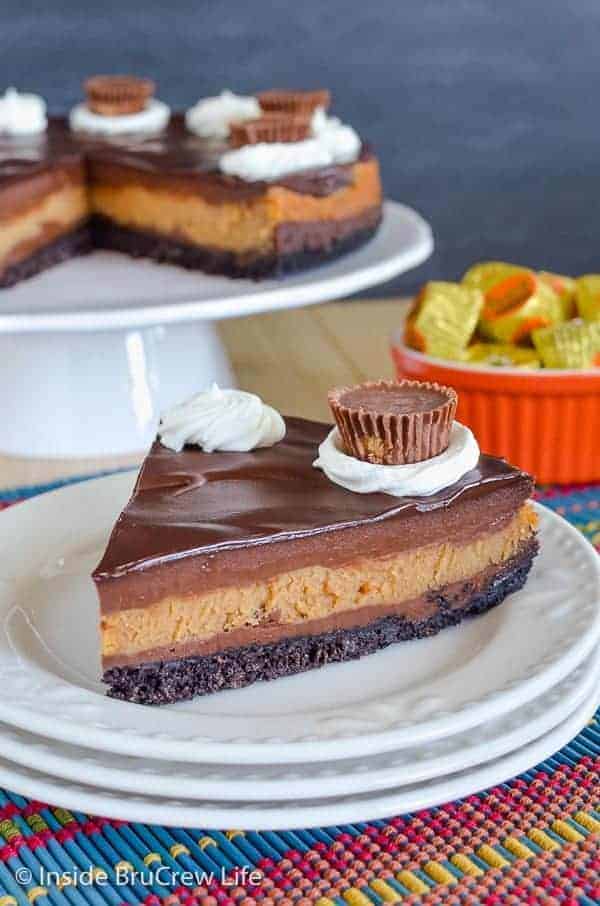 Have you ever had one of "those" days? You know the one I'm talking about, right? The one that makes you wonder if the full moon is out.
Today was that day for me. And the day isn't even over, so I'm kind of scared to see what happens next. It all started the minute the alarm started going off. Yup, that's it. Hahahaha! Just kidding. There's more.
Staying up late and getting up early just isn't a good thing. Especially when you are trying to be dedicated to getting a work out in before doing any work. I didn't really feel like workout out, but I did it anyway because I know I'll feel better later.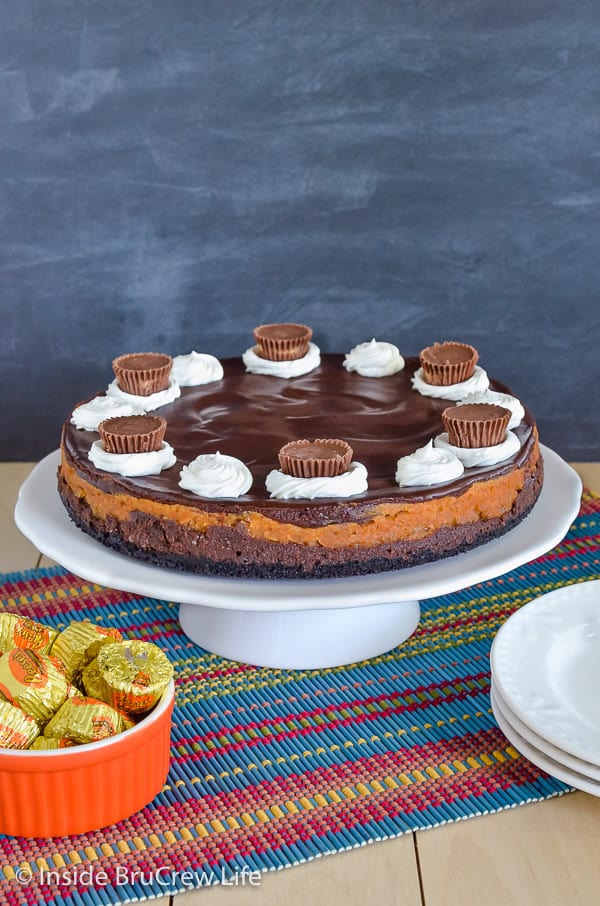 Then I walked to work. Haha! Ok, fine I walked to the other room and got on my computer. Turns out there really must be a full moon because I have had some cray cray comments on the blog this week.
Just think of things like "jerk", "why don't you set a better example for your kids", "junk food", and being "shot and left for the buzzards to peck out". Yup, all real comments. My jaw is hanging open too! You better believe I deleted those comments and moved on with my day.
Oh, and I have been accused of stealing my own pictures. I'm sorry I didn't realize posting my own pictures was wrong. My bad.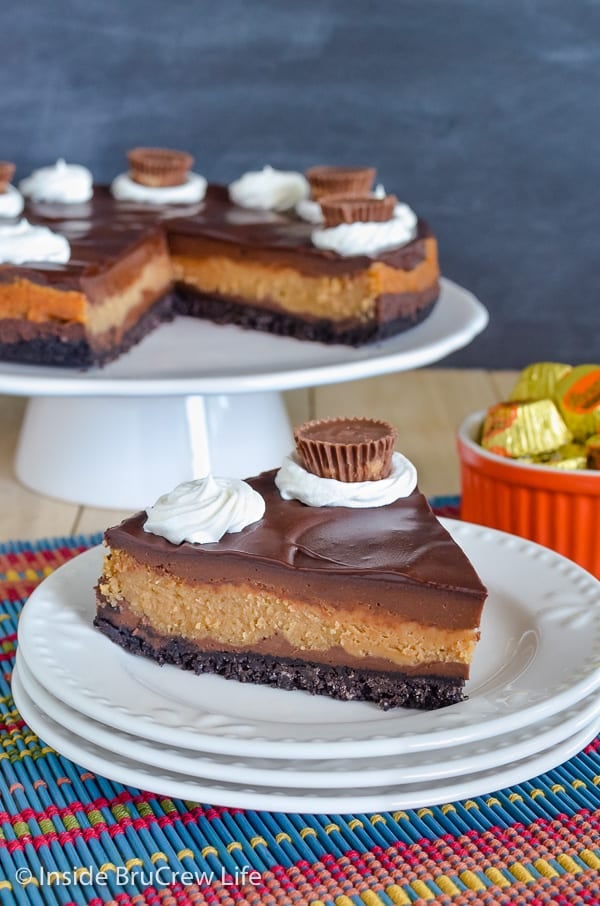 I am feeling the extreme urge to hide in my closet for the rest of the day with a pan of Homemade Chocolate Chip Brownies and some Dark Chocolate Buttercream Frosting.
Don't bother looking for me. I'll be much happier there in the dark with the chocolate.
Actually, these kind of things just make me laugh. Ain't nobody got time for being upset! What else are you supposed to do about it? Well, other than stuff your face with all the chocolate!
So go ahead. Leave me all the comments. Laughter is good for the soul!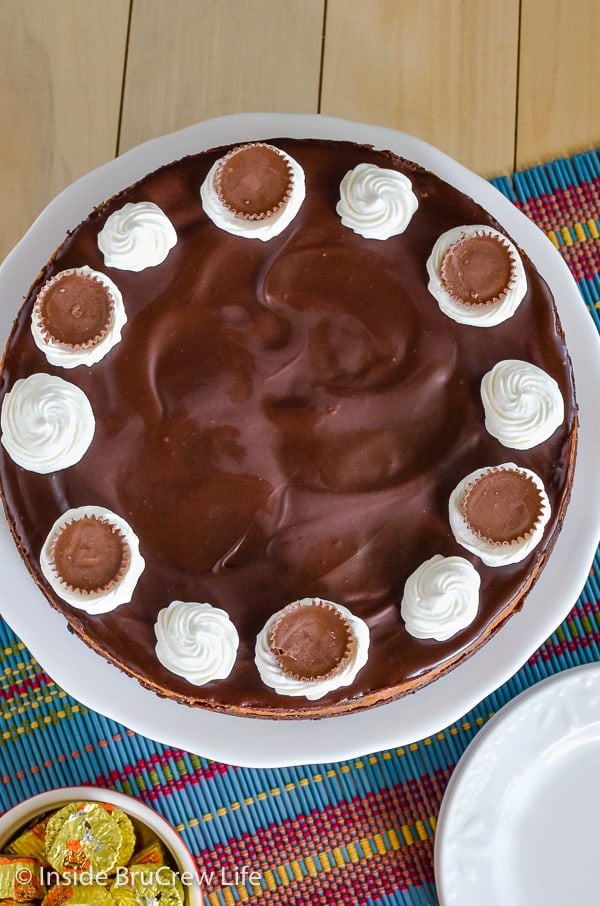 I thought maybe you have had one of those days or weeks and might need some cheesecake goodness too. How about a Peanut Butter Cup Cheesecake with an Oreo crust? Uuuuuhhhhhuuuhhhh, I thought so.
I know you are thinking I'm the crazy one now, but seriously, this is really an easy peanut butter cheesecake to make. You can do it.
If you can't find the chocolate chips and peanut butter cups, check the closet. Someone might have had a "day" and needed to hide for a bit.
How to make a Peanut Butter Cup Cheesecake:
Place a sheet pan of water on the very bottom rack of the oven as it preheats. This steam bath will create moisture in the oven, so the cheesecake does not crack while it bakes.
Mix together cookie crumbs and butter and press them into the bottom of the pan. Use parchment paper in the bottom of the springform pan because it will keep the crust from sticking to the pan.
Start with the peanut butter cheesecake layer next. Beat all the ingredients until creamy and set it aside.
Place the chocolate chips in a saucepan over low heat. Add the cream cheese and stir until melted. Stir in the rest of the ingredients for the chocolate cheesecake layer.
Layer the chocolate and peanut butter layers on the prepared cookie crust. Place the springform pan on the oven rack right over the steaming water and bake it for 55-65 minutes. Pull it out as soon as the timer goes off and let it cool on a wire rack for an hour, then refrigerate it for 4-6 hours.
Heat the whipping cream in the microwave, then pour it over the chocolate chips and let it sit for a minute. Stir until melted and creamy. Pour on top of the chilled cheesecake and spread it out evenly with an angled spatula.
Use a piping bag and icing tip 1M to swirl Cool Whip around the edges. Top each swirl with a peanut butter cup candy.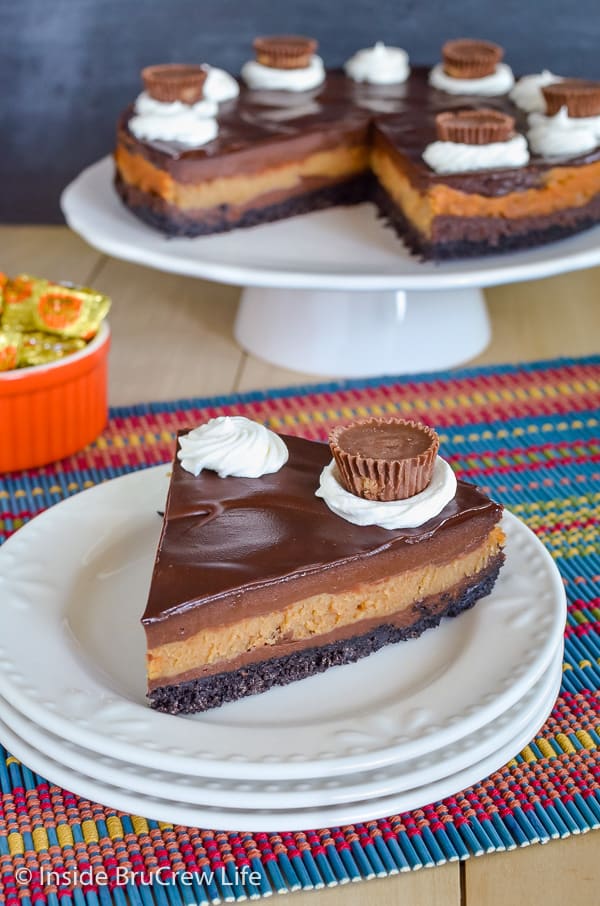 More peanut butter cup recipes you may enjoy:
Swirls of chocolate and peanut butter make these Ultimate Reese's Cheesecake Brownies absolutely irresistible.
The candy center in these Peanut Butter Cup Cookies makes these a family favorite treat. Change out the sprinkles and they are perfect for every holiday.
This Peanut Butter Cup Blondie has a nutty twist on the typical blondies.
You are only 5 ingredients away from this creamy Reese's Fluffernutter Ice Cream. No ice cream maker needed!
Three kinds of peanut butter goodness makes this Reese's Popcorn an unforgettable snack mix.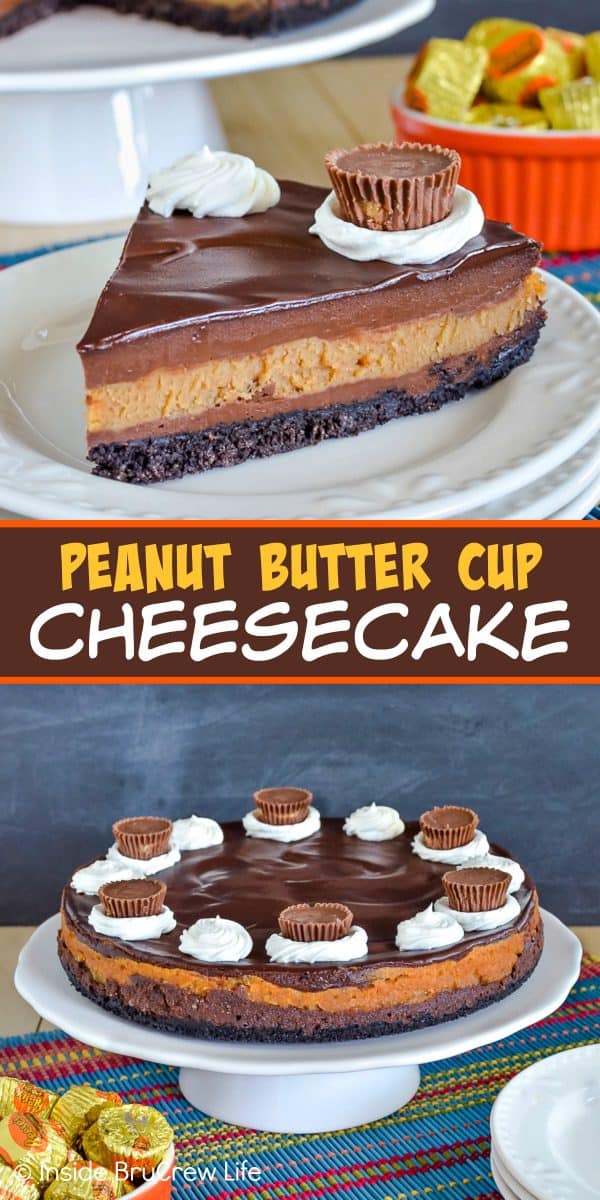 *The post for Peanut Butter Cup Cheesecake was first published on August 29, 2013. The photos have been updated, and it was republished on April 29, 2019.