This Vanilla Bean Cheesecake is the perfect canvas for your favorite pie fillings or toppings. It's also an awesome base recipe for so many different flavor combos.
*This post contains affiliate links. We may receive a small percentage from sales made through these links, but they do not cost you any extra. Thank you for letting us share products we use this way to support our blog.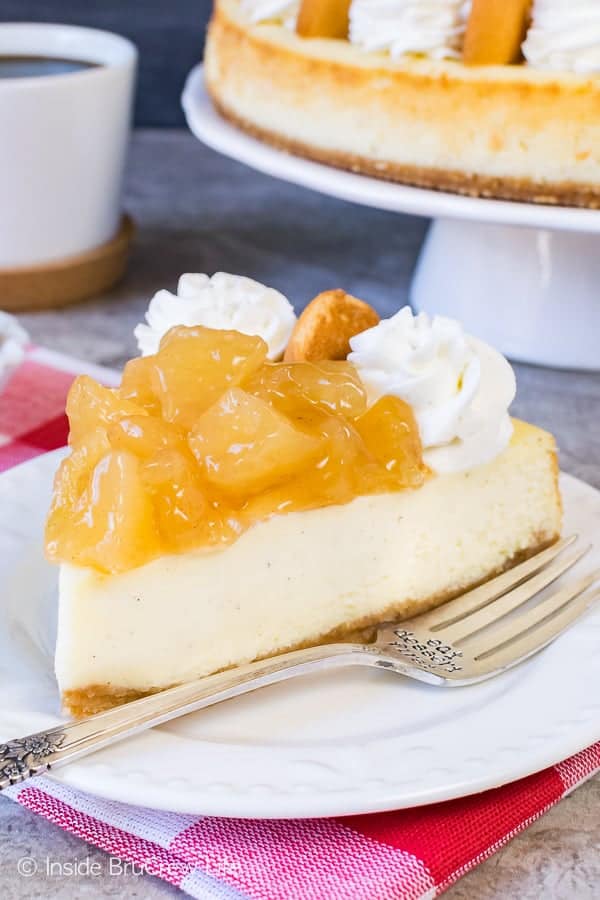 CLICK HERE TO PIN THIS RECIPE FOR LATER!
So today we are talking all things cheesecake again.  It's book release week, so I'm going to go a little bonkers in sharing cheesecake recipes with you.  Lots to share…and to eat. Yum!!!
You would think after making an entire book about cheesecake, that we would be totally over the creamy goodness.
Nope.  You see when you write a book, it actually takes forever for it to be edited,  printed, and published.  We are talking like a year and a half.  Yup, I turned the manuscript in last April. So I had plenty of time to recover from eating all things cheesecake.
Now I'm ready to make and eat my weight in more cheesecake! Who's with me??? Because I didn't even put a dent in my list of cheesecake ideas…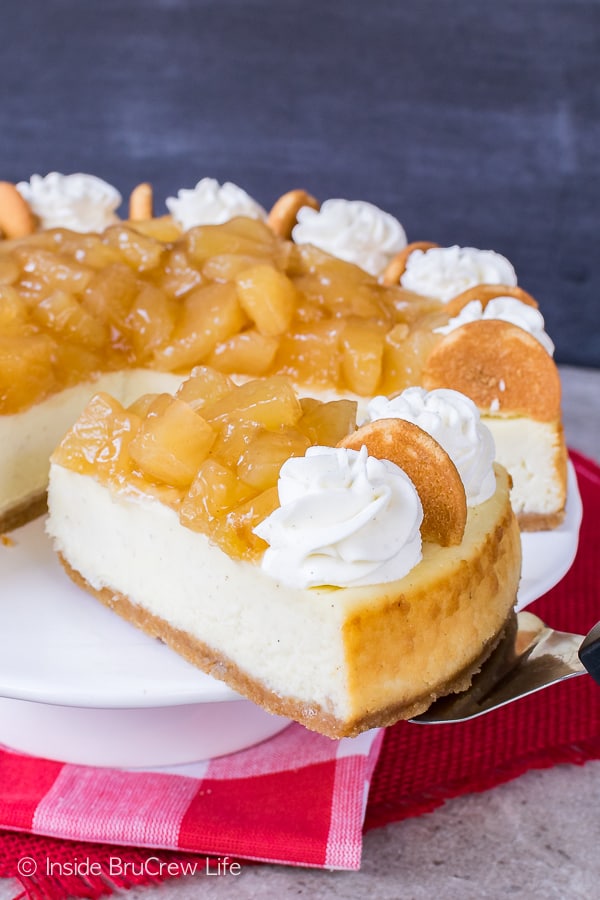 I thought today we would start off simple by sharing an easy full sized cheesecake from my book Cheesecake Love.  Ok, saying "my book" is never going to get old!!!! Ha! Love it! You can enter to win a free copy HERE too.
(If full-sized cheesecakes still scare you after all my tips, go ahead and make these Rainbow Vanilla Cheesecake Bars instead.)
This vanilla bean cheesecake is such a simple and easy recipe to put together.  For this crust, I used Nilla Wafers because duh it's vanilla cheesecake.  But you could totally use any other cookie or graham cracker.
That's the beauty of this book.  So many options and choices.  Don't feel like you have to make the exact combos that I did.  Change it up and use your favorite cookies!
Let's talk about cheesecake and cracks.  At some point in your cheesecake baking career you will experience a crack or too.  No, I'm not talking about those cracks.
Although, eating lots of cheesecake and not having the right fit of pants when you bend over could generate a few undesirable cracks.  Moving on…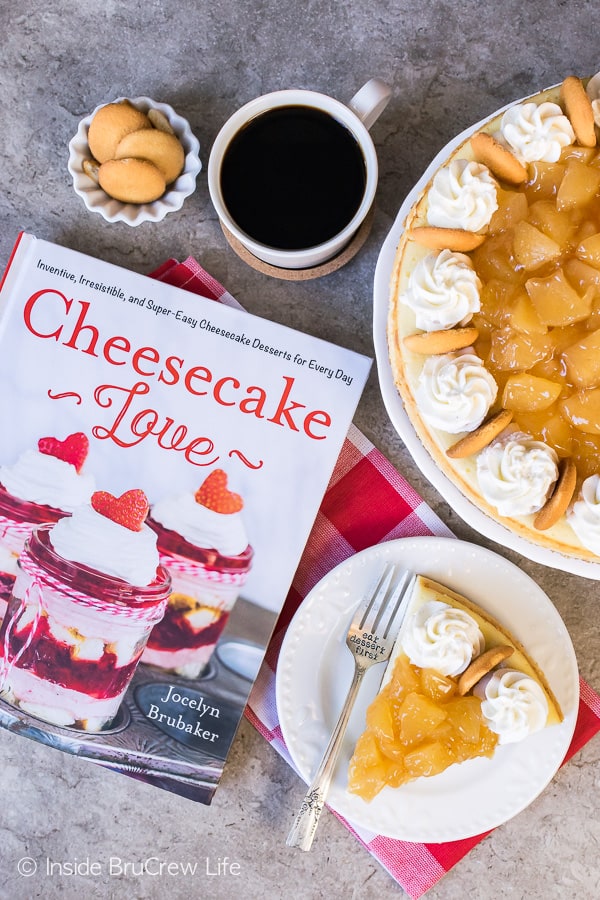 Tips to keep your Vanilla Bean Cheesecake from cracking:
Make sure you beat your softened cream cheese and sugar before you add anything else.  This is when you can beat it extra good.
Once you add the rest of your ingredients like heavy cream, eggs, and chocolate, you do not want to beat it more than necessary.  Beating those extra liquids creates air bubbles that expand and push the batter out when it is baking. This is one reason a cheesecake might crack.
TIP 1: Do not beat your cheesecake batter very much!!!!
Ok, this one is going to create some discussion.  Most people will tell you have to use a water bath when you make a cheesecake.
I'm here to tell you that's NOT true.  You can just add place a pan of water on the very bottom rack of your oven instead. This creates a steam effect which creates a creamy delicious even layer of cheesecake.
Plus, who wants to mess with wrapping your pan with foil and placing it in water? I mean what if it leaks.  Then all that time and those ingredients are ruined.
Trust me!  I wrote an entire book of cheesecakes using the steam method!!! Just make sure you let the steam out before you reach in because that's not the kind of steam facial you want.
TIP 2: Steam bath a cheesecake because it's easier and less work.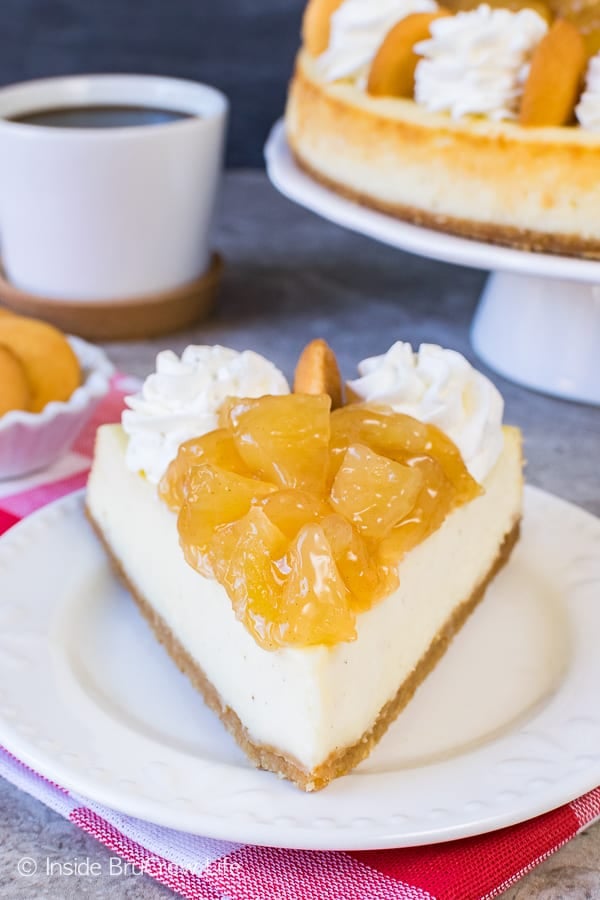 Another tip that is will bring about more debates is whether to take it out or leave it the oven after the timer goes off.
I NEVER leave my cheesecakes in the oven to cool after baking.  Nope, no way, not going to happen here.  You see leaving your cheesecake in a hot or warm oven will cause it to continue to bake more.
Over baking a cheesecake is another reason your cheesecakes could crack.  Since I'm all about avoiding cracks, I like to pull mine out right away and place them on a wire rack.
Let them cool for 5 minutes and then run a knife around the edges.  This will loosen the cheesecake from the springform pan because as a cheesecake coolest, it also shrinks.  What do you think happens when a cheesecake shrinks and it is attached to the pan???  Yup, a big ole crack right down the center!
TIP 3 and 4: Remove the cheesecake from the oven when the timer goes off. Loosen the edges of the cheesecake from the pan within 5 minutes.
After all those tips, you know what?  A crack may or may not happen.  If it does, just cover it up with your favorite pie filling or whipped topping. This cheesecake you are staring out DID NOT crack but since it's fall, I added my favorite homemade apple pie filling to the top.
Swirls of vanilla bean whipped topping and more vanilla wafers around the edges also make it look so pretty!
TIP 5: Share this vanilla bean cheesecake with your friends. Then get ready for the phone calls asking for more cheesecake. True story!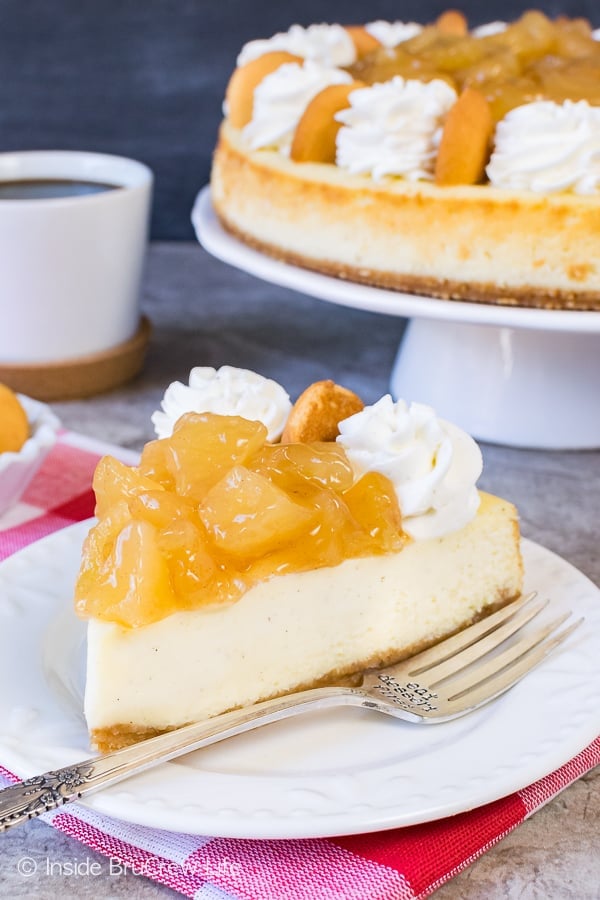 More cheesecake recipes you need to try:
Stay up to date on all the BruCrew baking here:
FACEBOOK | PINTEREST | GOOGLE+ | TWITTER | INSTAGRAM | BLOGLOVIN
 Sign up to receive an email in your inbox for each new recipe:
EMAIL SUBSCRIPTION
I also created a fun new Facebook group, and I would love for you to join. It's a group where you can share your favorite recipes, ask questions, share photos, and see what's new with the BruCrew. If you would like to check it out, you can request to join HERE.
Vanilla Bean Cheesecake recipe:
Yield: 1 - 10 inch cheesecake (14 slices)
Vanilla Bean Cheesecake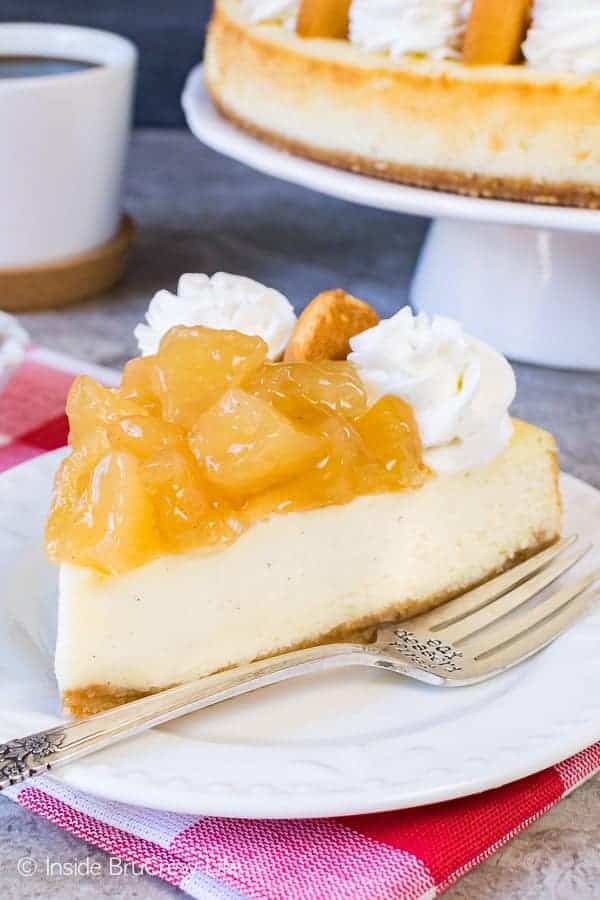 This Vanilla Bean Cheesecake is the perfect canvas for your favorite pie filling or topping. Change out the toppings based on the party or the season.
Cook Time
1 hour
20 minutes
Total Time
1 hour
50 minutes
Ingredients
For the Crust
50 regular-sized Nilla Wafers
1/4 cup sugar
6 Tablespoons butter, melted
For the Cheesecake
4 - 8 ounce packages cream cheese, softened
1 1/2 cups sugar
1/2 cup heavy cream
1 Tablespoon vanilla bean paste
4 large eggs
For the Topping
1 cup heavy cream
1/4 cup powdered sugar
1/2 teaspoon vanilla bean paste
extra Nilla Wafers, cut in half, if desired
Instructions
Place a large baking sheet on the very bottom rack of your oven and fill it halfway with water. Preheat the oven to 325 degrees. Line a 10-inch springform pan with parchment paper.
Pulse the cookies in a food processor until they are crushed. Mix together the crumbs, sugar, and butter until it resembles coarse sand. Press the crumbs evenly into the bottom of the prepared pan.
Beat the cream cheese until creamy. Add the sugar and beat until smooth.
Add the heavy cream and vanilla bean paste and beat until creamy.
Add the eggs one at a time, mixing well after each addition. Make sure the eggs are fully incorporated, but do not over beat the batter.
Pour the batter onto the prepared crust. Place the pan on the oven rack right above the tray of water. Bake for 1 hour and 20 minutes.
Remove the cheesecake from the oven and place it on a wire rack. Let it cool for 5 minutes, then run a knife around the edge of the cheesecake to loosen it from the pan.
Let the cheesecake cool for 1 hour, then refrigerate it for 4-6 hours, or until completely chilled.
Detach the springform pan and remove the cheesecake. Peel off the parchment paper and place on a plate.
Chill a metal bowl and mixer whisk attachment in the freezer for 30 minutes.
Beat the heavy whipping cream, sugar, and vanilla bean paste on high speed until stiff peaks form.
Pipe the whipped cream around the edges using a piping bag and frosting tip 1M. Place the Nilla Wafer halves in between the swirls.
Spoon the pie filling into the center of the cheesecake.
Recommended Products
As an Amazon Associate and member of other affiliate programs, I earn from qualifying purchases.
Nutrition Information:
Yield:
14
Serving Size:
1
Amount Per Serving:
Calories:

560
Total Fat:

40g
Saturated Fat:

23g
Trans Fat:

1g
Unsaturated Fat:

13g
Cholesterol:

161mg
Sodium:

331mg
Carbohydrates:

45g
Fiber:

0g
Sugar:

37g
Protein:

7g