This Vanilla Bean Cheesecake is the perfect canvas for your favorite pie fillings or toppings. It's also an awesome base recipe for so many different flavor combos.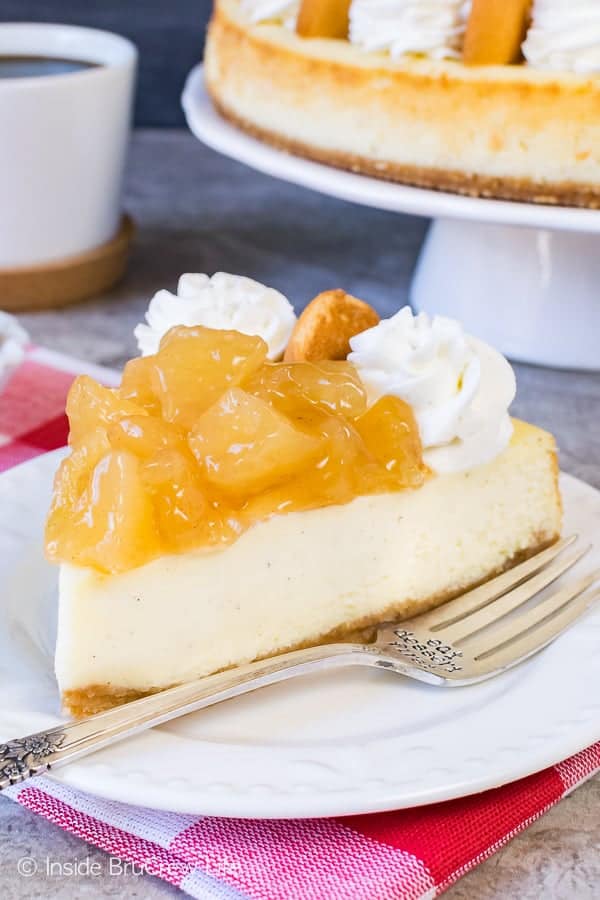 So today we are talking all things cheesecake again. It's book release week, so I'm going to go a little bonkers in sharing cheesecake recipes with you. Lots to share...and to eat. Yum!!!
You would think after making an entire book about cheesecake, that we would be totally over the creamy goodness.
Nope. You see when you write a book, it actually takes forever for it to be edited, printed, and published. We are talking like a year and a half. Yup, I turned the manuscript in last April. So I had plenty of time to recover from eating all things cheesecake.
Now I'm ready to make and eat my weight in more cheesecake! Who's with me??? Because I didn't even put a dent in my list of cheesecake ideas...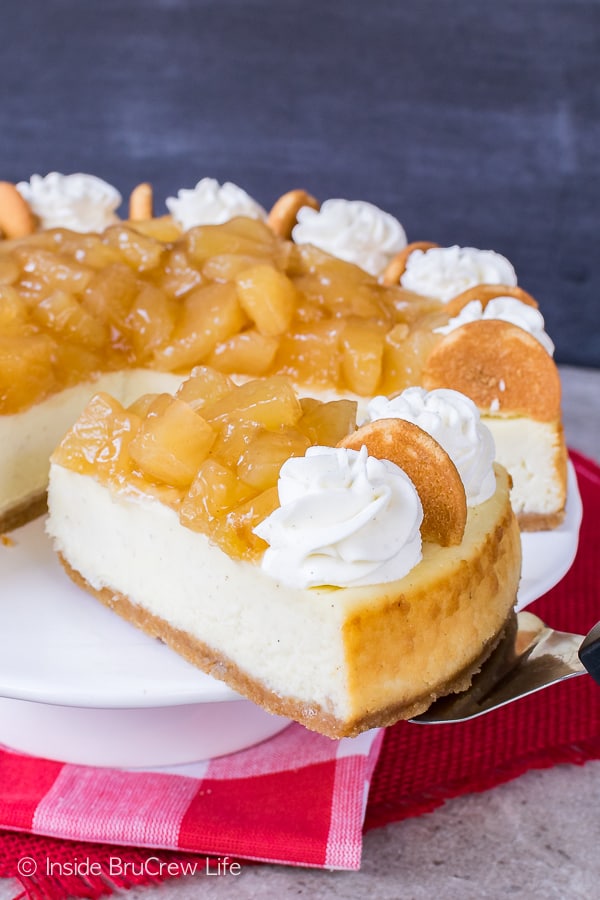 I thought today we would start off simple by sharing an easy full sized cheesecake from my cookbook Cheesecake Love. Ok, saying "my book" is never going to get old!!!! Ha! Love it!
(If full-sized cheesecakes still scare you after all my tips, go ahead and make these Rainbow Vanilla Cheesecake Bars instead.)
This Vanilla Bean Cheesecake is such a simple and easy recipe to put together. For this crust, I used Nilla Wafers because it is vanilla cheesecake. But you could totally use any other cookie or even graham crackers.
That's the beauty of this cheesecake cookbook. There are so many options and choices that you can use to make the perfect cheesecake. Don't feel like you have to make the exact combos that I did. Change it up and use your favorite cookies!
Let's talk about cheesecake and cracks. At some point in your cheesecake baking career you will experience a crack or too. No, I'm not talking about those cracks.
Although, eating lots of cheesecake and not having the right fit of pants when you bend over could generate a few undesirable cracks. Moving on...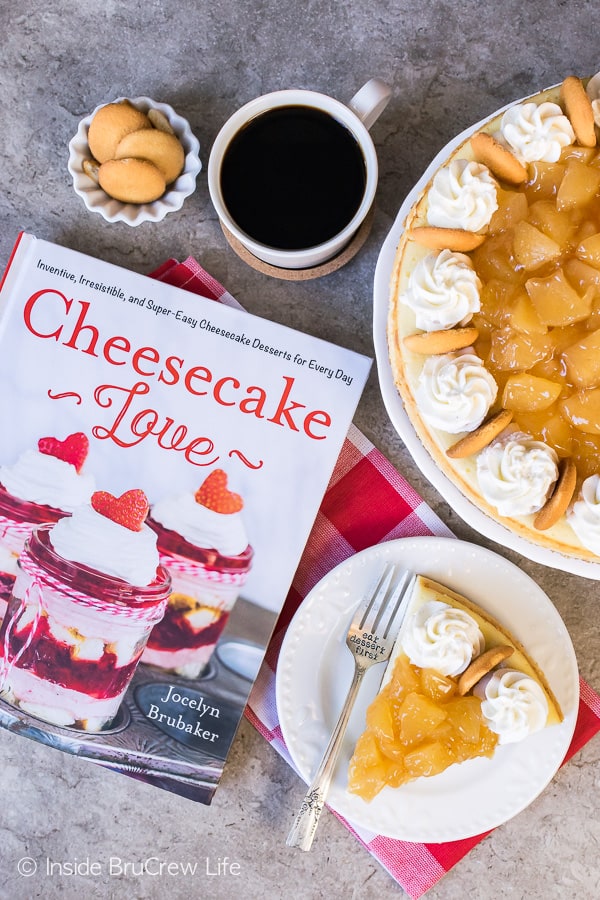 How to keep your Cheesecake from cracking:
TIP 1: Do not beat your cheesecake batter very much!!!!
Make sure you beat your softened cream cheese and sugar before you add anything else. This is when you can beat it extra good.
Once you add the rest of your ingredients like heavy cream, eggs, and chocolate, you do not want to beat it more than necessary.
Beating those extra liquids creates air bubbles that expand and push the batter out when it is baking. This is one reason a cheesecake might crack.
TIP 2: Steam bath a cheesecake because it's easier and less work.
Ok, this one is going to create some discussion. Most people will tell you have to use a water bath when you make a cheesecake.
I'm here to tell you that's NOT true. You can just add place a pan of water on the very bottom rack of your oven instead.
This creates a steam bath effect which creates a creamy delicious even layer of cheesecake.
Plus, who wants to mess with wrapping your pan with foil and placing it in water? I mean what if it leaks?!?!? Then all that time and those ingredients are ruined.
Trust me on this tip! I wrote an entire book of cheesecakes using the steam method!!! Just make sure you let the steam out before you reach in because that's not the kind of steam facial you want.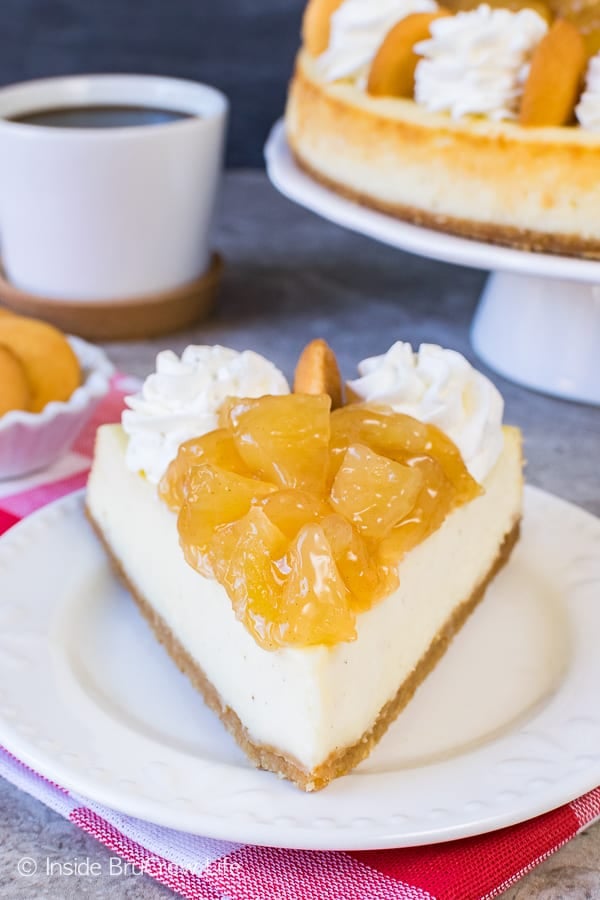 TIP 3: Remove the cheesecake from the oven when the timer goes off.
Another tip that is will bring about more debates is whether to take it out or leave it the oven after the timer goes off.
A cheesecake that is left in a hot or warm oven will continue to bake.
Over baking a cheesecake is another reason your cheesecakes could crack. Pull it out right away and place the cheesecake on a wire rack too cool.
TIP 4: Loosen the edges of the cheesecake from the pan within 5 minutes.
Let the cheesecake cool for 5 minutes and then run a knife around the edges. This will loosen the cheesecake from the springform pan because as a cheesecake coolest, it also shrinks.
When a cheesecake shrinks and it is attached to the pan, you will end up with big ole crack right down the center!
TIP 5: If your cheesecake cracks, cover it with some type of topping.
After all those tips, you know what? A crack may or may not happen.
If it does, just cover it up with your favorite pie filling or whipped topping. One of my favorite toppings is this Homemade Apple Pie Filling.
Swirls of vanilla bean whipped topping or Cool Whip is a great way to cover cracks.
A chocolate ganache covering the top of the best cheesecake will hide any cracks or flaws.
TIP 5: Share this Vanilla Bean Cheesecake with your friends.
And then get ready for the phone calls asking for more cheesecake. True story!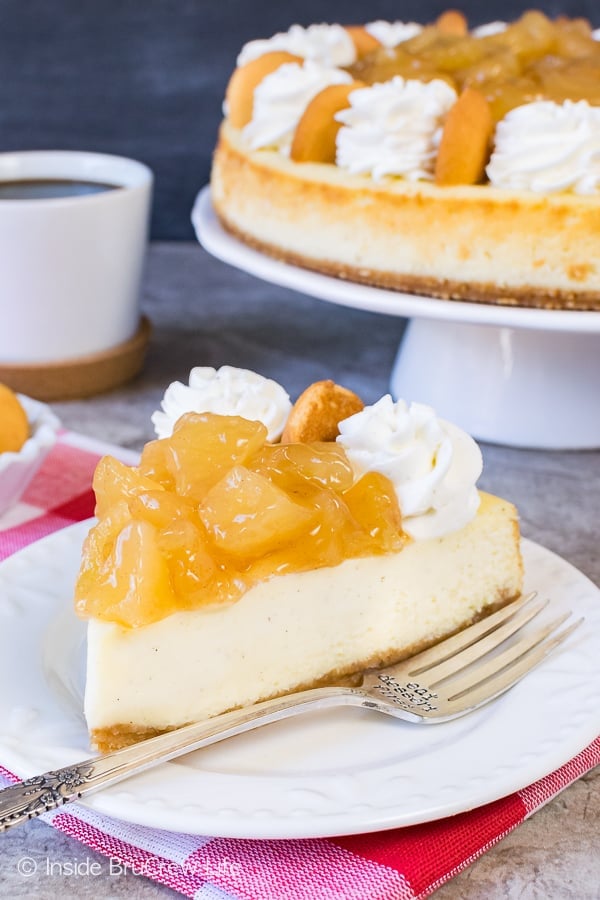 More cheesecake recipes you need to try:

*This post contains affiliate links. We may receive a small percentage from sales made through these links, but they do not cost you any extra. Thank you for letting us share products we use this way to support our blog.