Do you know what happens when you add candy bars to muffins? You get Loaded Butterfinger Banana Muffins!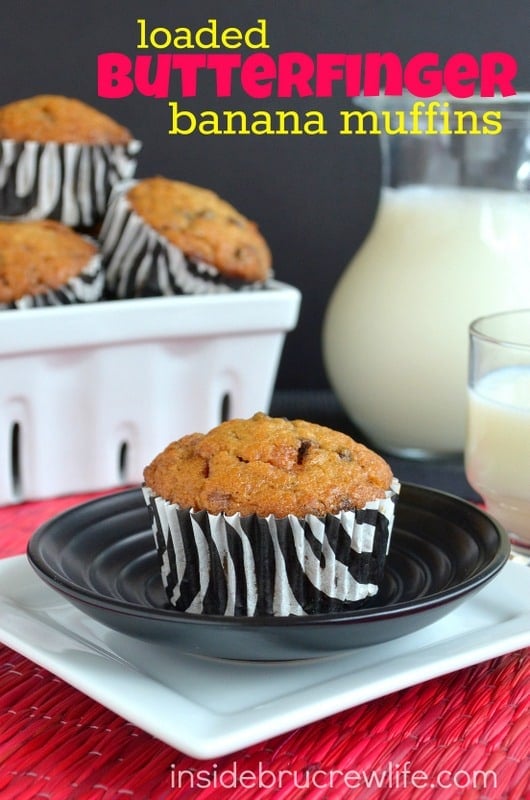 Oh, don't act all surprised that I put sweets in my breakfast food!!! It's kind of a thing I do around these parts. I mean there are cookies in these berry burst Oreo scones!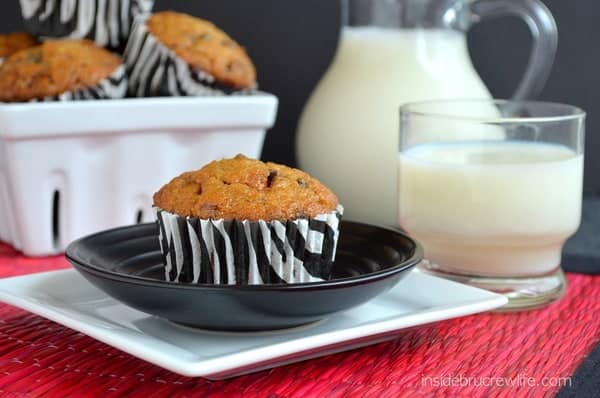 Back to these muffins...if you add candy to them, you and everyone in your house will eat them for breakfast, morning snack, lunch, after lunch snack, dinner, and bed time snack. Basically those candy filled muffins disappear like hot cakes. It will make you feel all warm and cozy inside because missing muffins means this is a good recipe...a really, REALLY good one!!!
And because they have banana in them, I like to count them as one of the healthy foods from the food pyramid. Isn't that how it works?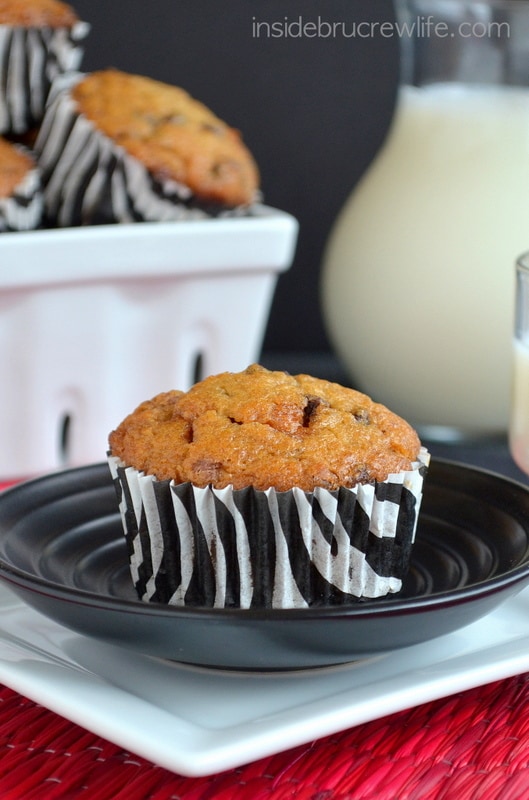 Have you guys been to Target in the past few days? Swimwear!!! It's like 28* outside, and they are shoving the itsy bitsy polkadots at us!!! Don't they know that I have already failed at the resolution and will not be able to squeeze into one of those anytime soon? Probably the candy laden muffins fault...not mine, no, not mine at all.
I haven't posted very many "get skinny" recipes here. Oh, I like to change it up a little every once in a while, and I will add applesauce and yogurt to some of my baked goodies. That's about as healthy as it gets around here. And if that's what you are after...you might like these Tropical Smoothie Muffins instead.
Maybe all the skimpwear is trying to tell me I need to mend my baking ways...I'll think about it and get back to you. But in the mean time ,if you are after a yummy banana muffin with pockets of melted chips and candy pieces. I've got you covered. You are very welcome!
And if you are after a plain banana muffin ( who are you anyway?) just leave out the candy bars and chocolate chips. These banana muffins are good on their own...but I recommend the extras. But that's me boycotting the bathing suit craze right now.
Stick with me die hard sugar fans...I'll keep shoving chocolate chips and candy bars into muffins and scones like there's no tomorrow.
Well, there will be a tomorrow. It will just involve another candy laden treat...
and NO swimwear!!!
Interested in adding more Butterfinger or Banana to your diet?
Here are a few of my favorites from over the years...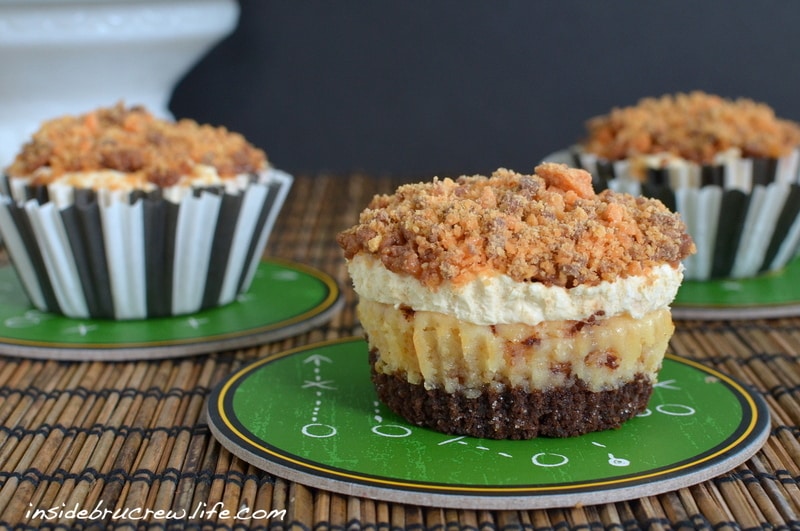 BUTTERFINGER MOUSSE CHEESECAKES