Fresh baked Sour Cream Banana Donuts get a fun flair with different toppings. Enjoy cookies, chocolate chips, or sprinkles for breakfast!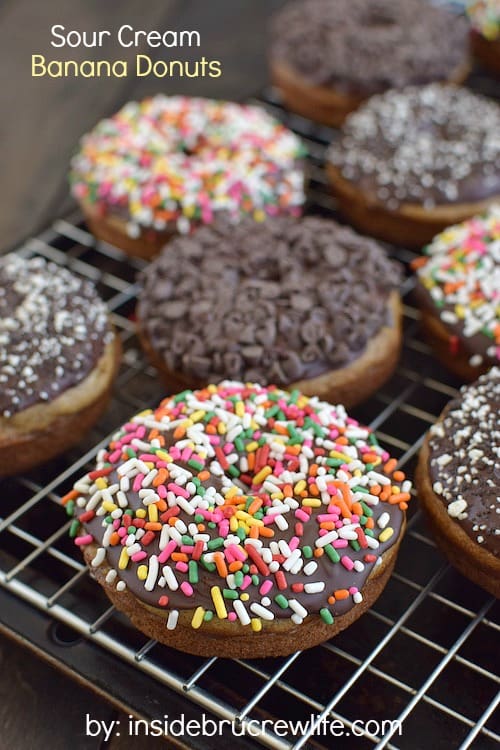 *Pictures Updated February 2015*
This Friday morning it is a chilly 0 degrees outside. I am thinking it is a good day to stay inside…my body is not a fan of temperatures that low.
So, for now I am warm and toasty inside and not going out until I'm forced to. I think maybe we should bake some Sour Cream Banana Donuts instead.
What to do on such a bright cheery FROZEN day? Put on some slippers. Check. Crank the heat a little more. Check. Maybe do a little more cleaning. I will think about checking that one.
And definitely eat a donut or two. Check. Check!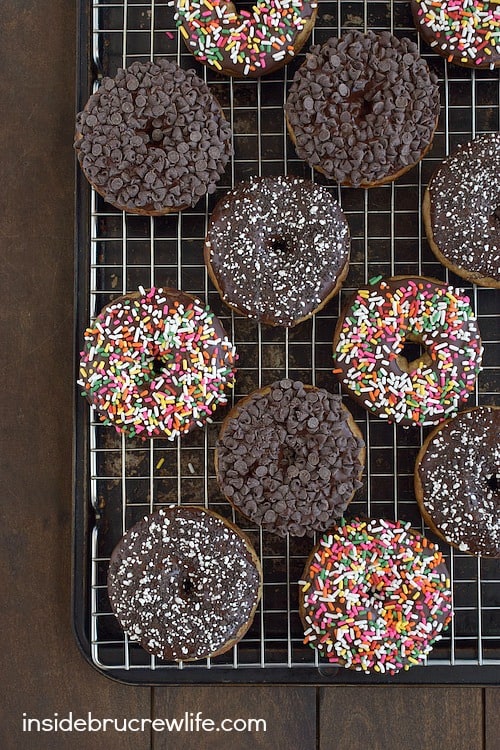 Why is it that donuts are an acceptable breakfast food?  If I told you I was going to eat cake or pie, I am sure it might bring on a disapproving nod or two…then there are those of us who would just cheer loudly!
Cake and donuts have the same exact ingredients, so what makes one a breakfast item and the other dessert? Just curious.
It definitely isn't going to stop me from consuming either anytime soon!  I love using this donut pan to make fun flavors for my kiddos to enjoy.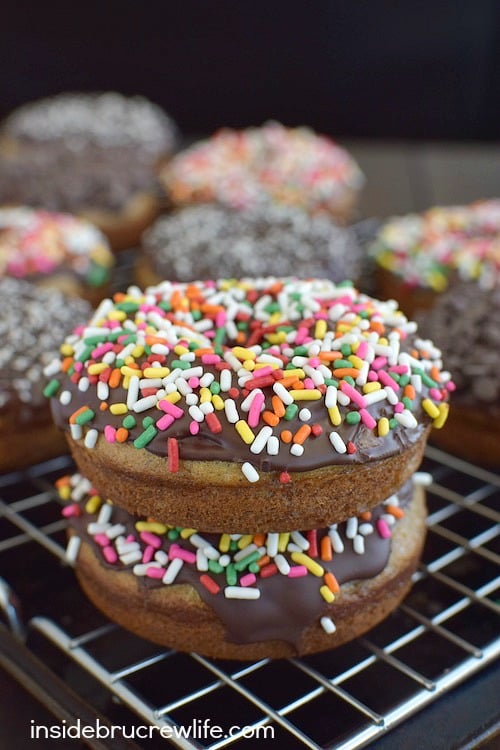 Remember these Apple Cider Donuts I made? This is kinda the same recipe…actually NO it isn't.
I just read through both, and I completely changed up the ingredients for these Sour Cream Banana Donuts.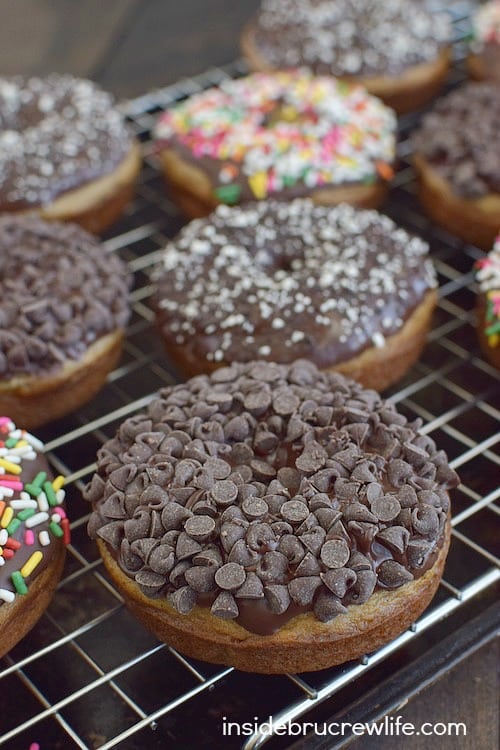 Sour Cream Banana Donuts
Adding a fun chocolate glaze with different sprinkles made these so fun to munch on while it is so cold outside!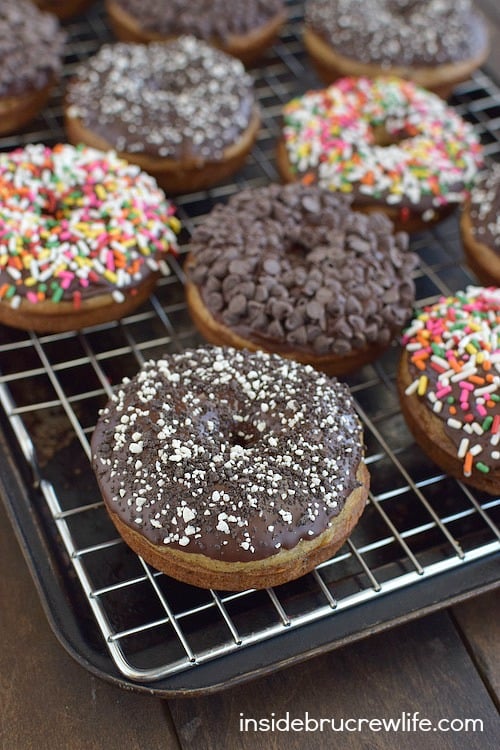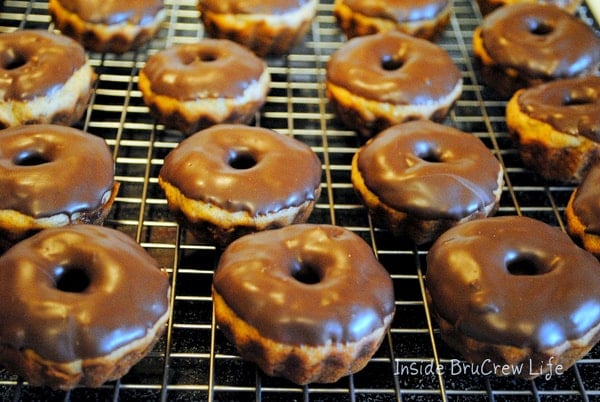 *Original Picture from 2011*
Yield: 18 donuts
Sour Cream Banana Donuts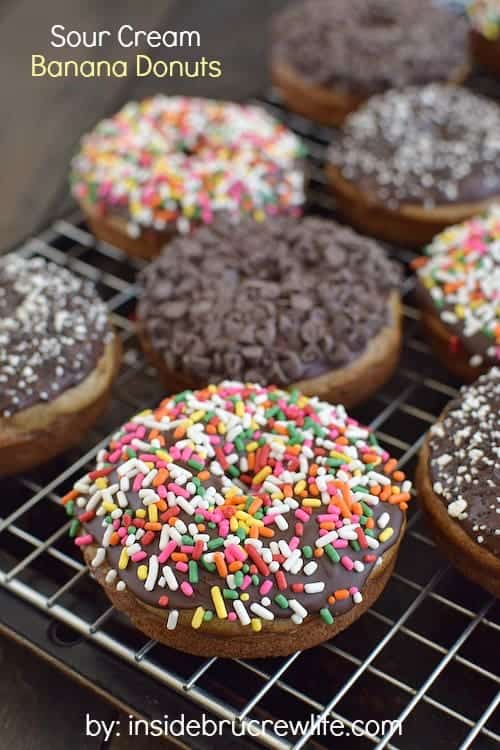 Homemade baked banana donuts with a chocolate topping is the perfect way to start out any day.

Prep Time 15 minutes

Cook Time 12 minutes

Total Time 27 minutes
Ingredients
1/2 cup butter, softened
1 egg
1/2 teaspoon salt
2/3 cup brown sugar
2/3 cup sour cream
1 1/2 cups smashed ripe bananas
2 teaspoons cinnamon
1/2 teaspoon nutmeg
1 1/2 teaspoons baking powder
1 1/2 teaspoons baking soda
2 cups flour
1 cup dark chocolate chips
1 teaspoon shortening
2 Tablespoons sprinkles
2 Tablespoons mini chocolate chips
Instructions
Preheat the oven to 375 degrees. Spray a donut pan with nonstick baking spray.
Sift together the flour, baking powder, baking soda, cinnamon, and nutmeg. Set aside.
Cream the butter, salt and sugar until smooth. Add egg, sour cream, and banana and beat again.
Slowly add the flour mixture and stir until just moistened.
Fill the cavities halfway and bake for 12 minutes. The tops should spring back when finished and be nice and golden brown.
Let the donuts cool in the pan for 2 minutes before removing to a wire rack to cool completely.
Combine the chocolate chips and shortening in a microwave safe bowl. Heat for 30 seconds. Stir and repeat until melted and smooth.
Dip the tops of the donuts and add sprinkles or mini chocolate chips.. Let set. Store in a sealed container on the counter.
Recommended Products
As an Amazon Associate and member of other affiliate programs, I earn from qualifying purchases.
Nutrition Information:
Yield:
18
Serving Size:
1
Amount Per Serving:Calories: 223 Total Fat: 11g Saturated Fat: 6g Trans Fat: 0g Unsaturated Fat: 4g Cholesterol: 30mg Sodium: 256mg Carbohydrates: 29g Fiber: 2g Sugar: 15g Protein: 3g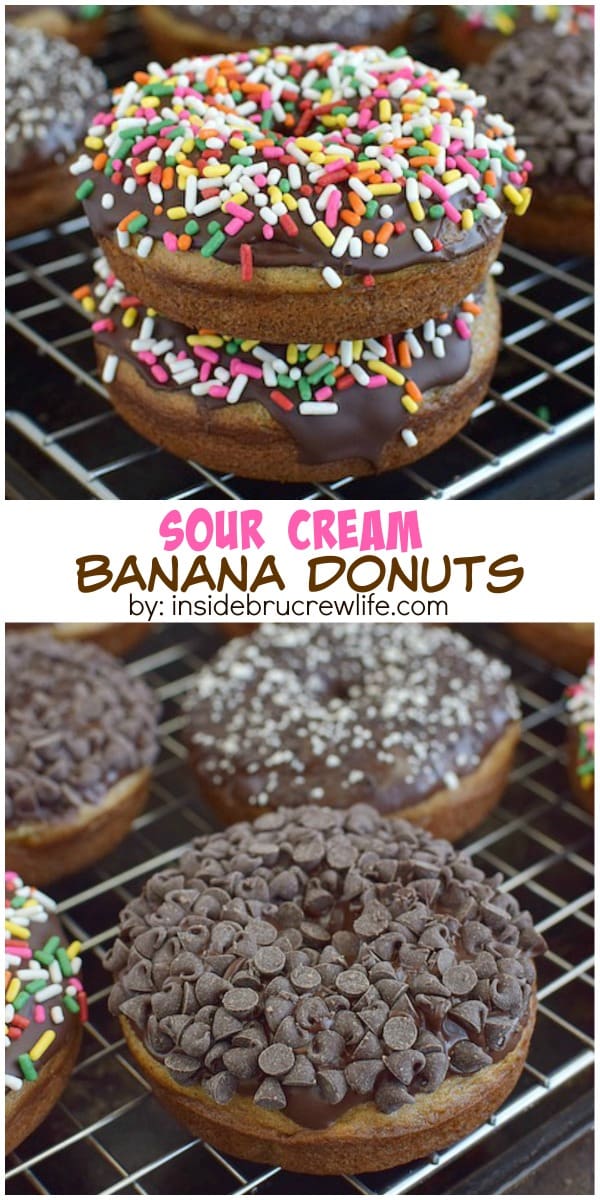 *This post contains an affiliate link.  By clicking on this link or making purchases through this link, I may receive a small percentage of sales.  I will only recommend products that I know and love.