A bowl of this Loaded Cauliflower Soup is the perfect meal to warm you up on a cold winter night. A healthy dinner that looks and tastes like comfort food is a major dinner win.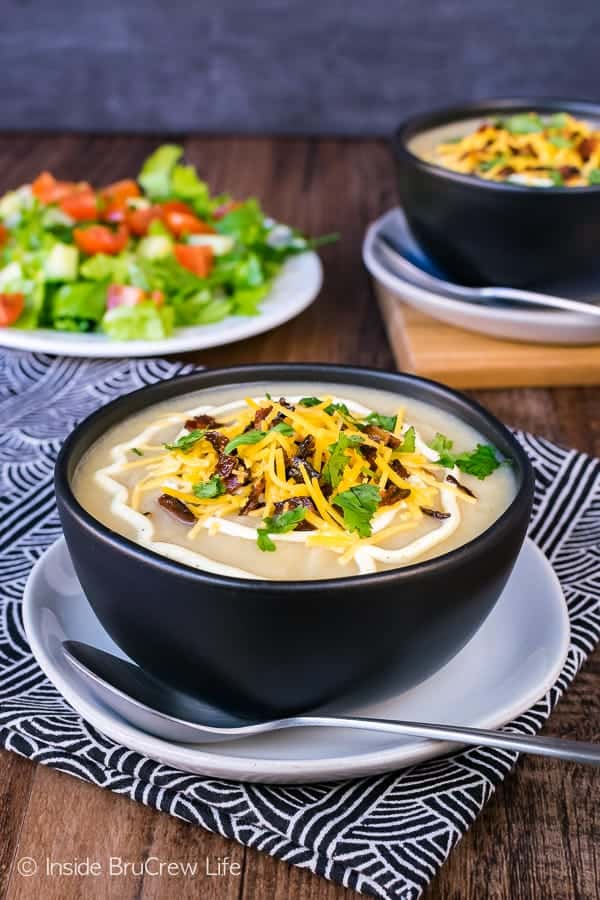 I have decided that cauliflower is the most magical vegetable I know. You can eat it raw with a creamy ranch dip, or you can drizzle it with olive oil and seasonings and make roasted veggies.
You can throw it into a food processor and make this easy cauliflower rice that looks and works in most recipes just like white rice. Mind blown right there! Substitute it for potatoes in this Zuppa Toscana soup and you have a deliciously low carb version of Olive Garden.
And this week we boiled a head of cauliflower and then pureed it to make this creamy "potato" soup. Our kids had absolutely no idea that they were eating cauliflower for dinner. They were absolutely shocked when we shared our little cooking secret.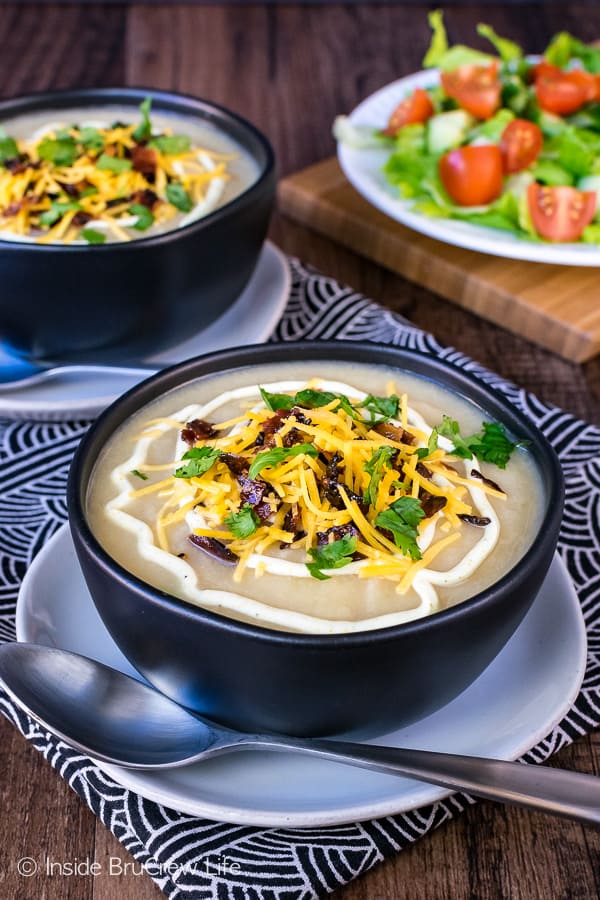 I think they wanted to hate it, but they had already eaten most of it and actually loved it. And our son ate the leftovers the next night, so I'm calling this soup a major win at our dinner table.
Yup, cauliflower is pretty magical. Just don't try to tell my husband that it makes an awesome pizza crust or breadsticks.
We have tried a few different recipes, and he just can't stand it. He would rather melt cheese over sauce in a pan and eat it without a crust.
It's not my favorite that way either, but I don't mind it. I think I would rather stick to using cauliflower in soups and with this coconut curry shrimp though.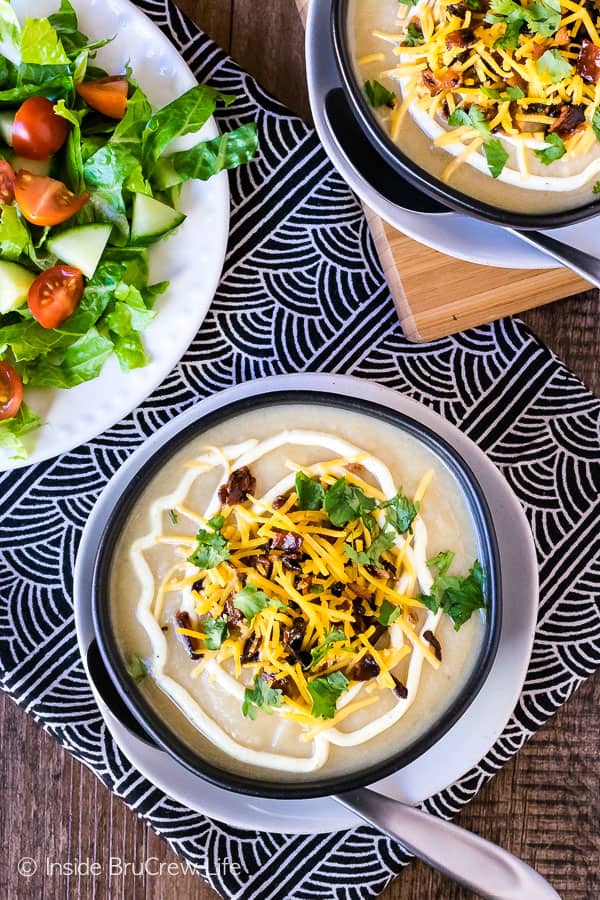 A few years ago I made an easy creamy potato and bacon soup that our family enjoyed during the cold winter months. This past weekend we decided to substitute a large head of cauliflower in place of the potatoes. Cutting out the starchy carbs has been a major part of our healthy eating lately.
Sautéing onions in butter makes this loaded cauliflower soup taste amazing.
The onions caramelize and sweeten as they cook which adds just a depth to the flavor of this soup.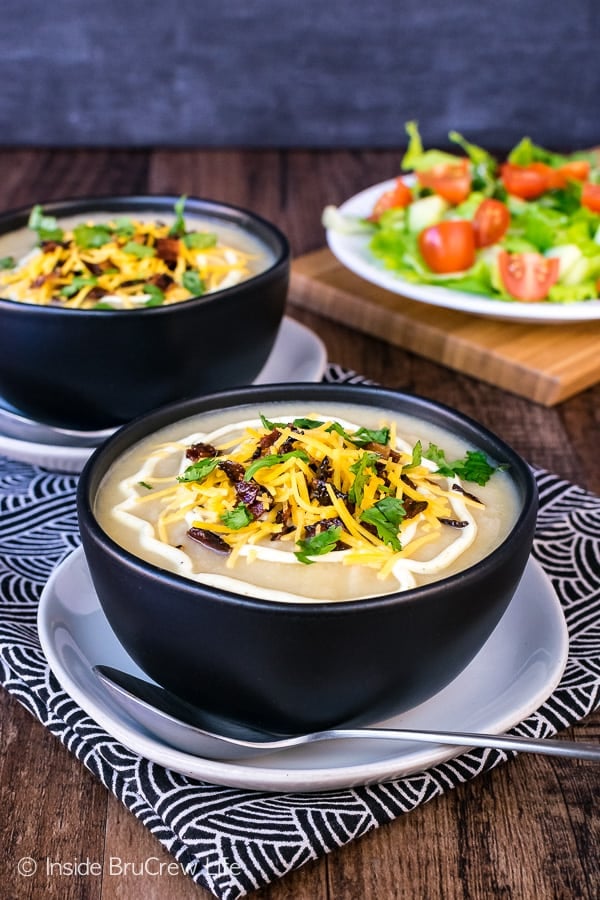 After the onions start to soften and get translucent, add the garlic and cauliflower florets to the pan. Stir and cook these for a few minutes before pouring in the container of chicken broth.
When the broth begins to boil, turn the heat down and simmer for 10-15 minutes or until the cauliflower is very soft.
Puree the soup in a blender in batches, or use a hand held immersion blender to make the soup creamy. Just make sure that you keep the immersion blender below the surface of the soup, or you will have hot soup flying everywhere. Not that I would know about that...
Go ahead and top your bowl of soup with a little bit of crumbled bacon, shredded cheese, and onions or cilantro. You will totally believe that you are eating potato soup!
Products used to make this soup: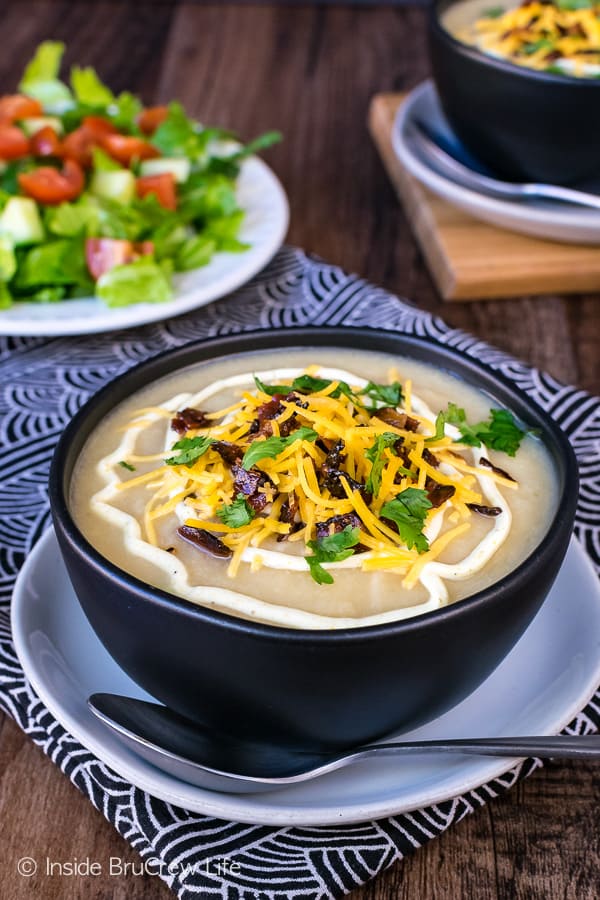 More delicious soup recipes to warm you up:

*This post contains affiliate links. Inside BruCrew Life may receive a very small percentage from sales made through these free links. As always, these do not cost you any extra. Thank you for letting us share products we use this way.