There is nothing like a warm bowl of Loaded Baked Potato Soup when it's cold outside. This potato soup recipe is easy to make and packed with the flavors of a classic baked potato. It's is sure to become a favorite.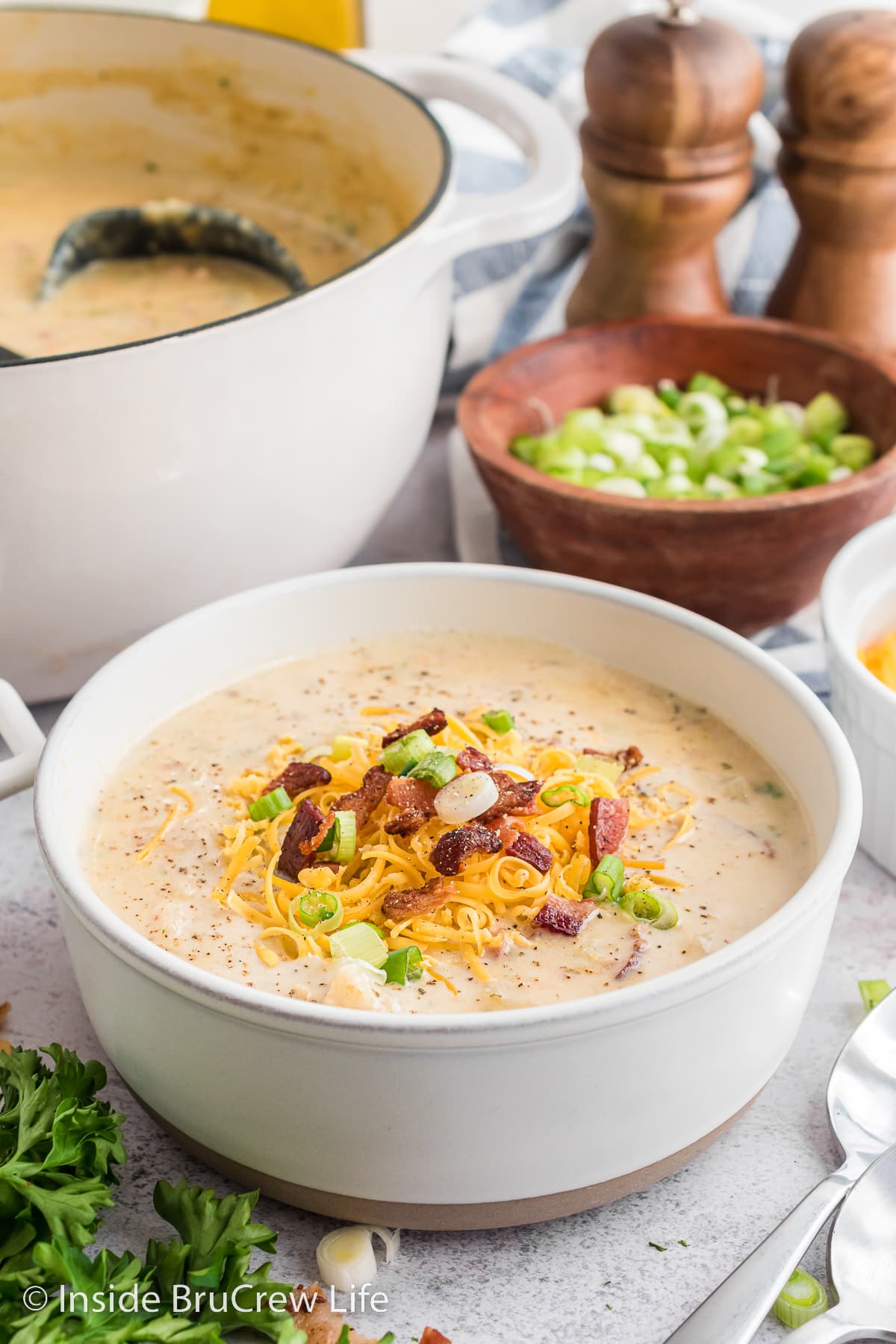 Jump to:
Soup is the perfect comfort food to make during the winter months. There is something so relaxing about eating a warm bowl of soup when it is cold outside.
A few of our favorites are chicken noodle soup, broccoli cheddar soup, or Dr. Pepper chili with a pan of easy skillet cornbread.
Potatoes are an inexpensive ingredient and can be made into so many great things like french fries, potato salad, or a creamy potato bacon soup.
Why this is the Best Potato Soup
This easy baked potato soup has so much flavor from the crispy bacon, shredded cheese, and veggies. Plus, there are no extra ingredients needed to make it thick and creamy.
Ultimate Comfort Food - Everything you love about a baked potato in a creamy bowl of soup.
Hearty and Delicious - Lots of bacon and cheese make this a hearty main-dish soup.
Easy to Customize - Load your soup bowl with all your favorite baked potato toppings.
Key Ingredients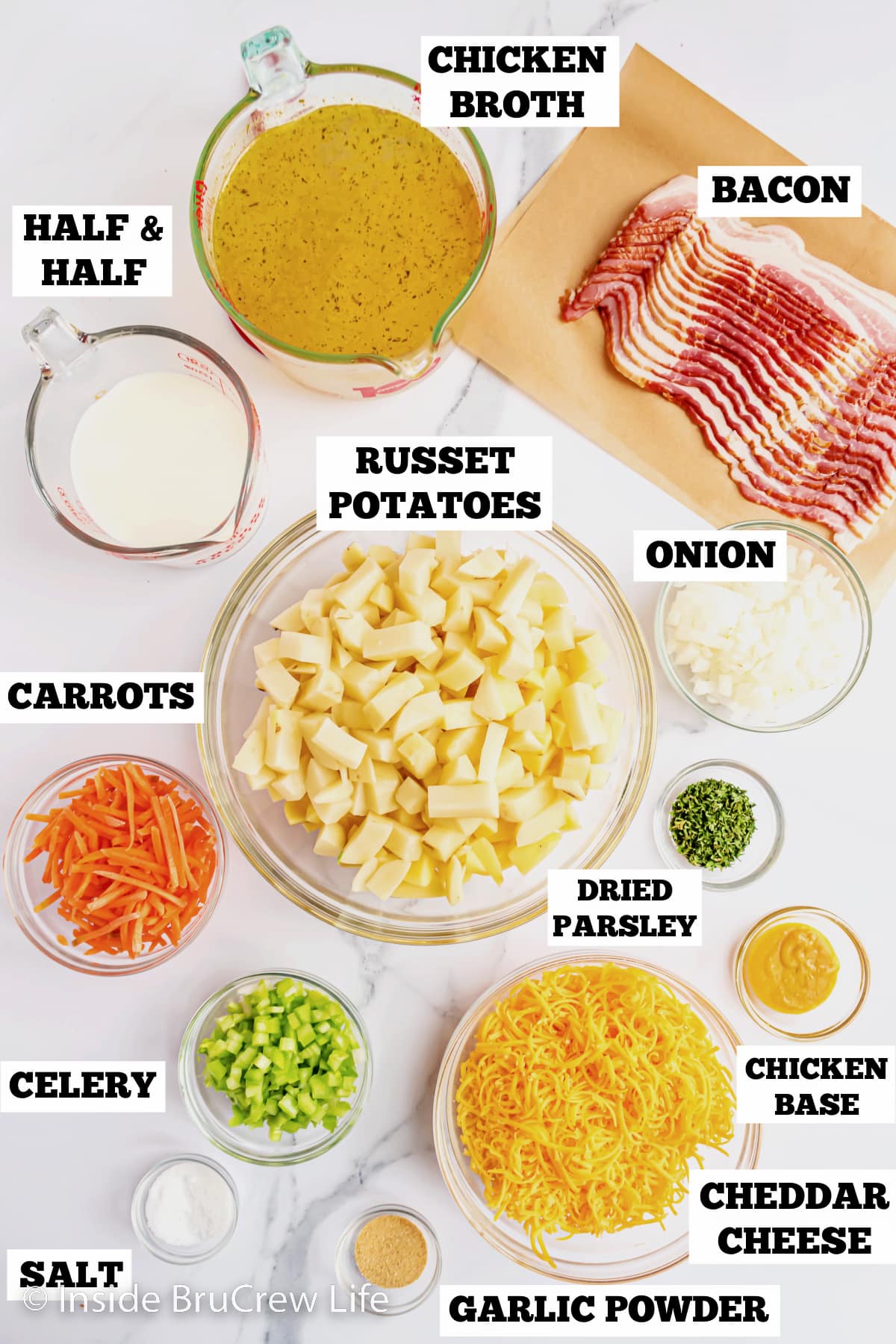 Our recipe for potato soup is easy to make from scratch with basic ingredients. Don't forget to add your favorite baked potato toppings to your bowl of soup.
Bacon - You will need an entire pound of bacon for this soup recipe. It makes the soup extra hearty and more of a main-dish soup.
Vegetables - We like using onions, celery, and carrots for this loaded potato soup.
Potatoes - Russet potatoes will break down the best as they cook in the broth, but you can also use Yukon gold potatoes or red potatoes.
Chicken Base - Adds extra flavor to the broth. The one we like the best is "Better than Boullion"
Seasonings - Salt, pepper, dried parsley, and garlic powder add a good flavor the soup base.
Cheddar Cheese - Helps to thicken the soup and also give it a delicious cheesy flavor. You can use mild, medium, or sharp. For best results, shred a block of cheese.
Half and Half - Adds a creamy and rich flavor to the texture of the soup.
Have extra potatoes, try this pumpkin potato corn chowder or this potato fudge.
How to make Potato Soup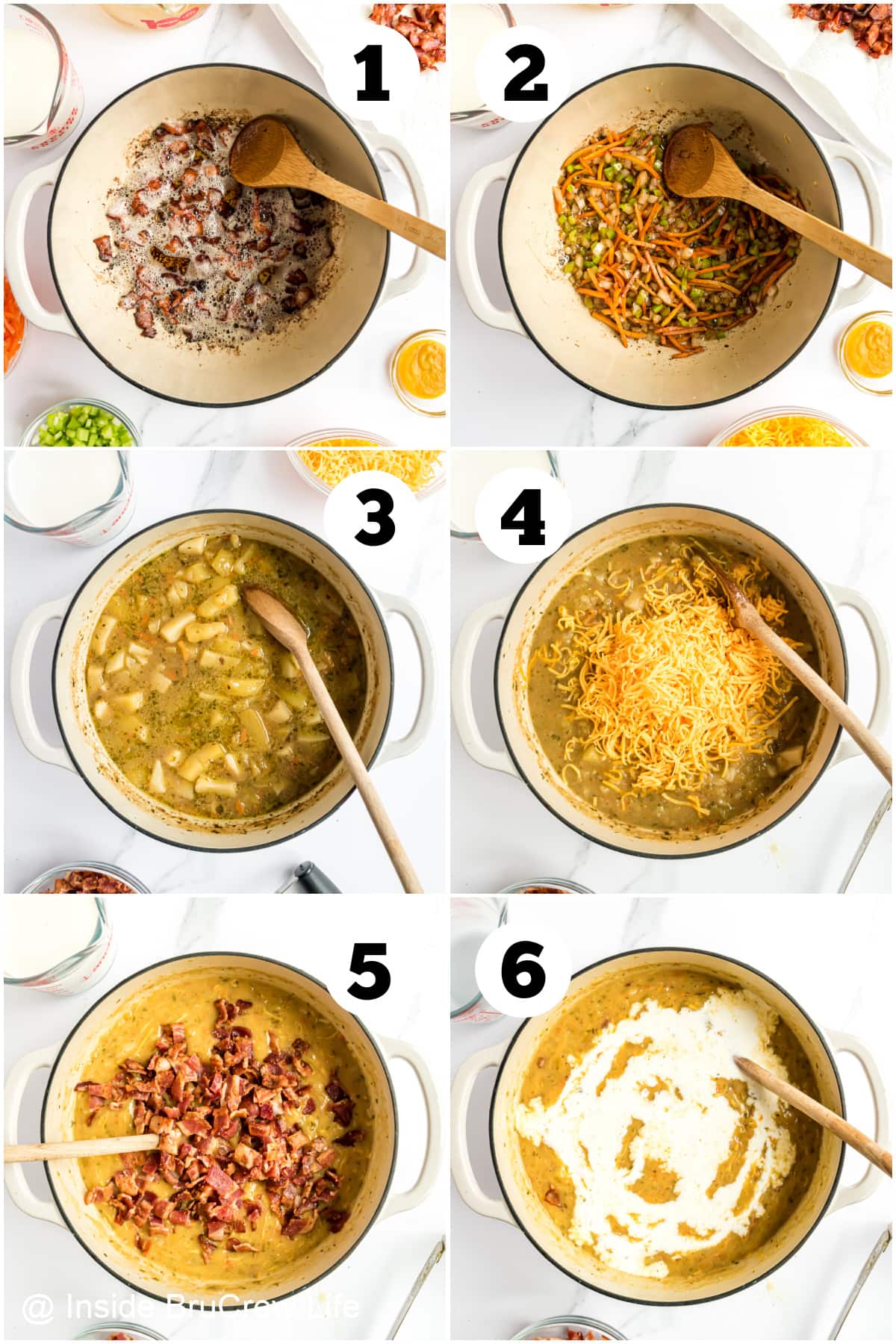 This easy potato soup recipe comes together in minutes with a few simple steps. Let's make a pot together.
Step 1. Saute the bacon. Cut the raw bacon into small pieces and cover the bottom of the pot or Dutch oven. Cook until crispy and done. Repeat until all the bacon is cooked.
Step 2. Cook the vegetables in bacon grease. Drain most of the grease and add the diced veggies. Cook until soft and tender.
Step 3. Add the potatoes, broth, and seasonings. Pour in the broth, all the seasonings, and diced potatoes and bring to a boil. Reduce the heat, cover, and simmer until the potatoes are soft when poked with a fork.
BruCrew Tip: Use a potato masher or immersion blender to mash or puree some of the cooked potatoes. Make sure to leave some of the potatoes for a chunky soup.
Step 4. Stir in cheese. Shred a block of cheese and stir the cheese into the hot broth until everything is melted.
Step 5. Add bacon. Add about ⅔ of the cooked crispy bacon to the pot of soup. Reserve the rest for the topping.
Step 6. Make it creamy. Pour in the half and half and stir until combined. Garnish and serve.
Toppings for Potato Soup
To make a fully loaded bowl of soup, add one or more of these toppings to your bowl.
Sour Cream
Crispy Bacon
Shredded Cheese
Green Onions
Steamed Broccoli
Storage Recommendations
In the Refrigerator - Keep leftover potato soup in an airtight container in the refrigerator for 4-5 days. I do not recommend freezing this soup.
To Reheat - Place in a pot a stovetop over low-medium heat until heated through. A single serving of soup can also be reheated in the microwave.
BruCrew Tip: The soup will thicken after refrigeration, so thin it out with additional broth when reheating.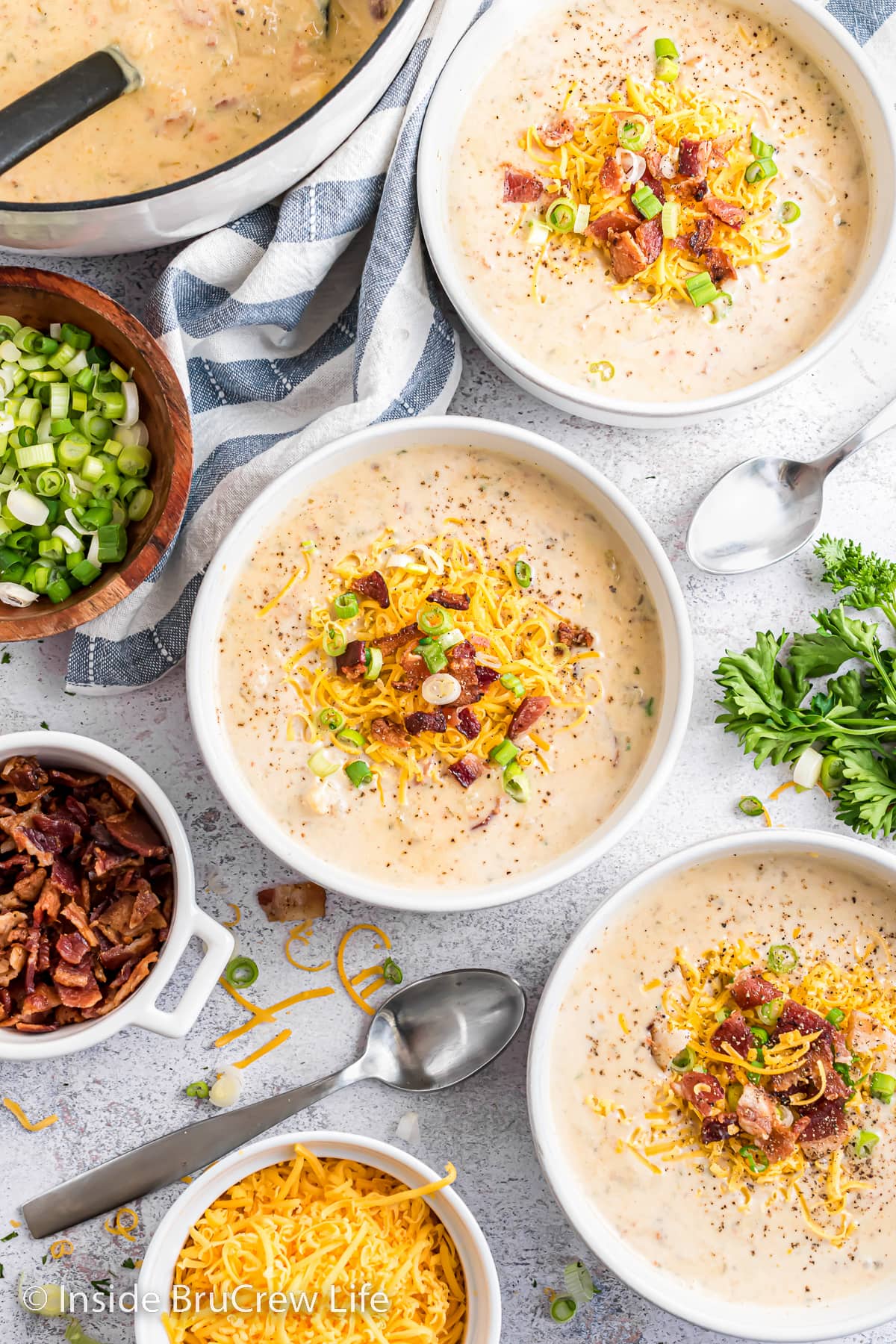 Tips and Tricks
Cut the potato cubes all in the same size, so they cook evenly. A ½" cube makes a great bite size.
Use butter or olive oil to saute the veggies, if you do not want to use the bacon grease.
Substitute chicken stock for the broth for a richer flavor and more nutrients.
Mashing some of the potatoes helps to thicken the soup without using cornstarch or flour. It also adds more creaminess to the soup texture.
Using freshly shredded cheese will give you the smoothest texture. The pre-packed cheese from the store has a coating on it that prevents it from melting as well.
Turn off the heat before adding the half and half to prevent the soup from curdling.
Taste test the soup along the way to see if it needs more seasonings or salt.
Add chunks of ham, roasted corn, or broccoli to change it up.
Serve the potato soup with a BLT salad and some homemade garlic bread.
Recipe FAQs
Can I use pre-cooked bacon?
Yes, pre-cooked bacon will work fine in this soup. You will need to use 2 tablespoons olive oil to saute the veggies.
What are the best potatoes for baked potato soup?
Russet potatoes will give the soup the best consistency. They are low in moisture, so they absorb broth making them easier to mash.

They also give the soup a creamier consistency without using flour or cornstarch. This is great for those with a gluten-intolerance or sensitivity.
Can you leave the skin on the potatoes?
My personal preference is to peel russet potatoes. You can leave the skins on red or gold potatoes for a more thick and rustic potato soup.
What is chicken base?
Chicken base is a highly concentrated flavoring of chicken and veggies. The paste has a thick consistency and can be found in the seasoning aisle. This is different from chicken broth, so you cannot substitute one for the other.
Why did my potato soup curdle?
The potato soup will curdle if you add the half and half to the pot while it is still boiling. We recommend turning the heat off or removing it from the stove top before stirring the dairy in.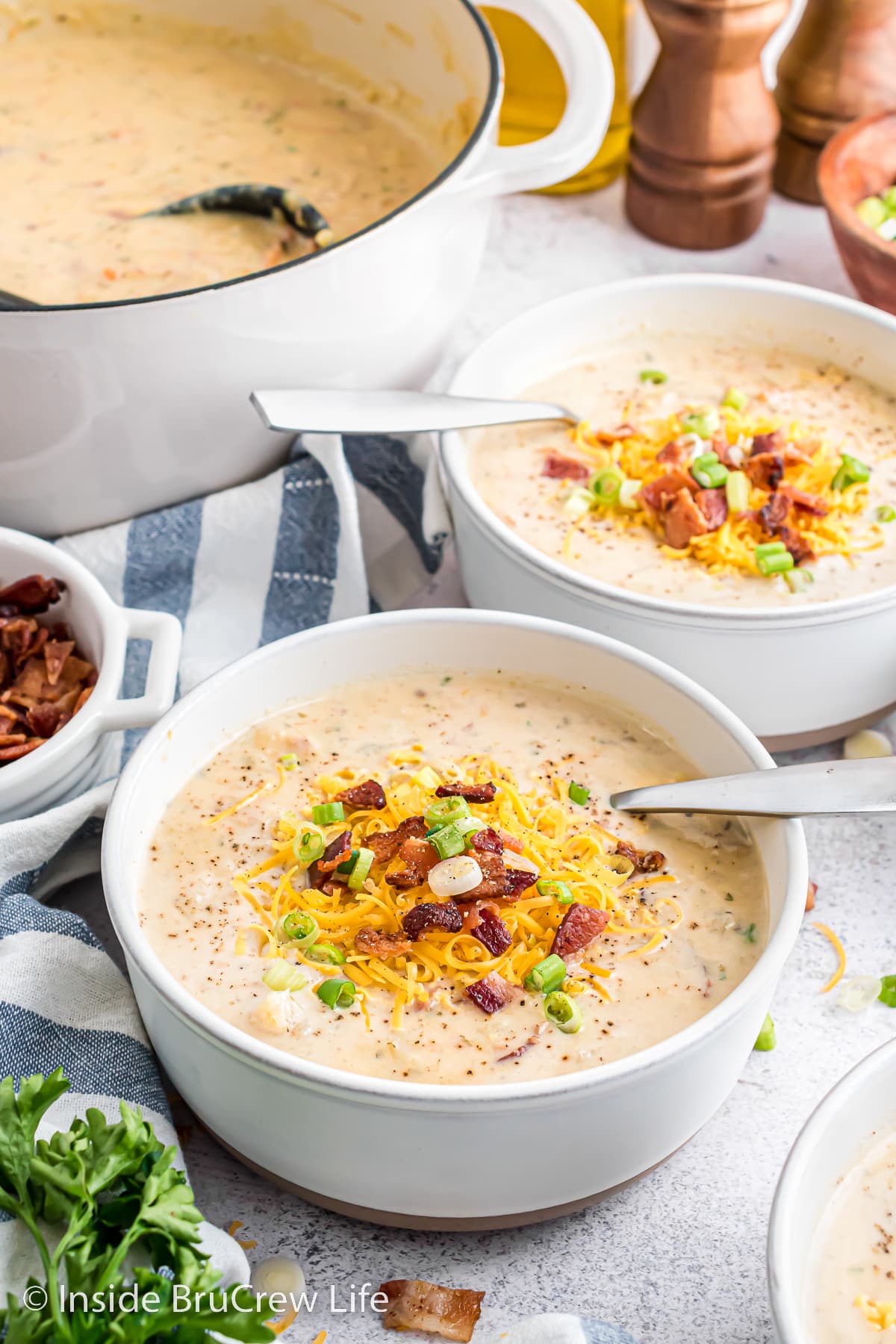 More Easy Soup Recipes
Do you love a recipe you tried from Inside BruCrew Life?
Please leave a 5-star ⭐️ rating and a review in the comments section below.
*The post for creamy potato and bacon soup was first published February 2014. It was updated and republished February 2023.