This Easy Cauliflower Rice is the perfect healthy substitute. It's so easy to make and tastes just like regular rice, but without all the carbs. You can use cauliflower rice as a side dish or even as an ingredient in your favorite recipes.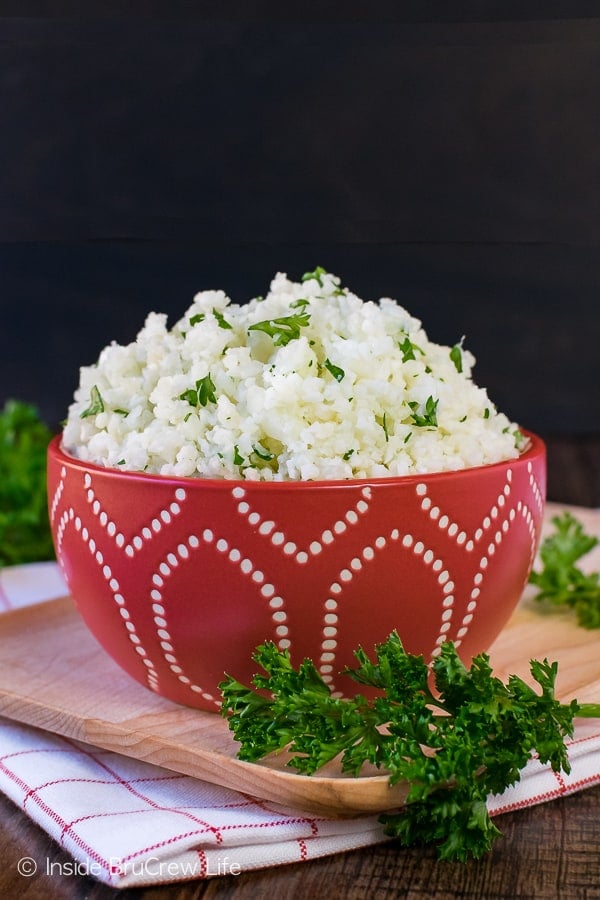 This easy cauliflower rice recipe is the perfect low carb alternative to your favorite carb-heavy foods. It's easy to make and tastes delicious too.
You can use it as a base for fried rice, in place of potatoes, or even as a side dish with dinner. You won't believe how much this simple recipe will change the way you look at cauliflower.
Why Make Low Carb Rice
Whether you want to replace carbs with cauliflower rice or simply want to eat more vegetables, this cauliflower rice recipe will help you do it easily.
Once I learned just how easy it was to make homemade cauliflower rice, we started incorporating it in our lean and green meals. And in quite a few dishes, you can't even tell the difference.
I made this healthy stuffed peppers recipe a few weeks ago, and our kids didn't even know that I substituted a batch of this easy cauliflower rice in place of the instant rice. I call that a dinner win.
Plus, cauliflower has lots of health benefits that will help you feel great while eating healthy delicious food.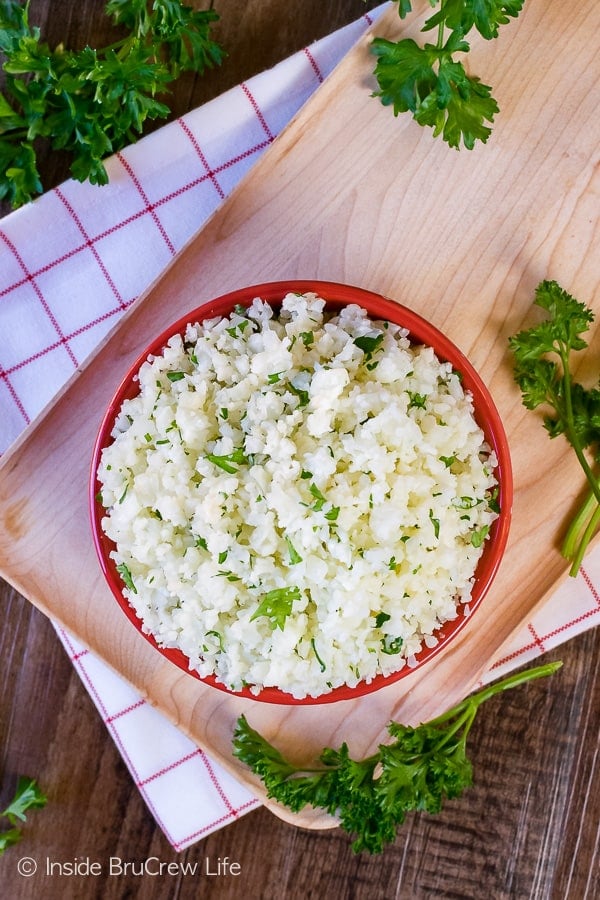 What is Cauliflower Rice?
Cauliflower rice is a low carb alternative to eating regular rice. It is made by chopping a head of cauliflower into smaller chunks and then pulsing those down into tiny pieces that resemble rice.
When seasoned it becomes a delicious way to incorporate more veggies into your day.
Key Ingredient
One raw head of cauliflower is all you need to make a batch of plain cauliflower rice.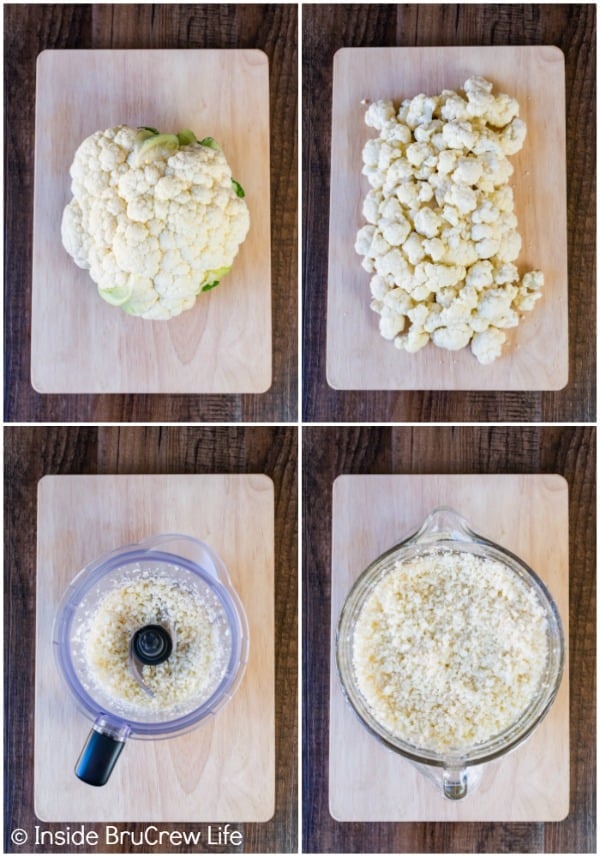 How to Make Cauliflower Rice
You can have this cauliflower rice in your kitchen in about 15 minutes. It's as easy as chopping up a head of cauliflower and running it through a food processor.
Wash and dry a head of cauliflower. Make sure to dry it well.
Remove the excess leaves and tough stems.
Chop the cauliflower into small florets.
Work in small batches to pulse the cauliflower in a food processor.
BRUCREW TIP: Don't have a food processor? Use your knife to finely chop the florets into tiny bits.
How to Cook Cauliflower Rice
Microwave - Place the riced cauliflower in a large glass bowl. Cover it with plastic wrap and cook it in the microwave for 5-10 minutes, depending on how much you have. Stir halfway through.
Skillet - Heat a little bit of olive oil in a skillet and saute the rice 5-6 minutes, stirring occasionally.
Boil - Place riced cauliflower in a pot of boiling water for 2-3 minutes. Remove and drain.
BRUCREW TIP: Pour the cooked rice out onto a paper towel lined tray after cooking it to get the extra moisture out.
Recipe Tips
Pulse the cauliflower florets in small batches.
Do not over process the veggie rice or it will become mushy.
Once you rice and cook the cauliflower, it can be used in any recipe calling for regular rice. Make sure to follow the recipe directions.
Don't want to clean up the mess that comes with making rice from cauliflower? Buy frozen cauliflower rice in pouches at the grocery store.
Squeeze the cooked cauliflower rice through cheese cloth, if you are going to use it in pizza crust or tots.
Storage Info
Raw cauliflower rice will keep for 7-8 days if kept in an air tight container in the refrigerator.
Cooked cauliflower will last 4-5 days in the refrigerator. This makes this a great option for meal prepping.
You can also freeze raw cauliflower rice. Scoop 2 cups of rice into a freezer safe Ziplock bag. Remove the excess air and flatten the bag before placing in the freezer.
The bags of rice will last 1-2 months in the freezer. To use, thaw in the fridge overnight. Drain the excess moisture before cooking.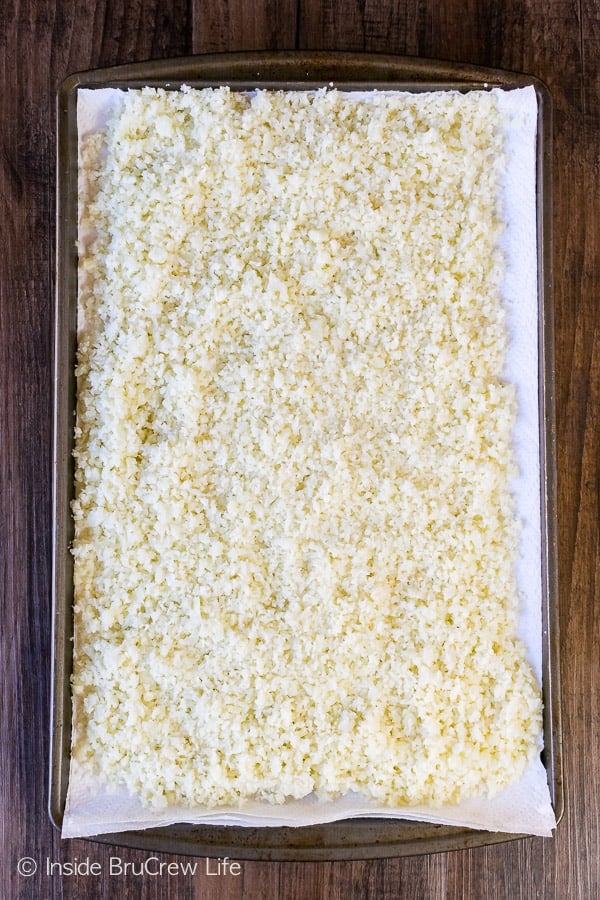 Variations
This easy cauliflower rice is a delicious and healthy addition to your meal plan. The flavor possibilities are almost endless.
Eat it raw. Stir it into salads like you would use farro or quinoa.
Use different herbs. I added some garlic and parsley to a batch because it went well with what I made for dinner.
Stir in some lemon juice and thyme.
Sauté it in olive oil or butter, then season to taste with salt and pepper.
Add grated parmesan cheese and black pepper.
Mix in a little bit of cream cheese, coconut oil, and pepper and beat the mixture until it is nice and creamy and enjoy a delicious mashed cauliflower dish.
Frequently Asked Questions
Is it cheaper to make your own cauliflower rice?
It is definitely cheaper to make cauliflower rice at home. It is easy to make with very little effort. You will also end up with a bigger batch than what the bags in the store have.
How do you grate or rice cauliflower?
A food processor is the easiest way to turn a head of cauliflower into rice.
You can also use a box grater or a cheese grater. Cut a large piece of cauliflower and run it down the side of the grater.
What does cauliflower rice taste like?
It has a very neutral flavor. You can transform the taste of faux rice by using seasonings and flavorings.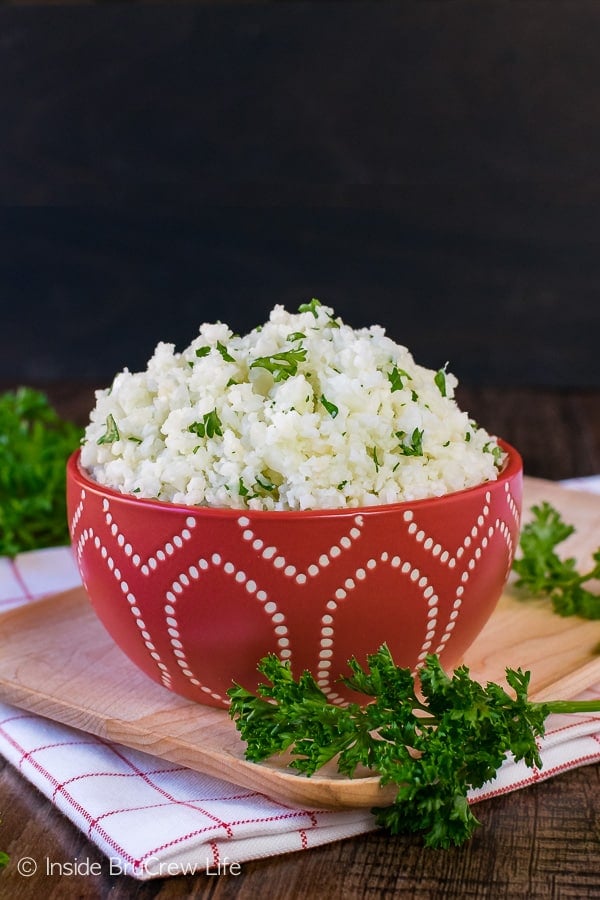 Ways to Use Cauliflower Rice

Love a recipe you tried from Inside BruCrew Life?
Please consider leaving a 5 star ⭐️ rating in the recipe card below and/or a review in the comments section further below.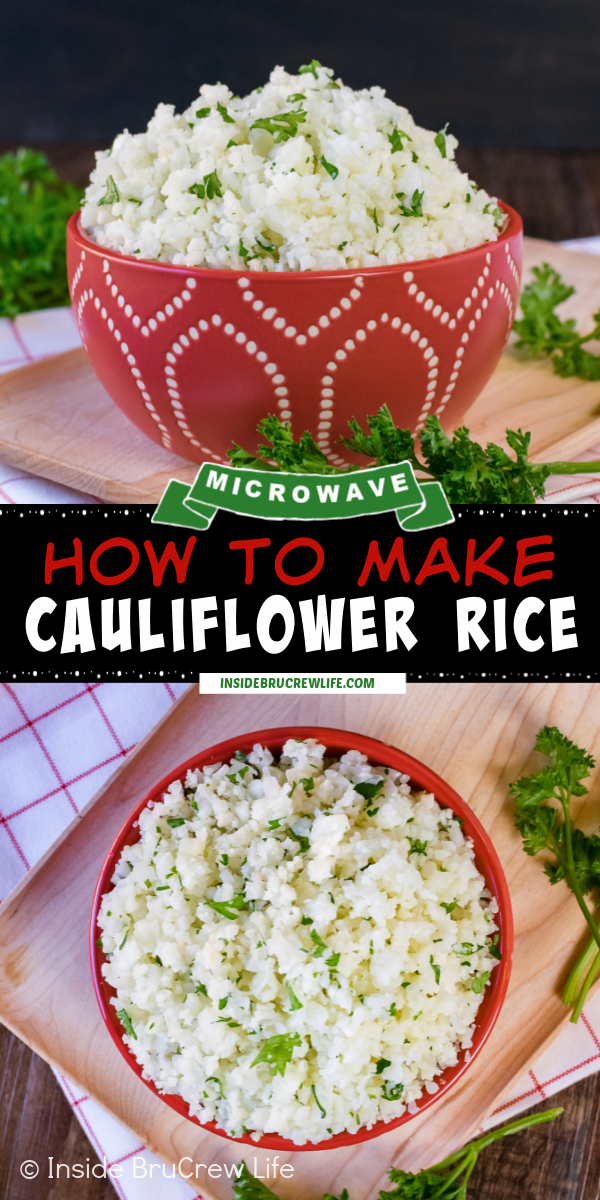 *This post contains affiliate links. Inside BruCrew Life may receive a very small percentage from sales made through these free links. As always, these do not cost you any extra. Thank you for letting us share products we use and love this way.