This hearty Sausage Kale Soup is ready to eat in less than 30 minutes. Loaded with sausage, cauliflower, and greens this low carb soup is a one pot meal that is perfect for busy weeknights.
Jump to:
A hearty bowl of soup is the perfect solution on a cold day. As soon as the weather dips below 75°, we love to make pots of soup for dinner.
Some of our favorites are this broccoli cheese soup and this creamy tomato soup. Served up with some homemade garlic bread and you have a winner! The down side to those delicious soup recipes is that they have extra carbs and calories. Those don't fit in with my healthy eating right now.
With a creamy broth and lots of sausage and greens, this keto kale soup is my new favorite dinner. It will keep you on track with your health goals.
Why Make This Low Carb Soup
Looking to cut carbs but still want to enjoy a creamy bowl of soup for dinner? This low carb sausage kale soup is the recipe you need. It's a healthier and lighter version of Olive Garden's zuppa toscana.
Great one pot soup recipe that is hearty and flavorful.
Easy soup recipe to make in under 30 minutes.
Using cauliflower in place of potatoes keeps it lower in carbs.
Freezer friendly so you can make extra for a later meal.
Once you taste how refreshing and delicious this brothy soup is, you will want to make it every week. Keep leftovers in the fridge for an easy lunch. Or freeze a batch so you can have dinner ready quickly on busy days.
Key Ingredients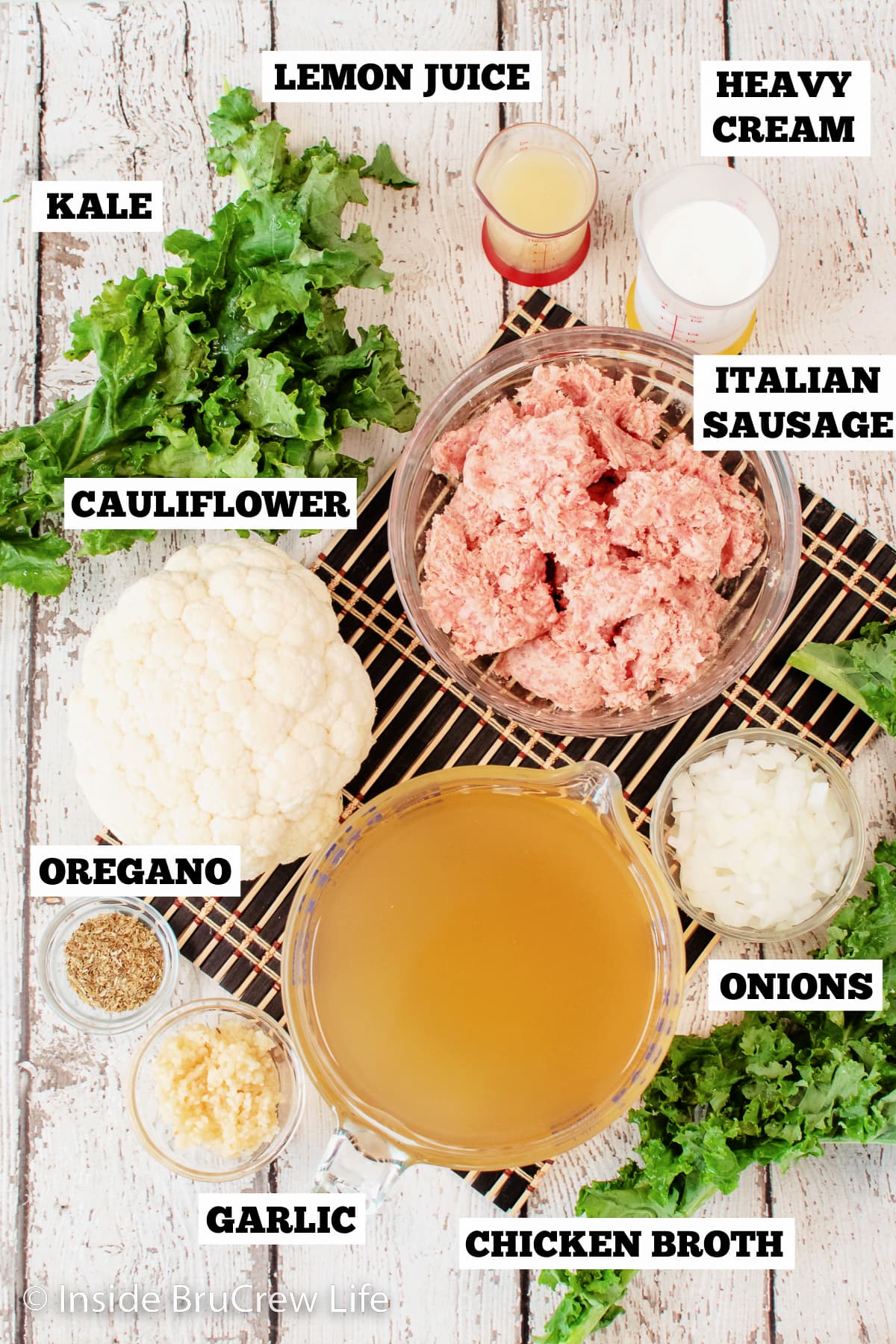 This sausage kale soup recipe is made with easy-to-find ingredients. Feel free to add in more of your favorites or substitute other veggies.
Italian Sausage - High in protein and has seasonings already added. Make sure to check your labels for any hidden sugars. Use turkey sausage for less fat and calories.
Onion, Garlic, & Dried Oregano - Adds flavor. Red, yellow, or white onions are fine to use.
Chicken Broth - Store bought or homemade is fine. Use a lower sodium broth to keep your salt intake lower.
Lemon Juice - Gives the soup broth a light refreshing flavor.
Cauliflower - Replaces the potatoes. Cut a medium sized head into small bite sized florets.
Heavy Cream - Adds a silky texture to the broth without making it thick or heavy.
Kale - Nutrient dense and low in calories. Any type of kale works in this soup recipe. Just make sure to remove the woody stems and rinse it well.
How to make Sausage Kale Soup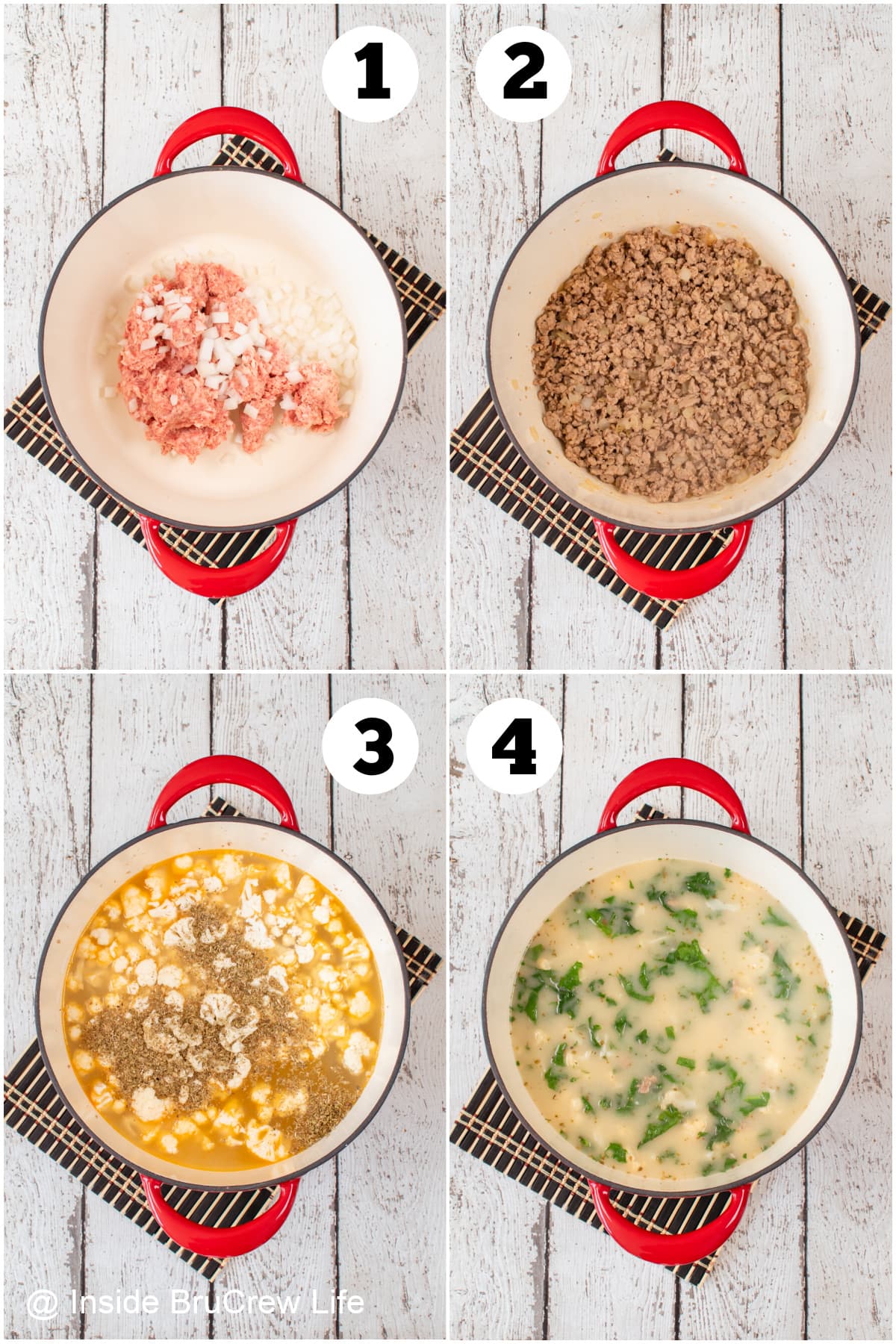 The directions for this easy sausage and kale soup are quite simple. In less than 30 minutes you can be enjoying a hearty bowl of soup for lunch or dinner.
In a large soup pot place the onions and sausage and cook until browned and completely cooked. Drain any excess grease.
Stir in the chicken broth, minced garlic, lemon juice, oregano, and cauliflower florets. Turn heat to medium-high and bring to a boil. Reduce the heat and simmer for about 10 minutes, or until the cauliflower is tender.
Stir in the heavy cream and kale and let it sit until the kale has wilted.
Season to taste with salt and pepper, if desired.
BruCrew Tip: Top bowls of hot soup with shaved Parmesan cheese, green onions, and red pepper flakes right before serving.
Storage Recommendations
In the Refrigerator - Place the cooled sausage cauliflower soup into a covered container and refrigerate for 3-4 days.
In the Freezer - Once the soup has cooled completely, spoon it into freezer safe bags or containers. Freeze for 1-2 months. Thaw overnight in the fridge.
To Reheat - Reheat the keto soup in the microwave or on the stove top. Just reheat it slowly because heavy cream can separate when thawed and reheated.
Tips and Tricks
Use hot Italian sausage to give the soup a spicy twist.
Chop the cauliflower into bite sized pieces. You want them to fit nicely on a spoon when you are eating the soup.
Rinse and chop a bunch of kale, cutting off the center stems and woody stalks. Make sure to rinse the kale to remove any gritty residue from the garden.
Freeze individual servings in freezer safe bags or souper cubes for quick easy lunches.
Feel free to use fresh spinach or chopped bok choy in place of the kale.
Make this keto soup recipe dairy free by replacing the heavy cream with coconut milk.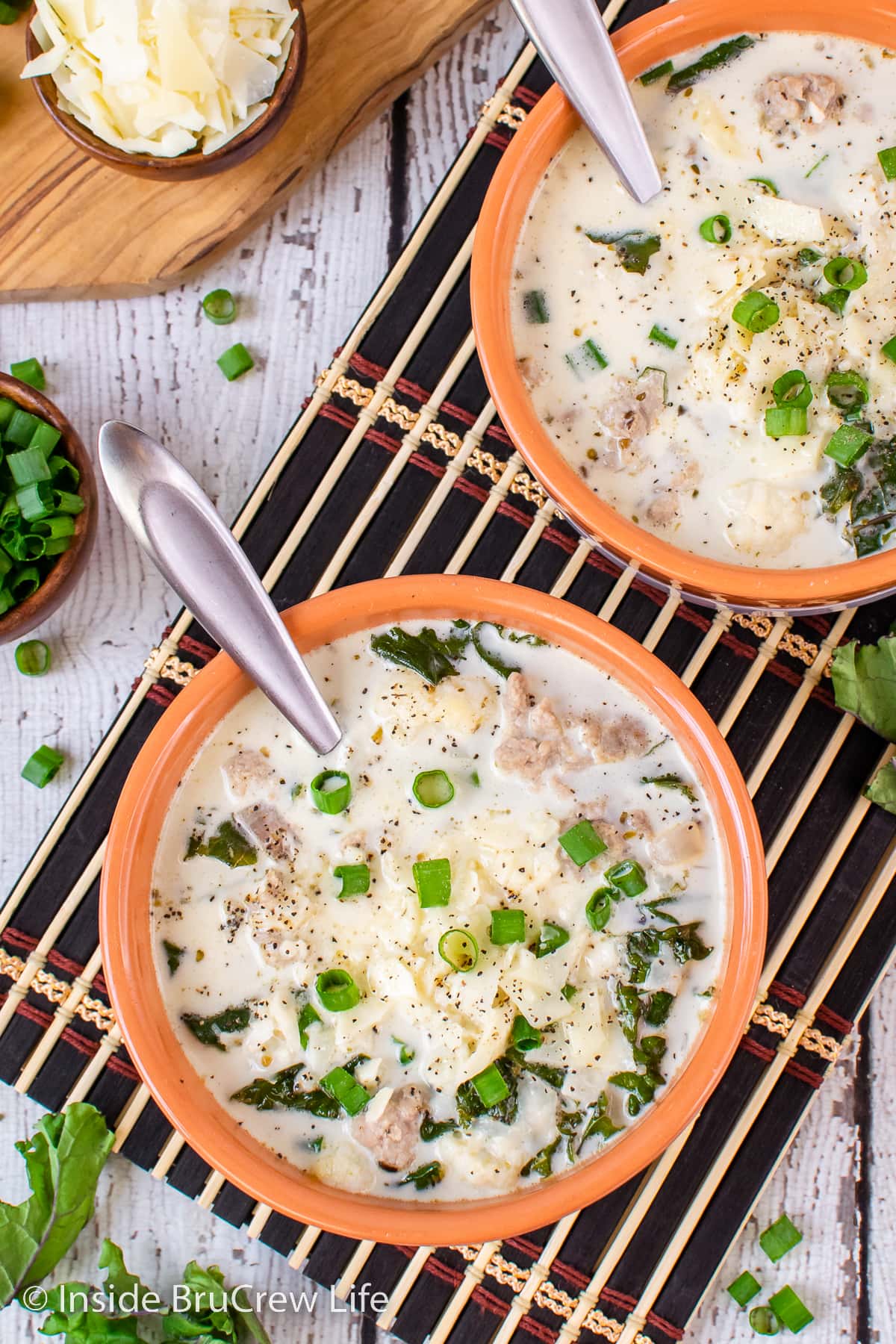 Recipe FAQs
Is this sausage kale soup keto friendly?
Yes, this soup recipe is low in carbs and made with heavy cream making it perfect for the keto diet.
Can you freeze sausage kale soup?
Yes, you can freeze this low carb soup recipe. Spoon the cooled soup into freeze safe containers and freeze 1-2 months.
Advantages of Eating Low Carb
Eating excess carbohydrates has a huge impact on our blood sugar and insulin levels. Restricting those carbs will keep your sugar and insulin levels lower. High blood sugar can contribute to type 2 diabetes, cancer, and diseases over time.
When you eat a meal that is high in carbs, your blood sugar and insulin spikes quickly. Then once it is digested, they drop and you feel that "crash".
Eating low carb keeps those spikes throughout the day to a minimum. People that eat low carb experience less cravings for and hunger pangs.
Individuals who eat low carb generally lose weight, have more energy, and have a healthier relationship with food in general.
How to Eat Low Carb
Eat plenty of proteins and and nutrient dense plant foods. Kale and arugula are some of the best dark leafy greens to choose.
Also include a variety of things like eggs, fish, nuts, dairy, fats, and healthy oils in your meals.
Be careful when choosing your vegetables. Spinach and avocados are low in digestible carbs meaning they will turn into sugar in your body. Eat these in moderation.
Stay away from sugar, wheat, and highly processed foods.
Find tasty recipes like zucchini noodles with sauce or low carb tacos to help keep you on track.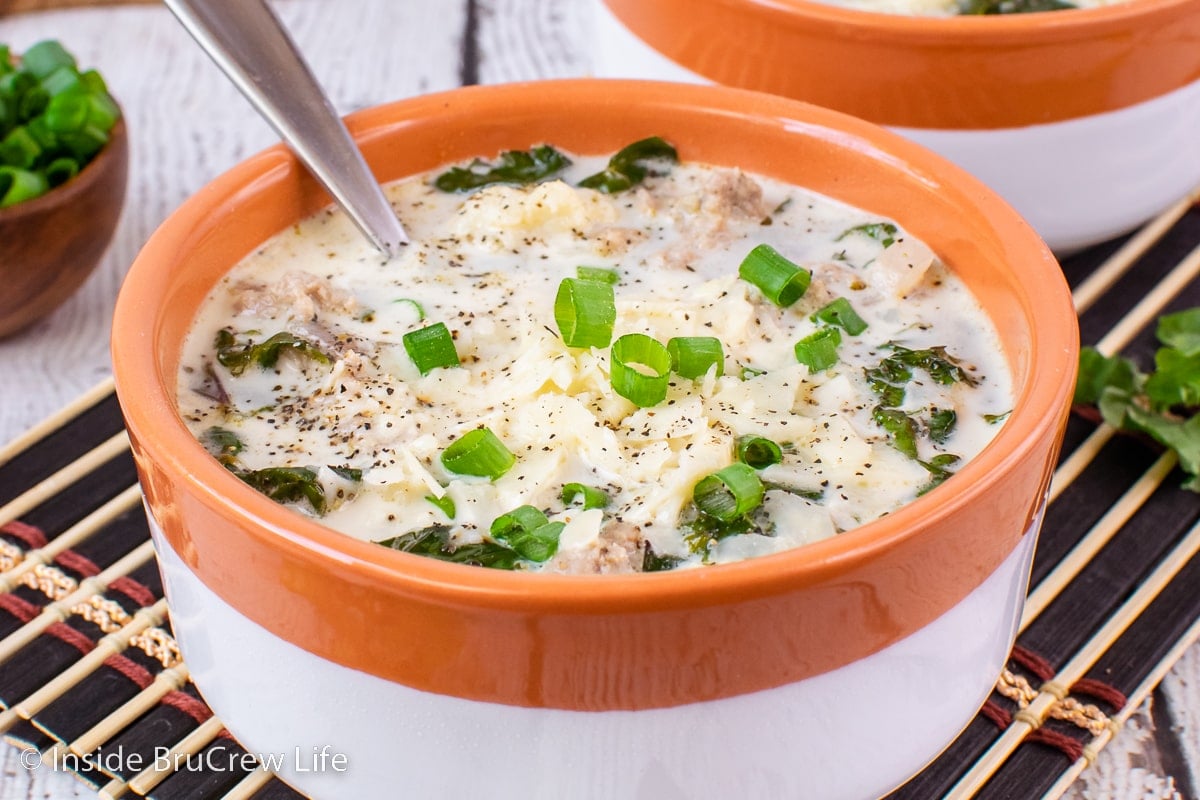 More Healthy Recipes
Love a recipe you tried from Inside BruCrew Life?
Please leave a 5 star ⭐️ rating and/or a review in the comments section further below.
*The post for low carb sausage kale soup was first published November 2018. It was updated and republished January 2023.
**We are a participant in the Amazon Services LLC Program, an affiliate program designed to provide a means for us to earn fees by linking to Amazon.com .