This delicious and easy White Chicken Chili is a great way to warm up on a cold night. In just 30 minutes you can make a hearty chicken chili recipe that has the perfect amount of spice and flavor.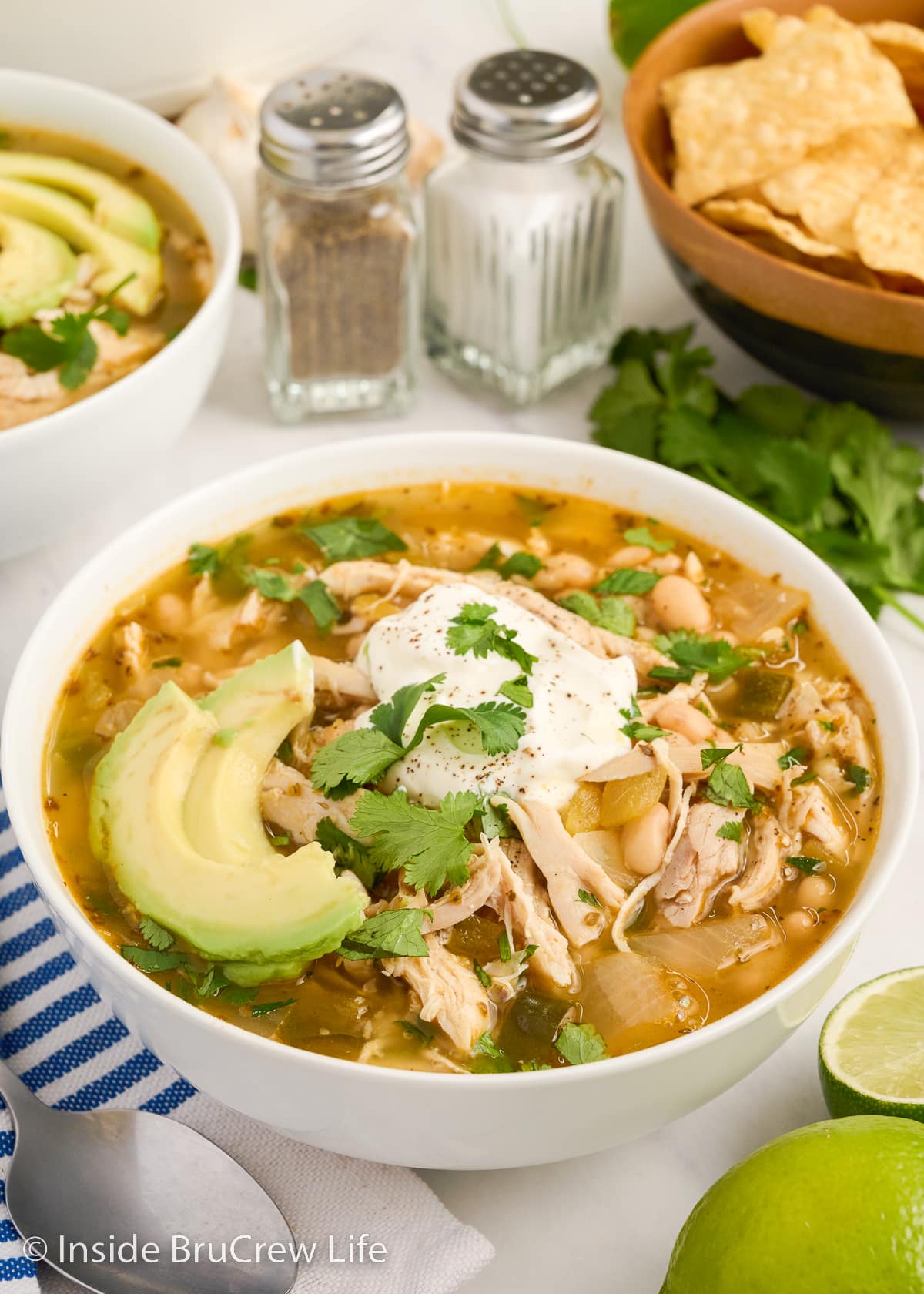 Jump to:
We love making a pot of homemade soup for dinner when the weather turns cooler. There is just something so cozy and comforting about a hot bowl of soup when it's cold outside.
Our family loves making this broccoli cheddar soup, this creamy tomato soup, and this sweet and spicy Dr. Pepper chili. You can even have a healthy sausage kale soup if you are looking for a low carb soup.
But I think my all time favorite soup might be chicken chili. It is a little lighter and brothier than red chili and has a rich, warm flavor that I enjoy.
Why This Works
This hearty white chili is made with a creamy broth, shredded chicken, white beans, and a variety of spices. It's full of flavor and tastes amazing.
It's a welcome change from traditional chili.
Easy to make on the stove top or in a slow cooker.
No need for flour or cream to thicken this soup. Blending beans with broth is a great way to thicken soup without adding extra carbs or dairy.
This one pot meal can be ready in less than 30 minutes.
Perfect dinner for cold weather!
The best part about this white chicken chili recipe is having it for lunch the next day. It's easy to reheat the leftovers in the microwave or stovetop.
Key Ingredients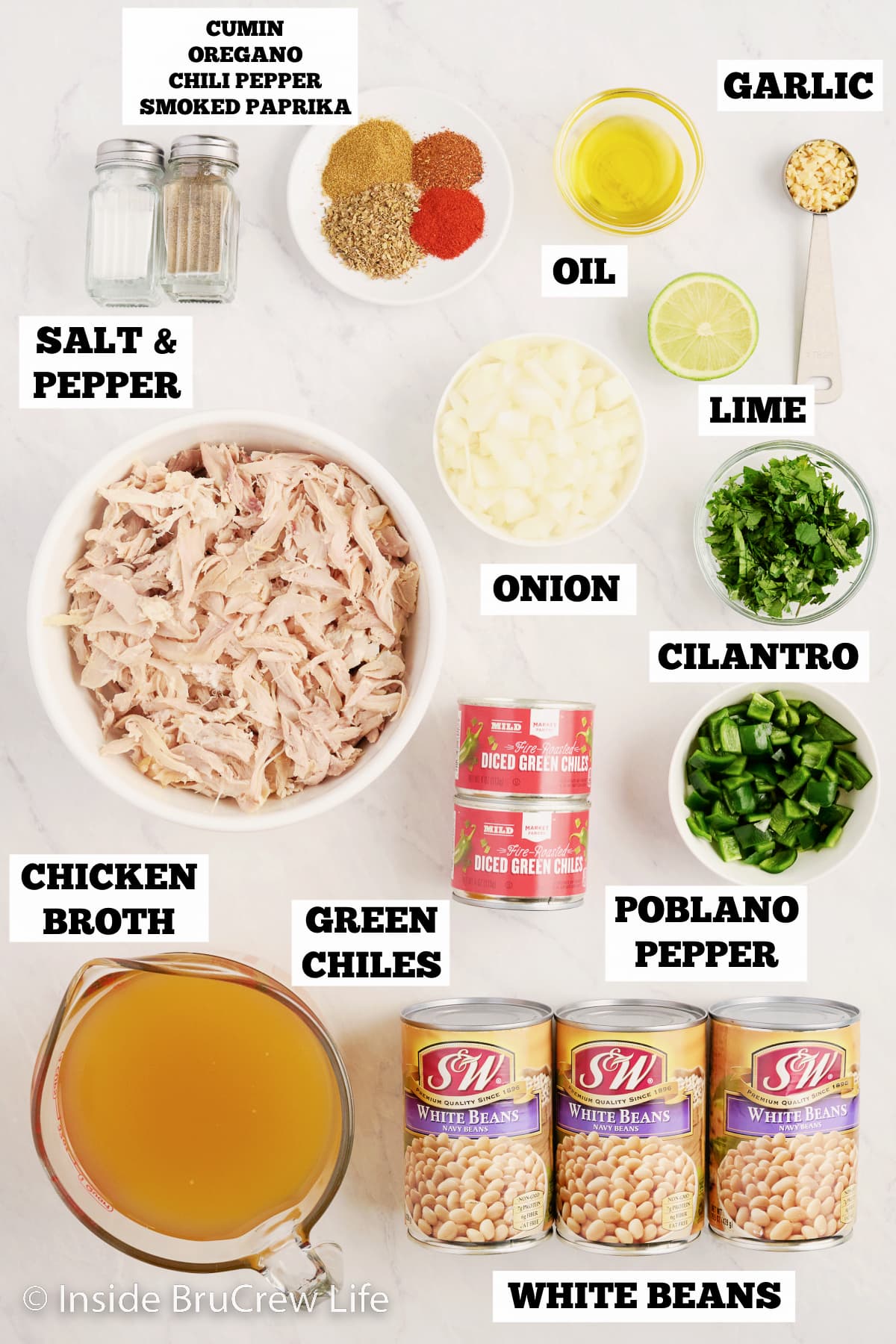 A pot of easy white chicken chili can be made in no time at all using these simple ingredients.
Chicken - I like to use a cooked rotisserie chicken from Sam's Club or Costco. Shred it as soon as you get home because it is easier to do when the chicken is warm. You can also use any cooked chicken that you have on hand.
Minced Garlic and Onions - Add a flavor that is a staple to chili.
White Beans - Use your favorite white beans such as cannellini beans, navy beans, or great northern beans. Just make sure to drain the cans because the extra liquid can thin the soup and just doesn't taste as good.
Diced Green Chiles - Canned green chiles add a little spiciness and incredible flavor to the chili. Use mild or hot depending on your preference.
Seasonings - A mix of cumin, oregano, chili pepper, and smoked paprika gives the soup a Southwest flavor.
Poblano Pepper - Adds a slight smokey taste to the soup.
Chicken Broth - Use a low sodium broth to limit the amount of salt in the soup.
Lime Juice - Brighten the flavor of this white chili with fresh squeezed lime juice.
How to Make White Chicken Chili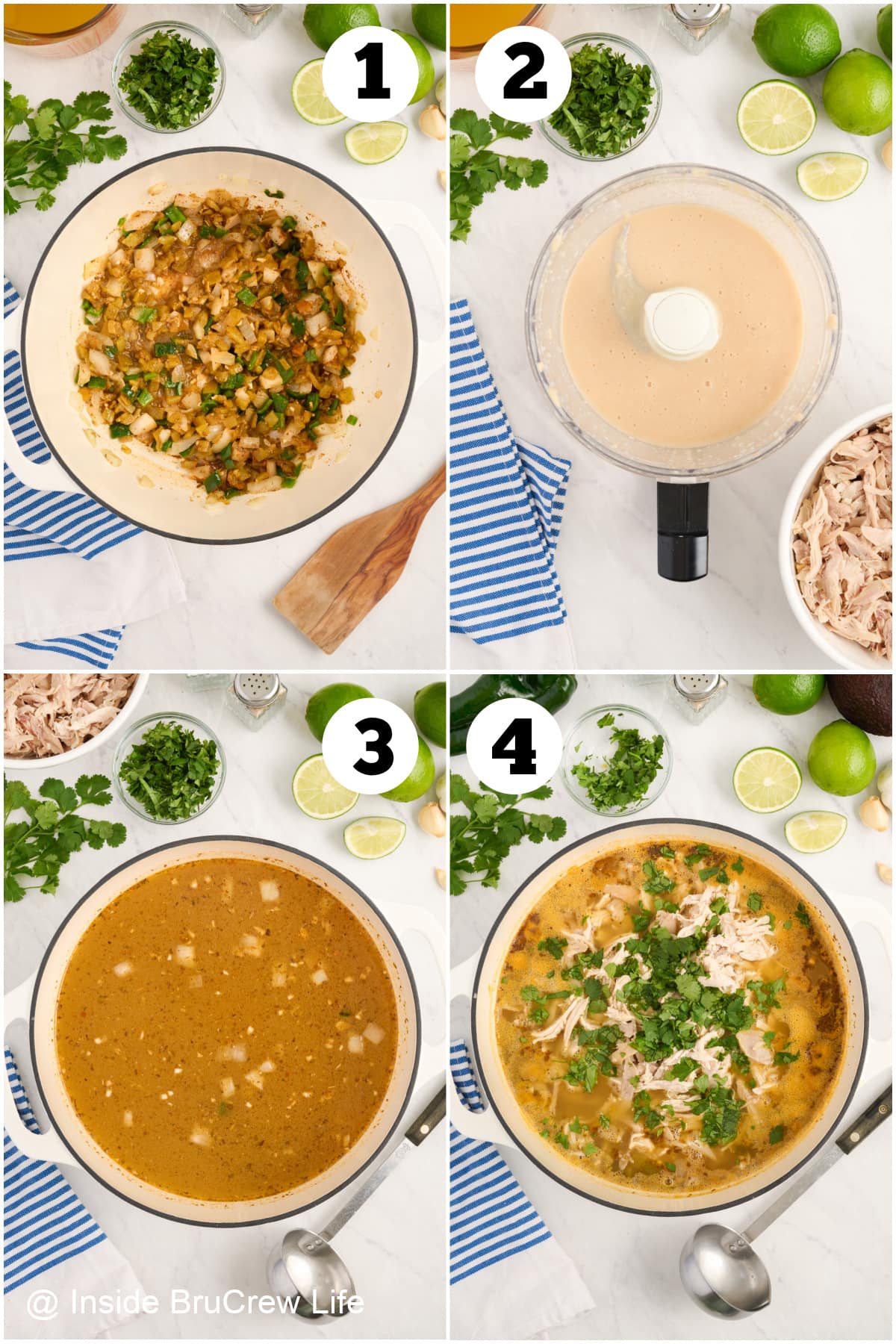 See how easy it is to make a pot of flavorful white bean chili in under 30 minutes.
Sauté the veggies. Place the onions, peppers, and oil in a large pot. Cook for a few minutes until the veggies are softened. Add the garlic and spices and stir well.
Puree the beans. Place one can of drained beans with some broth in a food processor and pulse until smooth.
Add beans and broth. Stir the broth, pureed mixture, and beans into the pot. Bring to a boil, then reduce heat.
Add chicken and simmer. Stir in the shredded chicken, lime juice, and chopped cilantro and simmer uncovered for about 15 minutes.
Add toppings and enjoy. Garnish bowls of chili with your favorite toppings like avocado slices, sour cream, corn chips, crackers, cheese, or fresh cilantro.
Looking for a crockpot white chicken chili recipe? Stir together all the ingredients, except the beans in a 6 quart crockpot. Cook on low for 4 hours. Puree one can of beans with some hot broth. Stir the puree and other drained beans into the hot soup. Cover and cook an additional 10 minutes before serving.
Storage Recommendations
In the Refrigerator - Keep the cooled chicken chili in a tightly sealed container in the fridge for up to 3 days.
This is a great soup to make ahead of time because the flavor gets better as it sits. The soup will thicken as it cools, so you may need to add additional water or broth when you reheat it.
In the Freezer - Cool the chili completely, then place in freezer safe containers. Freeze for 2-3 months. Thaw overnight in the refrigerator.
To Reheat - Place soup in a pot on the stovetop and heat to desired temperature. You can also reheat single servings in microwave safe bowl.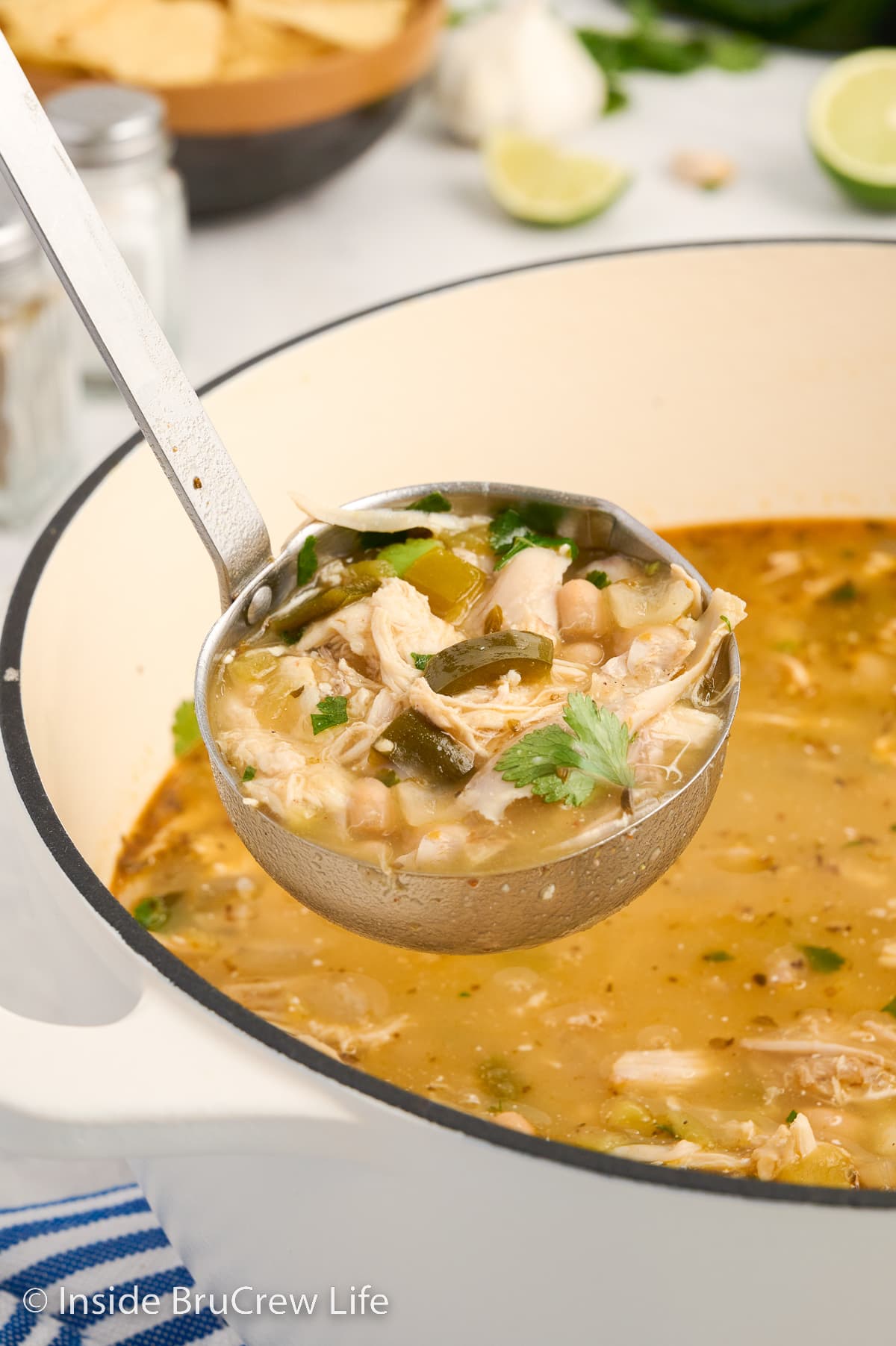 Tips and Tricks
Puree 1 can of the beans to give the chili a thicker, creamier texture.
Want an even creamier soup? Add a splash of heavy cream or ½ cup sour cream to the broth.
Make this with a pre-cooked rotisserie chicken for the fastest prep time. You can also use leftover turkey after Thanksgiving to make this soup as well.
Keep extra bags of chicken in the freezer. It will make meal prep a breeze on busy nights.
Garnish the chili with your favorite toppings such as avocado slices, sour cream, corn chips, crackers, or cheese.
You can also jazz up the white chili with black beans, corn, celery, or zucchini for a different look and flavor.
If you like a spicier soup, add hot green chiles and more cayenne pepper to this chicken chili recipe.
Serve with a side of cornbread, homemade garlic bread, side salad, or a baked potato.
Recipe FAQs
What is white chili?
A white chili is made with white beans, chicken, creamy broth, and spicy green chiles. It is called white because it is light in color rather than red like traditional chili.
Can you make this white chili recipe in a crockpot?
Yes, simply add all your ingredients and heat on low until the veggies are soft and the chili is hot.
Do you need to rinse the beans for chili?
This is a matter of preference. Rinsing the bean with water will reduce the amount of sodium that was on the beans from the can. I simple drain the beans really well.
Can you freeze chicken chili?
Yes you can. Place it in a freezer container or a freezable ziplock storage bag and freeze for up to 3 months. To thaw, place it in a refrigerator overnight or simply remove from the packaging and heat it up on the stove top or in a crockpot.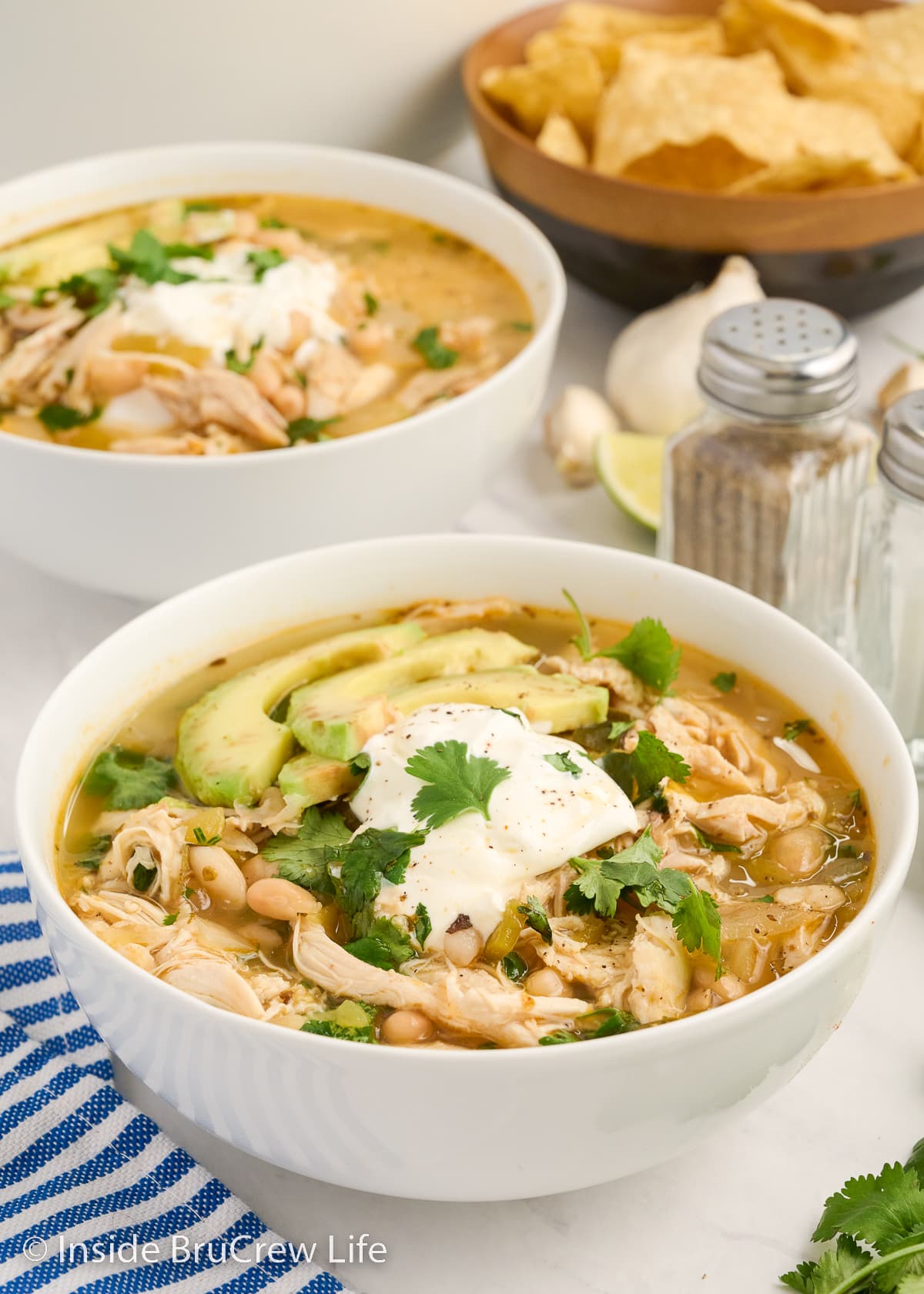 More Chicken Soup Recipes
Do you love a recipe you tried from Inside BruCrew Life?
Please leave a 5-star ⭐️ rating and a review in the comments section below.
*The post for white chicken chili was first published January 2014. It was updated and republished January 2023.