Satisfy your sweet tooth with a bowl of this Sweet and Salty Trail Mix. Pretzels, peanut butter cups, peanuts, and cookies make this homemade snack mix taste so good.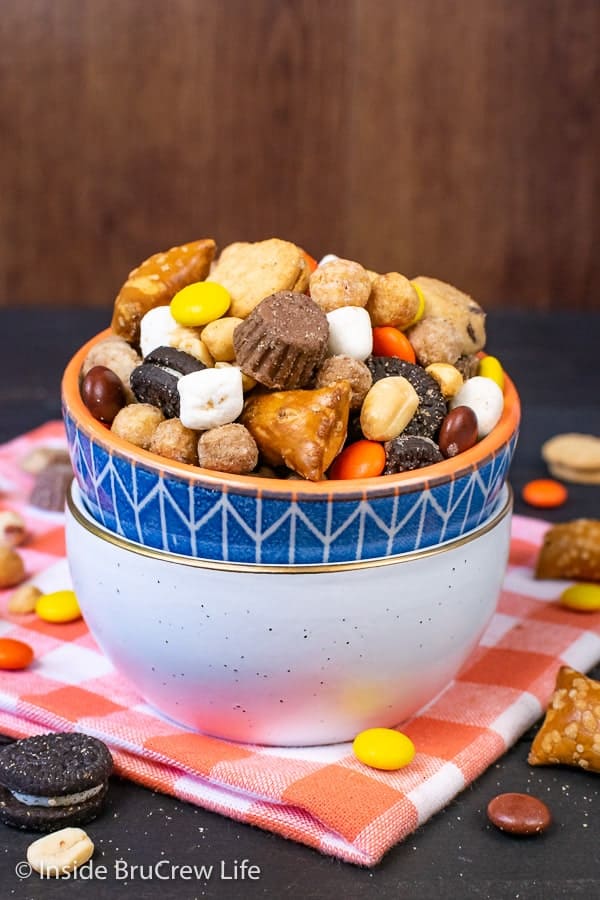 Most of our vacations for the summer are over already. Right after school finished we took our kiddos on a short 4 day cruise to Cuba and Great Stirrup Cay.
We sailed on the same boat last year when we enjoyed a Beach Day on Great Stirrup Cay, Bahamas. The island is gorgeous, so we didn't mind stopping for another day of sunbathing and snorkeling.
Why is it when you are going TOO a vacation the hours driving in a car don't bother you as much? Our drive home from Miami sure seemed longer coming home.
I think it was: A. There was no cruise boat waiting for me in my driveway and B. I didn't have any Reese's snack mix left to munch on as we came home.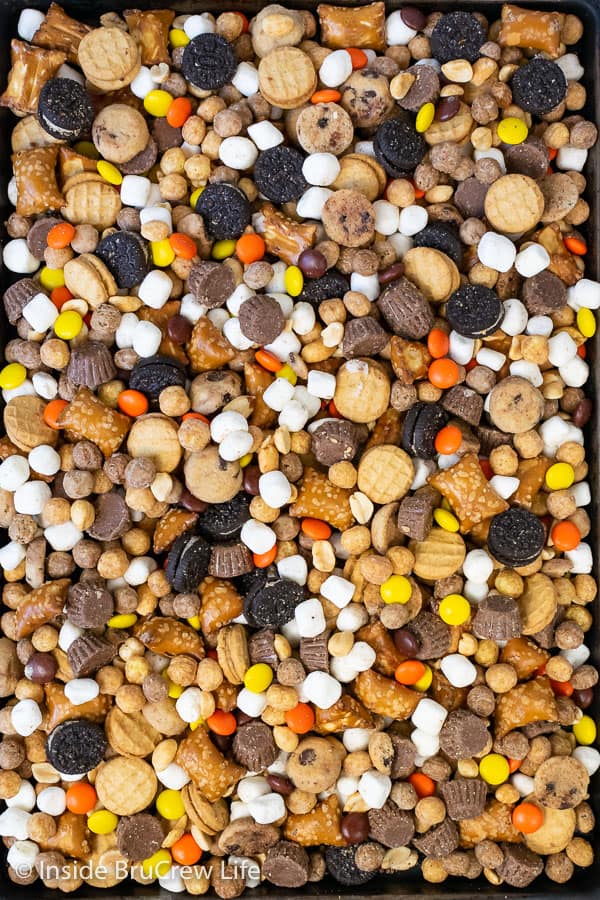 A few days before vacation, we were at Walmart picking out a few snacks for the drive. I had a small bag of M&M's Trail Mix in my cart, when I had a lightening bolt of inspiration.
Why not just buy all the ingredients and make a giant batch of homemade trail mix? Sure, I was spending a little bit more that way, but I had a much bigger bag of goodness for the drive.
What is in a Sweet and Salty Trail Mix:
Peanut Butter Filled Pretzels
Salted Pretzels
Mini Reese's Peanut Butter Cups
Reese's Pieces
Mini Oreos
Mini Chips Ahoy Cookies
Mini Marshmallows
Reese's Puffs Cereal
Nutter Butter Bites
This is the perfect snack mix because you can totally customize it with whatever you have in your cupboards, or with whatever you are craving at the moment.
Try making your own version to snack on. M&M's, caramel corn, bugles, corn chips, dried fruit, nuts, and seeds are all great of adding to a homemade trail mix.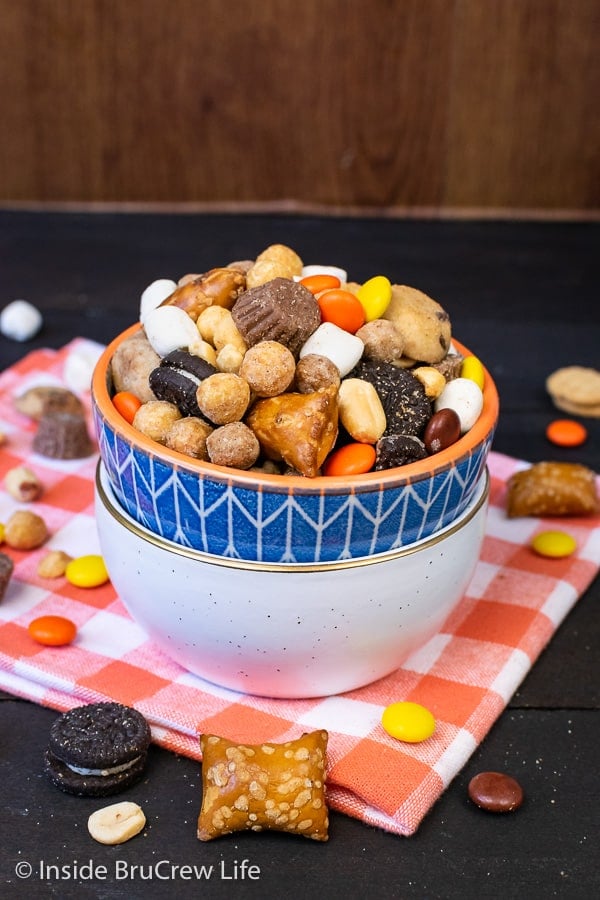 Tips for Making a Sweet and Salty Trail Mix:
Pour each ingredient into a bowl.
Mix everything together with your hands or a large spoon.
Dig in!!!
Store any leftovers (if you have any) in a tightly sealed bag.
Pro Tip: If you want the Reese's snack mix to be saltier, add more salted nuts and pretzels twists. If you would like your snack mix to be on the sweeter side, add some mini white chocolate peanut butter cups too.
Other ideas for this trail mix:
I love making homemade snack mixes to give as gifts at the holidays too. One of my favorites to gift is this Peanut Butter Cup Puppy Chow. In just minutes, you can have an easy treat that looks so pretty when packaged in mason jars.
Our family also enjoys making different snack mixes to munch on during our family nights. If we choose a movie night or a game night, I will usually make a batch of S'mores Popcorn or Banana Split Popcorn to satisfy our sweet tooth.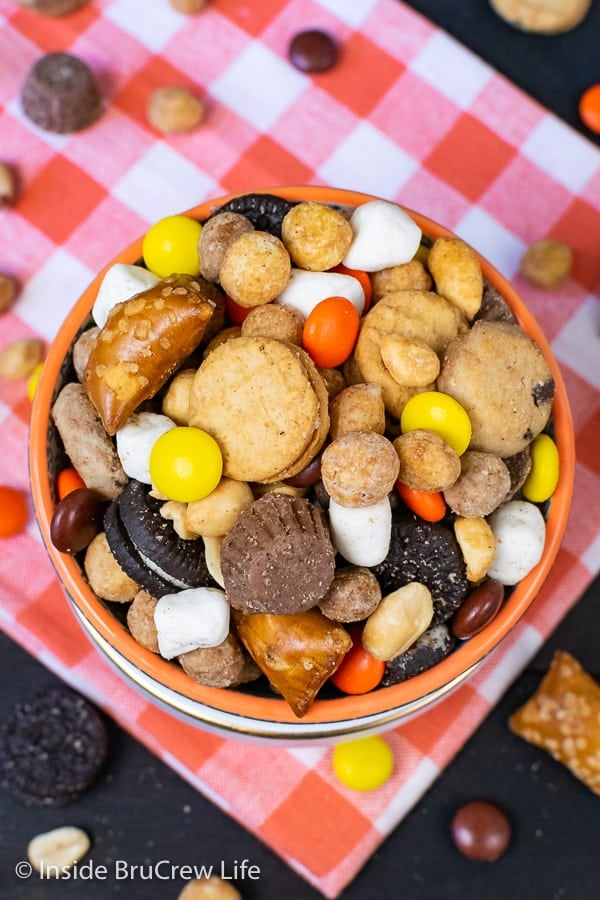 Looking for more easy snack mixes?
Frosted Animal Cookie Muddy Buddies - white chocolate coated Chex cereal loaded with cookie crumbs, cookies chunks, and sprinkles
Peanut Butter Candy Bar Popcorn - peanut butter, candy bars, and sprinkles add a fun flavor and flair to this easy popcorn
Chocolate Chip Cookie Muddy Buddies - chocolate chip cookie crumbs and mini chocolate chips tossed with white chocolate coated Chex cereal
Key Lime Pie Popcorn - lime flavoring, graham cracker chunks, and chocolate drizzles give this popcorn a blast of summer fun
Birthday Snack Mix - sprinkles, cereal, and birthday hat bugles make this sweet and salty treat so festive
Banana Crunch Popcorn - white chocolate covered popcorn tossed with banana pudding and Nestle crunch candy bars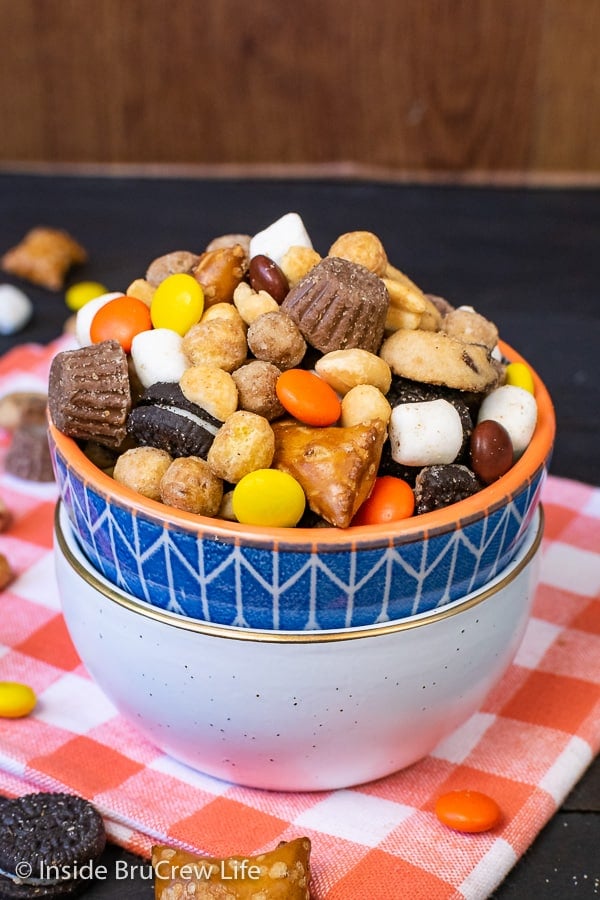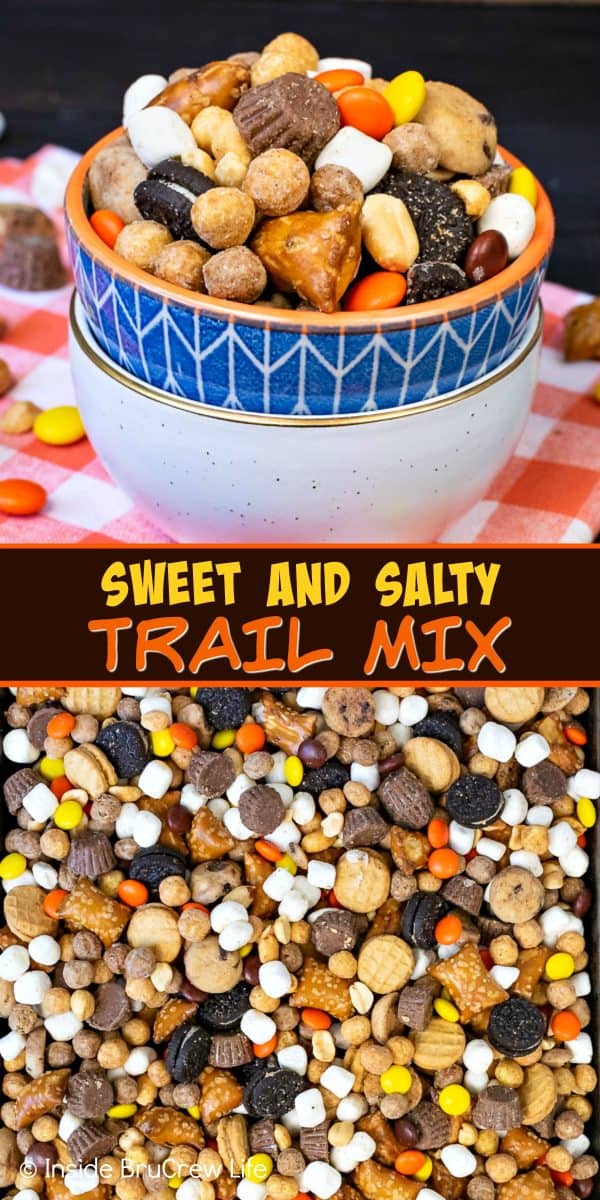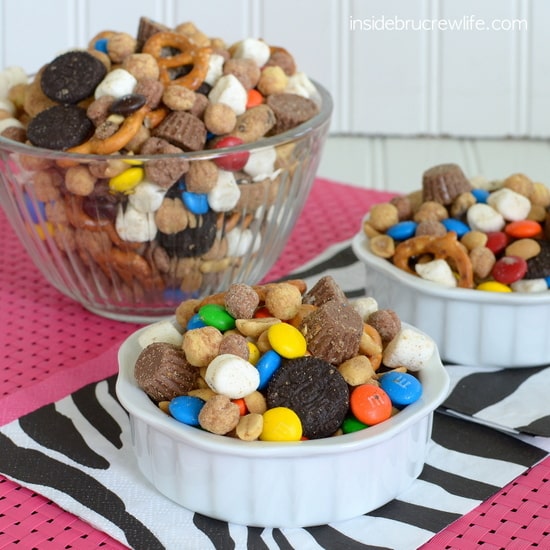 (original photo from June 2012)
*The post for Sweet and Salty Trail Mix was first published on June 10, 2012. The photos and post have been updated and republished on June 18, 2019.