Shortbread cookie crumbs and strawberry cake mix give a fun twist to this easy Strawberry Shortcake Muddy Buddies. Add holiday M&M's for a fun Valentine's Day treat!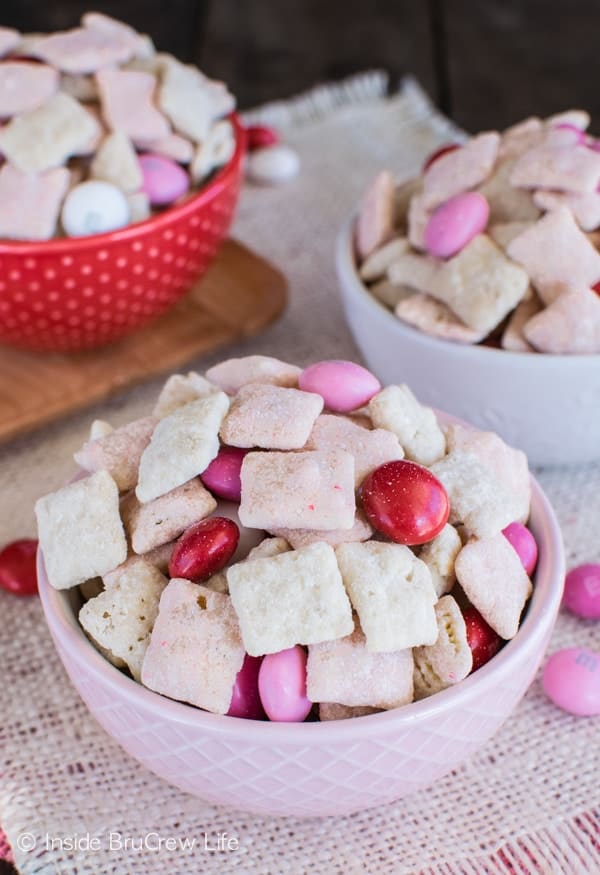 Do you call it muddy buddies or puppy chow? I actually grew up with it called puppy chow, but I have learned that there are some people out there that get very upset when you call it that.
They think if you call something puppy chow, it means it is dog food. Hello!!!! Why would I feed my pet something made up entirely of human food? Not to mention the fact that it is covered in chocolate! This type of thing is just common sense! Ok, rant over!
To keep the peace, I call this sweet snack muddy buddies...but only on the blog. If you come to our house, it's still going by the correct name of puppy chow. LOL!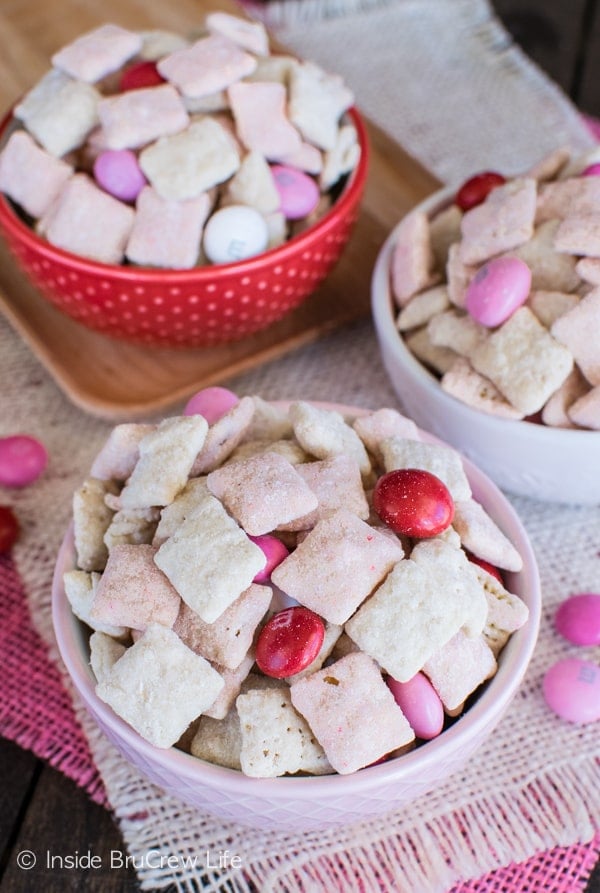 Do you like all the fun new candy and cookie flavors that come out each holiday? I have to admit that I'm a sucker for them every.single.time!
If we go to the store and I see a new flavor I haven't tried...it has to come home with me. This month strawberry and strawberry shortcake M&M's were at the store, so one bag of each jumped into our cart. I like to call this kind of thing research...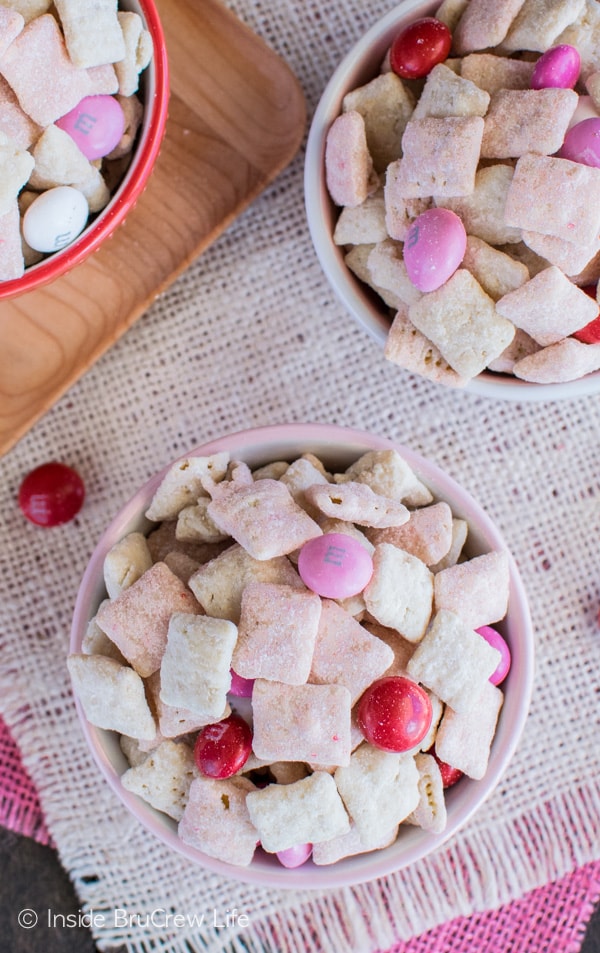 My kids loved this frosted animal cookie muddy buddies when I made it, so the strawberry candies got me thinking. What if I coated half the cereal in strawberry and half the cereal in shortbread cookies? It would be like strawberry shortcake in snack mix form!!!
Of course I couldn't wait to go back to the store for cookies. It's a good thing we live close enough to a store to accommodate all my crazy sweet treat whims.
Grab some big Ziplock bags when you go shopping for your ingredients. I like to spoon the chocolate coated mixture evenly into 2 bags. Pour in your cake mix, crumbs, and powdered sugar, close the bag, and shake it up!!! Mix the two bags of cereal and the candies in another large baggie. Using the bags keeps your kitchen clean up to a minimum. The less dishes I have to do, the happier I am.
This strawberry shortcake muddy buddies would make a fun treat to share with your family on Valentine's Day...that is if you can keep your hands out of it.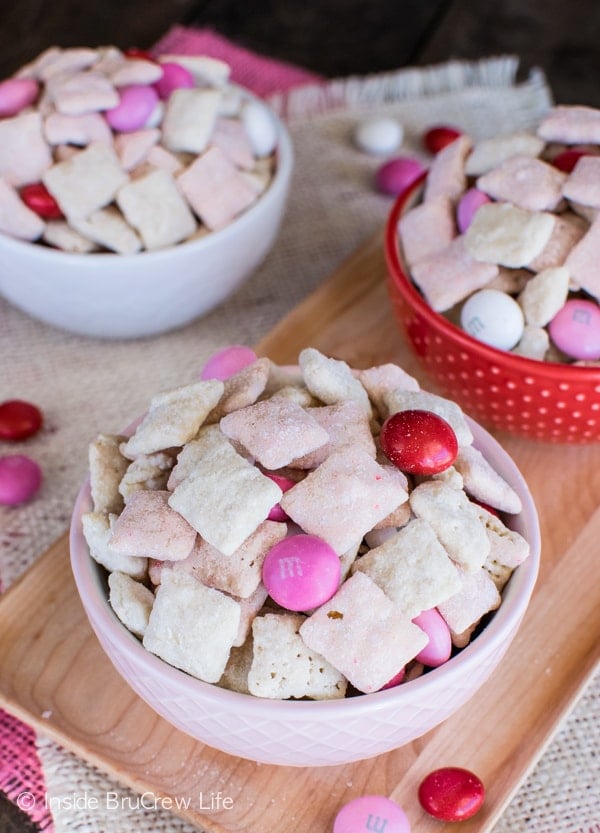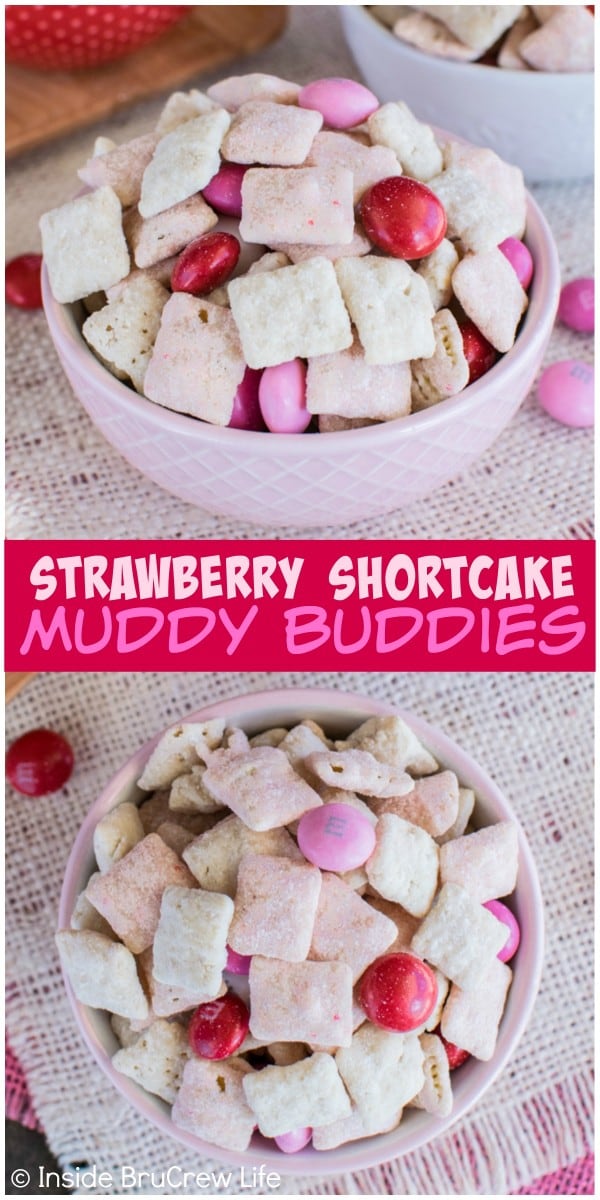 More easy no bake snack mix recipes: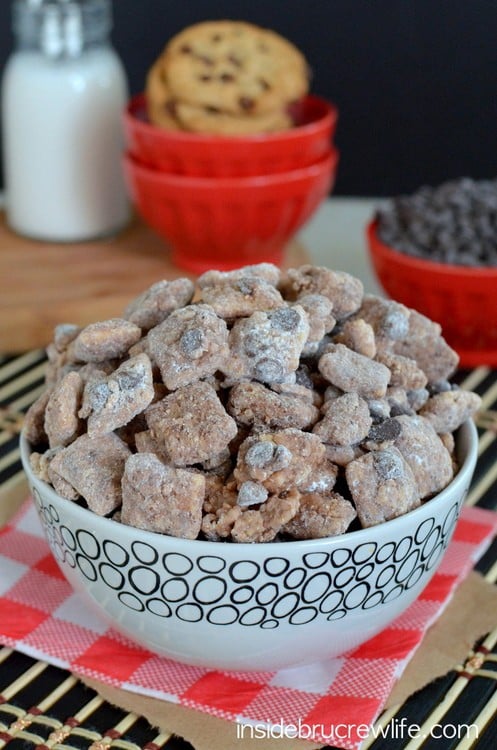 Chocolate Chip Cookie Muddy Buddies