A pan of these gooey Easy Funfetti Cinnamon Rolls is a fun breakfast treat. Sprinkles in the dough and on the frosting make these easy, no yeast sweet rolls so bright and colorful.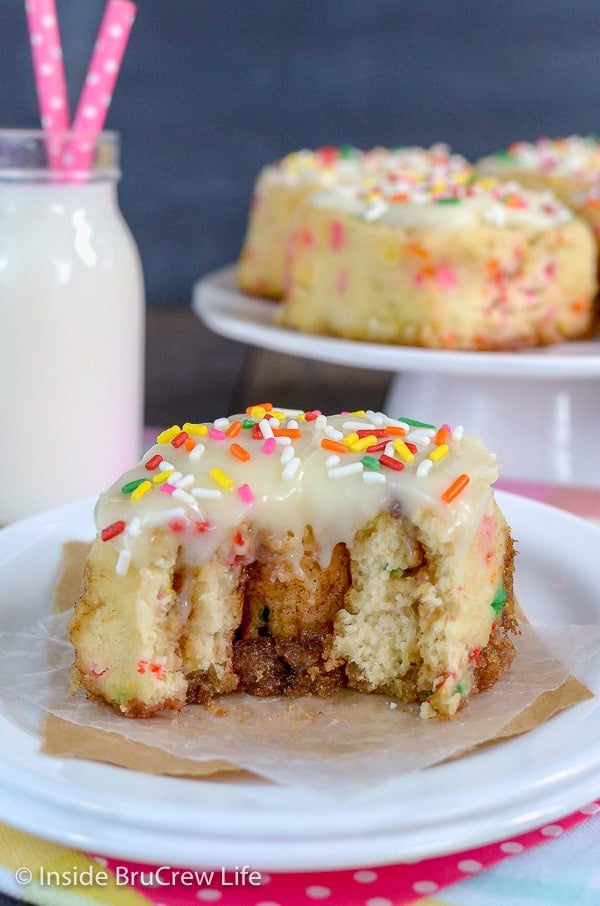 No one in our home is an early morning riser. We all love sleeping in until the last possible moment. So, over the years I have made different breakfast options like these White Chocolate Caramel Granola Bars, these Banana Nut Cinnamon Rolls, or some of these Coffee Chocolate Chip Muffins the night before.
I love easy breakfast items that can be made the day before and still taste great the next day. Of course, we also eat our fair share of cereal, milk, yogurt, eggs, smoothies, and oatmeal. Every day isn't a "start the day out with sugar" kind of day.
One thing that I have found that all three of our kids love to eat in the morning is a warm cinnamon roll. I mean, who doesn't like a warm, gooey cinnamon roll, right?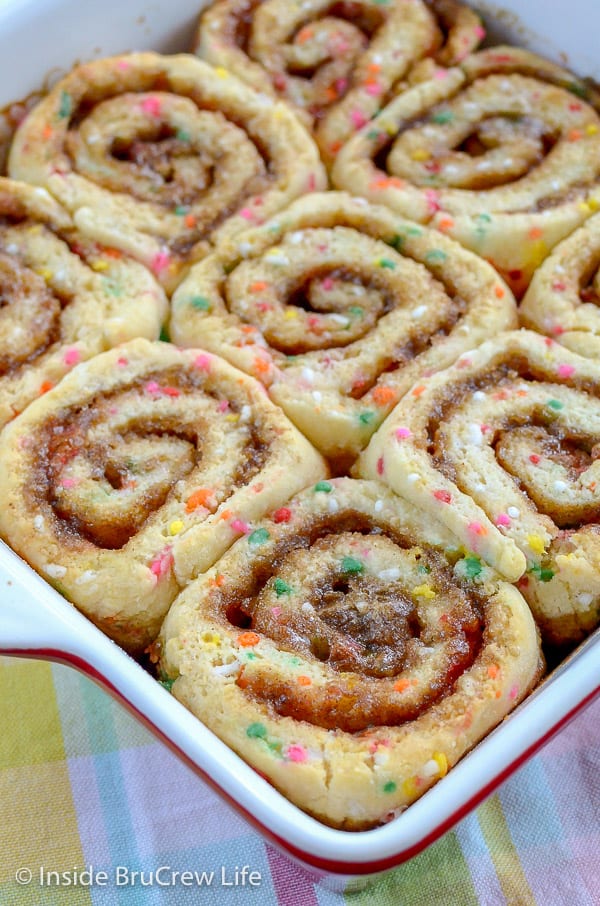 I have been making these birthday cake cinnamon rolls as a special breakfast treat for years. The best thing about these no yeast cinnamon rolls is that they can be ready in about 45 minutes.
To give these homemade cinnamon rolls a little bit of extra flair, I added sprinkles to the dough and the frosting. Sprinkles make everything better! Adding sprinkles is the perfect way to add some color and fun to a busy morning.
This Funfetti Banana Bread is another fun and delicious way to start the day off with sprinkle madness!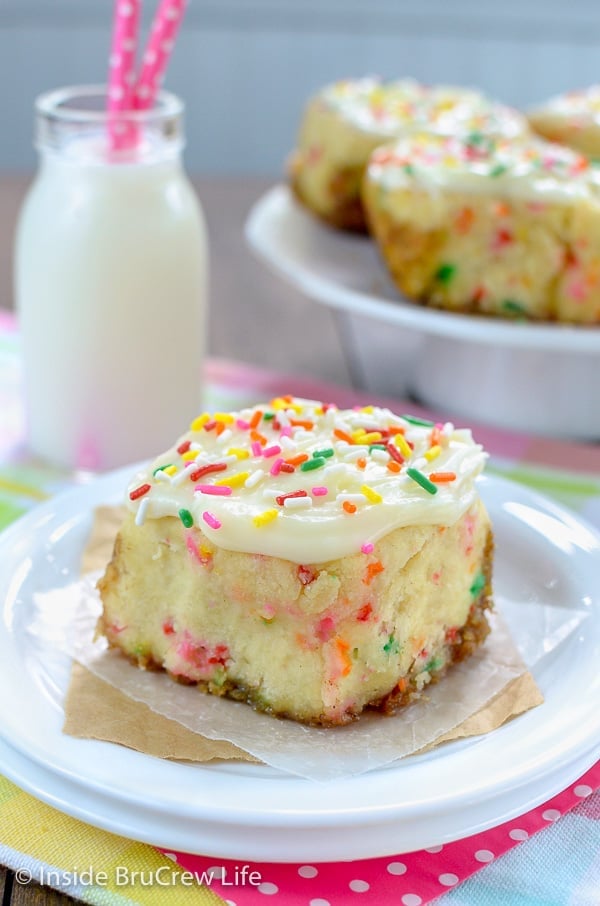 These rainbow sprinkle rolls are easy to make the day before. Just one bowl and some flour on the counter, and you are ready to have some sprinkle rolls in your life too!
You can use a mixer with a dough hook or a fork to bring the ingredients together to form a soft dough. Just be sure you do not over mix the dough. If you over mix it, the rolls will be tough instead of light and flakey.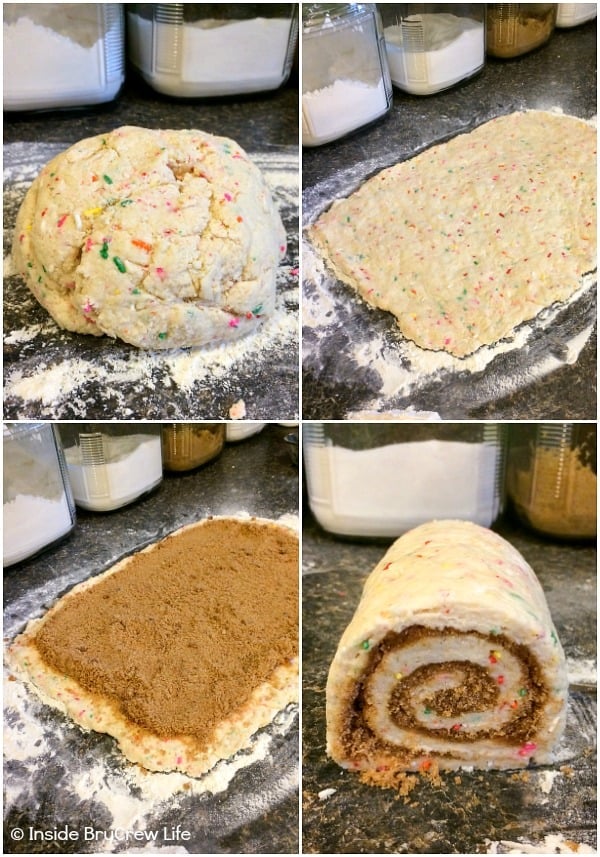 When you knead the dough, make sure your counter has a good layer of flour on it. Just be careful that you do not knead it too many times. Too much flour added into the dough can also make the rolls heavy and tough.
How to make Funfetti Cinnamon Rolls:
Mix together the sugars, cinnamon, and butter for the filling and set aside. (Full recipe is at the bottom of post.)
Stir the flour, sugar, baking powder, baking soda, salt, and sprinkles together.
Create a hole in the center of the dry ingredients and pour the buttermilk and 2 Tablespoons melted butter in. Mix until a soft dough forms.
Knead the dough a few times on a well floured surface, then use your fingers to gently press the dough into a 10x14 rectangle.
Spread the melted butter on the dough and top with the filling mixture. Leave a 2 inch border all around the dough.
Roll it up from the shortest side. If the dough sticks, use a butter knife to gently loosen it.
Trim the ends off, then cut the log into 9 even rolls. Place in a buttered pan.
Drizzle more melted butter on top and bake.
Once the rolls are done, mix together the cream cheese frosting and spread on top of the warm rolls.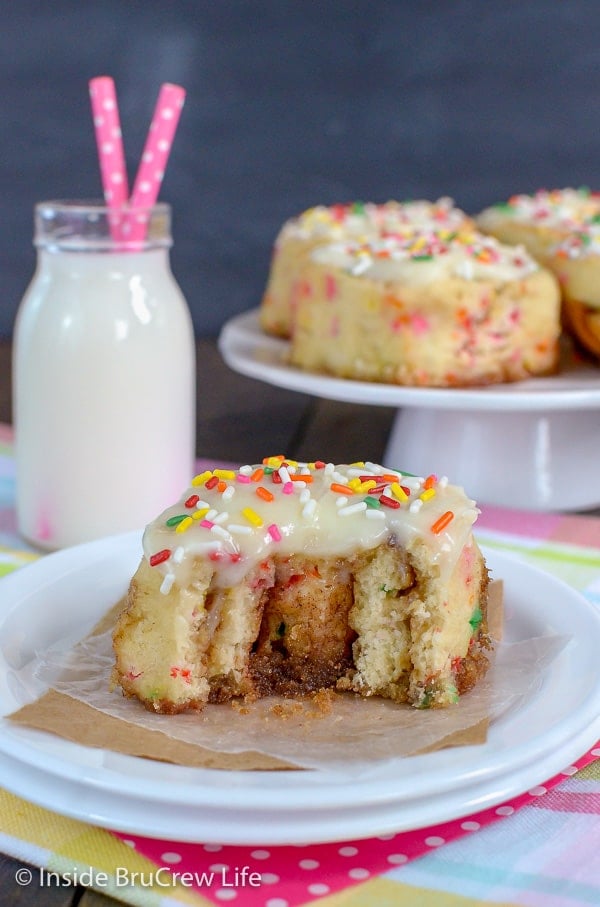 Other easy breakfast recipes you may like:
More funfetti treats: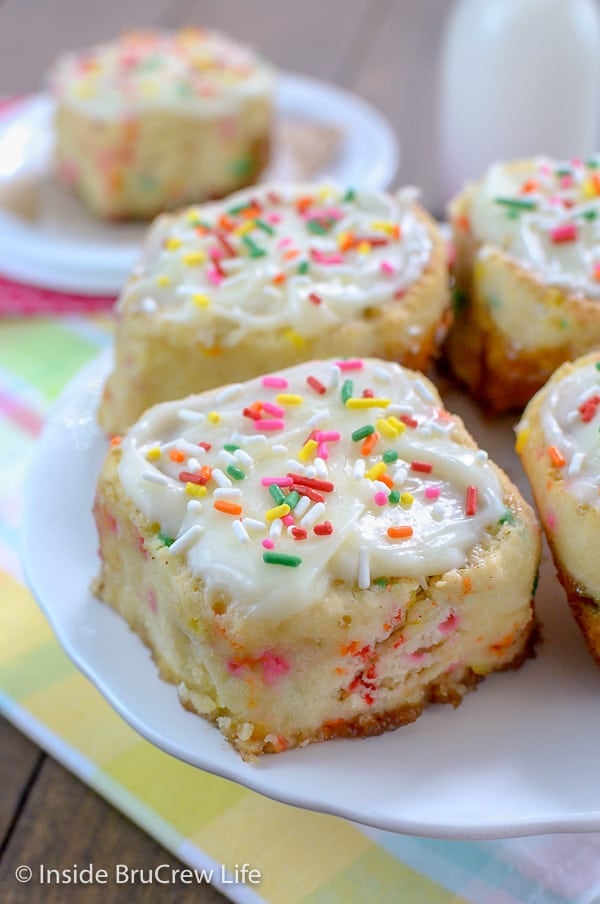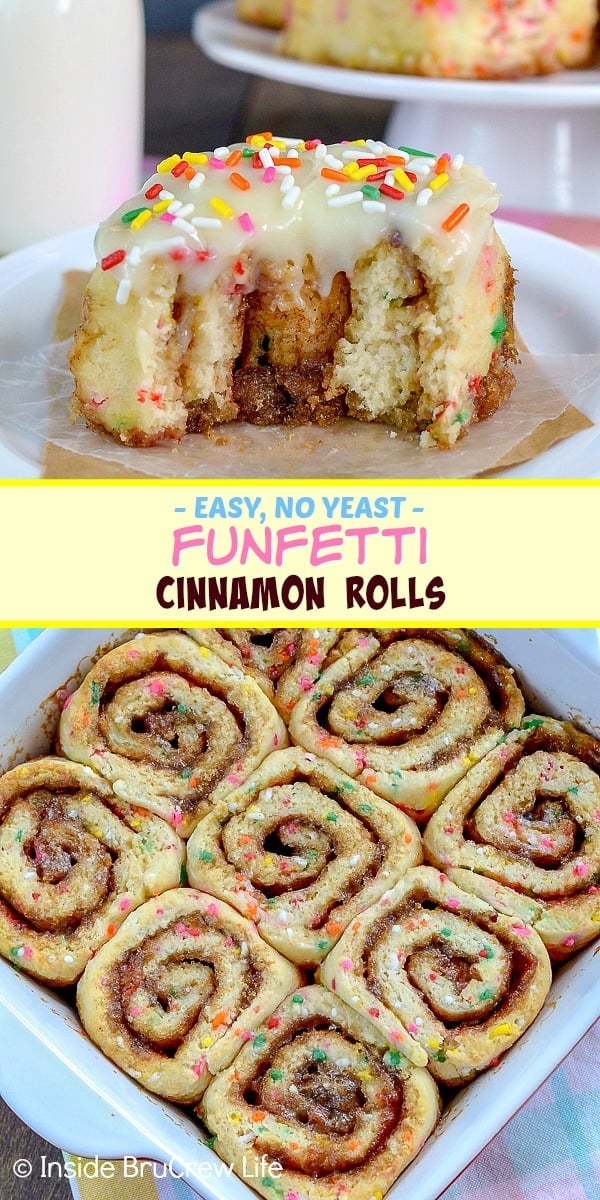 *The post for Funfetti Cinnamon Rolls was first published on August 29, 2014. The post and photos were updated March 18, 2020.