These soft and easy Banana S'mores Muffins are the perfect way to wake up in the morning. The fun s'mores twist to banana bread muffins makes everyone smile!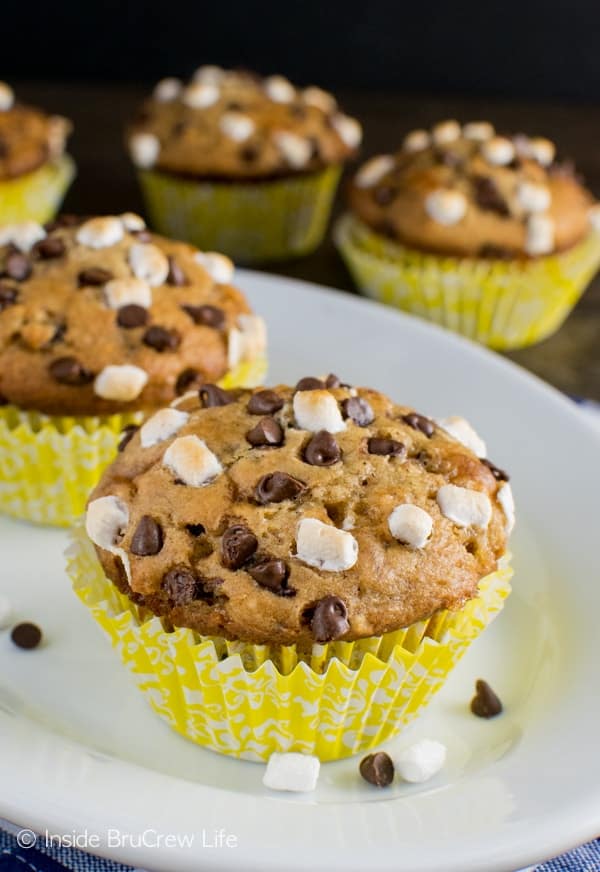 PIN IT NOW TO SAVE THE RECIPE FOR LATER!
I have quite an unhealthy obsession with bananas. I can't go to the grocery store without buying a bunch of them. Sometimes two bunches.
I can't bake without them. See these Banana Nut Cinnamon Rolls. I also can't eat them once they turn yellow. (Yes, you read that right.)
It's a real dilemma, because then I have to go buy more bananas to eat. Meanwhile, the yellow bananas continue to ripen on the counter.
My husband will eat some of them, but he can't keep up with all the ones I buy. The kids don't eat them that often either.
I can only freeze so many. Currently, there are 2 (soon to be 3) very large Ziplock bags full of frozen banana chunks in our freezer. It's time to make more of this Peanut Butter Banana Ice Cream.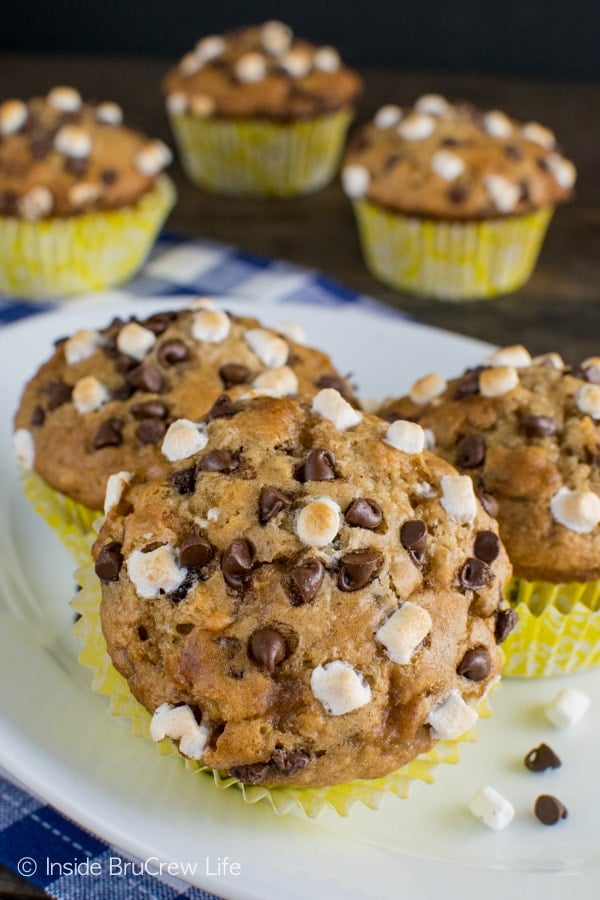 And what did I do today? I bought more bananas at the store just because they were on sale. Clearly, I have some problems.
It's a very good thing that I bake a lot. And that I like to bake using a lot of bananas. I'm seeing more Banana Toffee Scones in our near future.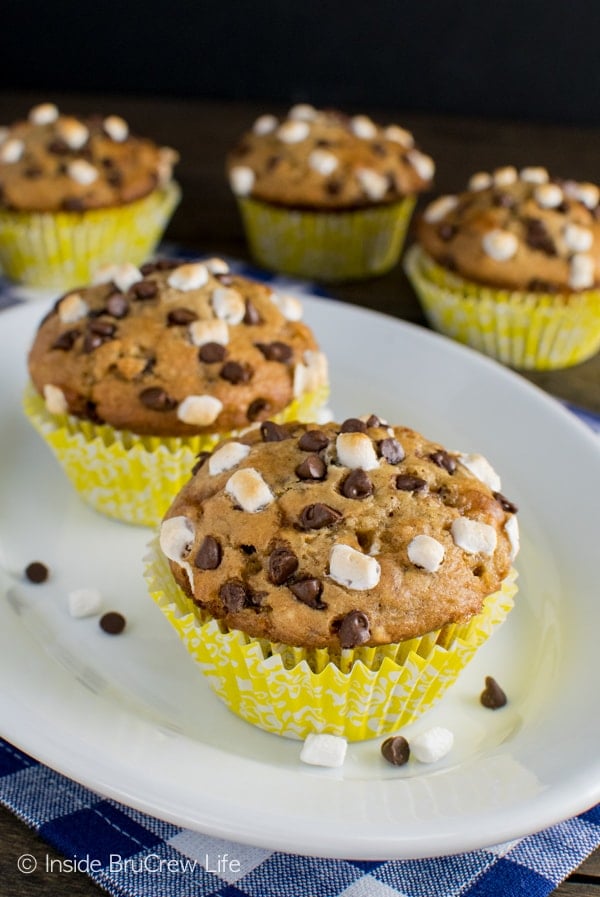 Breakfast muffins are always a hit around here because you can grab and go with them, so I knew I could use up some of those ripe bananas that way today.
These easy banana muffins got a healthy dose of s'mores goodness added to them. Graham cracker crumbs in a chocolate chip and marshmallow studded batter made these banana muffins an instant family favorite.
How to make Banana S'mores Muffins:
Beat the butter and sugar until creamy. Then add the egg, vanilla, banana, and sour cream and mix again.
Stir together the dry ingredients. Slowly add the milk and dry ingredients to the butter mixture until everything is mixed in. Do not over mix the batter.
Stir the mini chocolate chips and marshmallow bits gently.
Spoon the batter into the cupcake liners. Top each one with a few mini chips and marshmallow bits before baking.
Let the muffins cool on a wire rack before placing them in a sealed container.
Our youngest and pickiest child couldn't stop eating these easy banana bread muffins. Clearly, that is a sign that I should go buy more bananas, just so I can make more of these Banana S'mores Muffins because he never eats anything I make!
I mean, that's the only logical thing to do, right?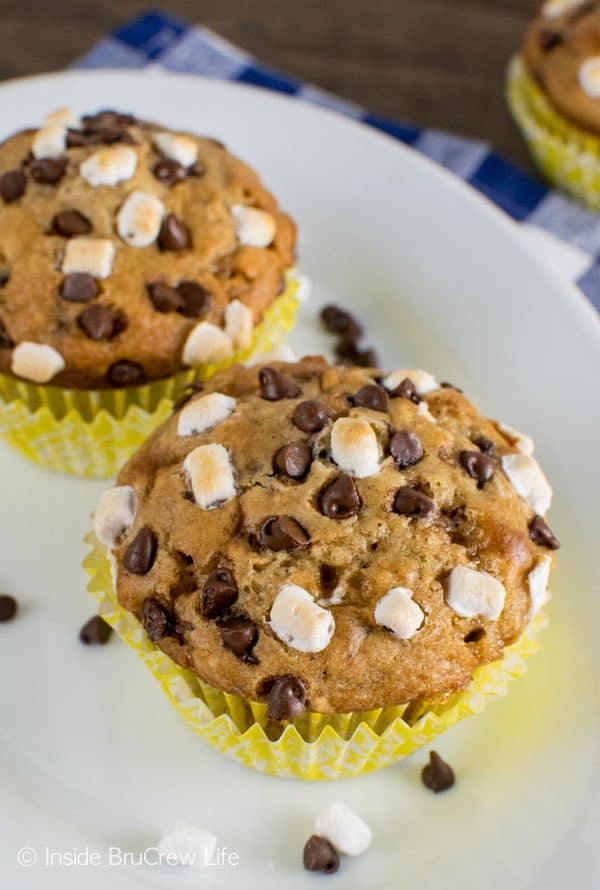 More easy banana breakfast recipes you may like: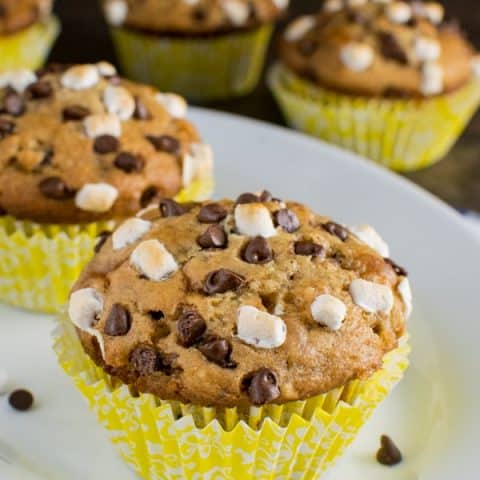 Banana S'mores Muffins
These easy Banana S'mores Muffins are loaded with graham cracker crumbs, chocolate chips, and marshmallows. They are a delicious way to start out the day.
Ingredients
⅔ cup brown sugar
2 Tablespoons butter, melted
1 egg
1 teaspoon vanilla
⅔ cup mashed ripe banana
½ cup sour cream
2 cups flour
2 teaspoons baking powder
1 teaspoon baking soda
½ teaspoon salt
1 teaspoon cinnamon
¾ cup graham cracker crumbs
⅔ cup milk
1 cup miniature chocolate chips, divided
1 cup miniature marshmallow bits, divided
Instructions
Preheat the oven to 400 degrees. Place 16 cupcake liners in a muffin pan.
Beat the butter and sugar together. Add the egg, vanilla, banana, and sour cream and beat again.
Stir together the flour, baking powder, baking soda, salt, cinnamon, and graham cracker crumbs.
Add the flour mixture alternately with the milk until it is all mixed in. Do not over mix.
Stir in ¾ cup chocolate chips and ¾ cup marshmallow bits by hand.
Fill the liners with the batter. Sprinkle the batter with the remaining chips and marshmallow bits. Bake for 16 minutes.
Let cool for 3-4 minutes in the pan, and then gently remove and place on a wire rack to cool completely. Store in a sealed container.
Notes
*Because there is not much butter in this recipe, the muffins will stick to the liners on the first day. After sitting overnight in a sealed container, the liner will come off just fine. You can also spray the muffin pan with non-stick spray and bake them without the liners, if you prefer.
Recommended Products
As an Amazon Associate and member of other affiliate programs, I earn from qualifying purchases.
Nutrition Information:
Yield:

16
Serving Size:

1
Amount Per Serving:
Calories:

210
Total Fat:

7g
Saturated Fat:

4g
Trans Fat:

0g
Unsaturated Fat:

3g
Cholesterol:

21mg
Sodium:

253mg
Carbohydrates:

35g
Fiber:

1g
Sugar:

17g
Protein:

3g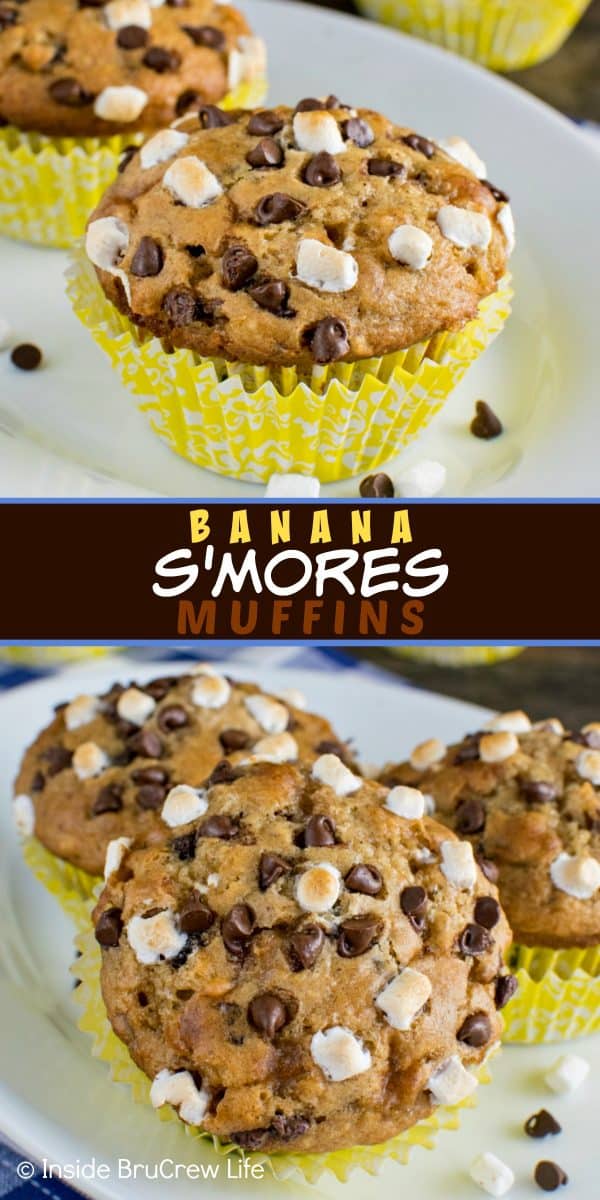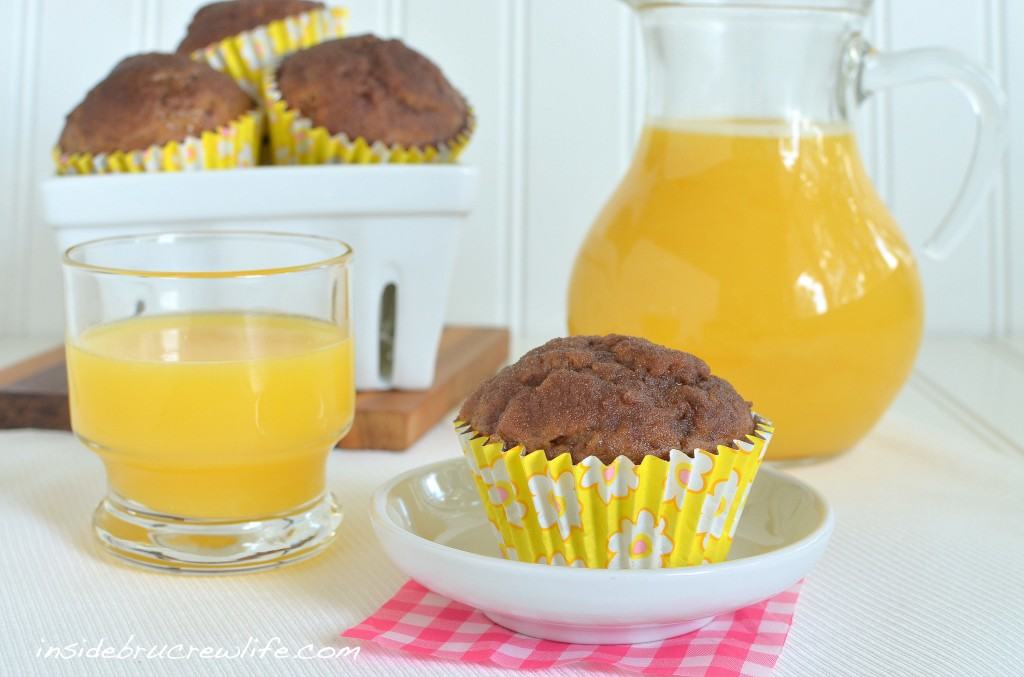 (original photo from August 2012)
*The post for these Banana S'mores Muffins was first published on August 31, 2012. The photos were updated May 2016, and it was republished August 8, 2019.