Layers of Chocolate and Berry Oreos and a no bake banana cheesecake makes this Oreo Banana Split Ice Box Cake an impressive dessert to cut in to.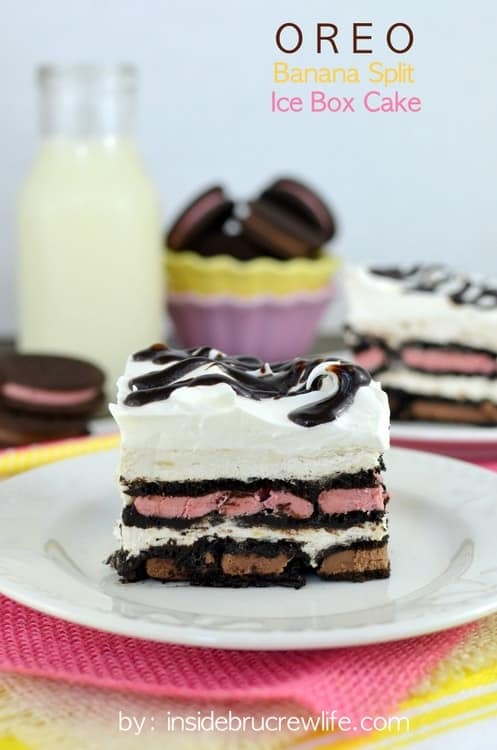 So, a couple weeks ago I bombarded you with lots of Banana Split treats like this Banana Split Popcorn and this Banana Split Bundt Cake.
You would think that after a week of Banana Split everything, I would want to take a break from that flavor combo for a while. But no, I had one more fun dessert swirling in my head that I couldn't wait to make.
I had one pack of the Berry Oreos and the Chocolate Oreos that I managed to keep hidden from the cookie monster that lives with us. This cookie monster just looks like a normal hungry teen boy...but I'm on to him.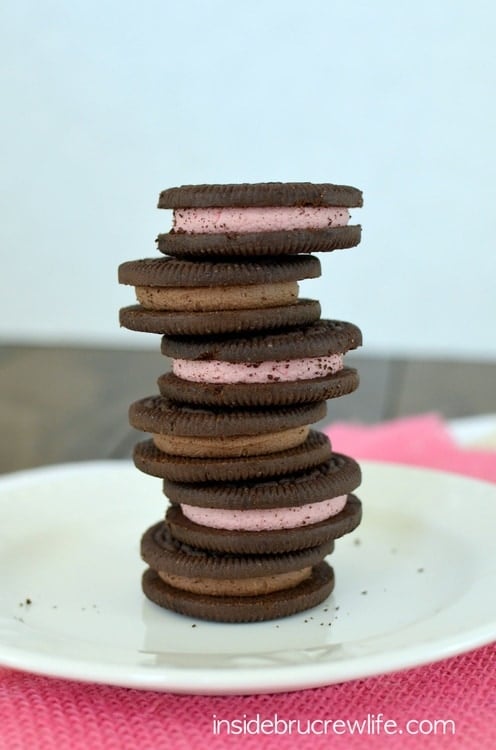 Ever since I made this Berry Oreo Ice Box Cake, I have been dying to make another one. Something about cutting into it and seeing the layers just makes me so happy. And it is seriously the easiest cake to make!!! You wouldn't be too surprised if I told you I had another fun flavor combo that needs to be made yet, would you? I'm pretty sure you kind of expect crazy random desserts like this by now. At least I sure hope you do.
For the layers in this no bake dessert, I started with a no bake cheesecake. Cream cheese, ripe bananas, Cool Whip, and little bit of sugar makes a delicious no bake cheesecake. You could totally eat it all by itself, but seriously, add the Oreos because it is amazing.
The cookies get a quick dip in milk before getting layered with the cheesecake mixture. Make sure you don't soak them very long. We want soft, not soggy cookies. That ¼ cup of milk should be just enough for 32 cookies to take a quick skinny dip in. Layer the cookies and the cheesecake, and then top everything with the leftover Cool Whip. #yesIdoloveCoolWhip
You could eat it right away, but I recommend giving this Oreo banana split ice box cake a few hours in the refrigerator to set up completely. Then carefully cut slices out of it and drizzle them with chocolate syrup, if you like. I totally recommend the syrup, but then again I am the sugar crazed baker around here. You do what feels best to you!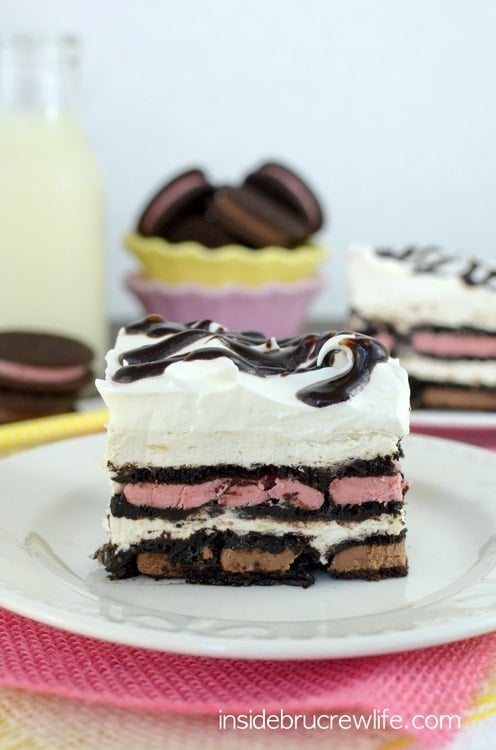 Here are a few more fun desserts to use up any Oreo cookies that might be lurking in your cupboards: