These chewy Oreo Reese's Brownies are loaded with cookies and candies making them the perfect easy dessert to bring to any party or picnic!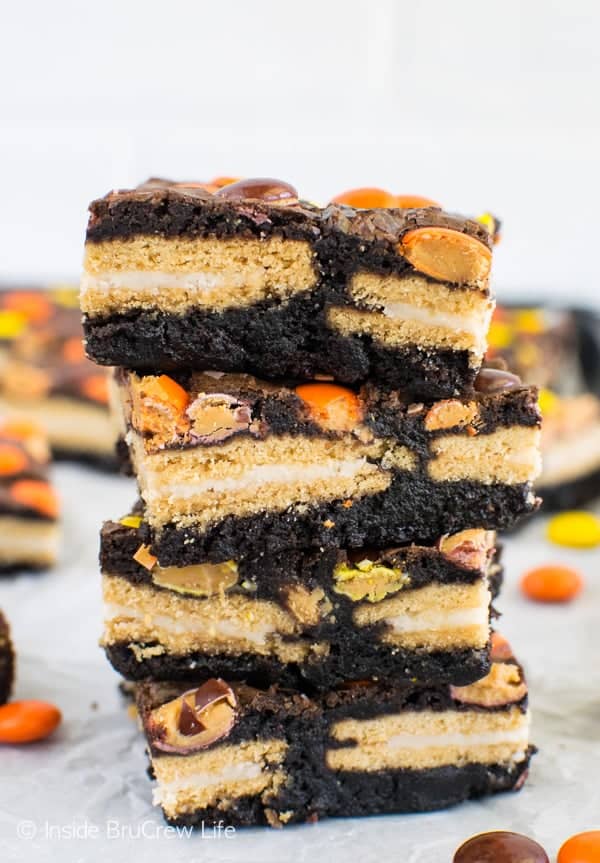 There are 5 very good reasons why I love these fudge brownies...
1. They have Golden Oreo cookies in the MIDDLE.
2. Reese's Pieces are on the TOP.
3. Brownies are my most favorite baked good.
4. These only take 3 ingredients to make...well, it's basically just three.
5. My son came up with the idea to use Oreo's and Reese's Pieces together. I am so proud. I have taught him well!!!!
Now #3 is the main reason for this post. I just can't stop making brownies...Homemade Chocolate Chip Brownies, anyone?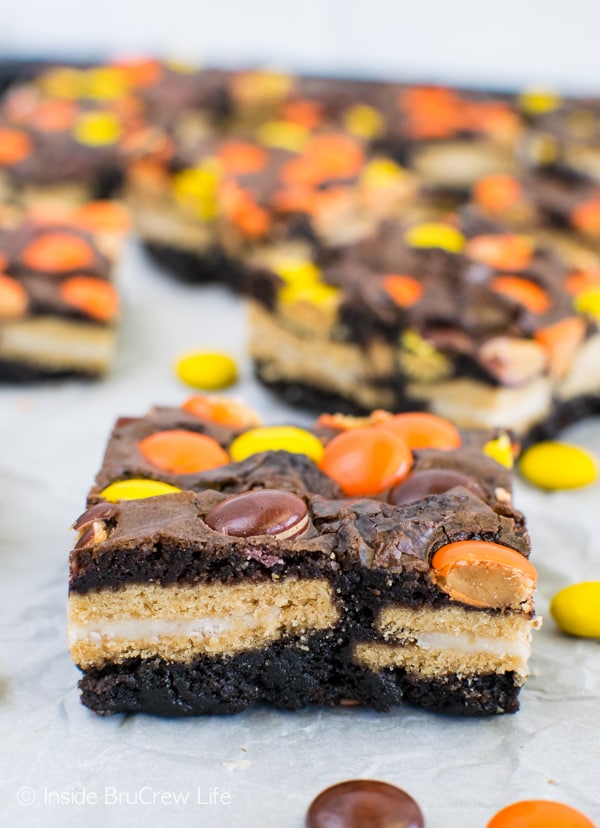 Now that means I can't stop eating brownies either! That is so not good for the thighs, but when you have a fudge brownie this good staring at you, what are you going to do???
Leave them alone in the kitchen to get stale??? No way! That would just be rude to the poor sweet treat!
Come here you delicious chewy brownie. I won't leave you all alone in the pan! Just come sit by me while I read my magazines. What? You think I want to eat you? No, that's not going to happen!
I have no idea where the rest of the brownies went? Maybe for a hike? Sure that's it. They went on a hike. Wink, wink!
Now in my defense, MOST of these Reese's brownies were eaten by my son and his friends. I just helped out when they needed me. Can't let down the team when they call on you!!!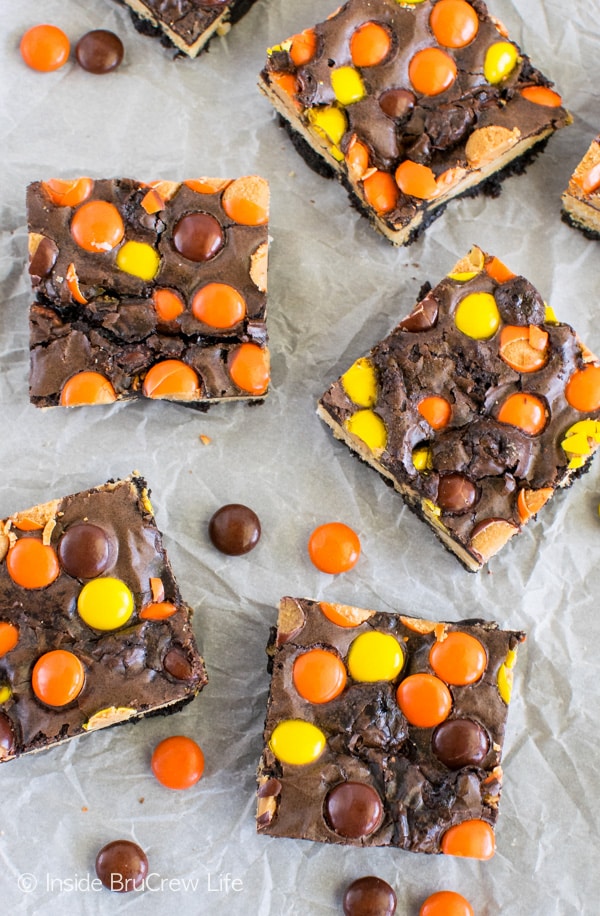 How to make Oreo Reese's Brownies:
Preheat your oven and spray a 9x13 pan with nonstick spray.
Make the brownie batter according to the package directions. Spread half of the batter in the prepared pan.
Place the Oreos on top of the batter, pressing them in very slightly.
Gently spread the rest of the brownie batter on top of the cookies making sure to cover them completely.
Sprinkle the top with Reeses's Pieces and bake. Your time will vary depending on what brand of brownie mix you use. (I like the Aldi brownies the best out of all the ones I have tried.)
Now go ahead and make a pan of these for a sweet snack this weekend! Just a word of caution...
Consuming these brownies will make you hear sugar voices and might even cause you to talk to the leftover Oreo Reese's Brownies in your kitchen. But I wouldn't know about that...
I do know that I have more cookies and candy in my cupboard, so I need to make more Oreo brownies. What? I have a thing for cookies in my brownies!!!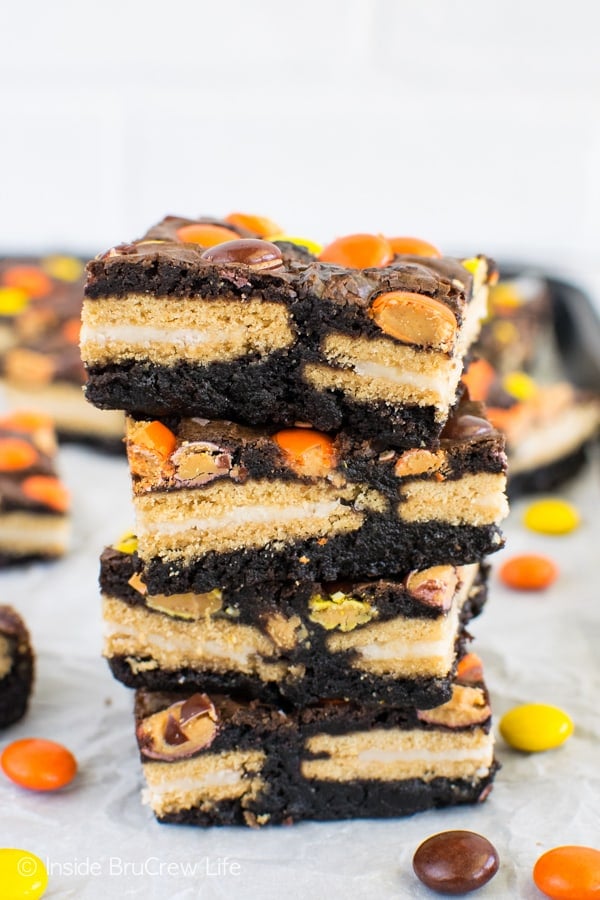 More easy brownie recipes you may like:
Satisfy your sweet tooth with a pan of Gooey Oreo Brownie Bars. Cookies and chocolate chips baked into a gooey brownie makes an awesome chocolate dessert.
Three times the mint candies and cookies and marshmallows make these Mint S'mores Brownies a dream come true for chocolate and mint lovers.
These White Chocolate Reese's Brownies are topped with a white chocolate mousse, Reese's Peanut Butter Cups and sprinkles. They are so good!
Brownies topped with three layers of goodness. These Caramel Marshmallow M&M Brownies will definitely satisfy every sugar craving you have.
Enjoy three desserts in one with these amazing Cake Batter Cheesecake Brownies!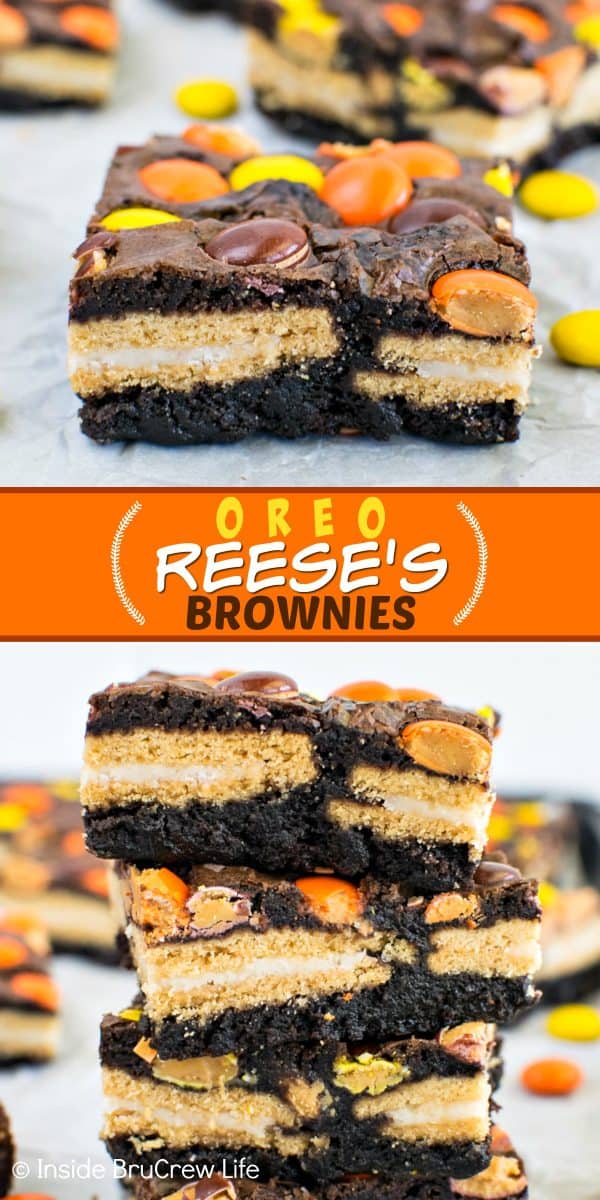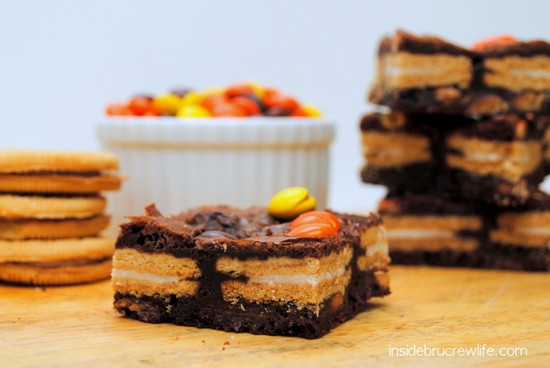 (original photo from August 2011)
*The post for Oreo Reese's Brownies was first published on August 5, 2011. The photos have been updated and it was republished on May 15, 2019.