Plenty of sprinkles and candies make this Dark Chocolate M&M's Popcorn a delicious and fun treat to munch on. It's the perfect snack for movie night or game day!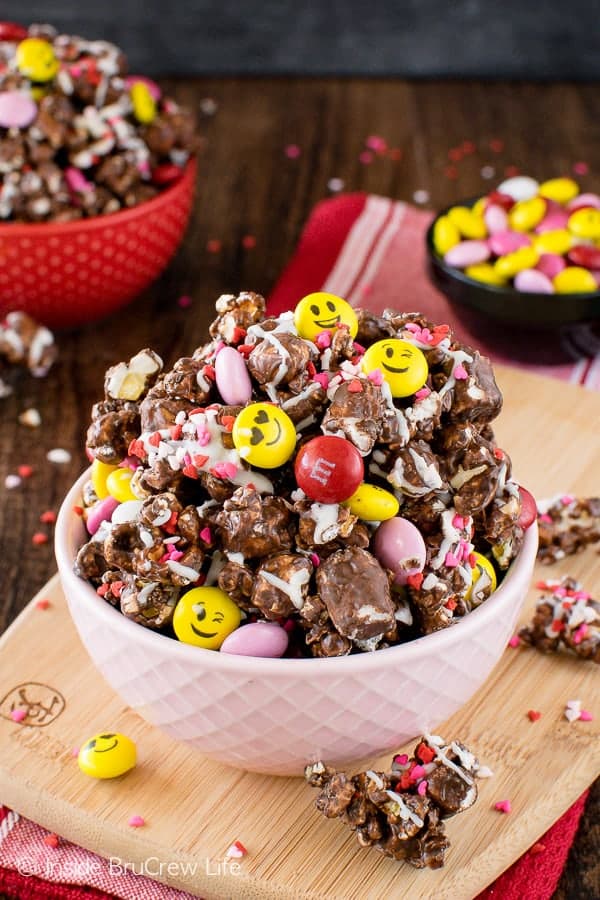 Can we just talk about how stinking cute these emoji M&M's are? My daughter and I were shopping at Target last week, and she pointed them out to me. I'm so glad she did because I totally would have missed the cuteness! They were kind of hiding. And by hiding I mean they were in a black or white box on a top shelf, so you couldn't really tell what they were.
Lucky for me, my daughter picked the box up and saw the faces. She knows what a sucker I am for cute candies and treats, so she knew I would want to buy them. I restrained myself from buying the rest of the boxes on the shelf. I mean one box, plus one bag of pink, white, and red ones were plenty to make this sweet snack mix. Right?
Now that I used them, I'm debating going back for more...and we all know that another trip to Target means buying way more than just candy. LOL! That place is my kryptonite!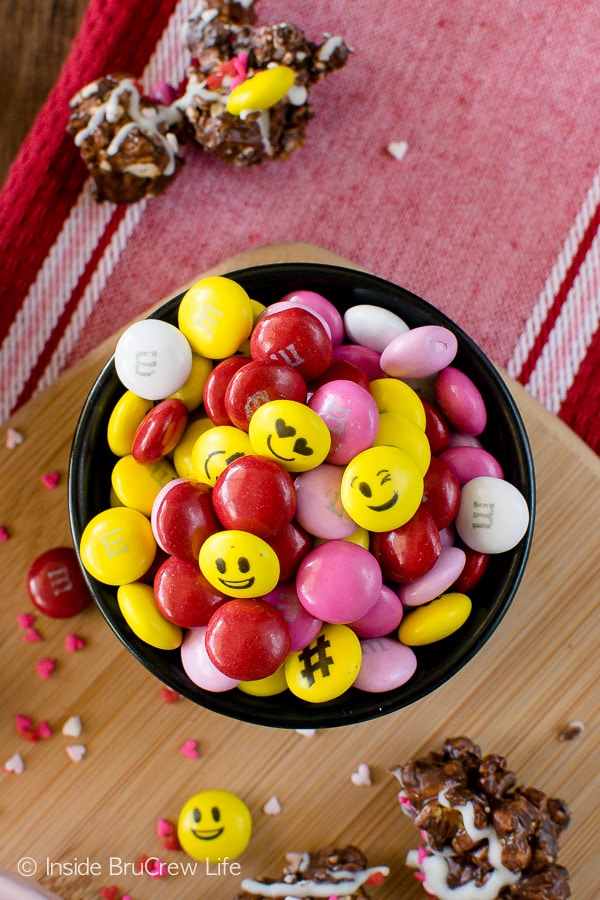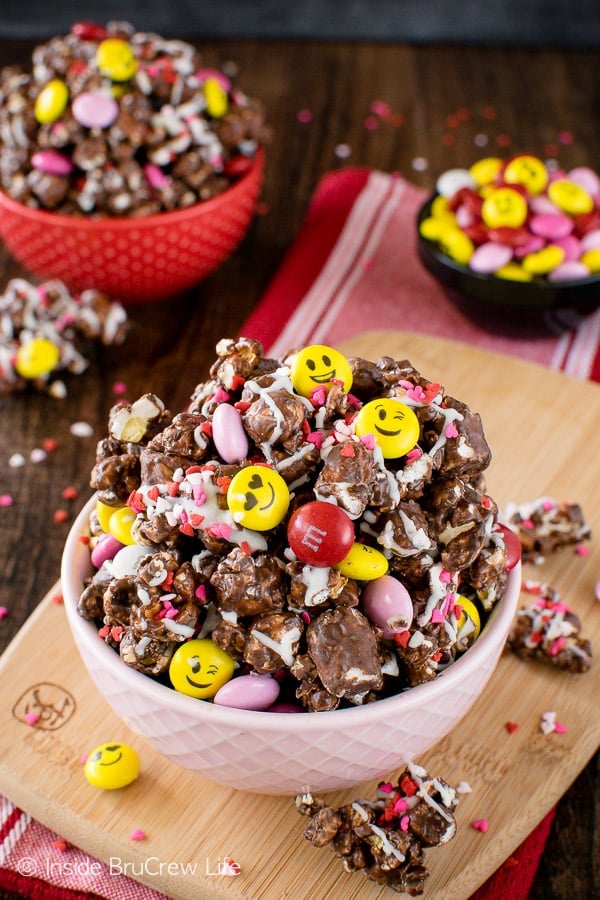 Instead of buying more though, I guess I will have to settle for sending more texts with extra emoji's in them. Please tell me I'm not the only one who can't text without using a fun little picture every.single.time. There is a chance I may over use those little faces, but you know what? I don't care!
They make me laugh when I find the perfect one for a message. And of course, we all know the poop emoji is seriously the best one ever! Clearly, I have the mind of a 13 year old boy.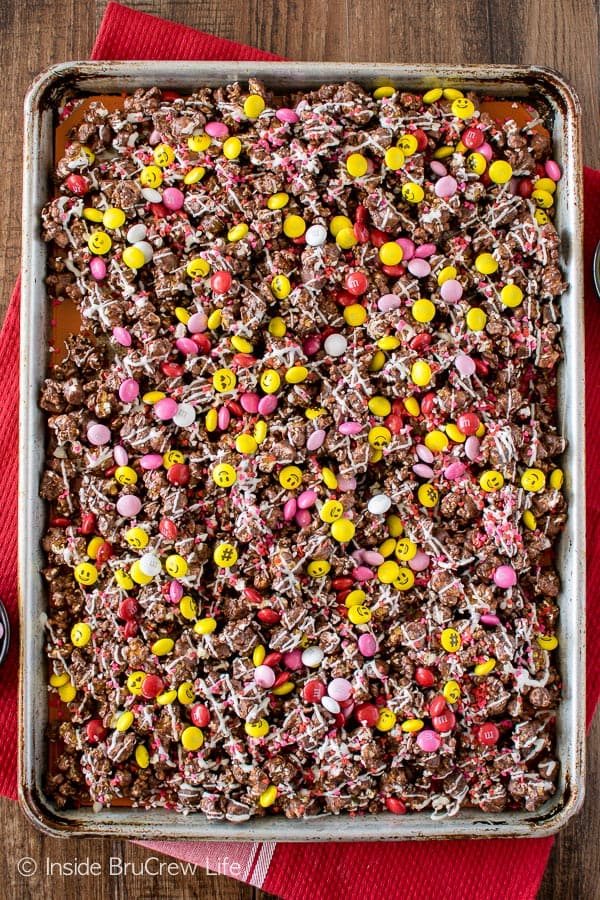 I don't usually stay up to date on all the different food holidays. Did you know there is a different one for every day of the month, plus different food months? It's kind of crazy. I mean who sat around and thought we should celebrate national asparagus day? Yes, that's a real day. I made it up, then thought I should probably google it. Turns out it's a real day! Like I said...crazy!
Anywhoo...since today is national popcorn day, I decided we all could use a fun and colorful treat to brighten up these cold chilly days! Can you believe that it has been over a year since I shared this toffee pretzel M&M's popcorn? I was in shock to find out it had been that long since the last sweet popcorn treat. Chocolate covered popcorn used to be something I made all the time because it's so easy to put together, but apparently I have slacked off. Time to fix that!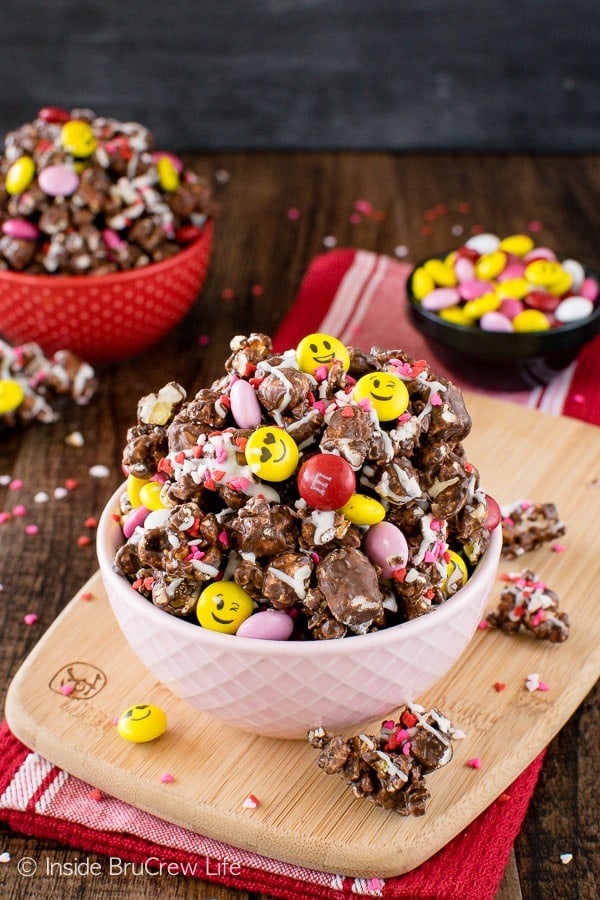 Two bags of butter popcorn, some mini marshmallows, one bag of dark chocolate melts, and lots of M&M's & sprinkles later, I give you your new favorite snack mix. Ok, so maybe it's my new favorite.
There is something about the buttery popcorn drenched in dark chocolate that has me swooning! I think I may even like it more than this Reese's popcorn. Although I think the emoji's are what put it totally over the top. Like I said, I just can't get over the cuteness!