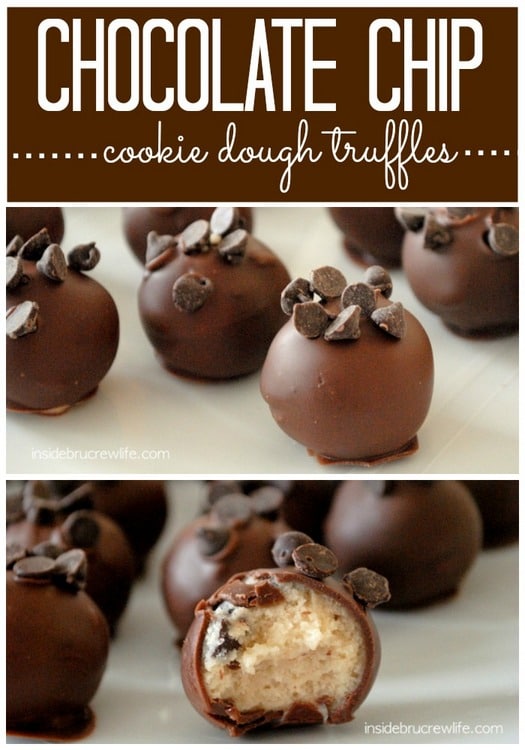 Seriously…
Who doesn't like to eat the raw cookie dough batter
when you are making cookies???
It is my fav part:-)
I know, I know, beware salmonella!!!
I think that since I have been eating it for YEARS…
I will probably never stop even with that threat.
But these little yummies have no eggs,
so they are totally safe.I give to you,
Cookie Dough Truffles!!!
They aren't quite the same as the real deal,
but they are pretty close.
(Even better when they are kept cold.)
I found the recipe
here
and just knew it was one I had to try.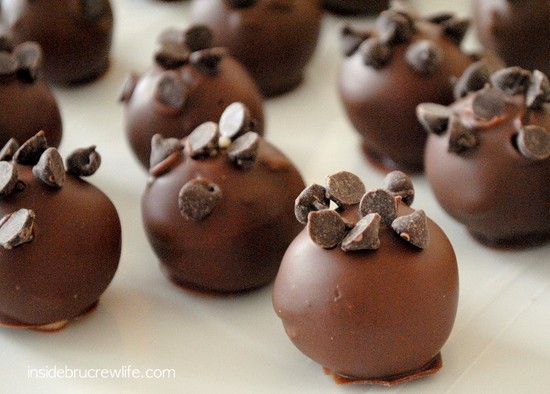 I love spending time in my kitchen bonding with my kitchen aid.
We have become the best of friends:-)
It is even more fun when you are making goodies for others.
These little treats left my house today for a friend's bday.
But NOT before I consumed 1 or 2…
ok you got me.
It might have been 4 or 5…
or maybe even 6.
I lost count because I started to go into a sugar coma!!!
Hey, I had to make sure they were ok to give out:-) LOL!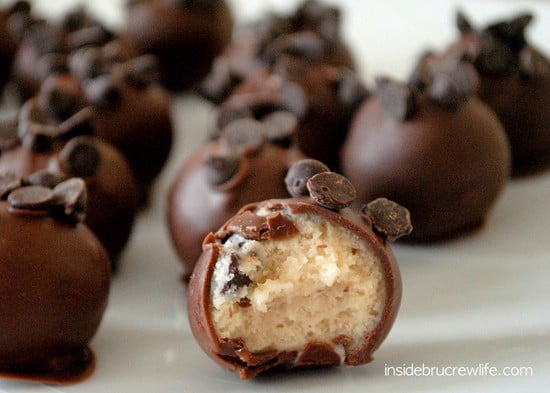 You want one!
I can tell:-)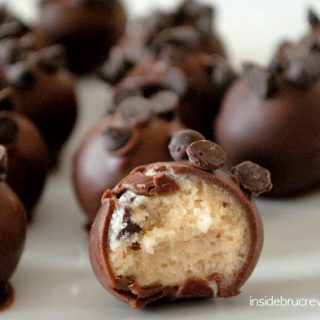 Cookie Dough Truffles
Easy no bake cookie dough dipped in chocolate.
Ingredients
1 stick butter, softened
¾ cups brown sugar, packed
2¼ cups flour
1 - 14 ounce can sweetened condensed milk
1 teaspoon vanilla extract
3/4 cup miniature chocolate chips
1 - 10 ounce bag dark chocolate melts
Instructions
In a mixing bowl combine the butter and sugar. Beat on medium speed until light and fluffy, about 2 minutes.
Beat in the sweetened condensed milk and vanilla until incorporated and smooth. Slowly add the flour.
Stir in 1/2 cups mini chocolate chips. Refrigerate the mixture for about 1 hour.
Roll the dough into 60 balls. Place on a baking sheet lined with wax paper. Freeze for another hour.
Melt the dark chocolate melts according to the package directions.
Using a toothpick, dip each frozen truffle into the melted chocolate. Place onto a wax paper lined tray and gently twist out the toothpick.
Sprinkle the tops with the extra mini chips before the chocolate sets. Keep refrigerated until ready to eat.
Nutrition Information:
Yield:

60
Serving Size:

1
Amount Per Serving:
Calories:

104
Total Fat:

4g
Saturated Fat:

3g
Trans Fat:

0g
Unsaturated Fat:

1g
Cholesterol:

7mg
Sodium:

26mg
Carbohydrates:

15g
Fiber:

1g
Sugar:

11g
Protein:

2g