Try this Peanut Butter Cup Coffee Cake for breakfast one morning and watch the smiles start to happen.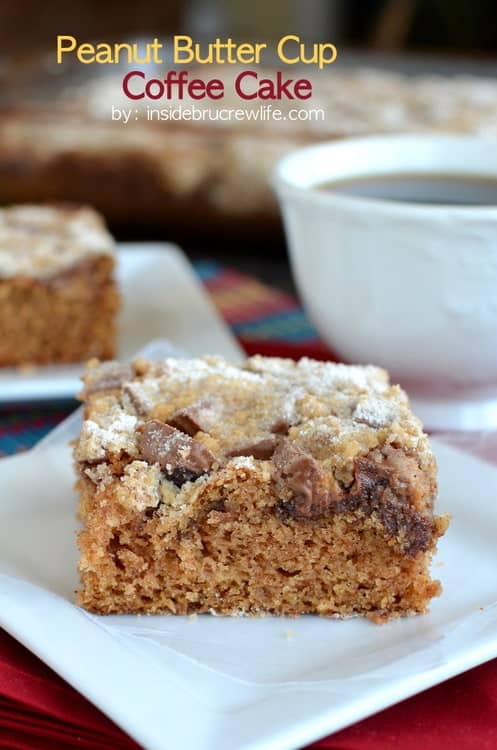 I may or may not be responsible for creating muffin and coffee cake snobs out of my children.
They have become so used to me adding chocolate chips to just about everything I bake.  So, now when I make a fruity or plain dessert I get looks.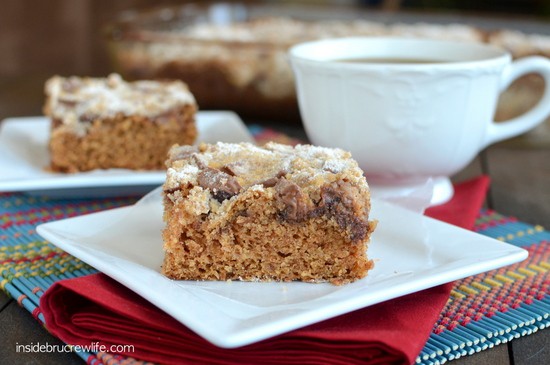 You know the looks?  One eyebrow raised, wide eyed, and a hip stuck out…oh, wait I think that's just the look my almost teenage daughter gives me on any topic.  Naaaah, she's a good kid, but don't leave the chocolate chips out of the muffins and cake.  

I started to get the looks when I admitted that I did not add chocolate chips to this coffee cake.  Lucky for me, I DID add an entire bag of mini peanut butter cups to the cake.  That got some smiles from my girl!  She is definitely my child!
This coffee cake is really just an easy spice cake.  Save a little bit of the dry ingredients to sprinkle on top for a streusel.  After spreading the batter in a pan, sprinkle it with peanut butter cups and the streusel.  Go ahead and cut the peanut butter cup minis in half.  It makes them go a little bit farther, and the peanut butter melts into the cake as it bakes.
Any day that you can call peanut butter cups breakfast is going to an awesome day!
What have we learned today?
1.  Don't mess with teenage girls and their chocolate chips.
2.  Coffee cake made with peanut butter cups is an awesome breakfast.
I think you need to add peanut butter cups to your shopping list right away 🙂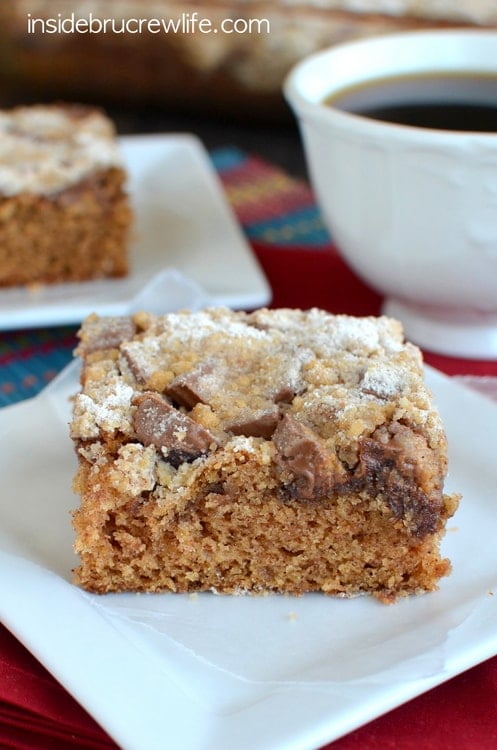 Stay up to date on all the BruCrew baking here:
FACEBOOK | PINTEREST | GOOGLE+ | TWITTER | INSTAGRAM | BLOGLOVIN
A homemade spice cake topped with peanut butter cups and a crumb topping is a delicious way to start the day.
Ingredients
2 1/2 cups flour
3/4 cup sugar
3/4 cup brown sugar
2 teaspoons cinnamon
1 teaspoon nutmeg
1/2 teaspoon salt
1 teaspoon baking soda
3/4 cup oil
1 egg
1 cup butter milk
1 bag Reese's Minis, halved (8 ounce bag)
Instructions
Combine the flour, sugar, brown sugar, cinnamon, nutmeg, and salt. Remove 1/2 cup for topping.
Add the baking soda, oil, egg, and butter milk and stir until combined.
Spread in a greased 9x13 pan. Sprinkle with the peanut butter cups and reserved topping mixture. Bake at 350 degrees for 30-35 minutes. Remove from the oven and cool. Serve warm. Cut into 24 squares.
https://insidebrucrewlife.com/peanut-butter-cup-coffee-cake/
Copyright Inside BruCrew Life
 A few more breakfast recipes that we enjoy around here: